Catalonia: As Independence Leaders Stand Trial, Is Spain Heading Towards Constitutional Crisis?
12 February 2019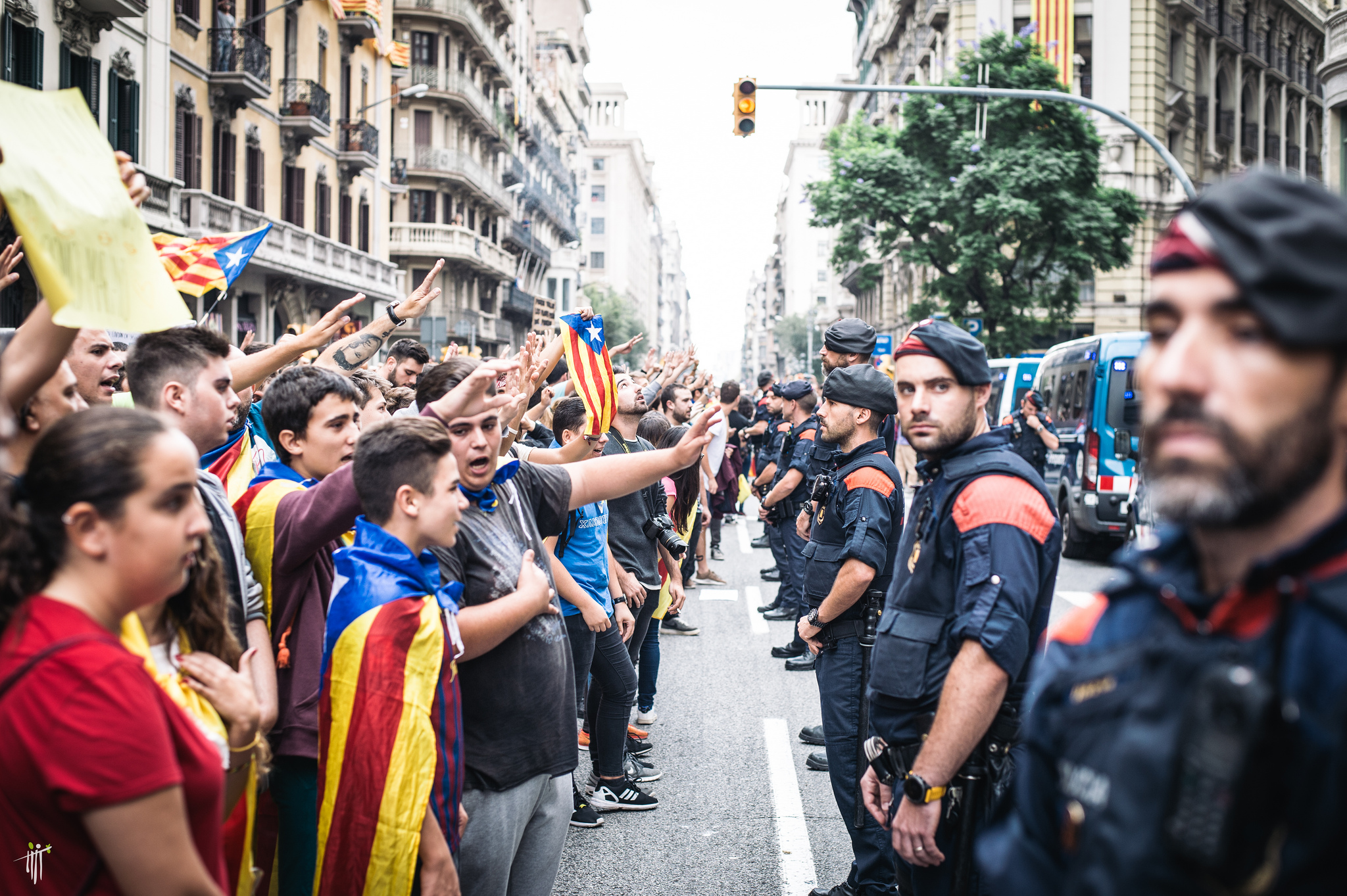 (Sasha Popovic)
A dozen leaders of Catalonia's failed 2017 independence bid have gone on trial in Madrid, charged with rebellion, sedition and misuse of public funds.
Some of the accused, who are mostly ex-officials of the Catalan regional government, face up to 25 years in prison, in a trial that has aggravated Spain's worst constitutional crisis since the country's transition to democracy more than 40 years ago.
The defendants were arrested in autumn 2017 following an outlawed referendum on 1 October and a unilateral independence proclamation later that month. The breakaway bid was suppressed by Mariano Rajoy's central Spanish government which imposed direct rule on the region. Key political leaders were rounded up and arrested shortly afterwards and nine of the 12 have been in "preventative detention" ever since, awaiting this week's trial.
The arrests, prolonged detention and threat of harsh sentences have been condemned in Spain and internationally by human rights groups including Amnesty International. A number of high-profile public figures, such as Noam Chomsky, have called for the prisoners' release. In December, several of the prisoners went on hunger strike in protest at their treatment by the Spanish justice system.
As the country geared up for the start of this week's trial, Republican Left MP Gabriel Rufián suggested it was absurd to charge the politicians with rebellion for taking part in a movement that was entirely peaceful.
"How can you hope to prove the crime of rebellion without violence?" he told Novara Media. "It makes no sense – we have always been a completely non-violent movement."
Moreover, Rufián said, there was no attempt whatsoever to put into practice the oral proclamation of independence delivered by the speaker of the Catalan parliament in autumn 2017.
Among the politicians and activists sitting in the dock this week, the most high profile is the former leader of Rufián's party and the region's former Vice President, Oriol Junqueras.
Junqueras resolved to stay in Catalonia following the outlawed referendum and the subsequent unilateral declaration of independence, while then-regional premier Carles Puigdemont fled to Belgium where he has been living in exile ever since.
The prisoners were transferred from Madrid to Lledoners, a prison near Barcelona, several months ago (before being moved back to the Spanish capital ahead of trial proceedings last week). The transfer to Catalonia, to allow the defendants to be near their families, was granted by Pedro Sánchez's interim government, for which Catalan independence has proven both a crucial enabler and a great dilemma. Sánchez's centre-left administration relied on the votes of pro-independence parties to oust Mariano Rajoy's conservative People's party government in a motion of no confidence last June. It also relies on the Catalan nationalists to pass key legislation, including its budget plan which is to be debated the day after the trial starts this week and will be voted on in April.
The progressive budget package includes measures like a historically high 23% rise in the minimum wage, certain rent controls and a significant reinvestment in pensions, among other anti-austerity initiatives. It also promises a considerable investment programme for Catalonia, amidst a raft of gestures Sánchez's provisional government has made to pro-independence factions to secure their backing, including a proposal for an outside observer to attend talks between Madrid and Barcelona over the independence crisis. The proposal has enraged the government's detractors on the right, who denounced it as a step towards international mediation, and further recognition of Catalonia's independence. However, the Socialist party government (PSOE) has vowed not to grant Catalonia a plebiscite on self-determination.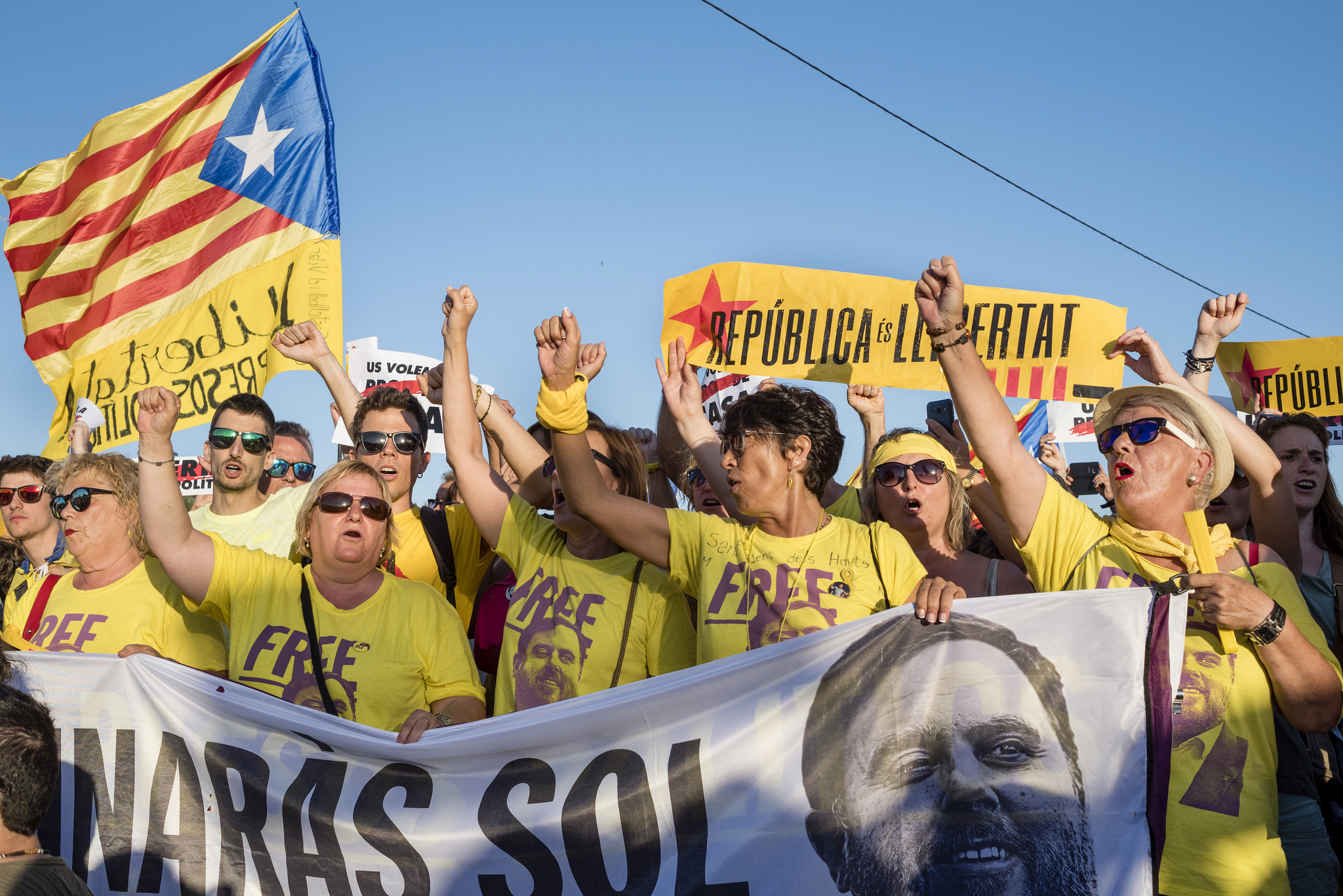 While a number of high-profile witnesses will be called to give evidence in this week's trial, a controversial decision was made to allow the lawyers of far-right political party Vox to act as an additional prosecutor for the trial proceedings. The move is an unprecedented use of "popular prosecution", a feature unique to the Spanish constitution, which allows any citizen or organisation to appear alongside the official prosecution of a given trial. Justice officials expect the right-wing populist party to use the trial to augment their profile, one already boosted by an emerging political climate in Spain that is amenable to reactionary forces. Only last Sunday, right-wing nationalists held pro-union demonstrations in Madrid to protest Catalan independence's perceived threat to 'Spanish national unity'. The party has also found electoral success, currently polling at between 10% and 12% nationally after a breakthrough in December's Andalusian regional elections.
Spain's swing to the right has caused significant problems for Sánchez, who might be forced to call a general election before the end of PSOE's term until 2020 if his budget doesn't pass. His plan was dealt a blow earlier this month, when negotiations appeared to break down altogether between the regional and national governments. At the time, Sánchez tweeted: "Politics makes for some strange bedfellows. [Pro-independence legislators] will vote against a budget package that is beneficial for Catalonia, and the Right against a budget plan that is good for Spain". The Catalan parties argue the negotiations' breakdown owed to Sánchez's failure to stand up to a right-wing PSOE establishment emboldened by the rise of Vox and the far-right more broadly.
La política hace extraños compañeros de cama. El independentismo votará en contra de unos presupuestos sociales buenos para #Cataluña, y las derechas en contra de unos presupuestos sociales buenos para #España. ¿No será que viven mejor en la confrontación que en las soluciones?

— Pedro Sánchez (@sanchezcastejon) February 11, 2019
The case has gone from bad to worse for the defendants. In November, when the judiciary announced the results of its deliberation, the Catalan leaders received harsher-than-expected charges of sedition and rebellion. The looming threat of such heavy sentences has further driven a wedge between Madrid and Barcelona, an uneasy partnership to begin with. As this relationship deteriorates, early elections look increasingly likely.
Sánchez has announced he would continue to govern by passing legislation through by royal decree, as was done to pass PSOE's  minimum wage rise independently of the budget. However, the possibility of a May 'Super Sunday' – in which municipal, regional, European and potentially general elections could be held – is significantly increased if the budget does not pass, with elections due to be scheduled following the upcoming vote.
Protests against the trial of the Catalan leaders are expected to continue throughout the week.