4 Reasons to Support Kurdish Hunger Strikers
5 April 2019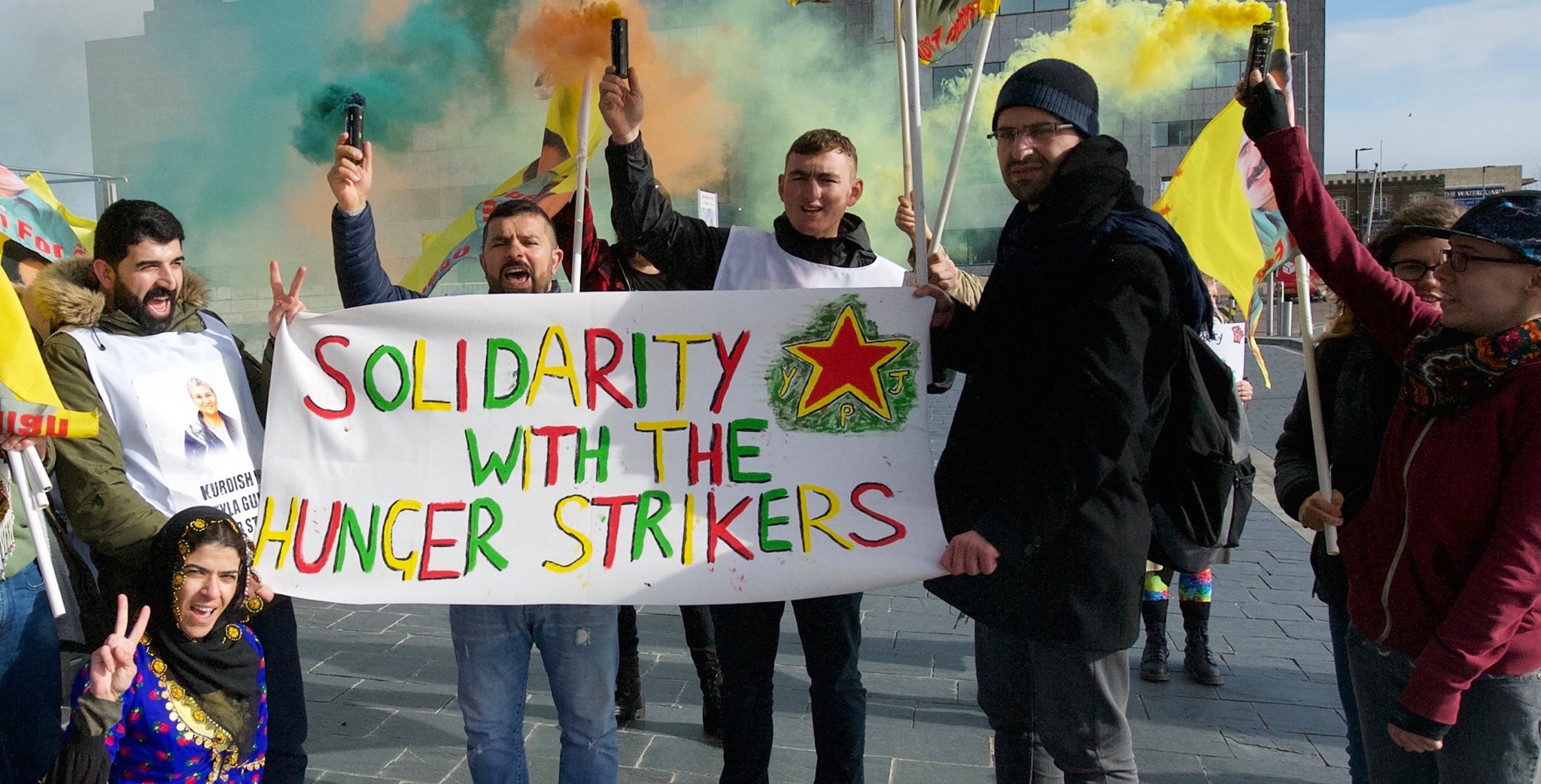 Since November 2018, thousands of Kurdish people across the world have joined an indefinite hunger strike to demand an end to the isolation of imprisoned Kurdish leader Abdullah Öcalan. Leyla Güven, a Kurdish MP in Turkey, has been on strike for over 140 days. Hundreds of imprisoned Kurdish activists across Turkey have joined the strike, alongside dozens of people in Europe — including Wales and London.
The demands of the hunger strikers are simple and uncontroversial: that Turkey honour its commitment to the anti-torture convention of the council of Europe (of which Turkey is a member). Öcalan has been held in total isolation since 2011, with visits from his lawyers denied and just two family visits permitted. The hunger strikers' demands are far from radical — in essence, they are asking for the European Committee for the Prevention of Torture and for sovereign states to pressure Turkey into complying with internationally recognised human rights standards.
The hunger strikes are a question of life and death. The silence from European states in the face of the suffering of the Kurdish people and, in many cases, their own citizens, has been deafening. What the hunger strikers need now is media attention and serious political engagement with their demands — from both grassroots campaigns and elected representatives. Here are four reasons to support the hunger strikers — and how to do it. 
1. British imperialism plays a part in the oppression of the Kurdish people.
The history of British imperialism and interference in Kurdistan and the Middle East are integral to the oppression faced by the Kurdish people today. The Sykes-Picot agreement, orchestrated by Britain and France in 1916, divided the Middle East into spheres of influence and resulted in the drawing of borders that effectively made the Kurds into a stateless people. It would be a misrepresentation of facts to describe British politics in the region as anything other than racist and orientalist. When the Kurds rebelled against British rule in Iraq in the1920s, Winston Churchill was quoted as saying, "I am strongly in favour of using poisoned gas against the uncivilized tribes… it would spread a lively terror."
Today, the UK government continues to sell arms to Turkey, one of its biggest buyers. Even after President Erdogan's crackdown on journalists, public sector workers and activists in 2017, Theresa May visited Turkey to negotiate a £100 million fighter jet deal for BAE Systems, the UK's biggest arms company. The UK continues to support Turkey in persecuting the Kurdish people. The century of British interference in the Middle East, from Sykes-Picot to ongoing arms sales, has further enforced and supported the persecution of Kurds.
2. The Kurdish struggle is closer to home than you would think.
In London, Ali Poyraz, Nahide Zengin and Mehmet Sait Yilmaz have been striking since March 14th, while Imam Sis in Newport is on the longest hunger strike in UK history, having started his strike in December 2018. They are all British residents, who came to the UK as refugees, persecuted for their commitment to pursuing justice, equality and democracy. Their hunger strike has been viewed as a question of international politics, irrelevant to people in the UK. This view is orientalist, racist and dehumanising: not only is the UK government complicit in the fascist politics of the Turkish state, but it is also neglecting its own citizens' wellbeing.
It is imperative that the UK left — from autonomous organising to Labour party structures — make it clear that we stand with the hunger strikers and share their demands. Some steps have already been taken: Jeremy Corbyn recently visited Kurdish activists in Wales, Imam Sis was visited by other Labour MPs and the Welsh Assembly passed a motion agreeing that Öcalan is not being held in accordance with human rights law.
This visible and material support offered by elected representatives is crucial — it makes it obvious that this is an issue relevant to day-to-day politics in the UK, too. As stated by Corbyn, many Labour constituencies include sizeable Kurdish communities. If we fail to support the hunger strikers, we are not just dismissing a geographically remote political struggle, but one that is happening in our cities and neighbourhoods.
3. Abdullah Öcalan is the architect of the revolution in Rojava — and the best hope for peace in Kurdistan.
Öcalan's writings and ideology are central to the ongoing autonomous revolutionary project in Rojava. Located in Northern Syria, Rojava is where the Kurdish people have not only fought and defeated ISIS but also begun building a society based on direct democracy, feminist politics and ecological principles. These are all ideals pioneered by Öcalan since the 1970s. It is his commitment to building a women's movement and non-state democratic politics which have shaped the Kurdish movement into a revolutionary force which is bringing green economies, direct democracy and women's liberation in the Middle East. His isolation and continued imprisonment should be a concern for everyone seeking a more just, anti-capitalist future.
European states and the USA have been happy to ally with Kurdish forces in fighting ISIS; they have recognised the integral role the Kurdish People's ProtectionUnits (YPG), Women's Protection Units (YPJ) and Syrian Democratic Forces have played in defeating ISIS. The deafening silence of these same allies in the face of the continued brutality faced by the Kurdish people is a clear continuation of the complete lack of commitment to achieving peace in the region.
Öcalan has been the primary negotiator on behalf of the Kurdish people — and the Turkish state has recognised this. Despite consistent attempts by Turkey to frame Öcalan as dangerous or as a hindrance to the peace process, his continued commitment to negotiating peace — through calling for ceasefires and peace initiatives — cannot be ignored. Barrister and human rights campaigner Margaret Owen OBE, who has recently joined the hunger strike, declared that any injustice to Öcalan is an injustice to all Kurdish people. There is no hope of an end to the persecution of Kurds as long as Öcalan is held in isolation.
4. Internationalism must be at the heart of left-wing politics.
Across the world, radical movements have worked with Kurdish communities for decades. In recent years, eight UK citizens have lost their lives fighting with the Kurdish YPG and YPJ, while many more have travelled to Rojava not only to take part in combat but to learn from the revolutionary movement. In the UK, Kurdish activists have been integral to feminist organising, trade unions and the Labour party — and many other left-wing mobilisations.
The Freedom for Öcalan trade union campaign has, since 2016, grown to include 14 national trade unions including TUC, GMB and Unite. The campaign was hosted as the 2018 international theme for the 134th Durham Miners Gala. Many trade unionists have called Öcalan the Nelson Mandela of the Middle East, recognising the necessity of his freedom for a peaceful direction in the region.
The left in the UK has campaigned for political prisoners over several decades. From Bobby Sands to Palestinian political prisoners, mobilisations over human rights in prison have formed a long-standing core of organising in trade unions, the Labour party and grassroots movements. Anti-racist and anti-fascist commitments are now being put to the test: Kurdish hunger strikers are calling for solidarity, assistance and attention. To fail to answer would be to fail to honour the commitments of mutual solidarity, anti-fascism and internationalism which underpin everything the left — in all its forms and factions — has worked towards for decades.
How to support the hunger strikers?
Visit Kurdish community centres in London or Newport to hear about recent developments, attend upcoming events or join a solidarity hunger strike.
Write to your MP or councillor, or submit a motion to your CLP to get them to support the strikers' demands.
Follow the Facebook page for updates and share its posts widely.
Join the demonstration at Downing Street on 13 April.