As the Brexit Party Triumphs, a Second Referendum Seems Inevitable
27 May 2019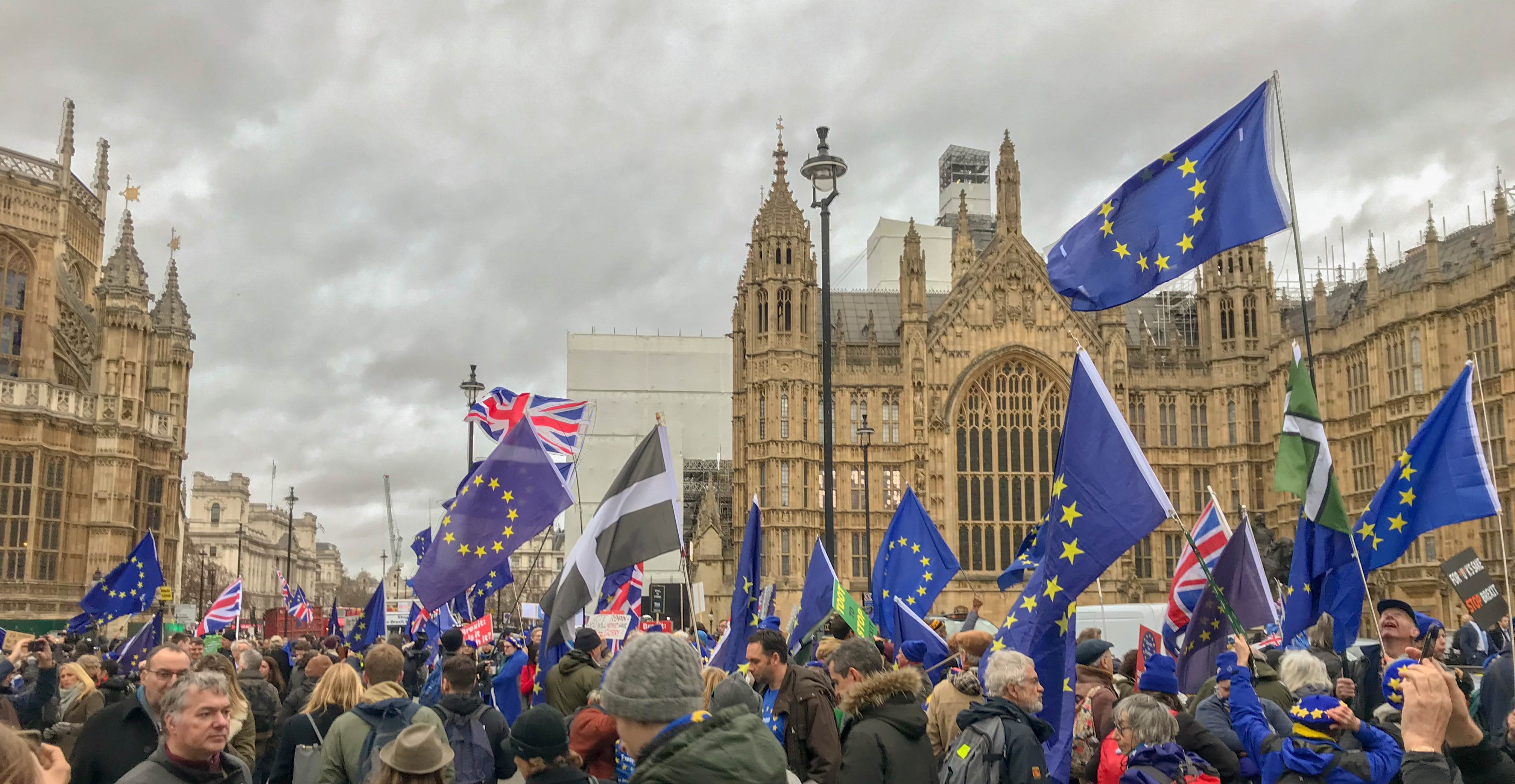 Martin Hearn /Flickr
Yesterday's European election results were, without doubt, the strangest of my life. Such chaos, however, was entirely predictable: since June 2016 British politics has been like an explosion in super-slow motion – Brexit, David Cameron's departure, Theresa May's metamorphosis from wrathful conqueror to timid introvert, Labour forcing a hung parliament. But last night the explosion didn't seem quite so slow. The wheels are coming off.
It was a bad night for both major parties, as proved the case for the centre-left and right across the continent. The major beneficiaries proved to be the far-right and ultra-nationalists, who came first in France and Italy, and the Greens, who came third in France and second in Germany. What the European parliament is seeing, albeit more slowly, is what has been experienced across every member state since 2008 – an ebbing of power from the establishment to upstarts. While it now feels almost mundane, the far-right prevailing in two of Europe's three largest member-states – France and Italy – is a sign of deep political strain. It is a reflection of the profound economic asymmetry created by the Eurozone and it isn't going away.
A similar dynamic, though borne of an instinctive euroscepticism rather than membership of the monetary union, has long applied in Britain. Brexit, naturally, has added a level of intensity unparalleled anywhere else. For the Tories, this election was their worst result since 1832, gaining just 9% of the vote. In Liverpool, where the party's secretary of state for work and pensions, Esther McVey, was born, the Conservatives received just 2%.
While things were much better for Labour, in the context of Tory annihilation that doesn't mean much. They did slightly worse than their appalling results in 2009 (when they came sixth in Cornwall behind Mebyon Kernow) but at least their relevant historical parallel doesn't predate universal suffrage and repeal of the Corn Laws. 
The biggest winner was the Brexit party. Various Labour MPs and influencers were eager to say that their party would have come first had it decided to throw its weight behind a second referendum. But given Labour hasn't won a European election since 1994, and the Brexit party gained the largest share of the vote of any party in 20 years, that is almost certainly untrue.
Indeed is difficult to overstate the scale of the success achieved by Nigel Farage and co. with an electoral enterprise only registered in February. When Ukip won 26% of the vote five years ago, in the process becoming the first party that wasn't Labour or Conservative to win a British election since 1910, it seemed an unsurpassable achievement. Yet last night the Brexit party went further still, gaining 33% of the popular vote and winning 28 MEPs – three more than Ukip in 2014 – and making the Brexit party, alongside the German CDU, the single largest national party in the European parliament. Importantly, this is an organisation not just running on a platform of respecting the referendum, but which has consolidated a previously nebulous leave vote around 'no deal'.
As a result, the Tories are confronted this morning with an existential crisis that has no discernible solution. What is certain is that the next leader, elected over the summer, will have to pursue one of three paths – all unthinkable a few months ago. The first is 'no deal' and effectively trying to wind down the clock until the end of October. This is unlikely because Tory MPs would refrain from giving their nominations to any candidate who proposed such a thing and, even if it somehow got that far, parliament would likely no-confidence a prime minister who pursued such a strategy.
The second is a general election, which for now remains the most likely course of action. If one is called, which I imagine will happen before the end of the year, then the successor to Theresa May could well be the shortest-lived inhabitant of 10 Downing Street in history. Even if they delay beyond that, and somehow get another extension in the absence of an 'electoral event', a stay beyond the 363 days of Alec Douglas-Home is unlikely. If they fight such an election having failed to deliver Brexit – and with Farage's new party competing alongside them – they will haemorrhage votes and seats. In the event of Labour adopting a second referendum position, we will likely end up once more with a hung parliament – the Liberal Democrats and Brexit party taking seats from both Labour and the Tories – but Jeremy Corbyn could well be the prime minister.
Then there is the third option – a second referendum. This might bring greater comfort to Conservative backbenchers because many will simply not want to defend their seats having just lost more than 1,300 councillors earlier this month and recorded single digits for the first time in any election ever. Of course, in the long term, it would destroy any credibility the party has and mean mass resignations of both activists and MPs. The idea of prime minister Boris Johnson calling for a 'confirmatory vote' sounds absurd, but it might just happen. It is arguably their 'least worst' option.
But it would also pose a question. Who would lead the campaign for 'remain'? And, importantly, what would be different to the doomed effort of 2016? Given those behind the 'People's Vote' campaign have failed to move public opinion on the issue of Brexit an inch in the last three years – at a cost of several million pounds – I'd hesitate to choose them. Indeed while they have proven capable at getting people behind their demand for a second vote on Britain's departure, their primary political legacy, at least so far, appears to be consolidating the leave vote around no-deal. If the campaign is fronted and organised by the same people as before – who view the mantle of liberal Britain as their birthright – they will lose. Farage's no-deal message may be politically unworkable but it's clear, simple and, in its own way, optimistic. What the last several years have repeatedly shown, in the UK and elsewhere, is that the electorate wants change. If a second remain campaign fights with a pitch calling for things to stay the same then they will lose, meaning the British left would suffer a reverse arguably worse than the 1980s. 
After last night it seems more likely than ever that those who want a second referendum will get one. That may come before or after the next general election. Those same people, at least in part, will have to take responsibility for winning that ballot and whatever consequences may follow. They are confident of winning, but the same was true in 2016. For the rest of us, a simple demand should be made: if Labour is to adopt a policy of a second referendum, it will only be accepted by the left if it comes with mandatory re-selection and the continued democratisation of the Labour party. Compromise doesn't go one way – and if the likes of Tom Watson care so deeply about what members think then surely they'll agree.