Football is a Game for the Many – It's Time to Give It Back to Them
4 July 2019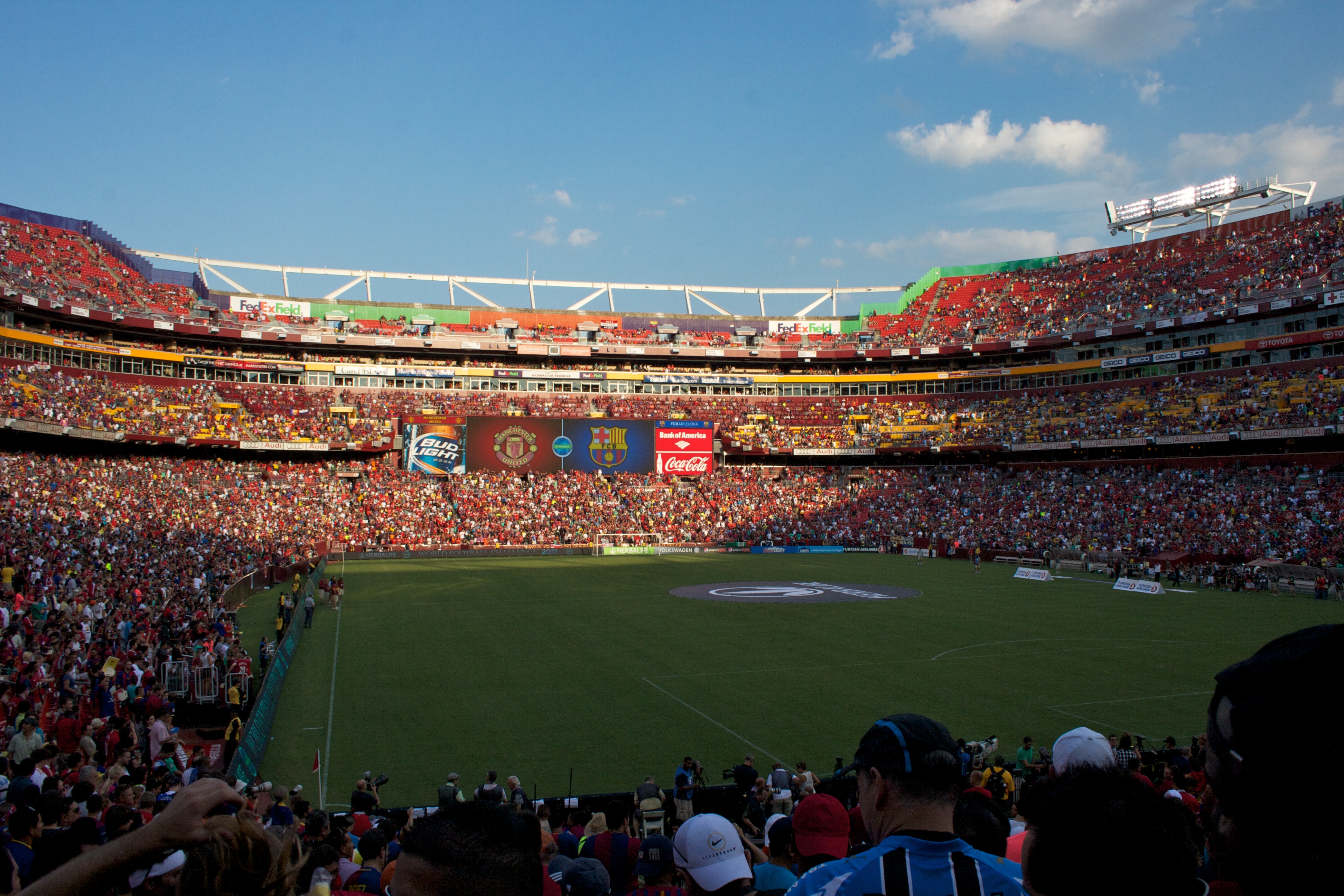 Nathan Forget/Flickr
To say Britain confronts a crisis of democratic legitimacy is an understatement. Foremost in this upheaval is Brexit. Even if it were somehow stopped, whether by a tractable Tory party or a second referendum, Scotland's departure from the union seems ever more likely. A 'no deal' would be the clincher, but would also make Irish unification probable and accelerate a mass movement for Welsh independence.
But alongside all this is another crisis – one that relates to ownership, civic pride and the limits of capitalism. I am, of course, referring to English football.
The politics of ownership has re-emerged in a remarkable way in recent years. The leader of the opposition argues for nationalisation of water, rail and mail, while the shadow chancellor says Labour will legislate for workers to own a stake in the companies that employ them. But could such momentum reach as far as the national game? 
The sense of grievance is certainly there. From Newcastle to Portsmouth, football fans are all too familiar with the worst excesses of millionaires owning their clubs. The most high profile case is Manchester United, England's most successful domestic side. Its purchase by the American Malcolm Glazer, for around £800m between 2003 and 2005, was financed with loans procured against the club's assets. Overnight United went from being an economic powerhouse to debt-laden, now having to pay an additional £60m a year in interest payments alone. 
Initially the new owners were lucky. Alex Ferguson oversaw affairs on the pitch and papered over a lack of investment with unparalleled management. Since his departure, however, the ship has started to sink: United's failure to spend as their golden generation aged meant they have failed to win a Premier League title for six years. Old Trafford, Britain's best club stadium for decades, has seen no improvements since 2006 and is in increasing disrepair. While United could previously pay extraordinary sums on players as a result of low debt, high gate receipts and a world-class brand their high levels of debt over the last 15 years has seen them fall behind. Since 2005 the Glazers' takeover has drained the club of almost £1bn in terms of interest, costs, fees and dividends. In 2014 Malcolm Glazer died, leaving the club to his six children. In 2016 they received a £15m dividend between them, the following year it was £18m. Just last month Darcie Glazer, one of the siblings, used her shares to secure a personal loan of almost $7m.
Then there is Newcastle's owner Mike Ashley, the CEO of Sport Direct – a company whose warehouse employees have been known to give birth in toilets for fear of losing their job. In terms of local support Newcastle is one of the biggest clubs in the country, and yet Ashley views the Magpies as nothing more than an extension of his commercial empire. Since taking control of the club in 2007, Ashley has overseen two relegations and failed to re-invest funds generated by the club and its famously loyal fanbase. Symptomatic of Ashley's values is how the club's previous shirt sponsor was Wonga, the payday lender. Now it is Fun88, a Chinese online betting company.
While Ashley is uniquely detestable, similar issues are evident elsewhere among the top sides: Arsenal fans are growing tired of their owner Stan Kroenke. The American set a transfer budget of £45m for the summer, but because of a recent lawsuit this figure will likely be lower. And the lawsuit? It relates to Kroenke's NFL franchise, the Los Angeles Rams, which was recently ordered to pay up to $24m to supporters in St. Louis – the former home of the team – after fans there purchased ticket rights for 30 years before the club moved state.
The problem extends beyond the domestic game's elite. The mismanagement of the Gaydamak family with Portsmouth offers one example, as does the Mayfair-based hedge fund Sisu and its ownership of Coventry, whose recklessness means the club is now effectively homeless. Elsewhere a 2017 high court judgement found that Karl and Owen Oyston operated an "illegitimate stripping" of Blackpool football club, paying £26m out of a club they owned to a range of other businesses belonging to the family.
There are many other sides beset by similar issues, like Macclesfield, Swansea and Charlton – not to mention Bolton, which went into administration this year. While some football clubs will always be better administered than others, and it's important to highlight that the likes of Liverpool and Tottenham are presently well run, what's undeniable is that since the Premier League era debt and financialisation have become increasingly central features of English football. This has been accompanied by higher ticket prices and a fragmented ownership culture where a hedge fund is more likely to own a club than a local boy or girl 'done good'. For the likes of Newcastle or Bolton, the 'product' is no better as a result.
Fortunately the alternative response already exists. Fan ownership exists across Europe, with some of the world's most successful sides controlled by their supporters. Indeed the three highest ranked clubs in Europe at present – Real Madrid, Barcelona and Bayern Munich – fall into that category. Elsewhere Ajax has a majority of equity owned by its supporters association.
All of these clubs have been better run than any in Britain over the last decade, and with the exception of Ajax, all spend larger sums of money on players while ensuring fans enjoy cheaper tickets. Sweden and Germany both operate with the '50+1' rule, where supporters exercise majority control over their clubs (although there are several exceptions in Germany). A seated season ticket at Bayern Munich, who just spent a world-record for a defender, costs €750. In England clubs like Fulham and West Ham – who haven't won a major honour between them since 1980 – are almost double that. Even more remarkable is the price for a standing ticket (which has regulatory issues in the UK): at Bayern one can be had for as little as €140, while joining Borussia Dortmund's "yellow wall" is €215. As a letter by Bayern's management to season ticket holders recently put it: "Football in the Allianz Arena should be available to watch for everyone in our society". 
It's not only supporters who lose out as a result of the English model – it's workers too. 16 out of 20 Premier League clubs don't pay a living wage, including Manchester United, Arsenal, Tottenham and Manchester City. The workers who make sure football stadia operate on match day are paid a pittance, while fans are locked out from the game they love – and any solution has to recognise these two issues are deeply connected. Football clubs aren't just symbols of civic pride but often major employers too, and a move to majority fan ownership, where a living wage is guaranteed and worker-owned business encouraged to tender for contracts, would be an extraordinary way of making socialism relevant to much of the public. 
For all the talk of a 'culture war' in British politics, football is an area which remains strangely ignored by many socialists. I'm with the fans and workers at Bolton, Newcastle and Manchester United – and I'm against the financial sharks destroying the values and heritage of this extraordinary game and making life miserable for the working poor.
It's time for football fans to take back control of their clubs, making them places everyone can afford to go and where people are paid a decent wage. But that fight can't be fought alone and it needs a plan. I'd argue a new National Investment Bank, set up by the next Labour government, could be precisely this, and finance supporters trusts to incrementally buy equity in their clubs and reach that 51% mark. Football is a game for the many, and it's time to give it back to them.
Aaron Bastani is co-founder of Novara Media and author of Fully Automated Luxury Communism.