Rough Sleeping Is at Record Levels, so Why Don't People Care?
29 July 2019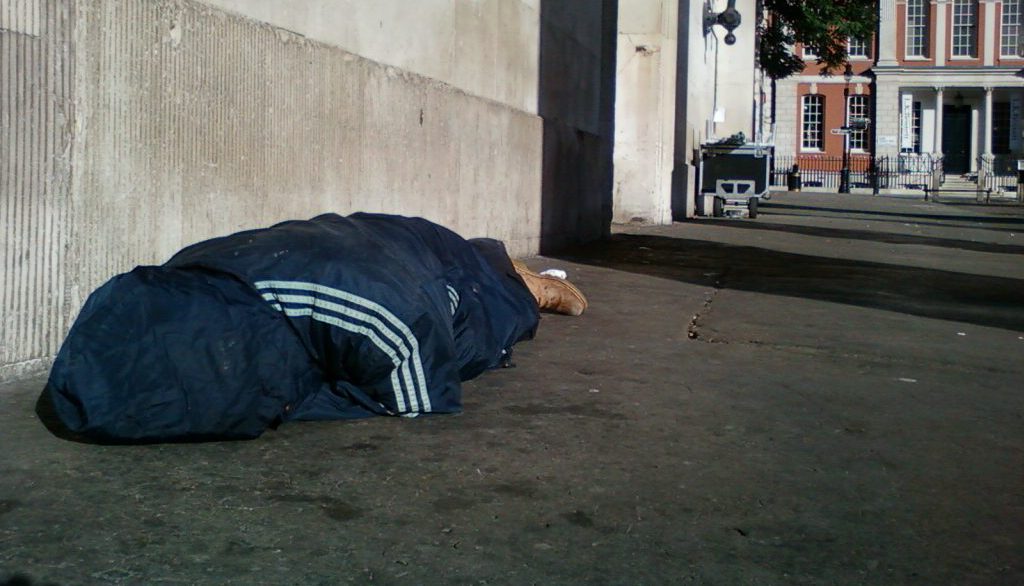 Blodeuwedd /Flickr
Jerome is handsome, there's no getting away from it. His short cropped hair runs seamlessly into a thick beard. His eyes are dark, his smile warm. He recently moved into a homeless hostel after six months sleeping rough on London's unforgiving streets, yet, surprisingly, he says rather than his warm new bed,  he's most enjoying using the mirror in the communal bathroom. This isn't because he spends hours doing his hair, it's because it makes him feel like a person again – "when you're on the street being constantly ignored you start to feel like a monster. Seeing myself each day shows me I'm not". 
Official figures show the number of people sleeping rough in London is now at record levels, with over 8,000 people sleeping outside in the city between April 2018 and March 2019. Overall in England rough sleeping has increased by 165% since the Conservatives came to power with the help of the Liberal Democrats in 2010, while homeless deaths have more than doubled in the past five years. For many, the indignity of seeing people attempt to live their lives on street corners, on buses and even in rubbish bins, has become as part and parcel of living in urban areas as expensive coffee and congested trains. So why do so many of us turn a blind eye to such blatant destitution? Why, in the sixth richest economy in the world, isn't there uproar that some people are living under such obviously difficult and often fatal conditions?
Following the Tories' electoral victory in 2010, the then Department for Work and Pensions Secretary Iain Duncan Smith made an era defining speech at his party's conference. He described how some communities had "become a place of intergenerational worklessness, hopelessness and dependency", going on to proudly declare a new contract with the British people – "failure to seek work, take work, stay in work, or cooperate and you will lose your benefits". 
Dr Beth Watts is a Senior Research Fellow at Heriot-Watt University in Edinburgh, where she specialises in homelessness and welfare conditionality. She believes as the government has methodically weakened the welfare state, it's ramped up this narrative that rights and resources are conditional on people behaving in a certain way. A narrative which Watts says inherently views poverty as "created by individual choice". She argues this way of thinking has wormed its way into public attitudes to the extent that "when someone sees destitution like someone sleeping on the street it can be easier to think they're there because of what they did or have done". When people frame rough sleeping in this way it prevents them from seeing the structural factors which cause it "like an expensive housing market and low benefit levels which sit in an increasingly conditional system".
Pete sleeps rough in Westminster, one of over 300 people who bed down on the doorstep of the UK's halls of power every night. Having just seen a female rough sleeper being removed from Parliament's proximity by police he's understandably angry when I interview him. "MPs and councils need to stop looking at us like beasts, I'm just as human as they are," he says. The power for the police to arrest rough sleepers comes from the 195 year old 1824 Vagrancy Act, which criminalises behaviour such as begging and sleeping in the open air. There were 1,320 prosecutions under the legislation in England and Wales in 2018.
The Labour Homelessness Campaign aims to put a radical homeless agenda at the forefront of Labour Party policy. A spokesperson for the campaign says criminalising homelesness "influences the way people view it as it feeds into the idea that anyone begging or sleeping rough is a criminal". They argue the government is refusing to give in to campaigners calls to repeal the act as "the more intimidated we are by rough sleepers the less we think about what's put them there, which is a rigged economic system where cities full of empty buildings sit generating capital for the few". 
Suspended government minister Mark Field recently referred to a homeless charity as a "magnet for undesirables". Homeless Minister Heather Wheeler had to apologise for using racist language about rough sleepers in emails and former Housing Minister Kit Malthouse previously boasted of making life for rough sleepers in Westminster "uncomfortable".
In her book 'Homelessness, Citizenship and Identity' the American academic Kathleen Arnold writes that attempts to blame and criminalise homeless people originate "in myths and stereotypes that reflect more a fear of the unknown and the uncanny". In the UK this seems to come from the top. Watts believes one way to address this fear is to stop "defining people by their homelessness, which invariably defines them by what they lack". She says constantly describing someone as homeless "paints them as a caricature rather than a human being with a history, hopes, talents and challenges". As Michael, who's been rough sleeping on and off for years says, "see us for who we are and not our situation". 
But Watts also believes that more well intentioned ways of talking about homelessness can be counterproductive too. She laments how "often it's the opening of an emergency night shelter, soup kitchen or someone gathering toiletries for a homeless person that gets news coverage when actually we can do much better than just feeding people and giving them a blanket and a bed in a hostel". A 2016 study by the homeless charity Crisis into public attitudes on homelessness found this kind of coverage means public thinking on homelessness is characterised by "a deep fatalism". The research found non-experts struggle to "comprehend how changing social contexts through policy can prevent homelessness", instead creating the sense that "homelessness is an unavoidable problem". Watts believes this is due to a "fatalistic narrative that homelessnes is a really complex issue", when in reality the solutions are actually relatively simple: "A fit for purpose social security system and an accessible housing market would make the biggest contribution to ending homelessness for good, we just need to get much better at telling people that".
Some names have been changed to protect people's identities