Power Beyond Borders: Climate Activists Target the Hostile Environment
30 July 2019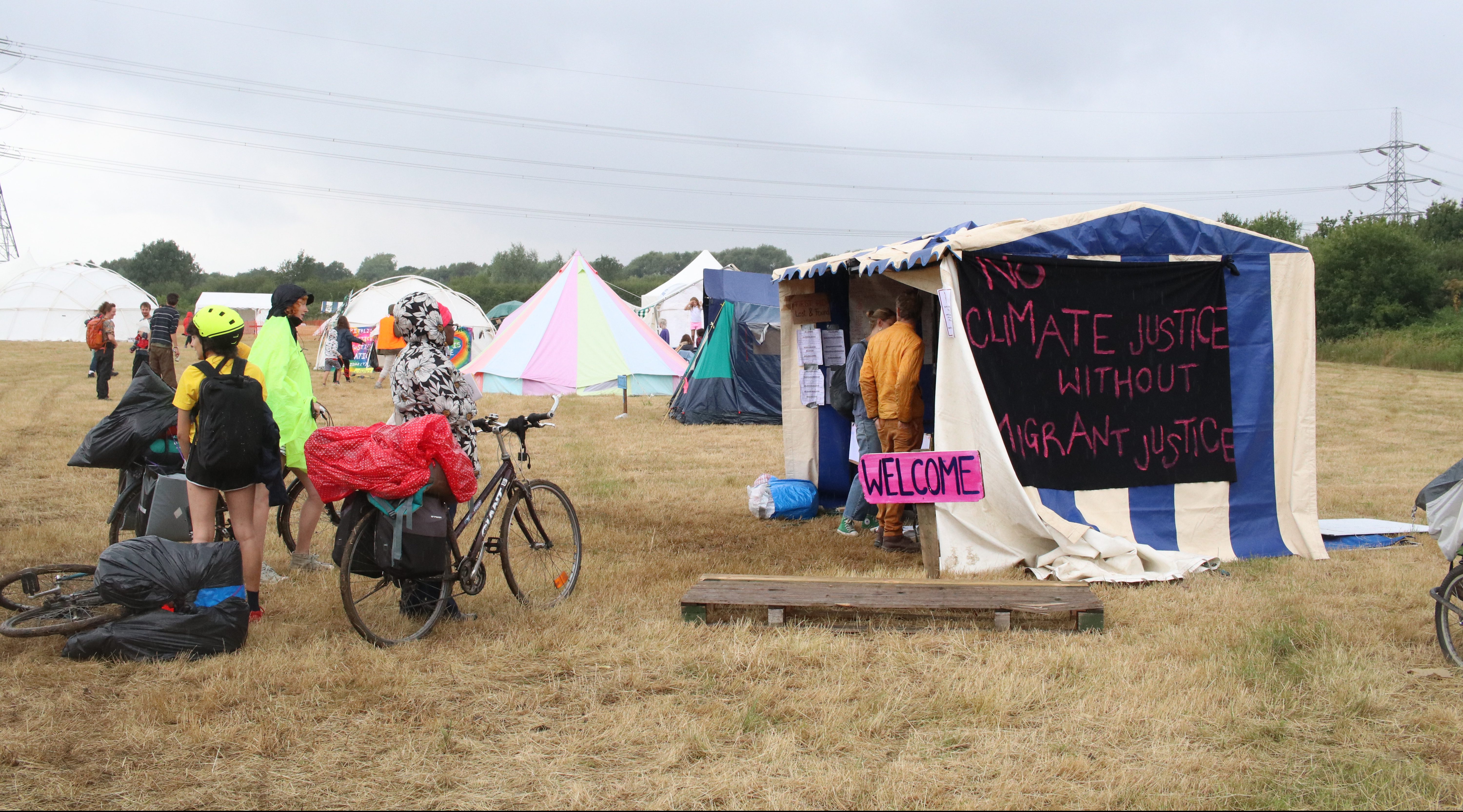 "It's vital we put together the climate change movement with immigration, asylum and anti-deportation campaigns," Sara Callaway, of campaign group Women of Colour, tells a tent full of avid, muddy listeners. "We're in the fight of our lives, and it's so urgent that we get together on these issues," she continues, as people in the crowd begin to clap.  
Wearing heavy duty raincoats, hundreds of people gathered in an illegally occupied field near Harlow in the south east of England over the weekend, to take part in a series of workshops on climate justice and the hostile environment. As if to evidence our volatile and rapidly deteriorating climate, following soaring temperatures in the week before the six-day camp it was pouring with rain when Novara Media visited on Saturday, yet organisers Reclaim the Power (RTP) said despite this at least 400 people had arrived at the site, which they occupied in the early hours of Friday morning.
Climate justice direct action group RTP run similar camps every year, but they have never run one with a specific focus on migrants' rights before; doing so seemed to have breathed new life into the movement, with a large and diverse crowd having braved the bad weather. Such an intervention also felt necessary. While Extinction Rebellion has dominated climate crisis coverage in recent months, the group has struggled to respond to criticism that it is – or at least was – ignorant to how climate breakdown is already and disproportionately affecting the global south and oppressed groups. It's tried to catch up, but has visibly floundered, often appearing tone deaf and behind the curve. In contrast, the RTP camp put migrant solidarity front and centre, to the extent that it almost overshadowed the group's climate message. 
The organisers, however, say the camp's dual aims are part and parcel of the same thing, so neither risks drowning the other out. "Both the climate crisis and the UK's racist hostile environment policy are examples of systemic racism that devalue black and brown bodies," said organiser Pascale Robinson. "To be an effective movement we need to tackle both of those things."
Skye Golding worked on putting together an events programme for the camp that focused heavily on the hostile environment, including how to tackle forced deportations and detention without a limit. "As the climate crisis gets worse and worse more people are going to be forced to flee their homes and we want to ensure that anyone coming here has a safe environment and is treated with dignity and respect," she said. "But mostly we just think that migrant justice is a really important issue that we want to be tackling. 
"It's about working out how we can use our movement and the people we have as Reclaim the Power to combat racist immigration policy."
The camp, which runs until Wednesday, has already spawned a number of protests in the south east. On Monday morning attendees travelled to London for a high energy demonstration outside the Home Office, while a smaller group embarked for Heathrow, to take direct action against coach company Hallmark Connections, obstructing the entrance and exit to the company's depot to demand they stop enabling government deportations. The company had to cut down its own fences to get the coaches out.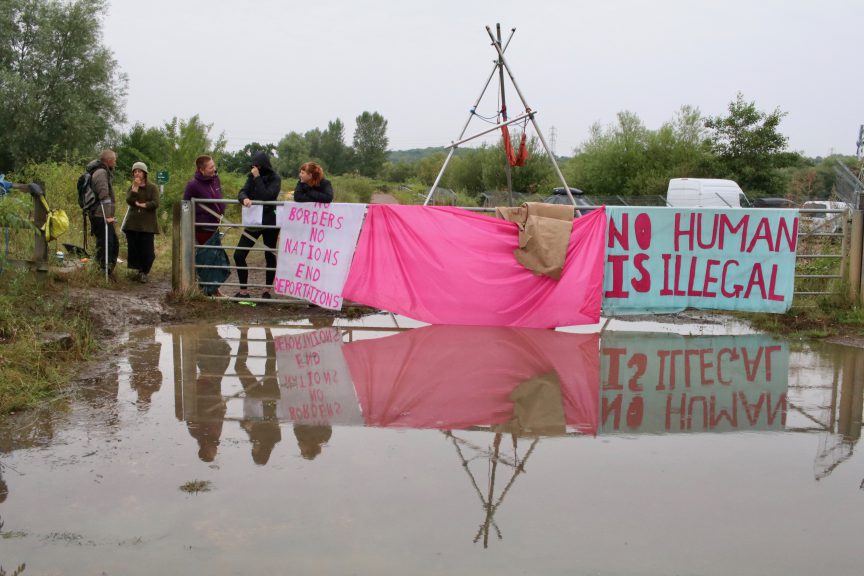 Speaking over the thudding rain shortly before her workshop, Callaway said tha,t like the organisers, she sees climate justice and migrants' rights as intrinsically linked.
"In places like Africa and Latin America and India, people are on the frontline of climate change," she said. "People are fleeing, crossing the Med and risking their lives to escape the impact of climate change. But that's hardly talked about."
While climate rhetoric often ignores problems in the global south, it could also be ignoring solutions, she added. "There are massive struggles going on in Africa and India that don't get talked about, but with immigration people are coming here and they're talking about how they fight dictatorships and how they defend the environment."
She added that she was thrilled the camp is happening and that people want to be educated; racism is constantly undermining organising she said, and only when white people shift their perspective to bear in mind the history of theft from Africa can this change.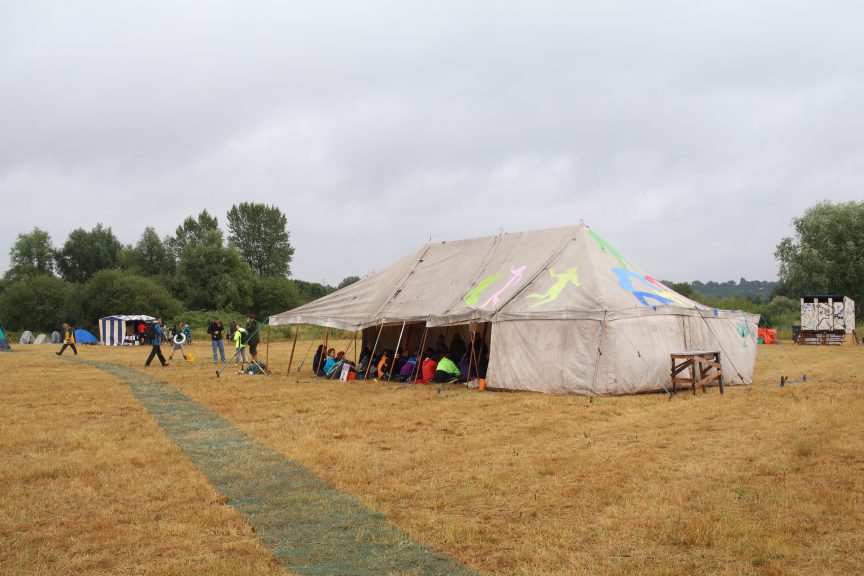 While the camp programme had a heavy focus on the hostile environment and how to oppose it, RTP set up in the shadow of a power station recently purchased by energy giant Drax, as if to ensure a visible reminder of its climate message was present at all times.
A day of action is planned for Tuesday, targeting the fossil fuel industry.
Charlie, a member of the RTP press team, who asked we use his first name only, described Drax as a "chameleon", which "embodies everything that is wrong with our energy system". By switching to biomass and gas, the company has pitched itself as conscientious and sustainability minded, he explained, allowing it to sweep up government subsidies worth billions of pounds. Such has been the company's success that it recently submitted plans to open the largest gas power station in the UK.
While energy companies argue gas is better for the environment than coal, activists say this isn't true if you look at the entire extraction process. If Drax is allowed to open the new station, Charlie argued, we'll be locked into gas power for decades to come. He finds it particularly abhorrent that government subsidies have paved the way for the new power plant. "Effectively the public are paying for Drax to wreck the environment," he said. "Money that should be going towards building a future that we all want is going towards fossil fuel production."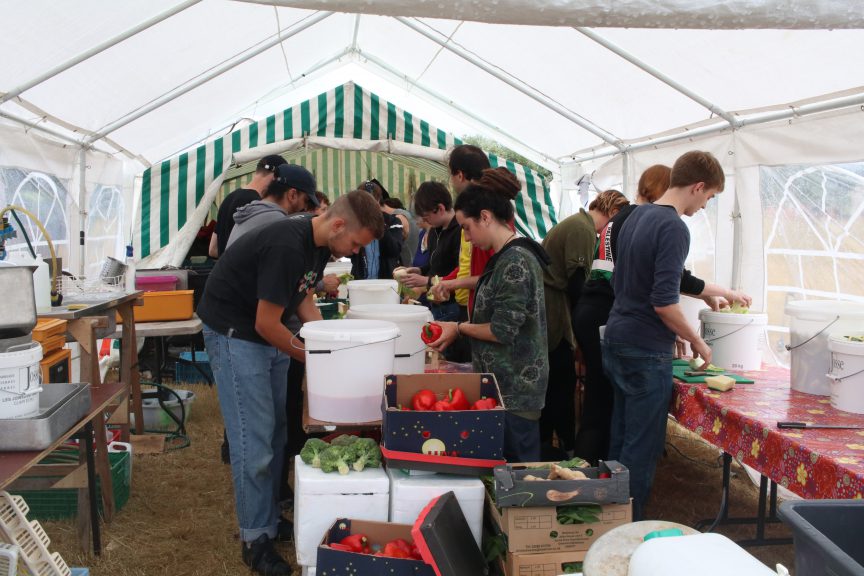 The dual aims of the camp brought in a varied crowd, comprising what seemed to be an equal number of climate activists and migrants' rights activists, and a few newcomers keen to learn about both movements.
Abby Meadows travelled directly from Calais, where she spent several months working with asylum seekers. She said her experience in northern France made her particularly afraid of the imminent, human consequences of climate breakdown.
"The British and French states' responses [to vulnerable migrants living in precarious situations] fills me with fear about how climate breakdown is only going to bring about more forced migration and how not only ill-equipped states in Europe are to deal with it, but how institutionally racist their approaches are," she said.
"EU migration policy needs to radically change if we're going to cope with the forced migration that is inevitable."
Meadows' critique extends to the crude distinction currently made between economic migrants and refugees, which she says is not accurate in a world where drought is already ending work opportunities and forcing people to travel abroad to make the money they need to survive. 
Organiser Roscoe Blevins, meanwhile, comes from a very different perspective to Meadows. Blevins was sentenced to 16 months in prison in 2018 for taking part in an anti-fracking protest, before his sentence was quashed in a court of appeal where the judge ruled it excessive.
On site on Saturday, Blevins listed Drax's many evils – a topic he was clearly familiar with speaking about – before saying a personal reason for attending was to educate himself, and in particular to learn about the hostile environment.
"Reclaim the power has been working on both environmental and social justice since it was formed," he said. "We wanted to bring both these issues into one place, to educate ourselves and to take action together."
"There's a lot of responsibility we need to take," he added.