'Tantamount to bullying': Asda Workers March Against 'Flexible' Contract Imposition
14 August 2019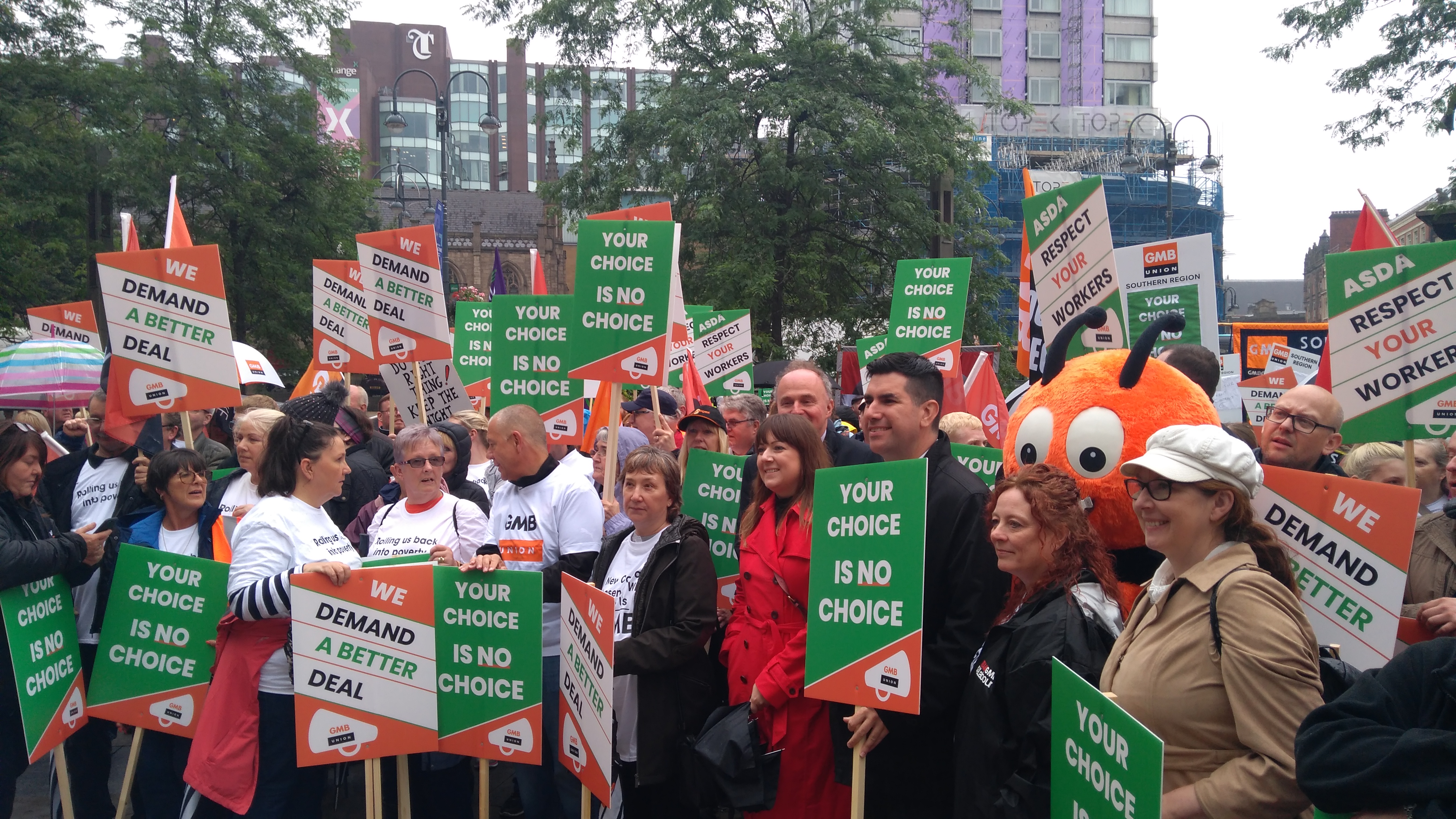 Asda workers joined a national demonstration in Leeds today to express their dismay at new contracts being imposed by the Walmart-owned supermarket chain.
'Contract 6' is set to make shift allocation more flexible while standardising the existing range of contracts in Asda stores.
Asda is focusing on the proposed 63 pence per hour pay increase the contract will give workers, stating the changes to terms and conditions "would enable us to deliver better service to our customers in an intensely competitive marketplace".
However the GMB union, which organised the protest, has said the new terms and conditions will leave workers worse off overall, with changes to shifts and the loss of paid breaks leaving some workers poorer at the end of a shift and affecting their ability to manage their home lives.
Mary, 62, has worked at Asda for 26 years.
"You'll have to be so flexible that they can change your hours and the days that you work with three weeks' notice, so you could be working anytime from 5am and midnight," she tells Novara Media.
"They're saying that they're giving so much of a raise, but from what I hear, if the government puts into plan about raising the living wage it's going to be the same anyway."
"Long term colleagues are actually losing holidays. We've gained holidays as a benefit for our long service, and now we're losing holidays."
Elizabeth, 60, explains that employees in her store were invited to share their opinions on the new contracts. She told managers the required flexibility would be incompatible with her need to pick up her granddaughter each afternoon, but was informed her caring needs could not be taken into account.
"That's not classed as a priority in their eyes, because it's her granddaughter and not her own child," Mary explains.
Speaking to hundreds of workers from across the UK in City Square ahead of a march to Asda's national headquarters, Yorkshire region Asda lead rep Ron Powell, said:
"The bosses can only see the profits, but I can see friends and colleagues whose lives are being ripped apart by this. I've witnessed my colleagues heartbroken and horribly desperate and emotionally destroyed over the worry and uncertainty that this contract threatens them with.
"In the boardroom, it may be all about the bottom line, but out there on the shopfloor, it's our lives they are messing with."
"What's happened to the loyalty that colleagues have given to Asda over the years?"
One recurring explanation appears to be the acquisition of Asda by US conglomerate Walmart 20 years ago, which workers say led to changes in the ethos of the company.
"It was a family store," explains Mary, who remembers working for Asda before Walmart took over.
"They did take into consideration people's needs. Now it's all money focused, and I know they have to make money but it seems to me that since Walmart came on board, respect for the individual seems to have gone out the window."
A significant number of the individuals most affected by the new contract are women with caring responsibilities, who make up most of the workforce at Mary and Elizabeth's store.
"This was a story we heard time and again," GMB leader Tim Roache told the rally. "'I'm a single working mum, I can't leave my son alone while I work until ten o'clock at night.' Of course you can't! It's disgraceful."
Workers are now under pressure to sign the new contracts by 2 November or face being unemployed just weeks before Christmas.
Many employees have felt they simply have no choice but to give in to the changes, Mary tells Novara Media. "A lot of the colleagues that have signed it have done it through stress. They've felt pressurised that they've had to sign."
"They said that they've felt bullied into it, you know with how the managers have talked to them," says Elizabeth.
"The upshot of it is that you're issued with 12 weeks notice," adds Mary. "If you do not sign this, you do not have a job. To me that is tantamount to bullying."
Elizabeth, who has worked at Asda for 14 years, said the imposition is now affecting the mood at work. "The morale all over the store has gone down. Some of the colleagues end up arguing – it's all wrong."
Mary hopes the campaign will get Asda workers together to force the company back. Four years away from retirement, she is worried she won't be able to get another job if she is forced to leave or cannot live up to the demands the contract places on her.
"It's not about the money. It's about having a family life."
Craig Gent is head of operations at Novara Media.