Homelessness Activists Occupy Tunnel, After MPs Ask for Gate to Stop Rough Sleepers
12 September 2019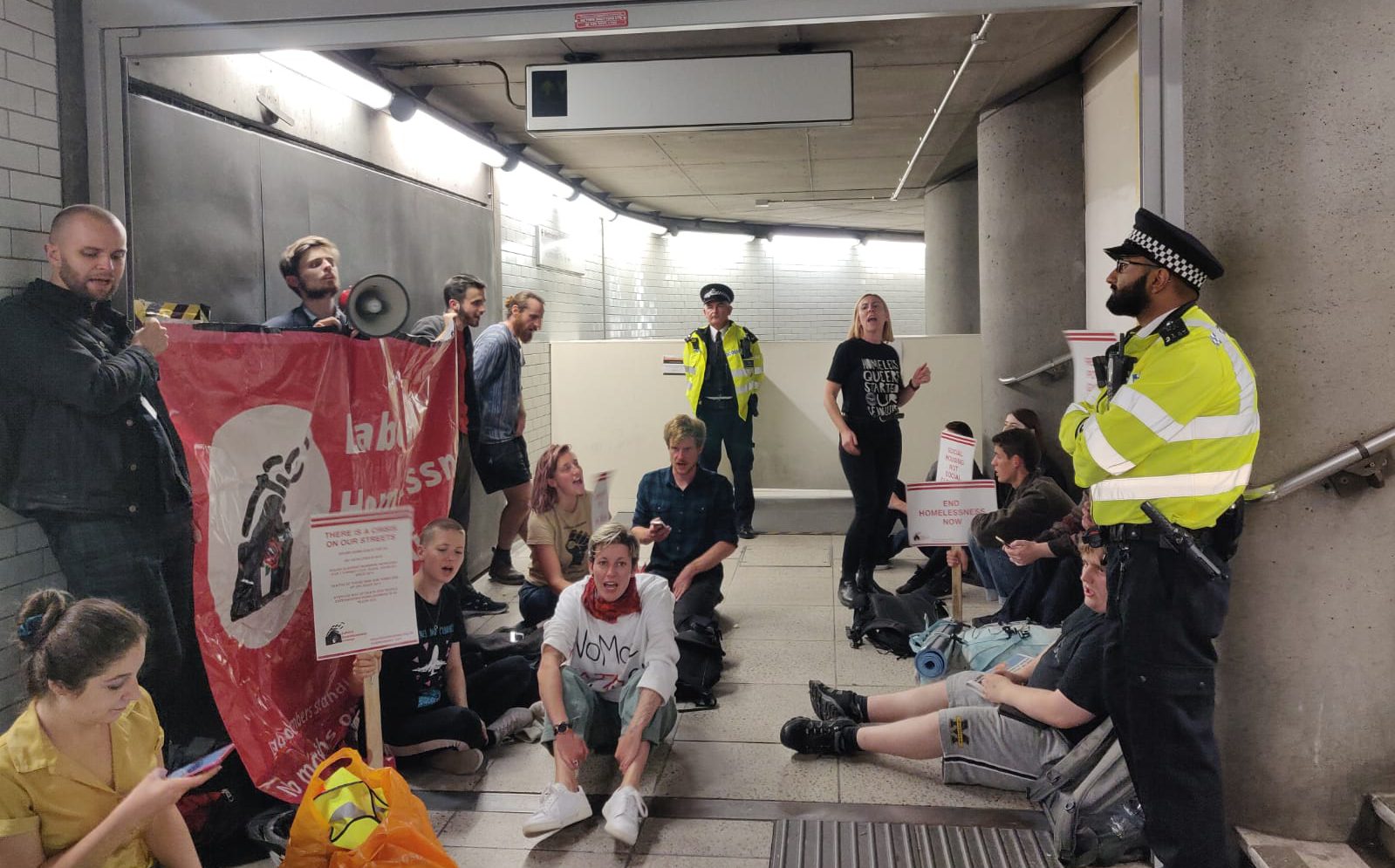 "There's this big mess in there about Brexit, about this and that… and in the meantime the world is falling apart," John said, gesturing towards parliament.
John* sells the Big Issue in Westminster and used to sleep rough in the underpass leading from the tube station to the Houses of Parliament. Last month, John and fellow rough sleepers were evicted by the police without warning and a gate was installed, shutting off access to the tunnel at night. Homeless people allege this was after some MPs, who walk past them everyday, complained about their presence.
Now, as the weather turns cold, people who used to sleep in the relatively warm, safe and dry tunnel have been left with nowhere to go. "They try to push us away – [but] away to where?" John asked. "They might as well throw us in the river".
Over 320,000 people are homeless in Britain – up 169% since the Conservatives came to power. But far from an isolated incident, the gate is part of a trend in what campaigners describe as hostile, or anti-homeless, architecture – physical interventions or design features that aim to exclude rough sleepers from public space.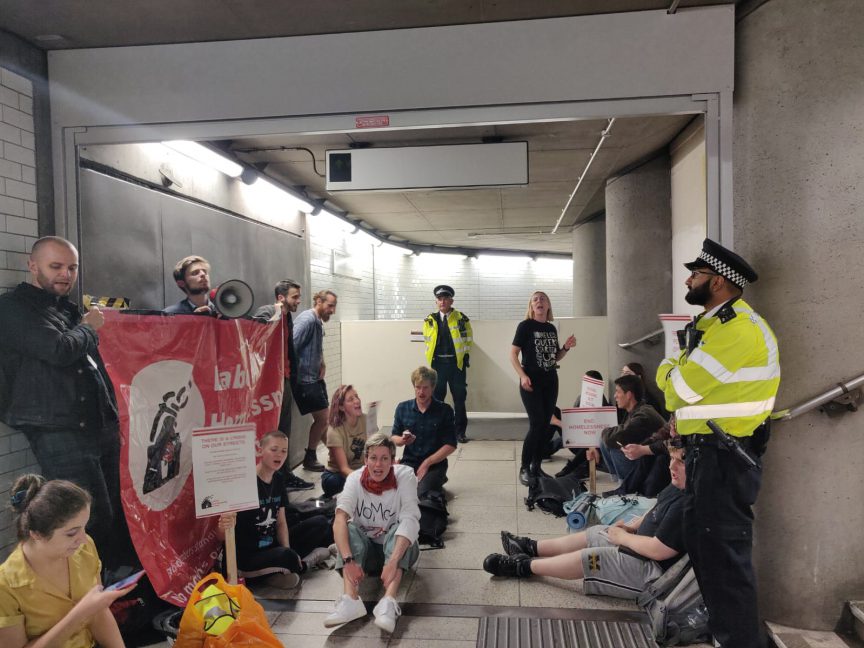 On Monday evening, as politicians in parliament argued about proroguing and Brexit, around thirty activists occupied the tunnel to demand the removal of the gate, an end to austerity, and that politicians start helping rough sleepers instead of criminalising them.
As protesters shouted, "No more deaths on our streets!" – defying a steadily increasing police presence – a security guard told them they were on parliamentary property and might be "removed" to prevent inconvenience to politicians at the end of "an incredibly big day today" in the Commons.
As MPs – mostly ageing white men in suits – stepped over the activists without engaging, the energetic chants continued for three hours. Among them:
"Westminster for the masses, not just the ruling classes!"

"Westminster you've no conviction, stop the Westminster evictions!"
Westminster, London's richest borough, has the country's highest number of rough sleepers. Until the gate was installed, the tunnel provided shelter for around ten people at a time.  
Tom – a co-founder of the Labour Homelessness Campaign and one of the protest organisers – told Novara Media the action was, "to express solidarity – to say that public spaces should be for people, not power and privilege and profit".
Sarah, an activist taking part in the sit-in, once slept rough in the tunnel herself. "I suffer with mental health problems and used to sleep here because it was safe, warmer and off the streets," she said. 
Tim, who used to sleep in the tunnel and blogs about being homeless, said he believed the gate was installed after MPs complained about seeing rough sleepers. In a blog post from early July he recounts overhearing two MPs talking as they walked through the tunnel, one man said:
"I see this lot are still around here. We will have to get another restriction in place to get them out of here."
The gate was installed a month later. 
"They can't stand the sight of us," Tim told Novara Media. "They don't realise that we're probably cleaner than them". He added:
"we don't lead the dirty lives they lead, with their selfishness and snobbery."
John, the Big Issue seller, said he felt let down by politicians. "We just wanted a safe place to sleep," he said, "being evicted when you don't even have a home… it feels like you don't really have support from any of those people in there [parliament]".
John is used to being ignored by politicians; as a Big Issue seller, he has a few customers among MPs – but, "the blue ties don't even look at me" he said, referring to Tories. 
Monday's action began in Parliament Square, where members of the public, campaigners and three MPs rallied before occupying the tunnel.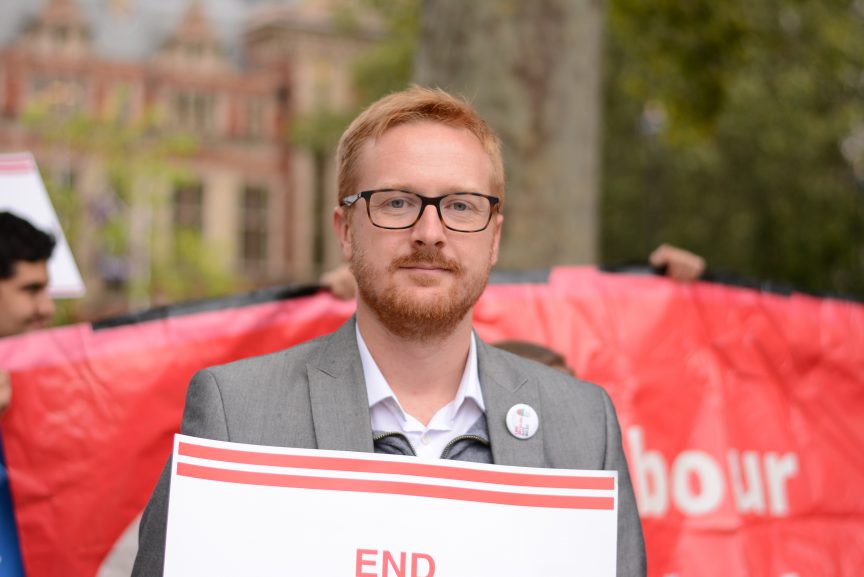 All of the MPs who attended the protest – Lloyd Russell-Moyle, Rachael Maskell and Hugh Gaffney – were from the Labour Party. Shadow Chancellor John McDonnell also expressed solidarity on Twitter. 
Solidarity with those protesting the eviction of rough sleepers from Westminster station. Protest is 6pm today in Parl Square.

The callous govt wants the homelessness it is responsible for out of sight & out of mind.

We'll end rough sleeping over the first term of a Labour govt

— John McDonnell MP (@johnmcdonnellMP) September 9, 2019
Addressing the crowd, Russell-Moyle called Brexit "a great distraction project of the things that matter to ordinary people in this world", and homelessness "an absolute indictment on this government". 
Labour Homelessness Campaign co-founder Shaista Aziz told those gathered:
"When you count people dying on the streets, it becomes a deeply political act, [revealing] the true magnitude of the political devastation that has been unleashed by a government that does not care about working people, about everyday people, about migrants about refugees."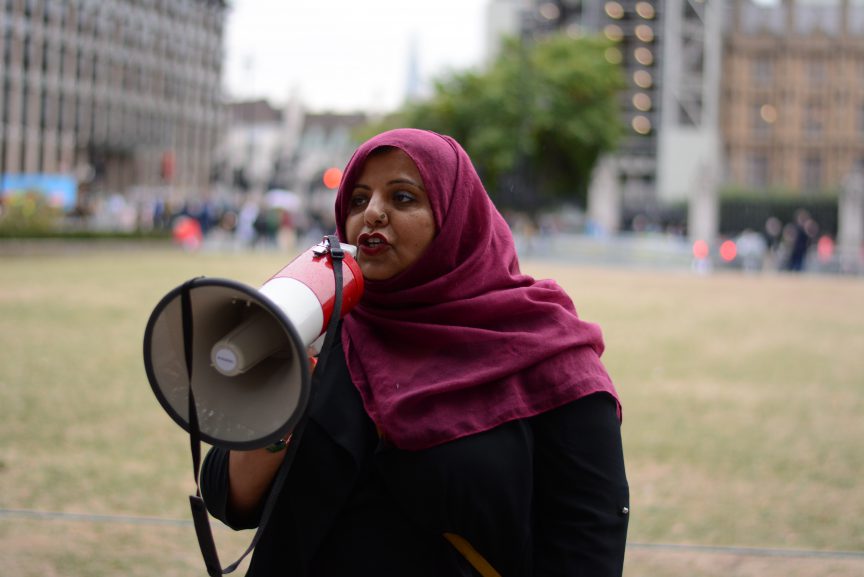 As the protest marched from Parliament Square to the Westminster underpass, I spoke to Alison Cameron, a company director and government consultant on health and social care who, a decade ago, spent two years sleeping rough. "I was very ill mentally and I fell through the gap between services," she told me. During her time on the streets she experienced violence, including sexual violence, and she says she only survived thanks to "the kindness and solidarity of other homeless people".
The Westminster underpass gate is part of a growing trend in "anti-homeless architecture" in London and across the country, Tom said. One common example is spikes being installed on flat surfaces or 'refurbishment work' conveniently beginning when rough sleepers move to an area, forcing them to leave.
This has already happened in Westminster, Tom said. Some of the rough sleepers who were evicted from the tunnel moved to the corner of a nearby park. On the day of the protest, he passed by and discovered that "somehow they decided to build a fountain" where people had been sleeping, forcing them to move on. 
"Across the country, there's so much anti-homeless architecture that people don't even notice," Tom explained. Anti-homeless architecture can even be invisible, he added – for example the new Westgate Shopping Centre in Oxford was "specifically designed so that cold air would funnel through at night… to freeze anyone out who tries to use this empty shelter".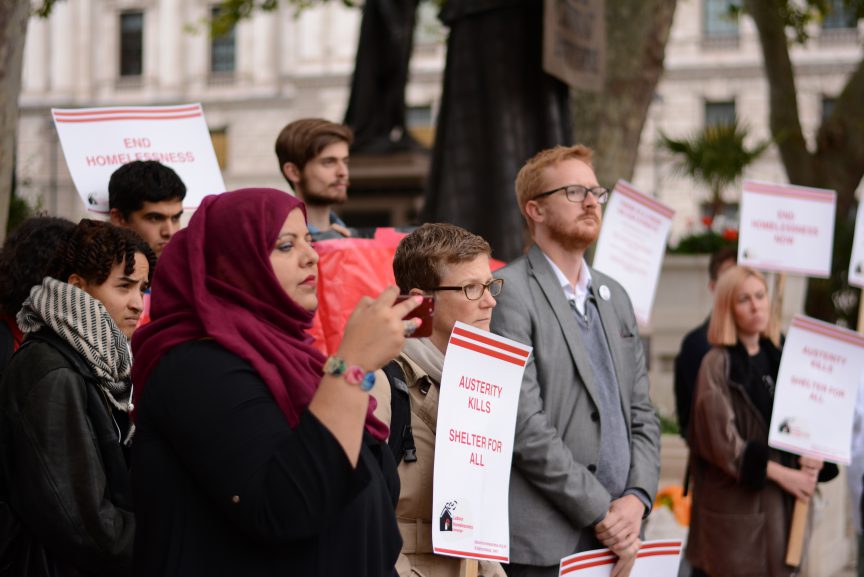 Cameron remembers there being less hostile architecture when she was on the streets ten years ago and laments the change. "It gives the impression that those with power are entitled," she said, "and that there's this group of people who are like non-people – and they must be out of sight, out of mind".
Before the eviction, people sleeping in the underpass withstood "a campaign of constant intimidation" familiar to rough sleepers in Westminster and around the country, Tom said. The borough is notorious for its use of the 1824 Vagrancy Act and anti-social behaviour legislation that criminalises homelessness, he added. For example, rough sleepers are frequently issued Public Space Protection Orders (PSPOs) and Community Protection Notices (CPNs), which threaten a £20,000 fine. "One man was handed it not for begging but for positioning himself for begging, which meant being sat down and looking a bit homeless," Tom said.
"The Metropolitan Police were also handing them out for loitering to the detriment of others, which basically meant sleeping – these notices were left on people while they slept."
This Public Space Protection Order has just been issued to a rough sleeper for 'loitering in a public place to the detrimental impact of others'.

The notice was placed on him while he slept outside the Palace of Westminster, and threatens a fine of up to £20,000
Thread: (1/7) pic.twitter.com/8NTxdyinqw

— Labour Homelessness Campaign (@labhomeless_cam) March 1, 2019
One CPN was handed to a North African rough sleeper awaiting an asylum appeal decision. He was also stopped and searched, Tom said, and told by the police that this was due to terror-related offences. "They found absolutely nothing – it was racial profiling plain and simple".
This person, like many migrant rough sleepers, had 'no recourse to public funds' – which meant he had no access to council support, including welfare and housing because of his immigration status. The borough's homelessness provider St Mungo's has refused to help some migrant rough sleepers, and has been accused of helping the Home Office to implement the hostile environment. 
Late last year, the Tory leader of Westminster council, Nickie Aiken, was filmed by the BBC complaining about the rising number of homeless people in the borough – talking about migrant rough sleepers, Aiken said she would like to "scoop them up and send them home".
Migrant rough sleepers face compounded discrimination and criminalisation. Ana Oppenheim, from the Labour Campaign for Free Movement, said that in the case of a no-deal Brexit, migrant rough sleepers could be at even higher risk from hostile environment policies and threat of deportation.
At the same time, migrants are often scapegoated for the housing and homelessness crisis. At the protest, rough sleepers and allies made their position clear, shouting:
"That's bullshit, come off it, the enemy is profit – homelessness and sky-high rents are not caused by immigrants!"
Monday's activists said they will continue fighting until Westminster tunnel's gate is dismantled – and until rough sleepers are decriminalised and supported by the government. They are demanding the abolition of the 1824 Vagrancy Act and anti-social behaviour legislation that is used against homeless people, and an end to 'no recourse to public funds' for migrants. 
But the first step, Tom said, is to "rebuild the trust that we've deservedly lost as a society, because we've been kicking the most vulnerable while they're down for far too long".
When asked for comment, a UK Parliament spokesperson told Novara Media:
"We are in the process of transferring ownership of the area to Parliament and have installed a pass activated gate to better manage the area for those entering the estate. We continue to engage with partners on addressing the difficult issue of rough sleeping in and around the station constructively and sympathetically."
After three hours of tireless occupation, some of the activists went to a dark St James's Park. Rough sleepers and allies shared tinnies and crisps as they discussed the change they are fighting for.
Sarah and Tim – two of the evicted rough sleepers – recalled the death of their friend in the tunnel last year. "We made a mural for him," Tim said, "but it quickly got painted over".
Sarah added: "I'm sure if we'd written something nice about them [the politicians], they'd have kept it up!"
Sarah is tired of seeing empty buildings from her resting spots on the street. I ask her what she would say to Boris Johnson if she met him. Without hesitation, she said:
"Get out Boris – out, out, out!"
*Some names have been changed to protect the identities of vulnerable people