We Asked People at London's First Trans Pride Why the Event Needed to Happen
by Patrycja Borecka
16 September 2019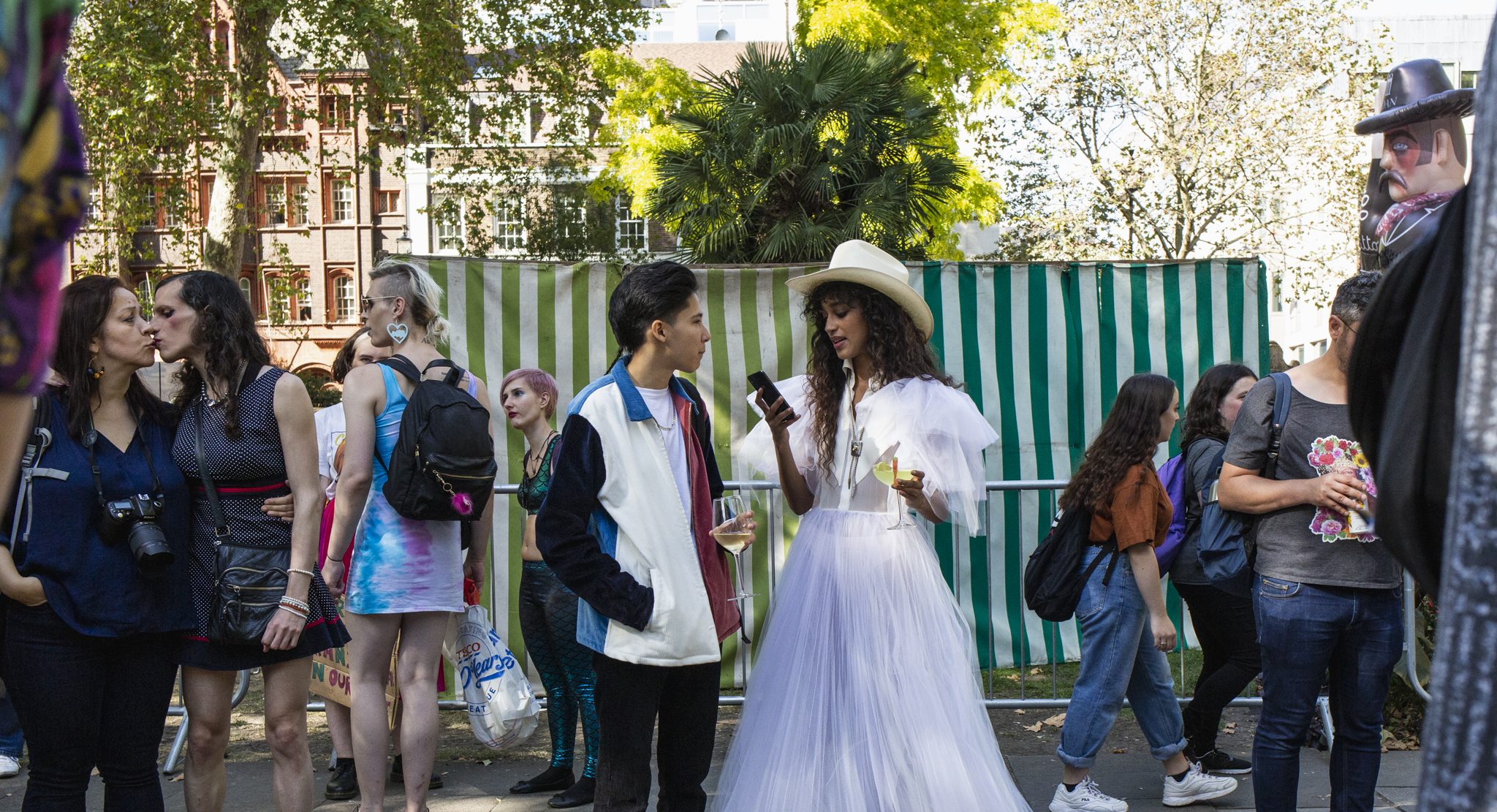 Patrycja Borecka/Novara Media
Around 1,500 people gathered in central London on Saturday for the city's first Trans Pride.
Called after a small group of lesbians disrupted Pride in London and Manchester to protest against the inclusion of trans people, the march from Hyde Park to Soho was designed to centre trans and gender nonconforming people and to highlight the unique issues they face.
While a Trans Pride event has been held annually in Brighton since 2012, there has never been one in London before.
Initially cancelled after a split between organisers, the parade was revived in a form some rejected as not safe or accessible for all trans people.
The organisers were also criticised for failing to publicise the route ahead of time and for not getting permission to march from the police. Organisers claimed they were deliberately vague because they were concerned about run-ins with trans-exclusionary radical feminists (TERF).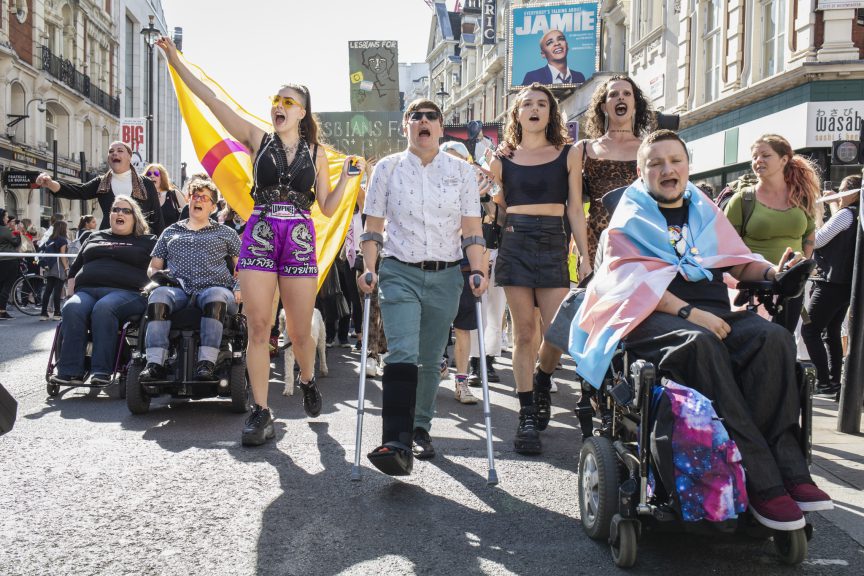 Despite the controversy, the parade was well attended. At the endpoint in Soho Square, speakers discussed feeling like trans, intersex, and non-binary people were not yet visible in society, that they were left out of the wider LGBT community, and neglected by a state which extends them little protection.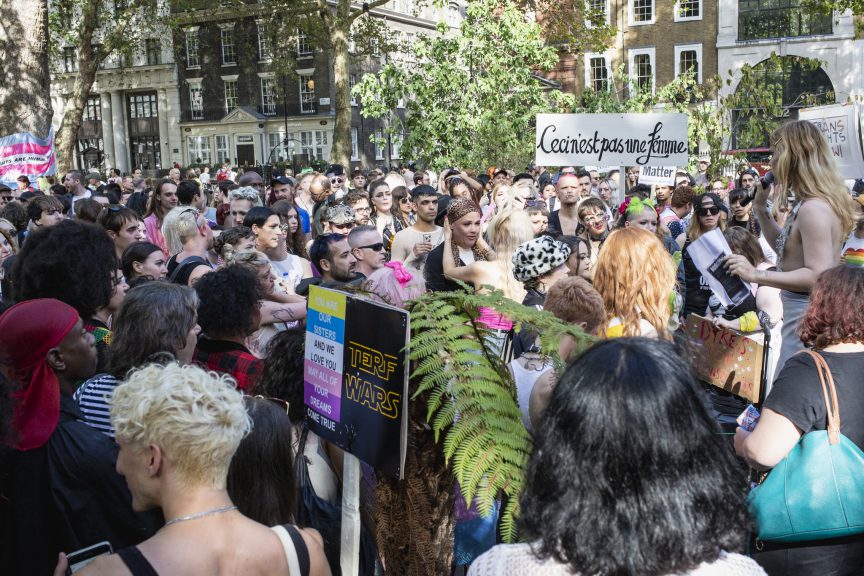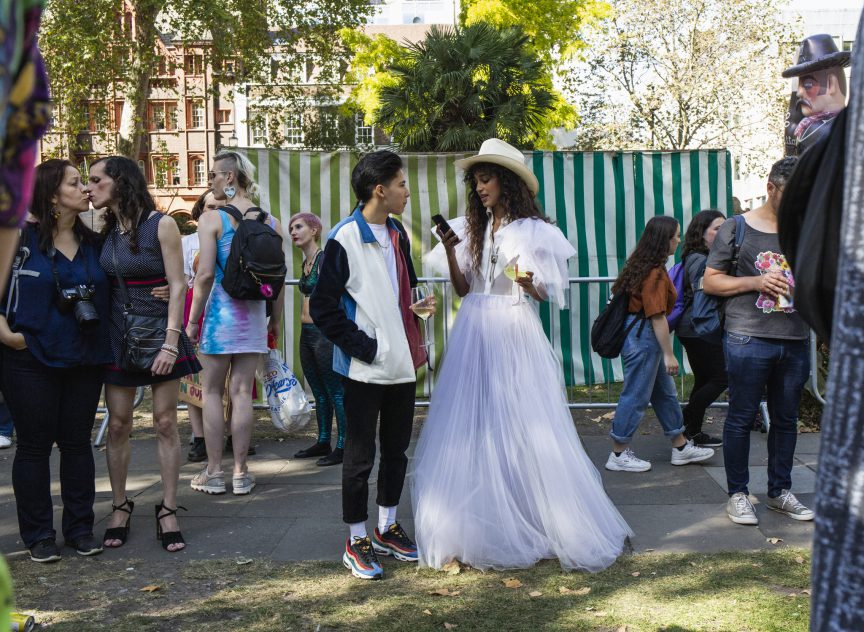 We asked people in the crowd what the parade meant to them, and what they hoped the future might hold.
All photographs by Patrycja Borecka.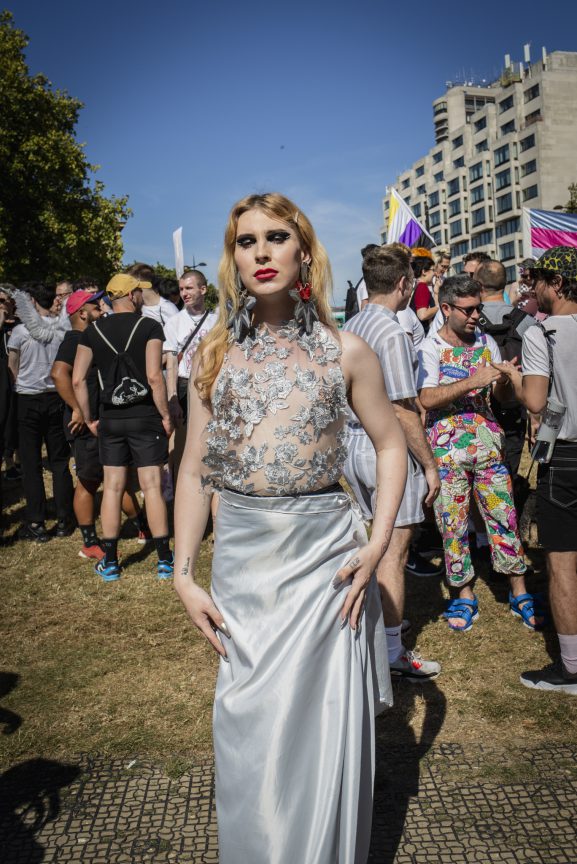 LUCIA
Novara Media: What brings you here today?
Lucia: We're here to throw the first trans pride in London. It's important that the capital shows its stance on trans rights and stands with the trans community here. Trans rights just aren't up to the level of everyone else's. If you look at the statistics, there are much higher rates of suicide, mental health problems, unemployment, and homelessness. We feel like that conversation's left out of LGBTQI culture at the minute. It's mostly dominated by the success of gays and lesbians, and we're not really talking enough about the problems that trans people face.
What do you think trans pride should be?
This should be a celebration of the activism that was forged in the Stonewall riots, during the pride marches during the aids crisis in the 80s. We're still in crisis, it's not time to just party, we can do both!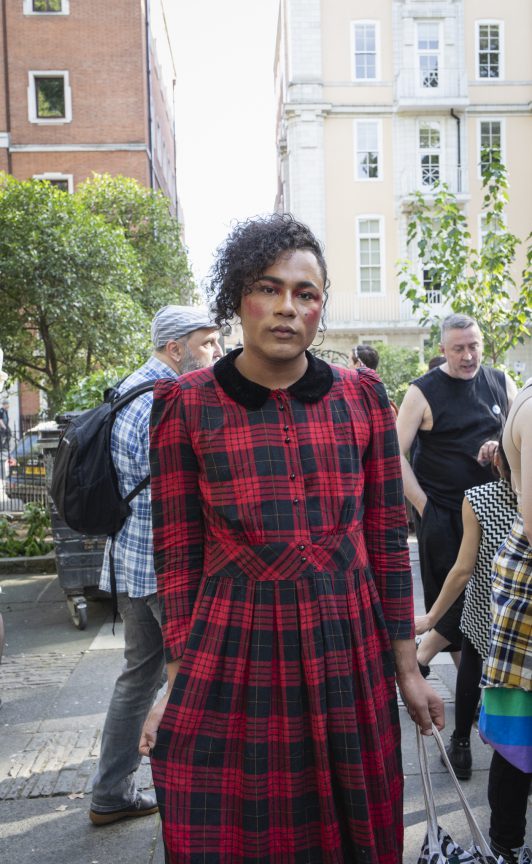 TRAVIS
Novara Media: Why are you here today?
Travis: I'm here at trans pride today because I think we're in an epidemic of violence against trans people and staying neutral is not an option. I think we are seeing hate crime rise in disproportionate amounts. [There's currently] a rise of anti-trans media. Trans people are facing deportation, homelessness, unfair prison sentences. We have to fight back. We have to make a choice.
What do you think trans pride should be?
Trans pride today has been a beautiful mix of love, of protest, of anger, of holding each other. I'm so proud to have marched here today, and I'm excited that this is just the start. It was a beautiful blend of both being proud of ourselves, but proud in a protest. I hope what it does is fuel trans people to go forward intro harsh conditions and harsh lifestyles, but I also hope that it's a message to the city that trans people are not going to stay quiet, but we're going to speak up.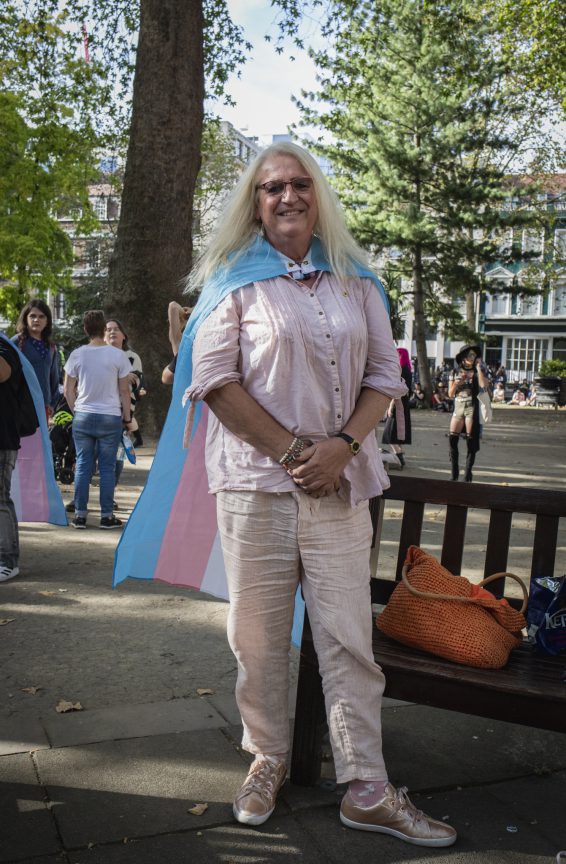 LAURA
Novara Media: Why are you here today
Laura: I worked in London for many years as a firefighter, and now I'm here as myself. It was great, there was a really wonderful atmosphere right from the start. We did hear that there might be trouble from the TERFs, but that doesn't seem to have materialised. I couldn't hear much of the speeches, the sound system was appalling! But apart from that I've met some wonderful people and I've enjoyed myself greatly.
What has been a highlight for you?
Just the number of people that are here who are angry about the way we are being treated. [NHS Gender Clinic] waiting lists for trans people are huge. It might be two years before I get to see anybody, and get any medical help that I need. I can't afford private health care. So I'm stuck like this. If I was somewhere else in America or in Europe, then I would get help. People would believe me. I'd go to the doctor and say, "I'm depressed", they'd say, "here's some antidepressants". I say I'm trans, and they say: "Really? Are you sure? Wait two years and we'll see about it".
JENNY
Novara Media: Why are you here today?
Jenny: I'm here because I think trans friendships and a sense of trans community is super important to the mental health of trans people. And anything that gets trans people together is good.
Being surrounded by trans people in this environment has been affirming and positive. Being trans can be very lonely, because you're brought up in your home town, and you're not going to necessarily have another queer person in your family. And you're very much on your own. As much as with the internet there's a greater forum for trans people, actually meeting people and being around people like you is a sense of affirmation that you can't beat.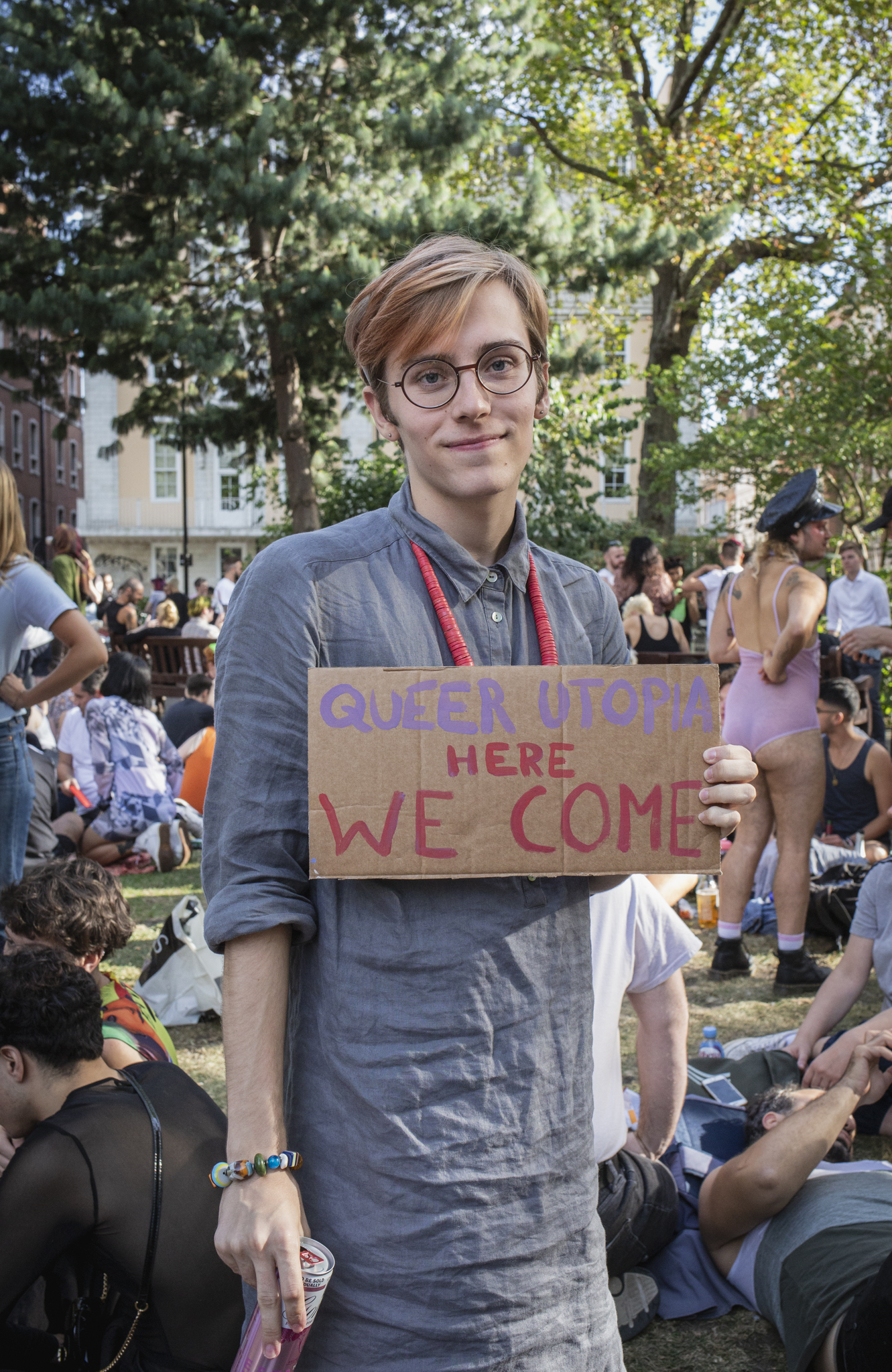 ED
Novara Media: Why are you here today?
Ed: I think trans erasure is a real thing. Trans marginalisation is a real thing. And as we've seen previously, there are some sections of the LGBT community where TERF-ism is rather rife, and they tend to take over London parades. So I think coming together is an act of celebration and unity in the face of that, I think it's a really important thing to do, especially in this moment now.
What were you expecting today to be like?
I think we were all concerned there were going to be counter-protests, because this is an unprecedented situation. Especially because of us being so much younger, it's strange being at the first [trans pride parade]. And so there's a sense of, like, "Is it going to be safe?" especially with the treatment of trans people in this country and the toxicity of the discourse. But no TERFs showed up, so we're good!
What do you think trans pride should be?
Hopefully there will be more parades to come. If we could raise the profile [of transphobic media], and make people see that it's happening, I think that would be one of the most valuable things that could come from this.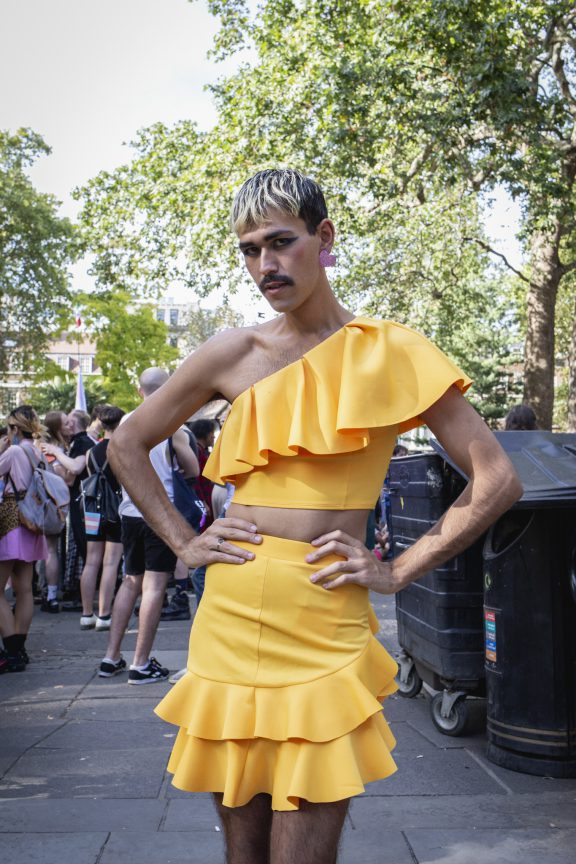 RADAM
Novara Media: What brought you here today?
Radam: I'm a non-binary person of colour, and I'm here today to celebrate all that is being trans plus. I think that for so long, trans people have existed in different ways and in different cultures. It's quite a new phenomenon that in the Western world we have begun to recognise trans people and I think coming together at something like this is a good way to remind people that we've always existed. There's been a rising contestation in the news [around emerging trans visibility], and it causes so much trauma to trans people. It's sad that we have to fight for basic human respect, but I think that it's so beautiful to see everyone coming together here.
What do you think trans pride should be?
Sometime when something is new people shoot it down very quickly. This could have been something different or difficult for people, but it was amazing, and I hope we keep the spirit of saying that everyone is accepted here, and keeping people of colour, intersex people, and disabled people, everyone in these communities at the front, and keep uplifting voices that haven't been heard before. And also trying not to be corporate!
Patrycja Borecka is a freelance photographer based in London.