Brexit has catalysed a push for Irish reunification, but a deeper crisis lay the foundations
30 September 2019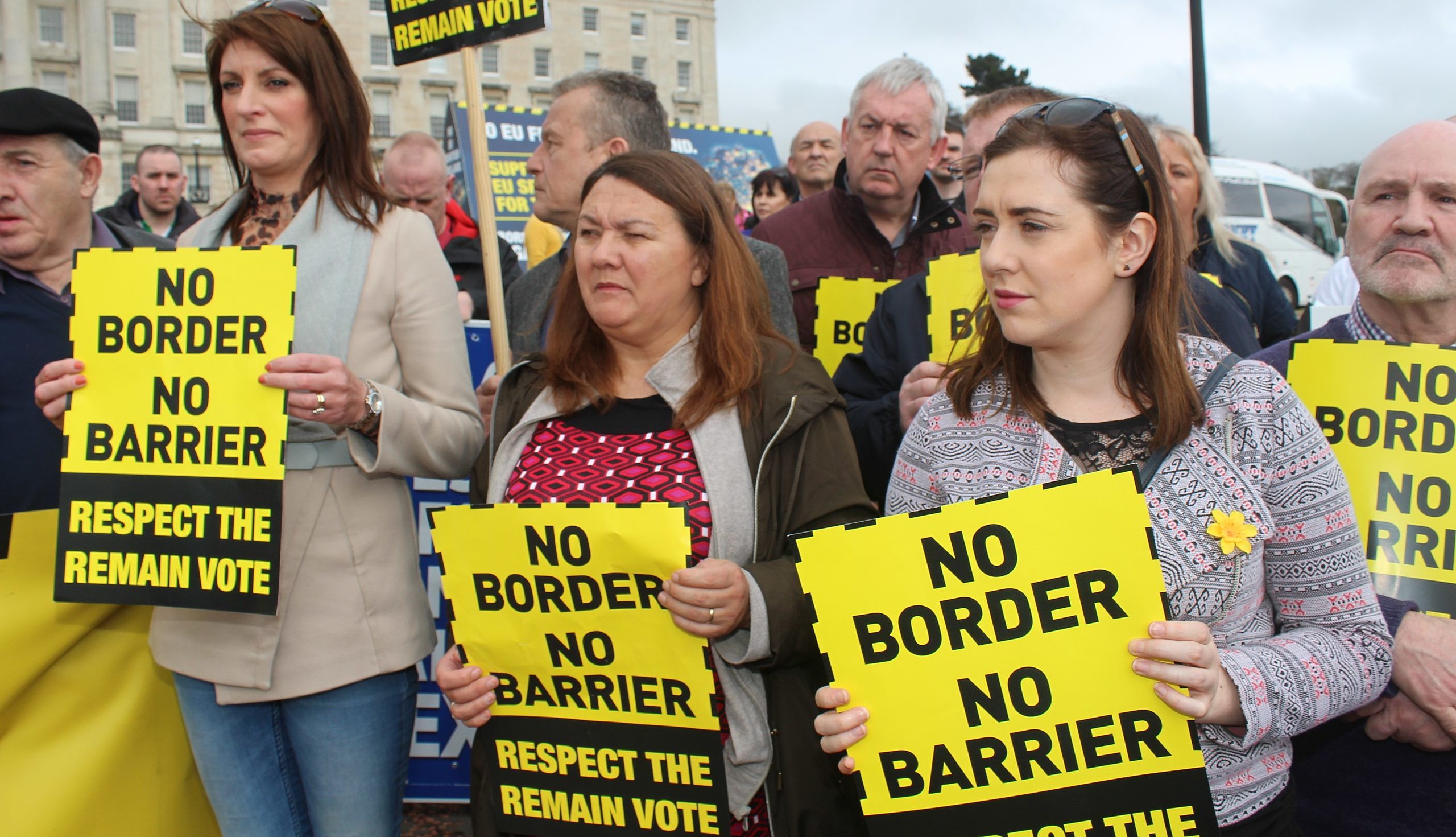 Voters in Northern Ireland are now slightly in favour of Irish reunification, according to a recent poll. Overall 51% of respondents to a survey by Conservative peer Lord Ashcroft said they would vote to leave the UK and join the Republic of Ireland if a referendum was held tomorrow – rising to 60% among those aged 18 to 24.
With the region home to the UK's only land border with the EU, the uncertainties thrown up by Brexit have reignited a debate around Northern Ireland's constitutional status. A no-deal Brexit – which would see the reintroduction of customs checks on the Irish border – would bring severe disruptions to Northern Ireland's economy. Its devolved Department of Economy estimated a potential 40,000 jobs would be at risk and that exports to the Republic could fall between 11% and 19%.
In this context, a certain shift across Northern Ireland's sectarian divide is visible as a growing number of moderate Protestant voters become increasingly open to the idea of a united Ireland. As Ireland's conservative Prime Minister Leo Varadkar recently put it:
"One of the things, ironically, that could really undermine the union, the United Kingdom union, is a hard Brexit… I think increasingly you'll see liberal protestants, liberal unionists starting to ask the question as to where they feel more at home."
Yet in order to evaluate the constitutional challenges thrown up by Brexit, you have to recognise that Northern Ireland finds itself more broadly at turning point in its history – of which Brexit is only one element.
The region's political crisis didn't begin with Brexit, but rather the dysfunctionality of its institutional arrangements has led to an almost-three-year-long period without a government. Demographic changes and a certain liberalisation of Northern Ireland society over the last 21 years have also brought about dramatic changes in the province, producing a drift away from voting along sectarian lines – with nearly a third of the region's citizens now identifying as neither Catholic nor Protestant. When you add to that a yawning social crisis, owing to longer-term economic stagnation and brutal austerity measures, there is a growing sense that the post-Good Friday Agreement status quo is no longer fit for purpose.
Institutional stasis
This impression is nowhere clearer than in the condition of the arrangements inherited from the 1998 Agreement. Almost 1,000 days since the fifth collapse of the Executive in the past two decades, there is still little sign of the power-sharing institutions being restored. Yet, while it is one of the most pressing contexts framing the current conjuncture, the motivations behind the move to pull the plug on Stormont are not as straightforward as sometimes made out.
When then-Sinn Fein (Assembly) leader in the north, the late Martin McGuinness, chose to resign as Deputy First Minister – and in doing so to collapse Stormont – in January 2017, his party's ostensible reason was that over the previous decade, "the actions of the British government and the DUP… undermined the institutions and have undermined public confidence".
Backdropped by inflammatory cuts to Irish-language initiatives and legacy disputes, many in McGuinness's camp considered Arlene Foster's handling of the RHI scandal – a failed renewable energy incentive scheme that reportedly cost the public almost £500 million – "the straw that broke the camel's back", as Derry MP Elisha McAllion told Novara Media.
Amid a certain sense of malaise and longer-term concerns surrounding the functionality of the governing institutions, McGuinness's resignation sent a powerful message and helped Sinn Fein crack unionism's parliamentary majority for the first time ever in Assembly elections that March. At this point, indeed, Sinn Fein's protest resignation appeared to reap dividends at the ballot box for the party after years of electoral stagnation.
Strategic rethink
Critics argue Sinn Fein's own role in RHI and its initial refusal to call for a public inquiry into the botched green scheme served to undercut this position. Yet there were a number of other important calculations behind its decision to pull down the Northern Ireland Executive at this moment.

The first was an electoral ceiling the party appeared to have hit, two decades after more fully embracing a parliamentary route towards its goal of reunification via the Peace Process. In 2016's Assembly elections, Sinn Fein lost a key seat in West Belfast and another in Foyle (Derry) to the all-island anti-austerity group People Before Profit (PBP). This seemed to be in some part a rejection of the neoliberal turn the party had taken in the previous 10 years as a governing partner with the DUP.

Sinn Fein's leadership appeared to recognise a need to turn the screw at both ends. On the one hand, it would look to tighten the sectarian agenda which could reconnect it with an increasingly disgruntled Republican base in communities; while on the other it would seek to realign itself with various rights-based movements, which have gained considerable momentum amid significant post-1998 liberalisation of Northern Ireland society. This meant repositioning its stance on the campaign to decriminalise abortion on both sides of the border, and placing marriage equality legislation at the centre of its renewed agenda, alongside longer-running demands for an Irish Language Act.

Finally, Brexit has acted as a catalyst, escalating tensions and exposing political fault lines. While no actor could predict the chaotic road towards the UK's exit from the EU, Sinn Fein has appeared to use Brexit as a means to accelerate the process of a border poll.
DUP in hot water
Yet the actions of the DUP both inside and outside of Stormont have also been a considerable factor in driving Northern Ireland towards this precipice. As PUP (Progressive Unionist Party) member, William Ennis, argues, the scandal-hit DUP can at times be considered in many ways "the best advertisement or argument for a United Ireland out there".
It is undeniable that when the DUP brokered its confidence and supply agreement at Westminster to prop up Theresa May after she lost her majority, the prospects for renegotiating the fragile power-sharing arrangements became considerably more difficult. With relations between mainstream nationalism and unionism at a new low, Arlene Foster's party was again accused of undermining the Good Friday Agreement settlement it had initially boycotted in 1998 by exchanging parliamentary support for certain concessions and a £1-billion sweetener (much of which has failed to materialise).

Moreover, it is widely recognised that in February 2018 unionism's hegemonic force threw away a golden opportunity to get the power-sharing institutions – and thus to restore a status quo that "didn't work for most people, but worked brilliantly for the DUP and Sinn Fein", as PBP councillor Fiona Ferguson put it – back up and running. Owing above all, it seemed, to Foster's inability to sell Irish Language legislation to the DUP base, her party wasted the last discernible shred of good will in the anathemised talks. Now the party faces equal marriage and abortion legislation being implemented via Westminster after, ironically, urging direct rule for over a year.

Although the DUP and Sinn Fein have played institutional co-operation to each other's advantage, increasingly monopolising two ethno-nationalist blocs over the last decade, May's local elections suggested a rejection of their shared record and a turn away from sectarianism as PBP, the Greens and the centrist party Alliance made significant gains. Some commentators have even predicted the DUP may lose up to half its Westminster seats in an imminent general election. Given the low levels of Northern Ireland voter turnout, however, and the sway sectarianism still holds over a considerable degree of the electorate, such a retreat is far from certain.
What next?
For the past two decades Northern Ireland's political class has pushed the idea of a market-based "peace dividend" for the region via attracting new FDI and tourism-friendly rebranding. This has seen successive coalitions pursue a development strategy of generous corporate welfare schemes, lax regulations and New-Labour-style PFIs that further entrenched deep social inequalities, while running down public services and facilitating environmental destruction.
Northern Ireland is now the part of the UK with the highest number of millionaires after London and Aberdeen, while also having the lowest levels of discretionary income for families in the union. According to 2017 figures, 64% of households have an income below the UK average of £597 per week and income poverty rates are also higher than the rest of the UK. Homelessness has more than doubled since 2000 and the region has also seen a shocking rise in suicide rates since the end of the conflict, with economically-deprived areas experiencing three times as many suicides as non-deprived.
According to Ferguson, the shift away from the traditional sectarian options at the 2019 local elections have to be explained in terms of this ongoing social crisis. She said:
"When I knock on the doors in Oldpark or in West Belfast people are not so much consciously looking to take the step beyond sectarianism blocs. Instead they are so drained and pushed to edge by welfare reform, by the lack of housing, by the decimation of services that they know what is not working and that they want an alternative."
Tommy Greene is a freelance journalist, usually based in Spain. In addition to Novara Media, he has written for the Independent, Open Democracy, Jacobin and Tribune.
Eoghan Gilmartin is a freelance journalist and translator based in Madrid. His work has appeared in publications including Jacobin, Tribune Magazine,  and Mediapart.