The World Transformed Showed How Much the Labour Party Has to Learn About Feminism
2 October 2019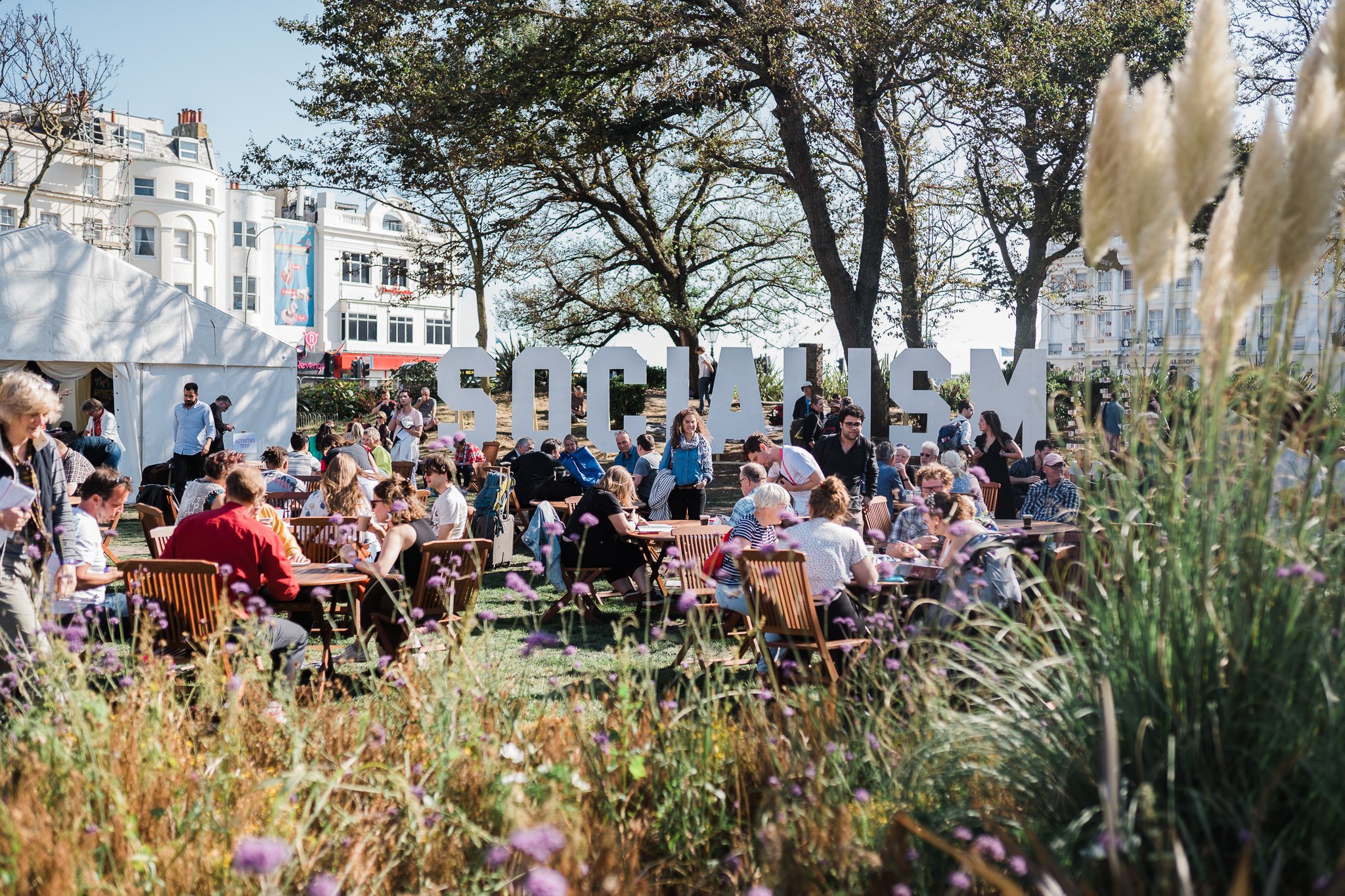 TWT (beckypaynephotography)
Politically energising moments characterised The World Transformed, a festival of ideas held alongside the Labour Party conference in Brighton last month. Many happened in meeting rooms, where people were galvanised around critical issues. But for me the most beautiful moment was one of protest and it took place on the streets. 
As self-described feminist group Woman's Place UK held an unofficial fringe meeting on Monday evening, having leafleted every entrance to conference to solicit attendees earlier in the day, around 200 peaceful and noisy protesters gathered outside. Founded two years ago in response to a government consultation on the Gender Recognition Act – a process which had the potential to improve rights for trans people in Britain – Woman's Place UK has an explicitly transphobic agenda. Campaigners say the group presents a respectable front, while its 'trans-exclusionary radical feminist' (TERF) members relentlessly attempt to undermine trans rights.
Some of the meeting's attendees grimaced and swore at the protesters as they walked by; others kept their heads down, or covered. Protesters shouted 'shame!' and chanted in solidarity with trans people, sex workers, homeless people and migrants, and about friends they had lost to oppression. 
"Sister, don't do it, we can do better!" some activists pleaded with women entering the building. Kevin Courtney, joint general secretary of the National Education Union, and Morning Star editor Ben Chacko walked in to cries of: "You're supposed to be a comrade!" and "be on the right side of history!"
Grim to see the gensec of the NEU engaging in apologia for transphobic groups, these attitudes have no place in the labour movement. Also missed out the bit where women's place activists poured litres of cold liquid down on us from a balcony. https://t.co/S1fhHu9QPg

— fraser 🌹 (@comradefraz) September 23, 2019
Over three hours later the action had not waned, despite heavy rain and several buckets of water thrown from a balcony on to protesters' heads.
At a time when small but vocal factions of the feminist left are actively marginalising trans people and sex workers, the action's organisers, from Queer AF Brighton, said they wanted to express feminist solidarity. Many protesters were also The World Transformed (TWT) attendees, and were pleased that the festival had tweeted in support of the protest. 
Solidarity to the activists in Brighton standing up to transphobic bigotry in their city. TWT will always be a space where people of all genders are fully welcome and included ✊ https://t.co/ttT60hBsEt

— The World Transformed (@TWT_NOW) September 23, 2019
"[feminism] is actually central to an anti-capitalist model of organising" – Dalia Gebrial
Dalia Gebrial, TWT's programme coordinator, said that while feminism is often "sidelined [by the left] as identity politics or culture war politics", this year's festival tried to "show how [it] is actually central to an anti-capitalist model of organising and an anti-capitalist politic in itself". 
TWT put on many explicitly feminist sessions – including panels on women in the labour movement, sex workers' rights, reproductive labour, and violence against women and girls.
But Gebrial said that in curating the festival she also wanted feminism to be "embedded in the very foundation of how sessions around a range of topics were constructed". The Kurdish women's movement was a driving force behind the municipal socialism event, for instance; in the internationalism sessions, attendees explored what feminist models of governance could look like.
Camille Barbagallo, an organiser with Women's Strike, was invited to speak on several panels. She told me she was impressed by how TWT had "looked outside their own backyard [in the Labour Party] to areas where feminists are doing grassroots militant organising" and had platformed those on the frontlines. 
"The Labour Party is not listening to [sex] workers" – Sarah Dorman
Many at the trans rights protest noted that, unlike TWT, the parliamentary Labour Party didn't express solidarity. 
Jenni Thorburn, a protester, a delegate to Labour conference and a TWT attendee, said she was disappointed at the party's failure to speak out publicly against Woman's Place UK. Queer AF Brighton has since started a petition asking Corbyn to denounce the group. 
"We know from history that the only way that you ever get anywhere in terms of actually battling bigotry is not by listening to the other side, not by giving them that legitimacy, but by fundamentally breaking down their arguments or by saying 'we don't condone this'" Thorburn said. 
Sarah Dorman, an organiser for sex workers' rights campaign Decrim Now and a member of her local Labour Party branch, believes "trans rights and sex workers' rights often fall into the 'too difficult' box for feminism in the Labour Party" – despite the fact these struggles are crucial to the liberation of all women.
Just as it is failing to defend trans rights, the Labour Party is also yet to adopt a policy on the decriminalisation of sex work, despite all sex workers' rights groups and many human rights organisations such as Amnesty International claiming this would improve both working conditions and safety within the industry.
Instead, a number of Labour Party MPs, including Sarah Champion and Jess Phillips, publicly support the Nordic model – a legal framework that criminalises sex workers' clients, and which sex workers say puts them at increased risk of harm and violence. In lobbying the Government to introduce the Nordic model, Champion and Phillips have allied with right-wing and evangelical groups who also oppose reproductive rights. 
As it stands, Dorman feels sex workers have more to fear from Labour than other parties. "Sex workers are worried about what a Labour government will do, because at the moment the Labour Party are the most likely to introduce new repressive laws," she said. The distilled message, she added, is that "the Labour Party is not listening to workers". 
In the Hackney North constituency, Labour members have passed a decrim motion, and yet local MP Diane Abbott refuses to meet with sex workers, said Dorman, who claims to have once received an email from Abbott that called sex work "inherently abusive".
Sex workers feel unrepresented by Labour – and betrayed, too. When Corbyn was fighting the leadership election, many backed him because of his support for decriminalisation, with #callgirlsforcorbyn trending on Twitter. 
Dorman said that since stigma keeps most sex workers "under the radar" they "aren't seen as part of the community".
"They're not seen as voters, they're not seen as constituents, and they're definitely not seen as Labour Party members or trade unionists," she said.
As mostly working class women, many of whom are also migrants or disabled, sex workers feel ignored by politicians. 
"[TWT was] a whore takeover" – Blair Buchanan
While conference left sex workers feeling abandoned, TWT was something of "a whore takeover", as sex workers' rights activist Blair Buchanan put it, speaking on a panel organised by Labour4Decrim.
Dorman said she felt a "real temperature change" on the left this year in relation to sex workers' rights. A part of this was sex workers and allies who are spearheading pioneering industrial strategy speaking at TWT. Trade union United Voices of the World (UVW) has a rapidly-increasing sex worker membership, and GMB Scotland has recently launched an Adult Entertainment branch. Through organising with UVW, sex workers are setting precedents for their own industry and for other key industrial struggles in the gig economy. Whilst working towards decriminalisation of full service sex work, they are collectively organising in the regulated sectors of the sex industry – winning employment cases and forcing bosses to the negotiating table. 
This organising stands in stark contrast to a UK trade union movement in which older, white men often dominate. During a workshop on sex work decriminalisation, University and College Union general secretary Jo Grady said that sex workers – whilst often sidelined by big unions, many of which do not support decrim – are "some of the best contributors to trade union movements" because of their experience and resilience in uniquely challenging social and labour conditions. 
The idea of a feminist strike, a form of radical, international working-class solidarity and transformation, was discussed in many TWT events. Speaking on a panel, Barbagallo explained, "it is in the feminist strike that we are able to exceed the narrow categories of womanhood forced upon us and make good on our promise to make feminism a threat again".
Dorman said that Women's Strike, a UK movement based on the principles of a feminist strike, is the "most joyful, amazing movement" because, unlike "middle-class, liberal, white feminism", it centres "the people that are facing the most violence as women in society". It's about "going out on the streets, with immigrant workers, sex workers and trans women," she said, and "putting women at the front of the anti-fascist movement because they've got the most to lose".
Where low-paid or unpaid reproductive labour – having and caring for children and others, for example – is often sidelined in socialism, many TWT panels discussed this feminist battleground. At an event entitled 'on strike because we care: the fight for childcare', panellists demanded that kindness must never be taken for weakness, and imagined what anti-capitalist frameworks for care and education could look like. Addressing a topic that is usually avoided by even the most radical on the left, Barbagallo declared that, in its oppression of women and reproduction of capitalism, "the most violent institution under capitalism is the nuclear family."
Meanwhile on a panel called 'women leading the labour movement' – by far the most high energy event I attended at TWT – women shared lessons and wins from key struggles. Maritza Castillo, chair of the University of London branch of the IWGB union, spoke about winning a living wage and better labour conditions for cleaners and other low-wage workers, and how migrant women are spearheading change for everyone. Bonnie Castillo, executive director of National Nurses United in the US shared how the Registered Nurse Response Network (RNRN) are providing vital care at the border in El Paso, Texas for migrants and asylum seekers. 
'[We do not want] a feminism that promises nothing more than being equally exploited' – Camille Barbagallo 
What do we not want, said Barbagallo, is "a feminism that promises nothing more than being equally exploited". Elaborating on this, she critiqued the kind of "state feminism" that New Labour championed, in its policies and politics that bolstered the neoliberal project, such as 'more female CEOs' or more childcare with the sole aim of getting women into the workforce. Instead, Barbagallo said, feminism needs to "destroy altogether the systems that divide, harm and exploit us" and to improve the lives of the 99% – working class women, migrant women, women of colour. 
The Labour Party and the mainstream trade union movement have a lot to learn from the grassroots struggles platformed at TWT – including how they listen to and support each other.
Dorman says the Party needs to do more to make spaces both feminist and accessible. Running a fringe event or stall at conference, for example, is currently prohibitively expensive for many grassroots campaigns – "unless you're friends with an MP" – making it difficult to push radical policy. She also feels the workings of the Party – including Momentum – are "opaque" and often undemocratic. 
One step forward for feminism on the left, says Dorman, would be better political education. Currently, she says, too many left spaces are patriarchal – filled with "people who define their politics by old dead white men" and posture in an exclusionary way about what books they've read, and what theories they subscribe to. 
In a number of TWT events, women discussed feeling silenced by men in left spaces. During one session, a room full of women laughed in agreement when someone mentioned feeling their words do not carry the 'weight' men's do in political meetings. 
At a TWT party, I saw a Labour delegate incorrectly explain the laws around sex work to a woman, who ended up outing herself as a sex worker in an attempt to legitimise her factually accurate statements – to no avail. A positive counterpoint to this was journalist Adam Ramsay's facilitation of a panel on the state – in which he asked that "people who aren't men" begin the audience participation. 
A feminist left movement demands profound cultural change and recognises that no women are free until all women are free. Feminism needs to be central to every political question: feminism is childcare, maternity care, equal pay, yes – but it is also housing, poverty, transport, immigration, climate. 
Labour has a lot to learn – and TWT platformed many of the movements politicians need to be listening to. 
Sophie K Rosa is a freelance journalist. In addition to Novara Media she writes for the Guardian, VICE, Open Democracy, CNN, Al Jazeera and Buzzfeed.