Refurbishment Is the Dirty Word We Should Be Using, Just Look at the Achilles Street Estate
by Andy Worthington
22 October 2019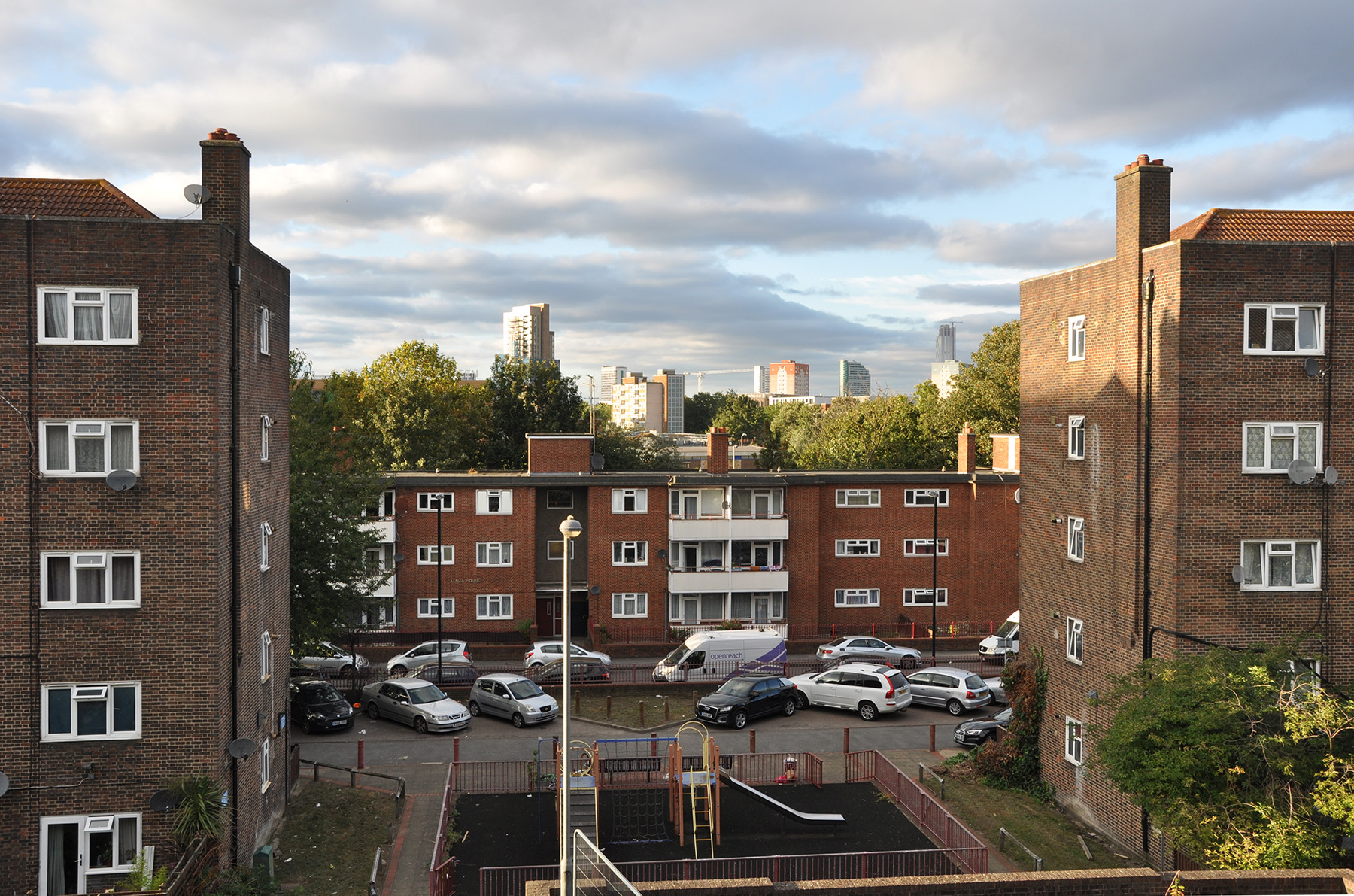 Anita Strasser
Imagine living on a council estate and being given a ballot on the proposed destruction of your home as part of a 'regeneration' plan. Imagine that the council makes all kinds of lavish promises regarding your future housing and security, but then refuses to back up these promises with anything resembling a legally-binding contract. This is what's happening at Achilles Street. 
Achilles Street is a post-war estate in New Cross in south London. It contains 87 homes and associated shops and businesses, all of which Lewisham council wants to destroy for a new development of 450 properties. On September 18, the council's mayor and cabinet approved a ballot regarding the estate's demolition and 'regeneration', which began on October 18 and will conclude on November 11, with the results to be announced by November 18.
The obligation to ballot residents was introduced by Jeremy Corbyn at the Labour party conference two years ago, and has become Greater London Authority (GLA) policy under current mayor Sadiq Khan, who, in July 2018, introduced a new requirement that "major estate regeneration schemes involving any demolition of social homes must have the backing of existing residents before they can receive City Hall funding."
Big promises, sweet nothings?
In June, Lewisham council began a charm offensive on the Achilles Street estate, refurbishing a community flat and setting up drop-in sessions every Wednesday at which an outside consultancy — and council officials — have been sweet-talking residents over tea and cake, making them promises that they, crucially, cannot commit to keeping.
In the offer being made to residents and leaseholders, existing tenants are being promised like-for-like rents for life. Meanwhile leaseholders are also being promised replacement homes at no additional cost.
To current tenants the council claims, in its Achilles Street Landlord Offer, "you will continue to pay rent levels as if you had not moved…The council will still be your landlord and you will still have a secure lifetime tenancy." As an additional sweetener, it also states that "All council tenants will be entitled to a statutory Home Loss compensation payment, which is currently £6,400" — a large lump sum for those on a low income — which, "will be paid when you move."
For leaseholders, the council is claiming that it will pay "the independently assessed market value of your current home" along with "a statutory Home Loss compensation payment of 10% of the agreed value of your home."

But is this financially viable?
The council, which intends to go it alone in the development, instead of partnering with a private developer and a housing association, clearly hopes so, as it is planning for half of the new properties to be for private sale. The other 50% are described as "affordable" and the council claims that 35% of the total will be "council owned homes for social rent."
But in reality — with the exception of the like-for-like rents being promised to existing tenants — the new rental properties will be at London Affordable Rent, which is 63% higher than social rents in Lewisham for a two-bedroom flat. Some may also be at London Living Rent, which is 136% higher than social rent.
The council is disturbingly vague about these figures, because, to be blunt, they are, at present, little more than aspirations. No detailed plans have been presented to residents and no legally binding contracts have been offered that confirm the promises that are being made. If the costs of the project change — as they are certain to do — they may well find that the promises that were made vanish into thin air like a mirage.
Significantly, the ballot excludes some of those affected by the proposals entirely. The shops and businesses that occupy the ground floor of the block on New Cross road will not be included in the ballot and in the flats neither non-resident leaseholders nor their tenants will be allowed to vote.
And what's more, the proposed ballot offers only two options — demolition and 'regeneration', or leaving the estate as it is —via a yes or no response to one question: "Are you in favour of the proposal for the regeneration of the Achilles Street Estate?" The wording of the question may play in the council's favour. Although the estate is structurally sound, it has been neglected for many years — a process identified by campaigners as "managed decline", which is widely recognised as a cynical precursor to regeneration plans. As a result, leaving the estate as it is may not be an attractive option to some residents.
Let's talk about refurbishment.
Shamefully, what no one in a position of power and authority wants to talk about is refurbishment. Politicians at every level are strenuously avoiding any discussion of the subject and have made no provision whatsoever for funding it, despite the fact that refurbishment is the only environmentally sound option for councils like Lewisham that have declared a climate emergency.
It is also the only moral option. The council is behaving like the worst sort of slum landlord, using its own neglect of the estate as a reason to destroy people's homes. As the residents' campaign group Achilles Street Stop and Listen learnt through a Freedom of Information request, between 2011 and 2017 the council received over £2.6m in rents from tenants and associated shops and businesses on New Cross road. Of that money, less than 10% (under £240,000) of it was used for maintenance and repairs.
For the council, the need to raise substantial revenue through private sales, as well as providing new homes that can be described as "council owned homes for social rent" (regardless of whether that is strictly true) is obviously compelling. But to do so, they are treating the existing estate as an inconvenient obstacle to their plans, rather than a living, well-established community of people who have every right to be outraged that plans are being made to destroy their homes and businesses, not out of any structural necessity, but because of budgetary constraints and a desire for a newer, shinier development than the existing estate in the heart of New Cross.
Andy Worthington is an independent journalist and activist, and the founder of No Social Cleansing in Lewisham.