Two Years On, NHS Hospitals Are Still Demanding Some Patients Pay Upfront for Life Saving Treatment
by Izzi Whelan
23 October 2019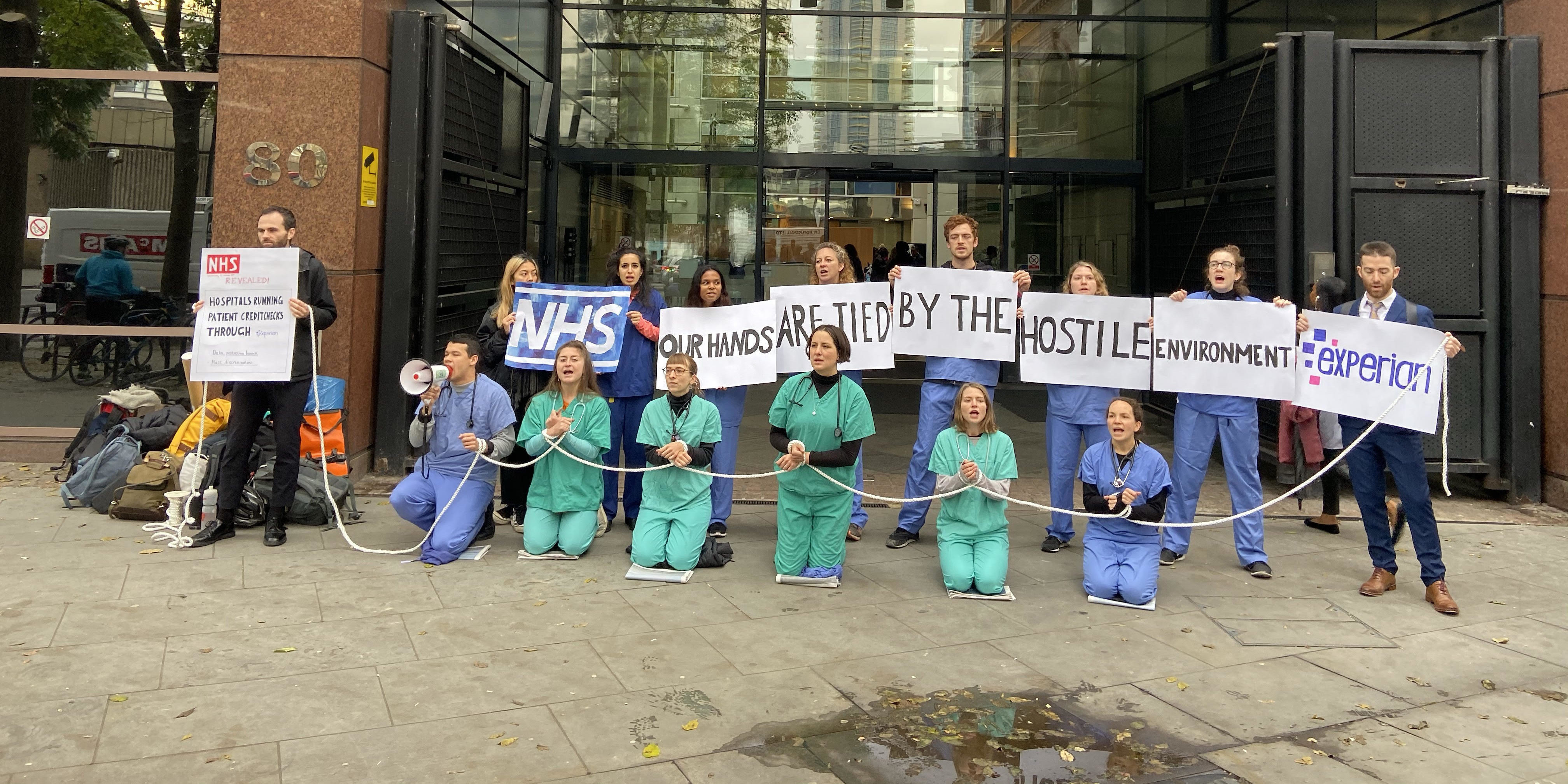 Docs Not Cops
It has been exactly two years since NHS hospitals first began charging migrants upfront fees to access healthcare, in an expansion of the hostile environment into the places where people are at their most vulnerable. The stories are growing of people who have been seriously harmed or even died as a result – people who have been denied potentially life-saving treatment because of where they were born, and their ability to pay.
Just last month we heard of Kelemua Mulat, who was wrongly told she was not entitled to treatment for her breast cancer. Although ultimately this decision was reversed after a legal challenge, it was too late for Kelemua, who died having faced a six-week delay in treatment. She was 39.
38-year-old father of two Nasar Ullah Khan was denied a heart transplant and told to pay for his end-of-life care because of his immigration status. He died earlier this year.
A specialist hospital refused to treat Sylvester Marshall's prostate cancer unless he paid for it upfront. He was eventually able to access the treatment he needed after fighting against the hospital's decision, but shortly after having surgery he was evicted from his home because the government refused to accept he had been living legally in the UK for most of his life. 
These are among the names we know, but they are undoubtedly just the tip of the iceberg. Right now, countless others will be avoiding seeing a doctor because they are scared of being charged, or of being reported to the Home Office.
Over the last two years, there has been a lot of discussion and criticism of the hostile environment, and rightly so. But in reality, for the thousands of migrants impacted by the policies, and the healthcare providers tasked with acting as border guards, nothing has changed. Despite the Windrush scandal, despite regular reports of people whose physical and mental health deteriorates because of these inhumane and xenophobic policies, despite growing opposition from representatives of doctors, nurses and midwives who see the effects of the hostile environment every day in clinics and on wards across the country, the policies remain in place. 
NHS charging is just one aspect of the hostile environment that has now been expanded into schools, banks and homes too. These policies are not only unworkable but also discriminatory.
It is a scandal that our doctors and nurses are being turned into border guards, denying care to people on the basis of their ability to pay and their immigration status. As doctors, we are trained to be advocates for our patients and to concern ourselves primarily with their well-being. 
Hospital trusts are using debt collection and credit check agencies to identify patients – sharing information with the Home Office if a patient holds an outstanding debt of £500 or more. Make no mistake, this is active collusion with the Home Office and its violent immigration policies. 
Policies such as upfront charging for those with precarious immigration status are often justified using wildly inflated and inaccurate racist and xenophobic headlines about the strain placed on the NHS. Politicians and the media have for years worked together to spread this false narrative, shifting the blame for the chronic under-funding, increased privatisation and erosion of the NHS on to migrant communities. For years, activists and doctors have countered these claims using financial statistics provided by the government itself. However, it is clear to us that debunking the economic arguments around charging migrants for health is not enough. The fight for equal access to healthcare for migrant communities is one for health justice, and crucially against racism and xenophobia within our society and political system. 
No one should be denied access to health services. There should be no conditions attached to life-saving treatment. Health workers are trained to be non-judgemental, and to treat all patients equally – not to only treat some patients equally. The movement to end the charging of migrant communities for NHS treatment is part of the fight to protect the NHS, and the fight against a dehumanising and inhumane politics.
I will be attending a vigil on Wednesday night commemorating those who have died and suffered because of hostile environment policies. In addition to protesting, we must all make our voices heard by writing to the Department of Health and Social Care to demand an end to the callous system, and to demand universal free healthcare for all.
Izzi Whelan is a final year medical student and an organising member of campaign group Docs Not Cops.