British Solidarity With Rojava Must Start at Home, With an End to the Hostile Environment
28 October 2019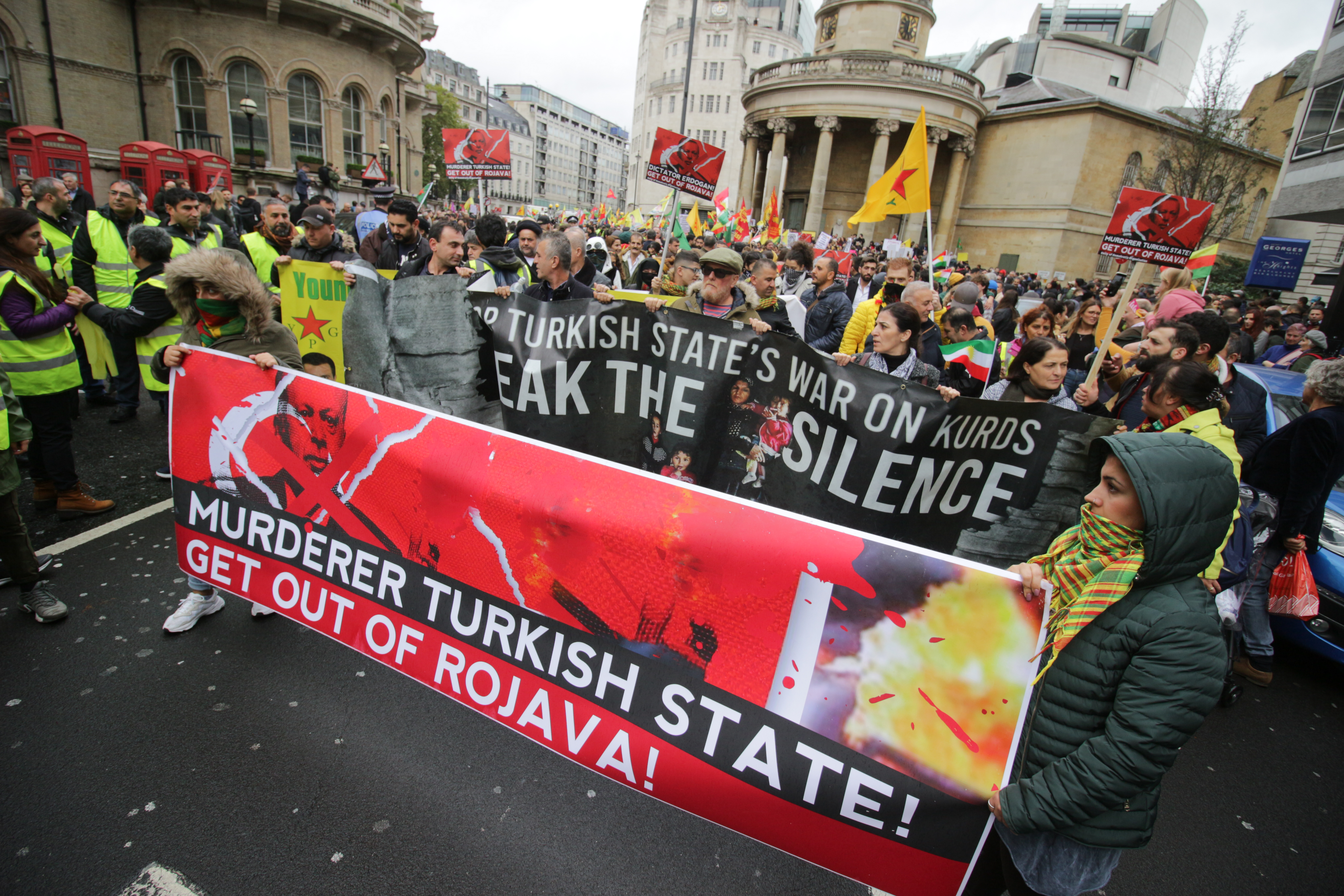 Steve Eason/ Flickr
Evidence of war crimes committed by Turkey has been mounting since President Recep Tayyip Erdogan launched an offensive in north-eastern Syria three weeks ago. NATO-member Turkey is supported by islamist militias in its quest to control the region it borders, known as Rojava.
Amnesty International has documented "indiscriminate attacks in residential areas, including attacks on a home, a bakery and a school, carried out by Turkey and allied Syrian armed groups" and the "summary killing in cold blood of a prominent Syrian-Kurdish female politician, Hevrin Khalaf, by members of Ahrar Al-Sharqiya, part of the Syrian National Army, a coalition of Syrian armed groups equipped and supported by Turkey". 
Former UN investigator Carla del Ponte, who led the prosecution of war criminals from Rwanda and the former Yugoslavia, recently said Erdogan should be investigated for war crimes.
Not often can a leader attack another country – in this instance a de facto autonomous area – with the explicit aim of ethnic cleansing. Yet this is exactly what Erdogan announced at the start of the operation: that Turkey was going to settle two million Syrian refugees in the area, changing the population. 
Where is the international condemnation and outrage? 
The US – which enabled Turkey's attack by abandoning the Kurdish forces it had supported in the fight against ISIS – was quick to issue sanctions. They were very partial, and lifted a week later when the US negotiated a ceasefire with Turkey, capitulating to all their demands and without the Syrian Democratic Forces (SDF) – which fight for Rojava – around the table.
The EU failed to impose a union-level end to arms sales to Turkey, recognising that arms sales should be ended but leaving it to individual member states to decide how they would proceed. Whilst several have acted, the UK unsurprisingly has not.
However, tanks and aircraft are not like fresh vegetables. They have a long enough shelf life that Turkey currently holds enough arsenal to withstand a temporary drop in arms supply. And temporary it will be: the arms industry is not only a big and profitable industry, but also one of the few heavy industries still thriving and providing jobs in de-industrialising countries desperately trying to balance economies over-reliant on urban service sectors.
In terms of sanctions, the EU could have real economic power over Turkey if it wanted. Over 50% of Turkey's exports are to the EU.
The reason Europe cannot use this power is that it has given away an even more powerful weapon: border control. 
Let's revisit the year 2015. Over a million migrants enter Europe, many fleeing the conflict in Syria. Media tropes of a "flood" appeal to Europeans' sense of insecurity. Austerity-riddled public services are at a breaking point, and politicians are looking for someone to blame. Right-wing parties surge. Governing parties shift further to the right to avoid losing voters to them.
The EU strikes a deal with Turkey. The offer, part of the EU's border externalisation policy, is summarised as follows: We will re-open membership negotiations (since stalled again), advance visa-free travel and pay you €6bn if you keep migrants from coming our way. Win-win, except for the people commodified as bargaining chips. As a result of the deal, the Greek islands that dominated the 2015 news cycle have turned into overcrowded prison camps where people wait to be returned to Turkey under a questionable legal basis. 
Erdogan recognises his power. The day after the attack on Rojava, he threatened to send 3.6 million refugees into Europe if the EU dared to call the invasion an occupation. In fact, the number of border crossings from Turkey to Greece in the last week of September – just before the attack – was the largest since the deal was struck in 2016. 
For anyone following the incredible revolutionary society that has been developing in Rojava since 2012, the attack did not come as a surprise. Turkey was not going to allow a Kurdish-led, multi-ethnic direct democracy based on values of gender equality and ecology to flourish on its doorstep.
The latest attack is also part of a centuries-old continuum of oppression against the Kurds and other minorities.
The majority of the world's 35-40 million Kurds live within Turkish borders. For decades, there has been an uneven conflict between the Kurdish freedom movement, the PKK – which, in the past, also committed atrocities – and the Turkish state. Turkey sees the Kurdish YPG/YPJ fighters that defeated ISIS in Rojava as an extension of the PKK and thereby labels them "terrorists". 
Erdogan, who wants to create a Turkish nation, is increasingly curtailing democratic forces within the country. An example is the pro-minorities, pro-democracy party the HDP. 
The HDP made significant gains in 2014 local and 2015 national elections in Turkey. After the failed 2016 military coup – condemned by the HDP and connected to entirely different political forces – Erdogan started using emergency powers to remove elected mayors from office and imprison MPs.  Militarisation and state violence in Kurdish-majority areas in Turkey have escalated since, and again in recent weeks.
European states have largely remained absent from the international power struggle in Syria and its geopolitical implications. But despite the focus on deals made between the SDF and the Syrian regime, the Syrian regime and Russia, Russia and Turkey, we should not lose sight of the complicity of Europe, the UK included.
Turkey's increasing authoritarianism and attempt to wipe out the most inspiring democratic revolution of our times is only possible because of a political climate that sees migration as a threat. To challenge the political licence of a war criminal and emerging dictator, we need to end the hostile environment. 
Fanny Malinen is a freelance journalist and social justice activist.