Activists Are Helping Homeless People and Mental Health Patients Register to Vote
14 November 2019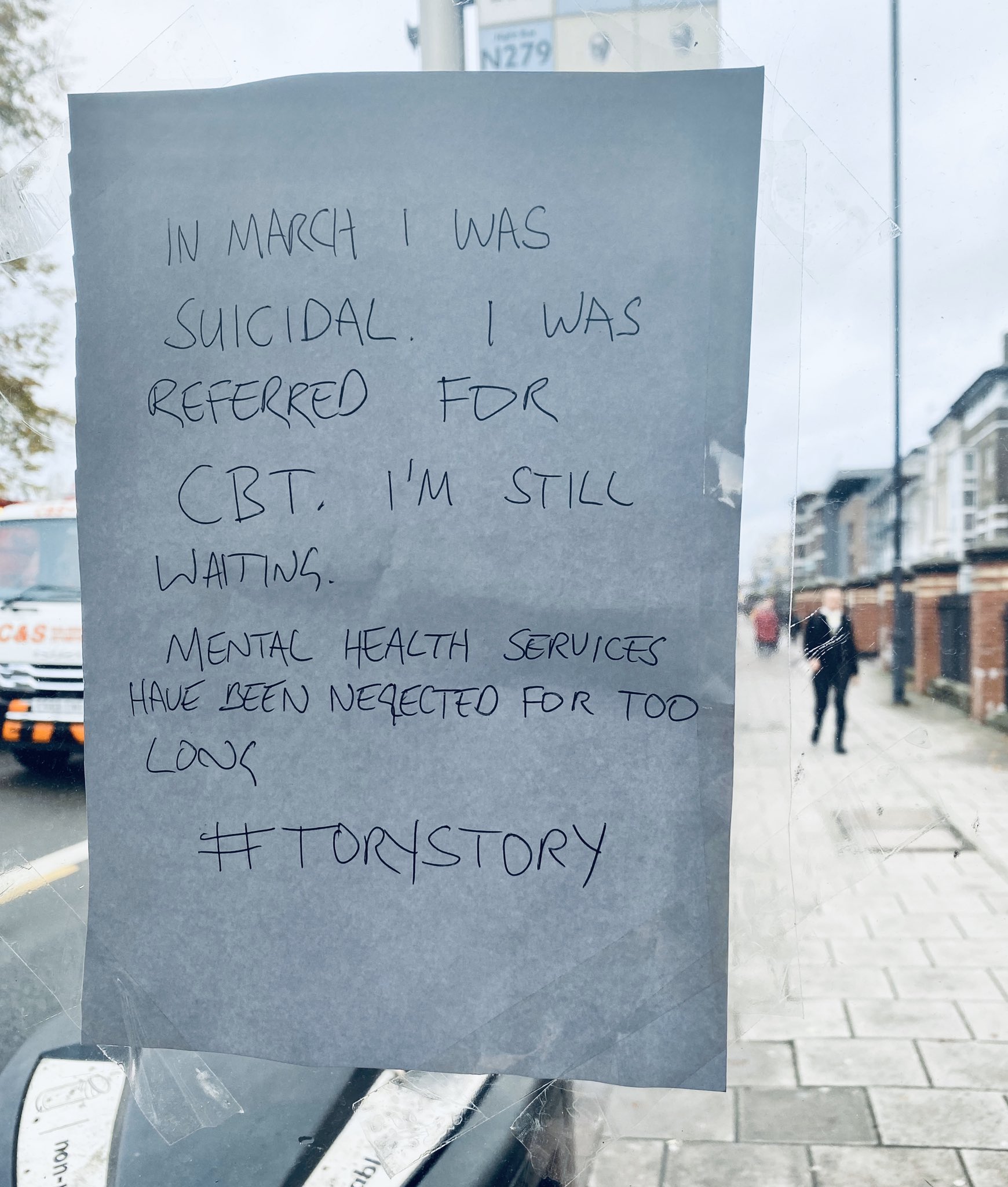 #ToryStory https://novara.media/2Kk7vQl
"They do what they like," says Tim, a man sleeping rough in Westminster, of the politicians on his doorstep. "They talk about the millions of pounds we'll get off the EU but none of that money will ever get down to us. If we can vote, we can tell them what's what."
For people in the parts of society that are most consistently failed by the state, there may be little incentive to vote in the upcoming general election. Why believe things will change now? Not only this, but often, the more marginalised someone is, the harder it is logistically for them to register to vote, and to vote on the day: a cycle which means those with the most at stake are the least likely to have their voices heard. 
People experiencing homelessness have the right to vote, but statistics show that only around 2% are actually registered to do so. The Labour Homelessness Campaign is running a voter registration drive to ensure homlessness people know they can vote, and know how to register if they want to. Shaista Aziz, a Labour councillor in Oxford and part of the Labour Homelessness Campaign, says that, along with a "fundamental lack of trust between people whose lives have been devastated and a dehumanising, broken system", one of the biggest barriers to voting for people experiencing homelessness is information: not knowing that you can vote without a fixed address. 
In order to register to vote while homeless, you must submit a specific, paper form for people with no fixed abode. Unlike most of the population, people without a fixed address are not permitted to register online – despite the fact that this option would make the process more accessible, allowing people to register in libraries or shelters. 
This process is not easy, but Tom from the Labour Homelessness Campaign, who asked that we use his first name only, says the situation could be made much worse if the Tories introduce new voter ID rules. The obligation to show an approved photo ID in order to vote – a proposal to address a voter fraud crisis that doesn't exist – "is a clear attack on the democratic rights of the people who the Tories have most been fucking over with the policies of the last nine years in government," Tom says. "It's difficult to hold on to your ID if you're living the kind of chaotic life the Tories have forced upon a large proportion of this country."
"It's been clear for decades that the people who are most marginalised in our society have been most disenfranchised," adds Tom. "They've been denied the opportunity to have a say in the goings on in this country, and that has been fully intentional, because it suits those in power to have the democratic electorate restricted to those who don't have so-called 'chaotic lives', those who have their lives together because they are in a situation within their social and economic class whereby they're able to do so."
The Labour Homelessness Campaign has been organising groups of people to go out on to the streets and into shelters, to spread the word about the right to vote and the registration process. Tom says that for most of the rough sleepers he's spoken to, it was the first time they'd been asked if they want to register to vote, and they are often keen to do so.
Your voice matters ✅

The deadline to register to vote is 26th Nov. You can still vote if you're experiencing homelessness – find out how here: https://t.co/C8OWSbWaYX#GeneralElection19 #GeneralElection2019 pic.twitter.com/qus9elNHur

— Labour Homelessness Campaign (@labhomeless_cam) November 7, 2019
The Outside Project, the UK's first LGBTIQ+ crisis/homeless shelter and community centre, is also supporting voter registration. "Our guests have lived through being criminalised, police brutality, inaction during the AIDS crisis and Section 28. There is an ongoing lack of response to LGBTIQ+ domestic abuse, hate crime, the media attacking our community, lack of services for our mental and physical health needs and homelessness," says Carla Ecola, who helps to run the project. "There is an understandable despondency towards politicians." 
As well as homelessness, the LGBTIQ+ guests at The Outside Project face systemic oppression that has led to a mental health crisis in the community. Voting may be challenging for people experiencing mental illness for various reasons. Hurdles may come up with the registration process, or going to the polling station – and many inpatients may not even be made aware of their right to vote, let alone receive support to do so. Despite the fact that mental health inpatients and most of those detained under the Mental Health Act have a right to vote, in 2010 the voter turnout among mental health inpatients was around 14%, compared to 65% of the general population.
Emily Reynolds, a mental health activist and writer, is helping to organise a voter registration drive called Mental Health Vote 2019. The group aims to make sure that mentally ill people receive information about their rights, get registered if they want to, can travel to the polling station, and receive support when there if required. As well as running drop-in sessions, the activists have created information sheets about the right to vote and how to do so if you are in hospital or have no fixed address, and have reached out to people in the mental health sector to get them distributed and collaborate on plans. 
When Reynolds first tweeted about the campaign, she got a reply from someone who had been sectioned – "a really brilliant activist, who's really well informed on these issues" – saying that they were not aware they had the right to vote when they were an inpatient. The fact that even this activist did not realise they could vote made Reynolds determined to raise awareness, telling as many people as possible that inpatients can register using their own address, the hospital address or via a proxy. 
So far, the activists have emailed hundreds of NHS trusts, user-led services, local Mind branches and private hospitals. With the exception of the private sector organisations – from which they've heard next to nothing – the group have received an enthusiastic response, with many practitioners well-aware of the democratic deficit for mentally ill people, and eager to support their efforts.
Outside Homerton hospital #torystory pic.twitter.com/CoHFtt6i5A

— James Greig (@fudwedding) November 12, 2019
Neither the Labour Homelessness Campaign voter registration drive nor the mental health activists are attempting to persuade people to vote a particular way. The facts remain though, that, with more than 200,000 empty homes across the country, homelessness has risen 169% since 2010; funding to homeless services has been slashed year on year, leading to a gap of at least a billion pounds annually; the hostile environment has made it even harder for migrants to receive any kind of support; and cuts to mental health and other welfare services have made it more difficult for mentally ill people to get help.
"Vulnerable people have been so disproportionately affected by cuts over the last few years that it's their voices that really need to be heard," says Reynolds. "This is a non-partisan campaign, but I don't think it's ever been more important for people to have their say, and to know that if they want to make a choice, they can."
In the run-up to the general election, these activists are focusing on voter registration – but ultimately Tom says it's important to remember that the struggle goes much beyond voting. "It's down to who has the power, and who has their voices heard in the halls of power," he says. 
Sophie K Rosa is a freelance journalist. In addition to Novara Media she writes for the Guardian, VICE, Open Democracy, CNN, Al Jazeera and Buzzfeed.