Myth-Busting the Student Vote: Will a December Election Mean Poor Turnout? Will This Affect Labour?
17 November 2019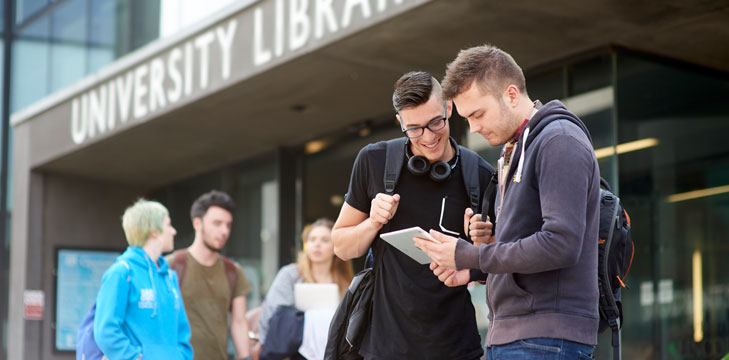 In the last general election, students resolutely backed the Labour Party. But, in an ever-shifting political terrain and with the Brexit question still looming, the student vote for Jeremy Corbyn doesn't appear as certain as it once did. 
Much pre-election debate focussed on the polling date – before or after the end of university term time – and whether or not this would suppress the student vote; if so, could this sway the election?
But how much does the student vote actually make a difference – in general, and in particular to the Labour party?
I spoke to student Labour party activists in Exeter, Bristol, Canterbury and Leeds to find out how things look on the ground now the campaign is under way.
Home or away, 12th or 9th – student activists say it doesn't matter.
It seems unlikely a 12 December polling date will make a significant difference to the student vote, compared to a date just three days before. Legally students can choose whether to vote at their parents' home or their term time address. In 2017, 70% of students chose to vote at home according to a YouGov poll. This is unsurprising given that 8 June was after exams ended for most people, so many would already have left their university town or city.
In addition to a precedent existing for an election outside of term time, 12 December isn't even after term ends for many people; I'll still be at university in Exeter then, and student activists I spoke to around the country said it would be the same for many people at their universities. 
With less than a month to go, it is becoming increasingly clear that young people are intent on voting, irrespective of the logistics. 381,951 people under the age of 25 registered to vote in October 2019, 138,536 of whom registered in the last three days of the month. This trend has continued throughout November, with the number of young people registering to vote now having hit record numbers.
Daisy Carter, a Young Labour activist in Bristol has been mobilising to ensure students register. The response has generally been positive, she says – "a lot of people know already that they can register in two places". Carter and other activists are pushing use of Momentum's university vote tool, which tells students where their vote is going to be most useful to ensuring a Corbyn government. 
Emily Bagnall, who is managing a team of 15 volunteers registering other students to vote in Canterbury, is also optimistic. And George Aylett, a student activist in Leeds, says "students are extremely enthusiastic in this election… [They are] are registering to vote in their droves".
Even the unusually socially conservative and oftentimes apathetic student body at the University of Exeter, where I am studying, has responded relatively well to Labour Society President George Cammack's attempts to get people to register. Cammack says that even people who are indifferent are most likely already registered because when they enrolled in their courses just two months ago there was a register to vote option on the online form. Whether or not they will actually vote, though, remains to be seen.
But does a large student turnout still mean a large turnout for Labour?
YouthSight, a company that monitors student voting intention, last month estimated Labour's polling among the student population to be at around 43%, down from 70% in the summer of 2017. The Liberal Democrats were at 22%, up from 7% in the same period. Although the Labour vote appeared to be rising, so did the Liberal Democrat vote, which shot up last summer for the first time since the party won votes by promising to axe student fees in 2010, and then promptly raised fees as part of a coalition government. 
Cammack is uncertain how Exeter students will vote, pointing to the fact that just over a third of students went to private school which he says "is not exactly a direct write off but it pretty much is". He adds: "The majority of privately educated students I know are quite hostile to the Labour Party and will be voting Tory, or Liberal if they're that way inclined." 
Cammack thinks the fact the Liberal Democrats are standing down in favour of the Greens in Exeter could mean a greater proportion of students vote at home, in order to be able to vote for a Liberal Democrat candidate.
It is likely that Blairite Labour MP Ben Bradshaw will retain his seat, but, as Cammack points out, that will largely be down to non-students; Cammack doesn't think the student vote will have a significant impact in Exeter. 
But a snapshot glance at other major university towns and cities suggests student voting behaviour in those areas will be closer to that of 2017. And it will matter more. 
Bagnall's constituency, Canterbury, swung to Labour in 2017 for the first time ever, largely because of the student vote. Students make up approximately half of the adult population in the Kent city. Incumbent MP Rosie Duffield was set to stand against Liberal Democrat candidate and New European editor Tim Walker next month, but Walker stepped down last week against the wishes of his party, saying that he didn't want to split the remain vote. At the last minute, the Liberal Democrats picked another candidate, against the wish of the local branch.
In Bagnall's opinion though, it doesn't make much difference whether the Liberal Democrats stand or not – students will still back Labour and Brexit isn't going to be the deciding issue for them.
"99% of the young people I've spoken to care about issues that aren't to do with Brexit and I really don't think people have forgotten about tuition fees with the Liberal Democrats," she says. 
Aylett feels the same way about Leeds, where he is campaigning in the North West constituency. "Based on my experiences… I've seen the vote stay solid for Labour," he says. "I've hardly heard anybody say they'll be backing the Lib Dems". He also mentions tuition fees as a common reason students give on the doorstep for not voting Liberal Democrat.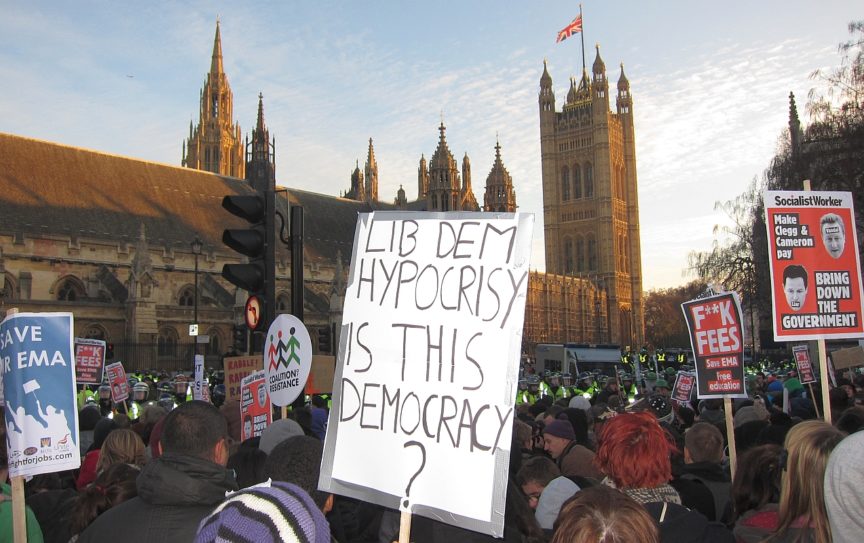 Even if YouthSight's polling appears to overestimate support for the Liberal Democrats, Labour must make students realise that only it can address students' concerns. 
We still suffer under the debt-fuelled tuition fee regime that 2010 students railed against. Cameron's recent book has revealed that Osborne instructed Clegg to vote against the fee hike, but Clegg ignored him. The Liberal Democrats didn't meekly acquiesce to their senior coalition partners, they actively sold out their student voter base. But fees are not the only case of the Liberal Democrats abandoning students.  
Students face a mental health epidemic. There is a sexual assault crisis on university campuses with a rape rate double that in the wider country. And, in 2014, the hostile environment saw thousands of our international student peers forcibly removed or threatened with detention after being accused of cheating in English Language exams with no evidence. The Liberal Democrats aided and abetted the hostile environment and were part of the coalition government that slashed mental health funding and caused the closures of many support services for sexual assault and domestic violence victims.  
Equally, Brexit has to be understood partially as a response to the brutal austerity measures first imposed by the coalition. The Liberal Democrats offer nothing to students and other young people (their 2045 decarbonisation target alone is a betrayal of our futures). Jo Swinson and her cadre of Tory defects bear vast responsibility for the crises we face. To win back any wavering students Labour should put that message front and centre as they court our vote. 
Oliver Haynes is a freelance writer and a student at Exeter University.