'The Tories Pose an Immense Risk to Us and to All Minorities': The Jewish Groups Campaigning for Corbyn
27 November 2019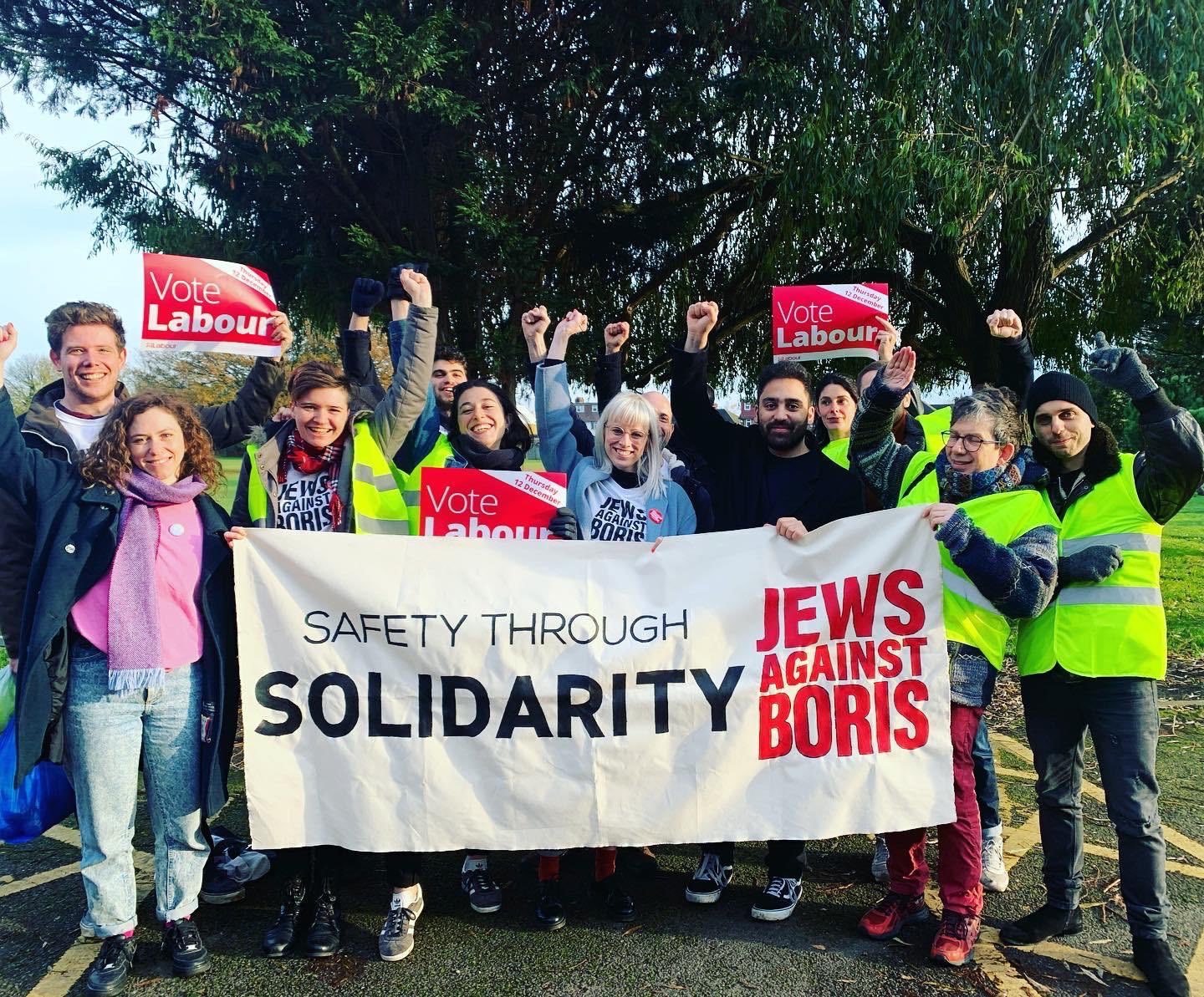 On Tuesday, the country's chief Rabbi criticised Jeremy Corbyn on antisemitism, saying he had allowed "a poison sanctioned from the top" to take root in the party. Earlier this month, the UK's oldest and largest Jewish newspaper, the Jewish Chronicle, published a front page editorial that asked non-Jews to do the same. Before this, in October, Jonathan Romain – one of Britain's best-known Rabbis – sent an email to his Shul urging members to vote against Labour.
Major figures and institutions in the British Jewish community are pushing publicly against Labour, reiterating what has become one of the dominant narratives of this election: because of antisemitism, genuine or perceived, Jews don't vote Labour.
But there are also progressive Jewish groups that are still supporting Corbyn, and others that have sprung up specifically to challenge the Jews v Labour mantra. Like me, these groups feel that attempts to further divide the leftwing community from the Jewish community, which has a long history of socialist activism (just google the Bund, the Battle of Cable Street, the Workers' Circle – there's too much to detail here), are damaging to both, and erase a not inconsiderable feature of British Jewish existence. 
Different organisations are tackling the narrative of division in different ways. Jewish Voice for Labour (JVL), for example, which was founded by a group of Jewish Labour party members, has advocated since 2017 for an "open, democratic and inclusive" party, but have also been damning of recent accusations which it says seem increasingly "disconnected from reality". The stretch to read Corbyn's pronunciation of Epstein during the Leaders' Debate as evidence of antisemitism has, they suggest, "perhaps won the prize for the most confected accusation to date".
In the run-up to the election so far, much of JVL's activism has taken the form of myth-busting. In October the group published a briefing for Labour canvassers outlining the true stories behind the events most commonly cited as examples of antisemitism, such as the "mural debacle". In their words, they seek to "expose the inaccuracies and distortion" at play in Labour's public image "by developing and putting out there calm, factually-based analyses". 
They've also been drawing attention to the bloated impression of antisemitism in Labour given by the mainstream media. "We now have a situation where the average British citizen is convinced that a third of Labour Party members have been accused of antisemitism," a spokesperson tells me, quoting a study from Bad News for Labour: Antisemitism, The Party and Public Belief, a book written by five academics, two of whom are Jewish. "The true proportion is 0.06%."
While JVL tackle the characterisation of Labour, Jews Against Boris (JAB) has taken a stance that focuses on its opponent. 
JAB started its campaign in November. While not officially affiliated with Labour, it's attempting to topple the prime minister from his Uxbridge seat by canvassing for his Labour opponent, Ali Milani. Members of the group are also attending Labour canvasses in other marginal seats, particularly those with Conservative incumbents who have helped to normalise far-right rhetoric, which JAB considers the true threat to British Jewish life. 
"Boris Johnson and the Conservatives pose an immense risk to us and to all other minorities," a member of JAB tells me. Their campaign is fuelled by frustration at the Tories' attempts to paint Corbyn as racist while ignoring bigotry within their own ranks, and from their own leader. "Our safety, our real safety, comes when we are in solidarity with other communities who are also threatened by the far right."
Where JVL and JAB come together, along with others, is in their rejection of attempts to paint political sentiment amongst 300,000 self-identifying British Jews as monolithic. Outlets like the JC claim to speak for all British Jews, JVL points out, so their narratives are echoed by the UK mainstream, and an environment is created in which Judaism and support for Labour appear mutually exclusive.
This is an impediment to Jewish Labour activism. Jewish groups and individuals seem, in some ways, to have been barred from simply contributing to the battle to get the Tories out and a progressive government in, having instead to first justify their existence as leftwing Jews. 
JAB tells me that since its launch, the Judaism of its members has been interrogated multiple times. Over the weekend, I attended a canvass with JAB in North London, after which we debriefed in a café. One member told me he'd visited a house where the occupant opened his door, saw Labour pamphlets, and said, "No thanks, I'm Jewish".
JAB's members don't generally bring up their Judaism while canvassing unless it's relevant. The canvasser didn't have time to respond with "I'm Jewish too," before the door closed again. 
Another canvasser spoke to an individual who claimed they didn't see any point in voting Labour since the party had "lost the Jewish vote," and so won't win. Around the table, this sparked concerns that Jews are not only being divided from Labour activism: Jews could actually end up being blamed for a Labour defeat. JVL acknowledged the same issue, speaking of the danger inherent in British Jews being perceived as "collectively hostile to a party that is so progressive on social issues generally".  The impression that Jews won't vote Labour not only further divides Jews and Labour supporters, then, but threatens to pit them against each other.
Both JAB and JVL challenge the dominant narrative by emphasising a lack of Jewish exemption from the problems caused and exacerbated by Conservative governments. "There are many Jews whose lives depend on defeating a Tory government: Jews who live in poverty, Jews with disabilities, Jews who rely on the NHS, Jews of colour and migrant Jews," a JAB spokesperson told me, and JVL echoed the sentiment, saying that "like all people, Jewish people can only be harmed by five more years of austerity".
You can sense a frustration in these circles: the repetition of the narrative Jews don't vote Labour by both Jewish figures and institutions and the wider media makes Jewish Labour activism and visibility simultaneously more challenging and more necessary. The biggest obstacle to be overcome is that of false perception – both of and amongst Jews, of and within the Labour party, and in the wider political world. But the continued existence and passion (or, maybe, ruach) of leftwing Jewish groups with varying relationships to Labour – not just JAB and JVL, but Jewdas, JLM, JVP and more – under difficult circumstances creates hope for a positive future relationship between a truly socialist Labour party, and a thriving Jewish community, who are free to engage with politics based on their true values and beliefs.
Francesca Newton is a freelance journalist based in London.