Beyond Politics? The Limits of Extinction Rebellion's Strategy Are Beginning to Show
7 December 2019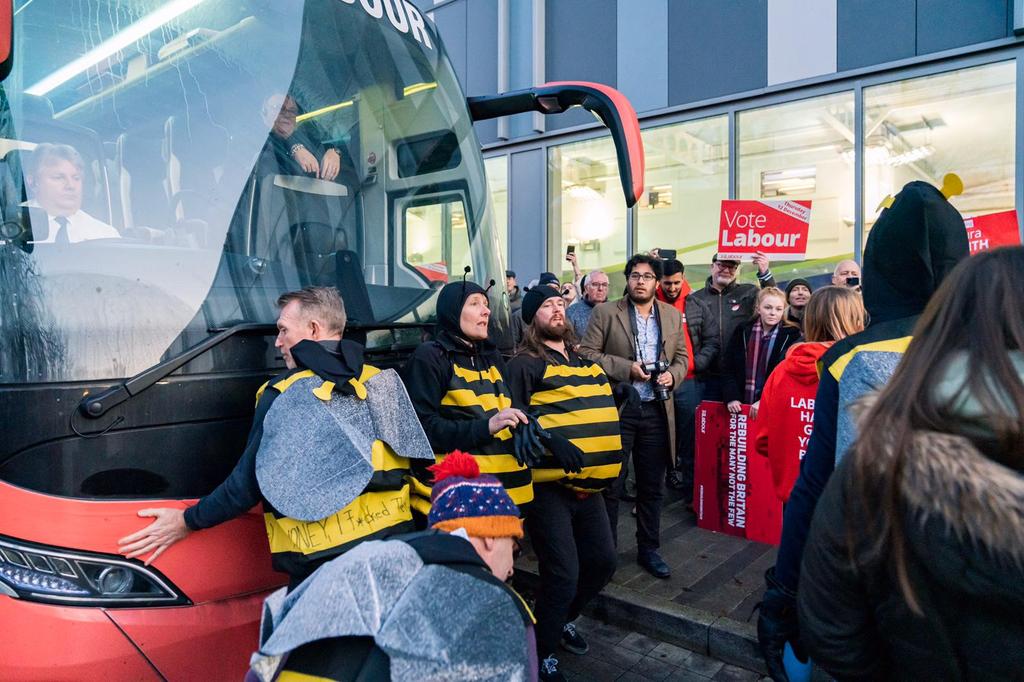 Extinction Rebellion /Twitter
Earlier this week, Extinction Rebellion (XR) activists protested against the Labour party by blocking the party's battle bus. This latest action follows the protests – including hunger strikes – which have been taking place at Labour's headquarters.
XR have also targeted the Conservatives and Liberal Democrats, stating that "party politics is not fit to address the #PlanetaryCrisis". Yet it's clear to most environmentalists that Labour's ambitious programme to address the climate and ecological emergency is the type of politics that is needed in the present moment. And while XR's choice of actions might appear strange, the rejection of party politics has always been at the core of Extinction Rebellion's ethos.
The politics of Extinction Rebellion.
Extinction Rebellion's political strategy is, in the short term, to create mass civil disobedience to pressure the government into taking action. Beyond that, they consider the only political solution to the climate crisis to be the replacement of the existing representative democratic system with a national 'citizens' assembly' selected by sortition, enabling 'the people' to enact radical decisions and policies to respond to the climate emergency directly.
Although much of the XR movement is decentralised and autonomous, its political understanding, organising principles, campaign strategy and messaging have all come from its core organisers and have never really been up for debate. These can be found in XR's Declaration of Rebellion, co-founder Roger Hallam's Common Sense booklet, and their three demands.
XR's political understanding is explicitly based on political thinkers from the 17th and 18th centuries, such as John Locke and Thomas Paine, whose ideas inspired the French and American revolutions. XR see the role of government as protecting individual liberty, and argue that the social contract has been breached such that rebellion is a now moral obligation. In this sense, they are not so much rebelling against the current government as the whole 'corrupt' political system.
This type of politics is ordinarily preoccupied with democratising an authoritarian regime. Yet XR's ultimate goal of bringing about radical action to address the climate emergency – which requires the decarbonisation of our economy and society and a paradigm shift in our politics – is a revolution of a different sort. More akin to historical movements for racial or gender equality – or even against the neoliberal transformation of the past few decades – XR's revolution is about transforming a liberal democracy, not about resisting an undemocratic regime.
Civil resistance.
Extinction Rebellion's strategy follows the 'civil resistance model': a mass movement with large-scale civil disobedience and disruption intended to force the government to enact major structural change, or otherwise bring it down. These could be seen as two alternative pathways, but given the size of their demands – radically restructuring our society and a significant transfer of power from 'corrupt politicians' to a citizens' assembly – there isn't actually much between the two options.
The civil resistance model is based on research by Erica Chenoweth and others, following the study of non-violent resistance movements. Yet, while XR may see themselves in this light, they are nonetheless rebelling against an established liberal democracy, not resisting authoritarian rule. This fundamental and crucial difference means they are not engaging with the political realities they face.
XR cast their action as being 'apolitical' and 'beyond politics', framing it instead as a 'moral issue'. Of course, what they mean is that it should be beyond party politics; yet this framing suggests a lack of serious consideration of the balance of power and class in our society. Politics is a power struggle – and political change is rarely achieved by appealing to the good nature of those with power.
This is a puzzling area of XR's politics, because while they do recognise that profit-driven corporations and a 'corporate business class' are part of the problem, they talk in the populist manner of 'corrupt politicians' versus 'ordinary people', with little analysis of how the power structure they are challenging works. As a result, there seems to be little to no engagement with the way political groups across British history have challenged ruling elites, concentrated wealth and corporate power. Nor do they seem – outwardly at least – to have engaged with the lessons learned by other activist movements, such as Climate Camp, which followed a similar 'mass movement' strategy.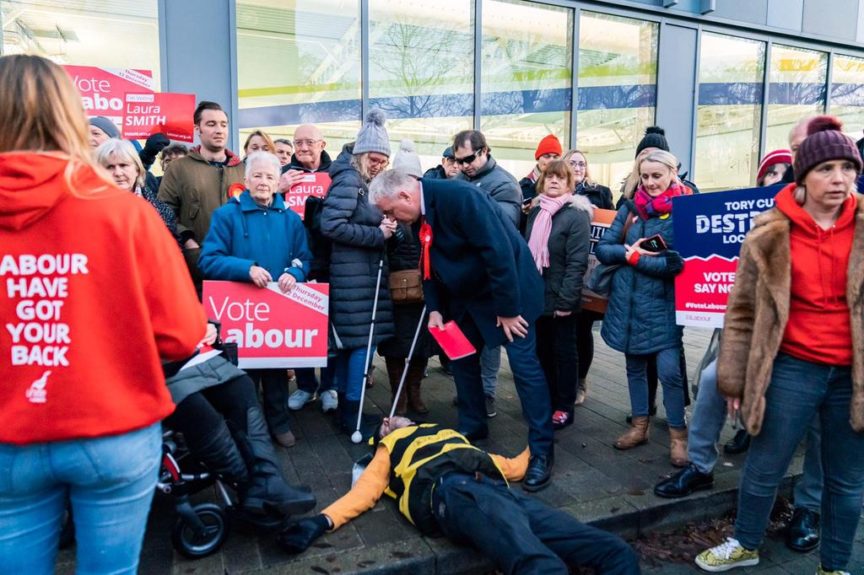 Against politics?
Extinction Rebellion reject politicians with a broad brush, viewing the whole political system as corrupt without much explanation as to why. Roger Hallam, in Common Sense, says: "The transition that will be shown to be necessary would be political death for any one party should they suggest the changes that will be required."
But while it's understandable to reject a reformist approach on the basis that it is too slow – and there are fair questions about the extent and speed to which radical policies can be implemented in a liberal democracy – it's quite surprising that XR's organisers haven't seriously engaged intellectually with the Labour party under Jeremy Corbyn.
XR's October 'international rebellion' came after Labour's annual conference had adopted a radical decarbonisation and democratisation agenda with the Green New Deal policy platform, and after Labour had persuaded parliament to declare a climate emergency which the Conservatives refused to even acknowledge. Despite these clear political advances, XR have continued to demand that politicians as a whole need to "tell the truth".
If Extinction Rebellion want a citizens' assembly so that 'ordinary people' can have power directly, instead of through corrupt elites or politicians, they need to consider why a citizens' assembly would succeed where our existing politics has failed. Instead, XR maintain an almost mythical belief in the power of an unelected assembly to make the right decisions where people have failed to do so through the existing representative democratic system – and across our society as a whole – over the last few decades. From the way they have protested Labour's election campaign, it seems XR would continue to advocate a transfer of power to an assembly even if Labour was in government and actually trying to implement its 'green industrial revolution'.
Undoubtedly, Extinction Rebellion have, in many ways, been incredibly successful. They have created a mass movement, raised awareness of the climate emergency, and alongside youth strikers and other political campaigners they have created a political environment in which groups like Labour for a Green New Deal have been able to push a radical policy platform. But XR's continued rejection of party politics and the shortcomings in their political understanding mean the limits of their strategy are beginning to show.
Alex May is a writer, activist and legal theorist who works in politics.