'Clean air doesn't come for free': The Champion Runner Hitting the Streets for Bernie
24 January 2020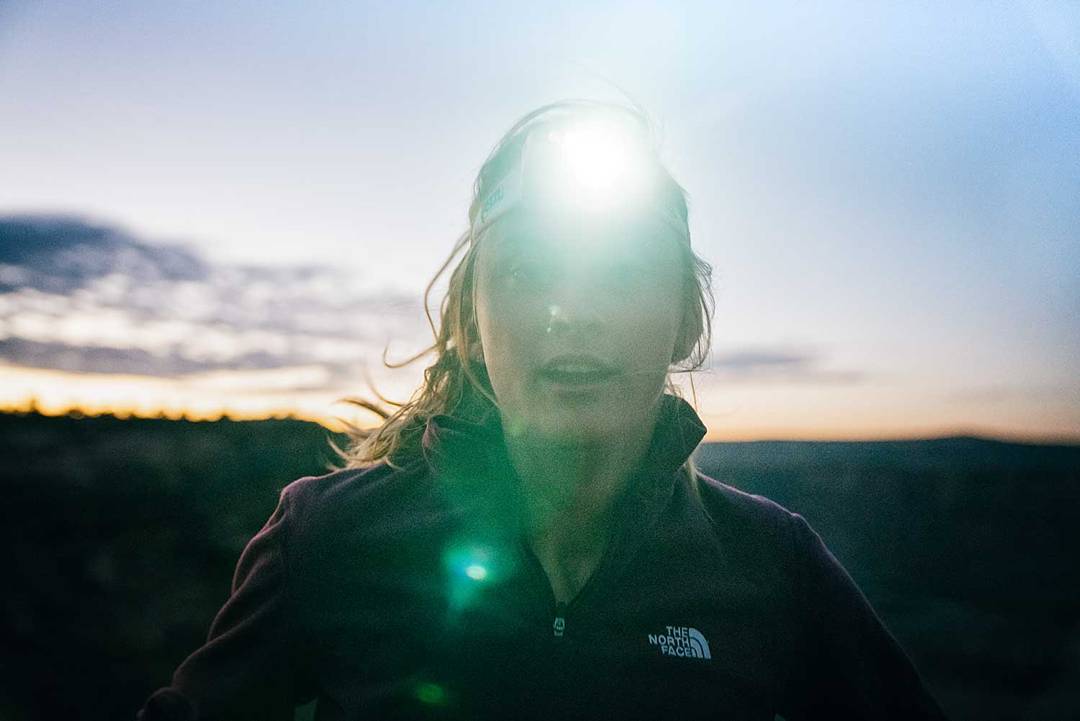 Paolo Mottola /Flickr
Clare Gallagher's ultramarathon career is a story of pure grit. In 2017, she ran her first ever 100-mile race, the Leadville 100 – a race that is as mountainous as it is prestigious. She came in first place. The following year she ran the 63-mile CCC (Courmayeur-Champex-Chamonix) race which part-circumnavigates the highest peak in the Alps, Mont Blanc. She won again. 
Last year, she ran the Super Bowl of North American ultramarathons, the Western States endurance run, another 100 miler. She took the lead at mile 80, and it looked like the race was all but over until mile 93, when she saw the headtorch of another runner emerging out of the night to contest the lead. Her response? To run so hard to the finish that she collapsed over the line in the second-fastest time ever, and now has hardly any memory of those last six miles.
At the age of 28 she has summitted many of the peaks of the sport. That alone would make her a remarkable athlete. But Gallagher is also known as someone who's not afraid to talk politics, particularly when it comes to the politics of climate change.
Her commitment stems from the years after she graduated college, which she spent doing field research on the effects of warming oceans on coral ecosystems. "We need systemic change at a government level," she tells Novara Media.
One gets the sense that Gallagher has formed her stance from a position of hard-nosed realism and a serious reading of the science, rather than any idealistic commitment to radicalism. I ask her what she means by systemic change. Is she a Bernie Bro?
"Yeah, I finally committed. I mean I'm a really big fan of Elizabeth Warren, but I'm 100% for Bernie. He has the strongest climate record," she says.
"I'm putting my money where my mouth is. I'm telling people to get engaged and that means choosing the person who's obviously the best."
I ask if she's worried that talking about politics might cause tensions in the running community or harm her career as a professional athlete.
"I was worried about that a year ago – but now I work for a company [Patagonia] which encourages me to make analytical decisions and actually put my money where my mouth is, and so even though I'm not wearing a Patagonia hat when I'm talking about Bernie, I kind of am in a way…"
She trails off, as if trying to resolve the contradictions of being a professional athlete then and there. "Yeah, I don't even know what the rules are, actually. I don't think there are any rules. I'm not going to seek permission. I'll ask for forgiveness later," she laughs.
Gallagher has spent the last week training to go out canvassing for Bernie Sanders' campaign, but she's got ideas for how to bring the running community and politics together in more concrete ways too. "I kind of want to do a running campaigning thing – run to doors in more rural areas in the western part of Colorado, in the fall, especially," she says.
We move on to talk about climate change directly. I say that the recent spectacles of the crisis, like the fires in the Amazon and Australia, have made me feel just how depressingly imminent the point of collapse is. I ask whether she feels the same, and whether she manages those feelings through running.
"Yeah, 100%. It's so intertwined. The reason why I've gotten more engaged in this work is because I love running so much, and I've seen the threats firsthand: from air pollution to forest fire threats, to glaciers melting in the Alps and making the mountains more dangerous. I had two races on my docket a year ago, the North Face 50-miler and Sean O'Brien 100K. Both of them were in California, and both were canceled due to the wildfires, so it's become an issue that I can't ignore."
"Now that I have acknowledged the problems, I use running as sort of like a medicine, a way to deal with it. Running is a reminder. It's almost like a rubber band, it can snap you back to reality and put your feet on dirt and get you into that meditative state."
Gallagher's coach is David Roche, a cult figure in the world of ultra running. On a technical level, his bread and butter is using the training techniques usually associated with shorter distances to promote long-term improvements in running economy for ultra athletes. But what's most distinctive about his coaching is his philosophy.
It's best described as an enthusiastic existentialism, with constant mentions of the imminence of death uplifted by an all-pervading sense of joy and a commitment to running as a way of adventuring through an ultimately pointless world. I ask Gallagher whether working with Roche has changed the way she approaches running, compared to her time as a collegiate athlete.
"I've developed this unadulterated joy for running that I didn't necessarily have before. My running always had some goal associated with it. I still have goals, without a doubt, legitimate goals, but any day I'm able to run outside is a total gift, a complete gift. I feel like it's spiritual. Doesn't matter if I go fast or slow, if I'm by myself or with friends, or really where I am. In a way, that's given me more energy to spend on actual work that's making the world a better place."
"I think if more runners were able to see that, they would be less obsessive about their running, and probably be able to be better runners and more effective advocates for the things that make running possible. So many of us are just going out and running and don't realize that clean air doesn't come for free."
When I ask what her goals are for the next year, Gallagher lists the obvious things. For starters, she's heading back to Western States 100. Given her previous win in the premier alpine race CCC, I ask if she'll head back to Europe – maybe to tackle the equivalent of the ultramarathon World Cup, the Ultra Trail de Mont Blanc? For Gallagher, politics comes first.
"I don't want to race in Europe out of principle this year. I would never forgive myself if I spent a week at UTMB during prime canvassing time, when I could be talking to people in Colorado about the elections."
Callum Cant is the author of Riding for Deliveroo: Resistance in the New Economy.