Labour Needs a Female Leader in Rebecca Long-Bailey
25 January 2020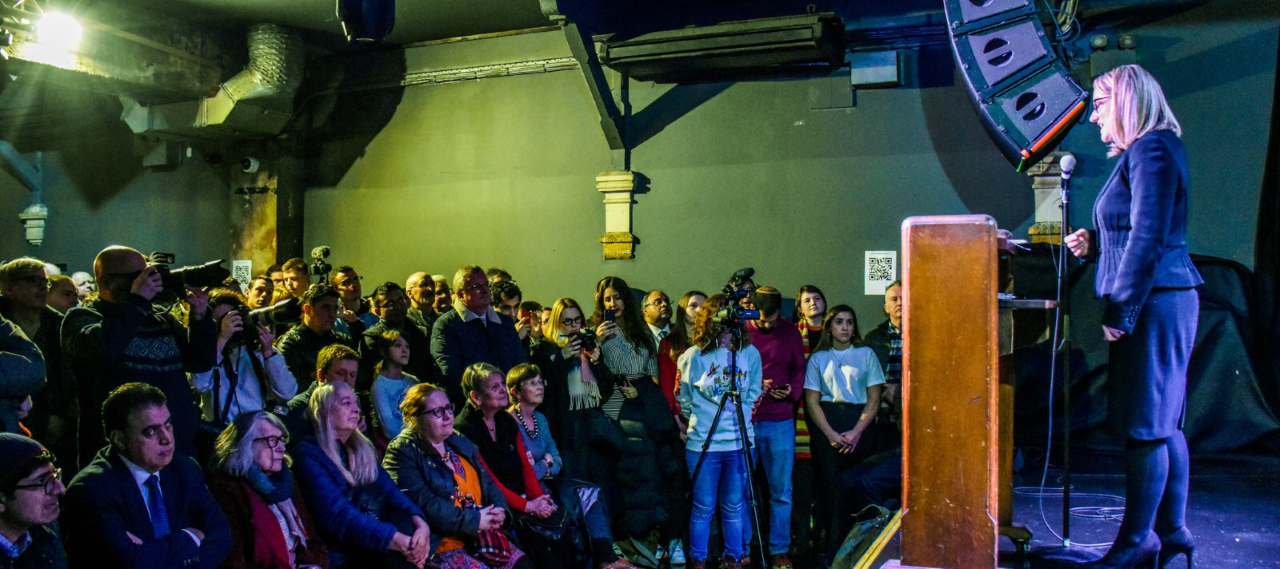 Nathan Akehurst
It's time that the Labour party had a female leader. We are the party of progressive policies for women, with real commitment to closing the gender pay gap, introducing flexible working hours and a menopause workplace policy, and tackling sexual harassment.
The Conservative party, which is committed to none of these things and has overseen the decimation of women's services through austerity, can boast two female prime ministers. Labour needs to show that it respects and trusts in its female front-benchers enough to elevate a woman to the highest party position.
With that said, UK history has shown that having a female leader in and of itself is not enough. Former Conservative prime ministers Margaret Thatcher and Theresa May were female leaders who delighted in hurling other women under the bus while they clung to power.  
Labour must elect someone who shares the progressive values of the last opposition government under Jeremy Corbyn, and will protect the rights of the most vulnerable people in our society. With the leadership nominations now confirmed, that person should be Rebecca Long-Bailey. 
Long-Bailey, the shadow business secretary, is considered the most truly leftwing candidate in the leadership race. Describing herself on Twitter as a socialist, she has remained loyal to Jeremy Corbyn throughout his leadership and has consistently voted for laws that promote equality and human rights and against the decimation of welfare policies through the Conservatives' ideological and murderous austerity drive. 
Significantly, Long-Bailey and her preferred deputy Angela Rayner, are both working class, northern women, a demographic that is underrepresented and often overlooked in Westminster politics. Long-Bailey was born in Old Trafford, the daughter of a Salford docker, and worked in a pawn shop, a furniture factory and call centres before training to be a solicitor. She has previously said that her stint serving customers in a pawn shop "taught [her] more about the struggles of life than any degree or qualification ever could".
Although drawing criticism for the slow start to her campaign, she is backed by Momentum and is committed to upholding many of the policies in the 2019 election manifesto. These policies, including a Green New Deal that Long-Bailey herself designed, are absolutely crucial in ensuring that Labour continues to be a party for the many. 
Instead of attacking the previous opposition under Jeremy Corbyn, Long-Bailey will take the Labour party forward with policies that are distinct from Tory-lite offerings by New Labour and the likes of leadership front-runner Keir Starmer.
Establishing the battle lines in the contest, fellow leadership candidate Emily Thornberry described Starmer as being on the "right" of the party and Long-Bailey on the "left" in a statement in which she criticised both as being "machine politicians". Thornberry's attempt to tar both Starmer and Long-Bailey with the same brush seems nonsensical next to her assertion that they represent opposing factions within the party. The real question is whether Starmer can be trusted to uphold the Labour party's left-wing ideals. 
According to a recent YouGov poll of Labour members, Starmer is well ahead in the race but Long-Bailey has cemented her left-wing credentials with the backing of Unite and the endorsement of Len McClusky who believes that Long-Bailey has the "brains and brilliance" to take on Boris Johnson at the dispatch box. 
It is clear that other women in the leadership race do not have the same values of loyalty, equality and commitment to radical change that Long-Bailey upholds. Jess Phillips has tellingly left the race. Meanwhile, Thornberry has demonstrated an ugly tendency to attack and undermine the previous Labour administration and its leader at any opportunity. After the 2019 election, Thornberry publicly scored Corbyn with a "zero for winning elections".
Having a female leader for the sake of having a female leader is not what Labour needs, as starkly illustrated by the women who have led the Conservative party over the last 50 years. A centrist Labour candidate like Thornberry would be disastrous, both for Labour and for women. 
Centrist policies that perpetuate austerity will continue to hit women the hardest. Benefit cuts and sanctions disproportionately affect women, as do cuts to vital services such as domestic violence shelters. Childcare in Britain is the most expensive in Europe, disincentivising women from working full-time, and in many cases, from entering the labour market, forcing them to rely on benefits. 
The way Universal Credit has been designed has penalised lone parents, of which nine out of ten are women. Meanwhile, the restriction of the Sure Start Maternity Grant (a £500 payment to help with the costs of a new baby), the two-child limit on child benefits and the housing benefit ban for 18-12 year olds have all made life so much harder for women in Britain. 
According to the House of Commons Library, all changes to taxes and benefits from 2010-2017, 86% of spending cuts have fallen on women. Labour must have a leader committed to ending austerity in its many-headed hydra of forms. If this leader can be female, all the better. 
Harriet Williamson is a freelance journalist and mental health activist.