Remain Ultras Are Everything They Claim to Hate
29 January 2020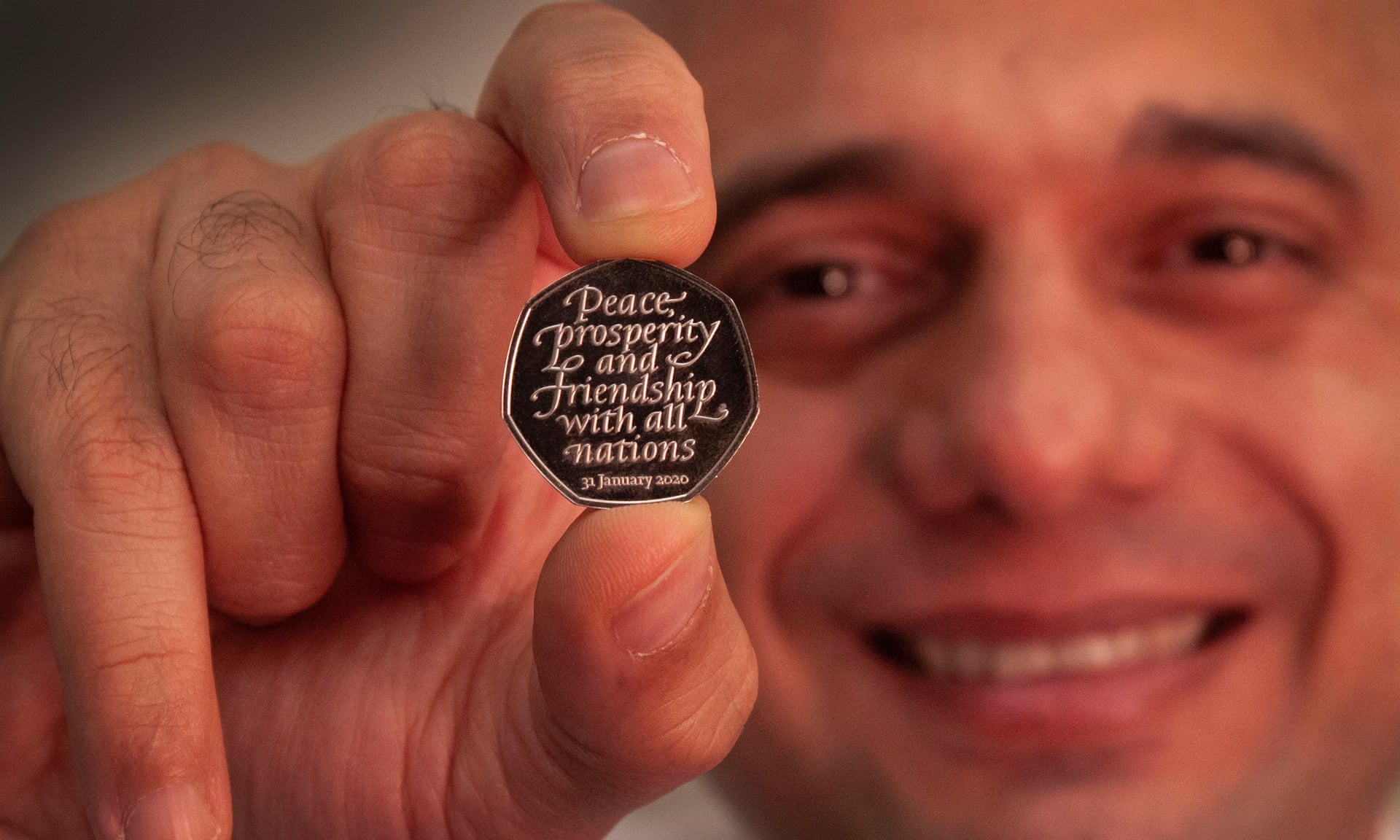 HM Treasury
A commemorative 50 pence piece is low on my list of things to get angry about. Life has a habit of dishing out enough bad news as it is, whether it's the ill-health of a family member or a missed professional opportunity.
What's more, the world has much to put right: our media is broken, our economy is kleptocratic and the sinews of our political system feel more strained each day. I find it hard to believe that anyone who has suffered a personal trauma, or is remotely aware of the climate crisis or child poverty, would be upset by a piece of small change inscribed with the words, "peace, prosperity and friendship with all nations".
Yet, that was the response which met the announcement of a new coin to mark Britain's departure from the EU. It was the latest expression of a culture war where those who most fervently oppose Brexit – let's call them 'remain ultras' – can be just as irrational as Brexit supporters crowdfunding Big Ben to toll this Friday.
A Farage masterclass.
Even this latest spat remains a distant second to last year's furore though. Remember the saga surrounding the colour of British passports once we were outside the EU? Then Nigel Farage, king of the political pseudo-event – which our media is ever more prone to cover than actual ones – declared that Britain's escape from the yoke of Brussels would allow us to finally go back to the glorious blue passports of yesteryear. They look black to me, and nobody I know really remembers them, but from the perspective of Farage agitprop that doesn't really matter.
You see, the former UKIP frontman doesn't actually care about the colour of his passport – something he tacitly admitted when pronouncing 'victory' as he brandished his new (and still burgundy) document last year. What was of real consequence, we were now told, was the removal of the words "European Union" previously inscribed on its cover. Farage likely knew this would happen, but chose instead to focus on the colour because it was more likely to get him on Sky and BBC News.
Whatever you think of the man this is his bread and butter – it's like Gino D'Acampo rustling up a Caprese salad on morning television or Piers Morgan being an obsessive weirdo about Meghan Markle on Twitter. In a reasonable world, Farage would have been ignored for a trivial stunt like this. But the last three years have confirmed ours is not a reasonable world – and Farage's antics make the political weather.
All of which meant the Rothmans Machiavelli got the response he wanted: attention, anger and just enough polarisation. Most people, however, just switched off – not really caring either way. But this too was intentional because it meant the important political questions surrounding Brexit – which mostly remain unanswered – became encased in trivia and emotion. It was a masterclass, offering a sublime example of how Farage has increasingly defined the issue over two decades.
But then something happened which I doubt even Farage predicted; the very people who denigrated him for politicising the appearance of his passport proceeded to do precisely that, as the New European offered subscribers a 'Bollocks to Brexit' passport cover – naturally burgundy – featuring two unicorns, the figure of 48% and the word "remainer". For Farage, the passport episode provided an opportunity to get on the telly and keep the Brexit debate both salient and emotive. For remain-ultras, however, it became an identity – and one that necessarily tended to minoritarianism and defeat.
Pushing policies.
Yesterday, that same attitude was apparent when Philip Pullman called for a boycott of the new coin because of a missing comma. Meanwhile Lord Adonis, a Labour candidate in last May's European elections, said he would never accept or use "this coin". Then there was Alastair Campbell – who shared a video with actor Brian Cox – adding "I shall be asking shopkeepers for 'two 20p pieces and a 10' if they offer me a 50p coin". All of this is just as pathetic as any nonsense confected by Brexiteers in recent years.
Remain-ultras don't only exhibit those characteristics they claim to despise from the right, but from the left as well. New Labour voices like Campbell and Adonis have always maintained that socialist policies aren't popular and make the the party unelectable. And yet the primary reason Labour lost in December, according to the best available data, was because of its Brexit position. Of the 54 seats the Conservatives gained from Labour, 52 were in areas that voted to leave in 2016. The difference between 2017 – when Labour won 40% of the popular vote – and 2019 wasn't the leader, policies or even media hostility, it was the changed position on Brexit.
Ironically, those most eager to emphasise their 'electability' credentials doggedly pursued this policy, even though it only ever commanded support from a minority of the electorate. Leadership frontrunner Keir Starmer, not to mention John McDonnell, regularly broke ranks on the agreed line – much to the chagrin of other members of the shadow cabinet. Starmer's leadership pitch revolves around him being the candidate best placed to beat Johnson. And yet that isn't consistent with how he pushed a policy, from very early on, which was liable to hand the Tories a majority.
Information chaos.
Finally, there is the 'remain' newspaper par excellence, the Observer. While it may have a small circulation of just 160,000 a week, it receives massive online traffic through the Guardian website and is amplified by Sunday broadcast shows. And yet for such a significant player, its reporting on the issue of Brexit was farcical.
To anyone familiar with the paper, particularly before the Iraq War, that might not be a surprise. Back then its political editor, Kamal Ahmed, was alleged to maintain close ties to Alastair Campbell – something which Ahmed denies. At the same time, the paper chose not to publish stories which were later proven to be correct regarding weapons of mass destruction. According to journalist Nick Davies, that was because the paper's then editor, Roger Alton, had already decided to endorse British involvement in Iraq. Facts came second with 'journalism' simply following a predetermined destination.
Something similar happened with the paper's position on a second referendum. 'Push polls' were regularly employed; attention-grabbing but ultimately meaningless 'scoops' were used to advance the argument; and the paper's tone bore a striking resemblance to when it was close to Campbell fifteen years earlier. Now, rather than those connections being used to make the case for war, they were deployed to undermine a left wing leader. This wasn't journalism – it was two years of 'information chaos' aimed at mortally wounding Jeremy Corbyn. It worked.
More recent interventions by the Observer in Labour's leadership debate have included the claim that despite the contest including three women, Keir Starmer is the feminist candidate. The author of that article also previously wrote a 'satire' of Angela Rayner and Rebecca Long-Bailey in their London flatshare  – inevitably mocking their northern accents and impugning their 'real' political motives.
And yet this is a paper which likes to brandish its credentials as a stalwart in the fight against 'post-truth', helping inform its readership in a world where public relations increasingly undermine journalistic fact. Yet many would argue that precisely such an approach characterised the paper's coverage of Labour over the last four years. At times it felt like the Observer's front page had been outsourced to the People's Vote campaign.
The truth is that whether it is personalities like Adonis and Campbell, or outlets like the Observer, the events of recent years have offered a mirror to centrist politics. They are serious about winning – but only on their terms; electability comes first – until it doesn't; journalism is about a fearless quest for the truth, until the truth itself is politically inconvenient.
If you want to grasp the bankruptcy of such politics – look at these contradictions and take note. The left must never concede leadership to such voices again, particularly when it is far better equipped to shape the coming century for the better.