The UN's Top Court Has Offered Myanmar's Rohingya a Glimmer of Hope, but Justice Is Still a Distant Prospect
3 February 2020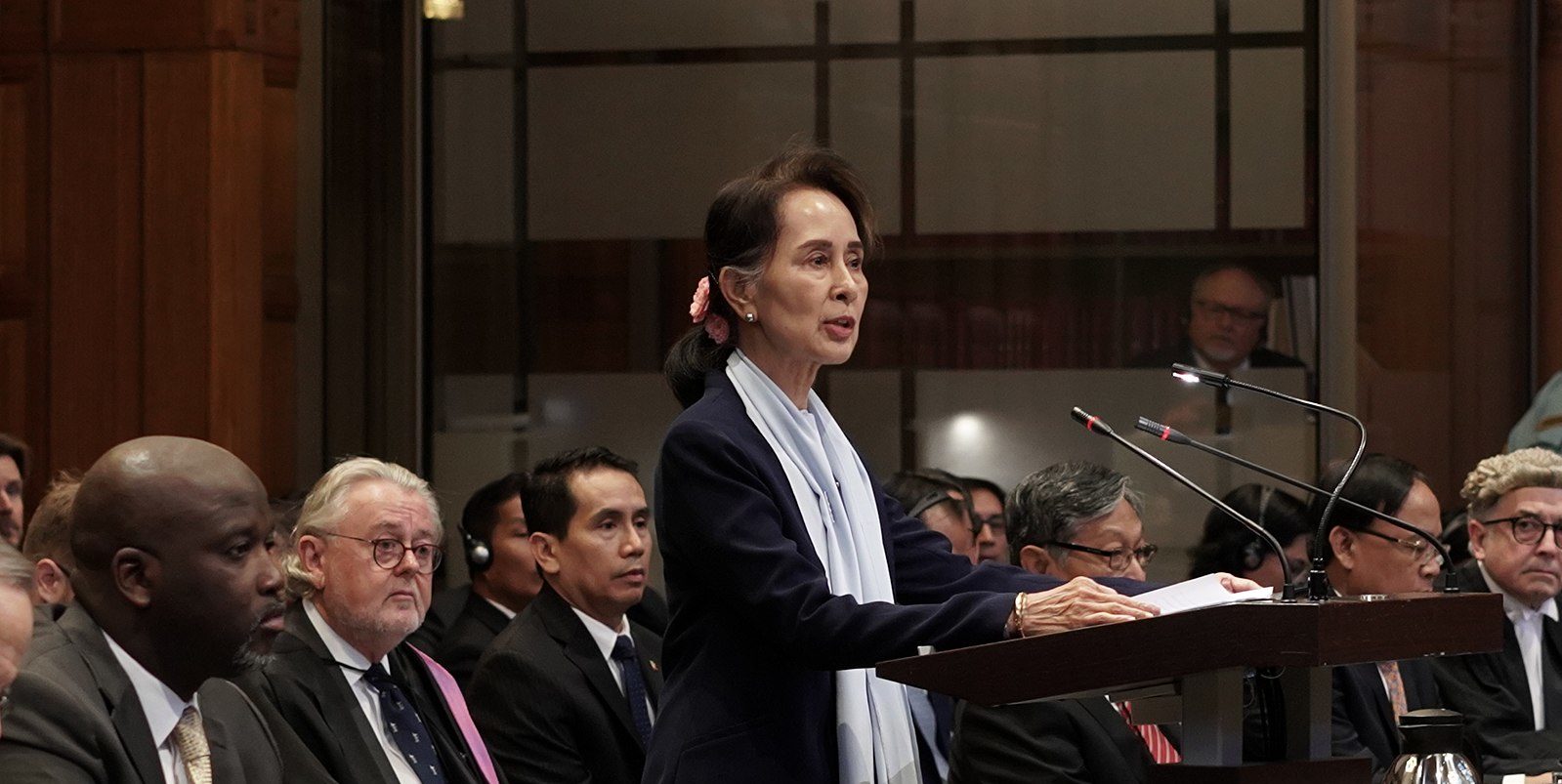 Shafiur Rahman/ Creative Commons
The International Court of Justice issued an emergency injunction against Myanmar last month in a grossly delayed move by the international community to protect the country's Rohingya minority against further brutality from the Burmese military. But while the unanimous verdict from the principal judicial organ of the United Nations is significant, at this stage it is still little more than a gesture, with Myanmar essentially able to choose whether or not it will comply. 
This injunction is the first step in a case brought to the court by The Gambia on behalf of the Organisation of Islamic Cooperation, accusing Myanmar (formerly Burma) of violating the 1948 Genocide Convention. Since 2017, as a result of systematic violence committed by the Burmese military – or tatmadaw – against the Muslim Rohingya population in Rakhine state, thousands of Rohingya civilians have been killed, with 700,000 displaced from their homes and forced to seek refuge across the Bangladeshi border. 600,000 are still in Rakhine state, where they remain increasingly vulnerable. Last year violence intensified in many areas, aid was severely restricted, and from June onwards some areas were placed under an internet blackout cutting the population off from communication and assistance. 
Following a UN fact-finding mission, investigators reported numerous elements of the violent conduct in Rakhine that point towards genocidal intent, a critical element to the crime of genocide. Myanmar – headed by its now highly controversial de facto leader Aung San Suu Kyi – denies this. The government refers instead to the report released by its own internal Independent Commission of Enquiry which claimed that although many civilians were killed in the attacks and war crimes were committed, they were lacking genocidal intent.
It is highly important to understand however, that the ICJ's injuction has no legal bearing on the outcome of the wider case, and the court is yet to make a decision on whether the tatmdaw has indeed committed genocide or not. 
At this stage, the court has simply stipulated four provisional measures for the Burmese government to carry out. It has ordered that Myanmar shall "take all measures within its power" to prevent commission of genocidal acts against the Rohingya, ensure that the tatmadaw also adhere to this commitment, prevent the destruction of any evidence relating to the case, and subsequently submit regular reports on the measures being taken to meet the court's demands. Even prior to this injunction, the first three measures would be basic expectations of any country who is party to the Genocide Convention, Myanmar included. 
Weak enforcement.
Although in theory this ruling is legally binding, the court cannot actually enforce its decision, and it can only be hoped that Myanmar will meet these provisional requirements if significant international pressure is applied. The enforceability of the judgement is therefore relatively weak, with the court's only weapon being a diplomatic one.
If Myanmar fails to comply with the court's order it will be referred to the UN Security Council, which will decide on any punitive measures. The court could demand legal reform, for example that Myanmar amends laws which discriminate against the Rohingya, or it could impose economic sanctions. In reality it is unlikely the Council will do either of these things as two of its five permanent members – China and Russia – are considered to be allies of Myanmar and to hold a general contempt for international human rights standards. They would therefore be likely to veto any serious attempts to punish Myanmar for committing human rights abuses. 
Although all UN member states are automatically party to the ICJ, the court's punitive capacity is limited as it holds no jurisdiction over individuals, and so cannot hold individual military officials accountable for their war crimes. The International Criminal Court (ICC) on the other hand, can prosecute individuals for war crimes, but requires states to ratify its founding Rome Statute before it can exercise jurisdiction over their citizens. In November last year, despite Myanmar not being a party to the Rome Statute, the court granted jurisdiction over the crime of deportation as an element of this occurred on Bangladeshi soil; a country which is a party to the ICC. The ICC's investigation into the Rohingya case is currently underway, and although it is likely to take years to reach its prosecution stage it remains a vital component in the battle against impunity. 
Meanwhile, Myanmar claims that war crimes committed by tatmadaw officials are being investigated and prosecuted internally, but this appears to be purely an act of retaliation to international intervention. Thus far, Myanmar has resisted international involvement of any kind, restricting aid access to conflict areas in Rakhine, preventing UN investigators from entering the country, and not recognising the authority of the ICC.  Willingness to meet the court's orders and to take measures to protect the Rohingya population will be down to political will, not legal obligation. 
Domestic politics.
Although Suu Kyi wields no real power over the military and its actions, she does hold a position of moral leadership and has an enormous influence on Myanmar's population. By travelling to the ICJ to personally defend the tatmadaw she has decided to align herself with the perpetrators rather than the victims. The hypocritical nature of this decision is  puzzling, as her 'national treasure' status stems in part from her own historical victimhood as a political prisoner under the military junta which ruled the country until 2011. It is possible that by defending the tatmadaw she hopes to boost her bargaining power with military officials, thereby giving her the political leverage she needs to fulfil her party's electoral promise of constitutional amendment. 
In true nationalist spirit, the population seems to have rallied behind its leader, who many people see as a hero for defending their country on the international stage. This support for Suu Kyi also reflects a widespread and deeply entrenched prejudicial hatred of the Muslim Rohingya among the nation's Buddhist majority population, and even among some of its ethnic minority groups. In supporting Suu Kyi's actions, ethnic groups are essentially standing up for the very same institution which continues to wage violent campaigns in their own territories and against their own people; the conflicts in Kachin and Shan state received specific attention in the UN fact-finding mission report. 
Under China's wing.
China's vetoing power in the UN Security Council stands as a bulwark for Burmese impunity against international legal mechanisms. The Asian superpower has staunchly stood against moves to internationalise the Rohingya crisis, preferring instead to establish itself as the main mediator in repatriation efforts. Beijing's vested interest in protecting Myanmar from international scrutiny lies not only in the undermining of international human rights standards for its own dispensation, but also in order to bolster strategic economic ties with Naypyidaw. Xi Jinping's visit to Myanmar earlier this month laid pen to paper for a multitude of bilateral agreements, the thrust of which is China's Belt and Road Initiative – a global infrastructure project launched by Xi Jinping in 2013 – in which Myanmar is of key geographical importance. A prime example of China's long-term investment in Myanmar under this project is the monstrous $1.3 billion Beijing-backed Kyaukpyu deep sea port and Special Economic Zone in Rakhine state. Too close for comfort? I'd say so. 
As Suu Kyi endeavours to inch the military and her party closer together and push for unified economic development, it seems that no human sacrifice is too large. Under the auspices of China, she is in danger of eroding away the sanctity of human rights for the sake of political and economic gain. When it comes to bringing to account a country riddled with internal conflict and political tension and eager for external investment, political will is likely to triumph while legal obligation is likely to be snubbed. 
Yali Banton Heath is an MA Human Rights Law graduate with an interest in land, politics and conflict in Myanmar.