Over 50 Offensive Coronavirus-Themed Products Pulled From Amazon
6 February 2020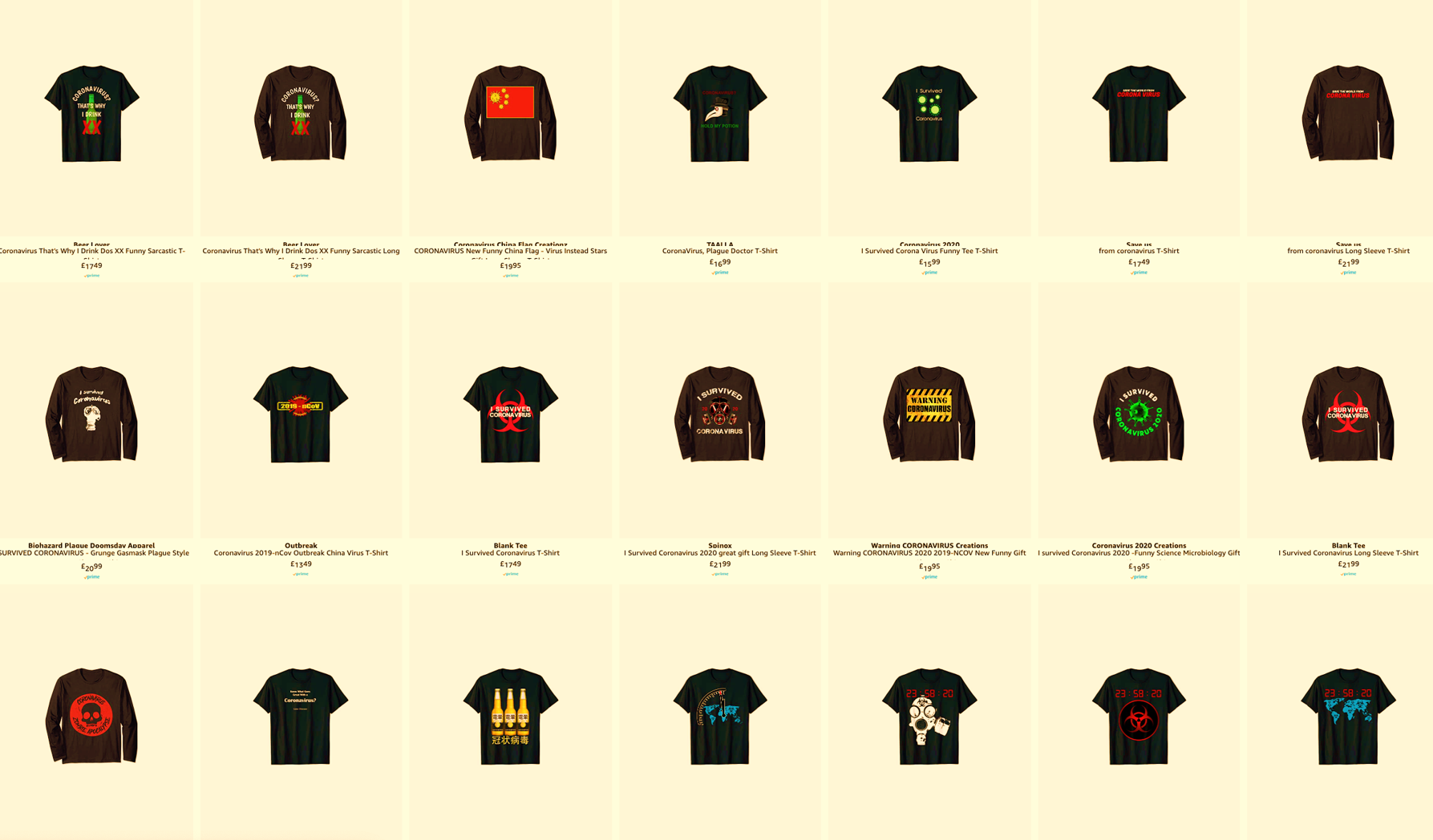 Last week, as news of Coronavirus spread, third-party accounts selling offensive and racially-charged items were quick to turn tragedy into profit.
The account Do What Now Tees advertised a T-shirt with a gasmask design and the slogan "Not Today Kung Flu". Another seller, Viral Trends, sold a long-sleeve shirt in a choice of five colours featuring a silhouette of a militia sniper with the slogan "Coronavirus? Not In My Town". Many other third-party sellers also used the marketplace to sell offensive merchandise, including a T-shirt with a rat wearing a surgical mask next to the Chinese characters for "Year of the Rat".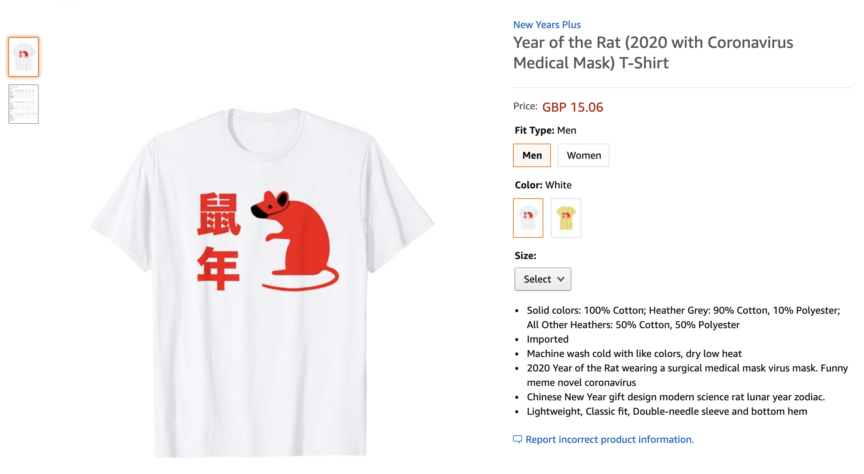 The dark merchandise violated Amazon's central seller policy, which prohibits "products related to human tragedies and natural disasters". Since being contacted to comment on the merchandise by Novara Media, the items have been removed from the online store.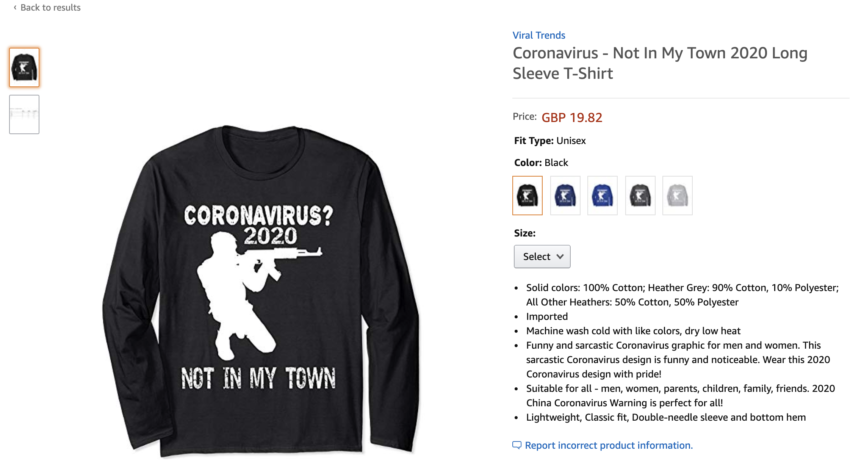 Many of the products sold appeared to deliberately court controversy. Last Monday, the Danish newspaper Jyllands-Posten published a photo of the Chinese national flag with yellow microbes in place of the flag's stars. The Danish prime minister, Mette Frederiksen, defended the newspaper's right to free expression, but the Chinese embassy called the cartoon "an insult to China" that crossed the "ethical boundary of free speech".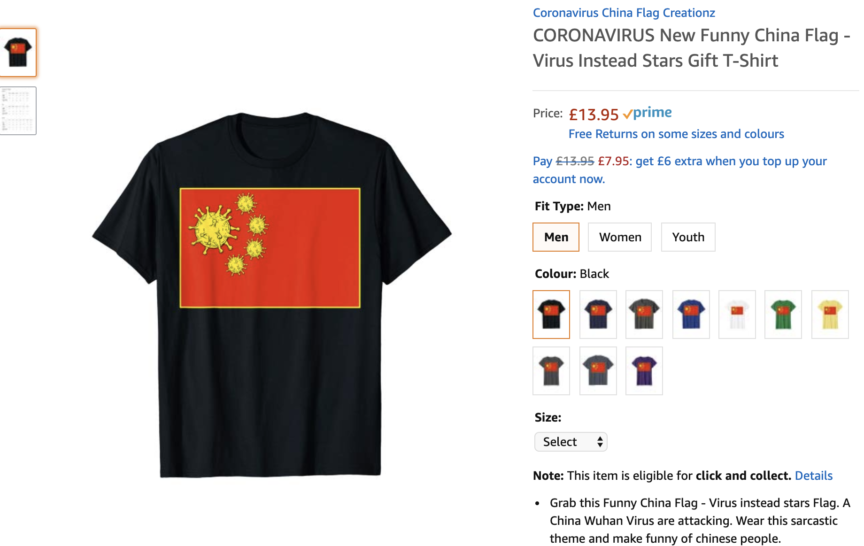 By Wednesday, one seller – Coronavirus China Flag Creationz – was already listing phone pop-grips with the same design for £11.99. The account sold just three items, all with the same design: a coronavirus phone pop-grip, sweatshirt and hoodie. As well as the microbe flag design, all the items carried the description: "Grab this Funny China Flag – Virus instead stars Flag. A China Wuhan Virus are attacking. Wear this sarcastic theme and make funny of chinese people." [sic]
Another pop-grip was printed with the slogan "Coronavirus Will End Soon Because It Was Made In China".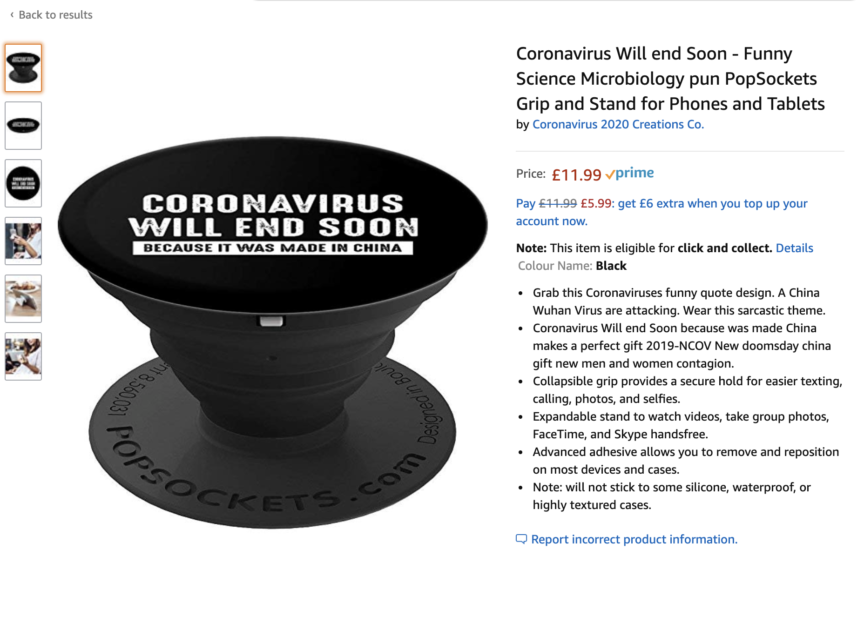 A spokesperson for Amazon told Novara Media: "As you can see, the products are no longer available and we are addressing this with the third-party sellers." They declined to comment on how many items had been removed from sale in total, or what the company was doing to prevent further offensive products being sold on the site.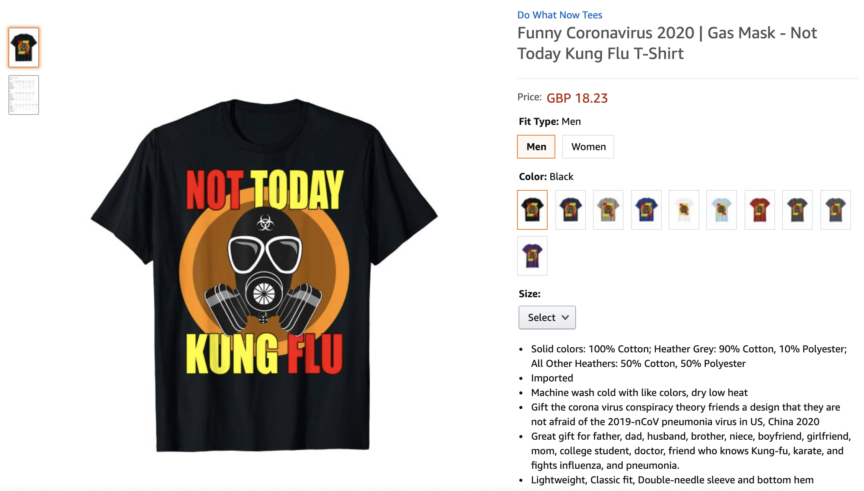 Many of the accounts selling offensive products were unidentifiable, indicating that sellers were likely deliberately dodging Amazon's selling policy. Amazon's central selling policy states: "Amazon does not allow products that promote, incite or glorify hatred, violence, racial, sexual or religious intolerance or promote organizations with such views."
Amazon says it prohibits products that promote intolerance, for example "products that promote intolerance based on race, religion, and sexual orientation" and "products that contain racially derogatory language".
Amazon also prohibits "products related to human tragedies and natural disasters".
The Corona beer/coronavirus word association fueled a stream of merchandise, including the account Corona Beer CoronaVirus Beer St Patricks Day, which sold hoodies, T-shirts, long-sleeve shirts and sweatshirts, all with the same design of a Corona beer bottle wearing a face mask.
One description for a T-shirt being sold by Coronavirus Beer Virus Outbreak read: "Ideal for quarantine during the St Patricks Day Celebration. Get your Immunity from the Coronavirus. Funny and sarcastic Coronavirus Beer for men and women. This sarcastic Coronavirus Beer is funny and noticeable. Wear this 2020 Coronavirus with Pride." [sic]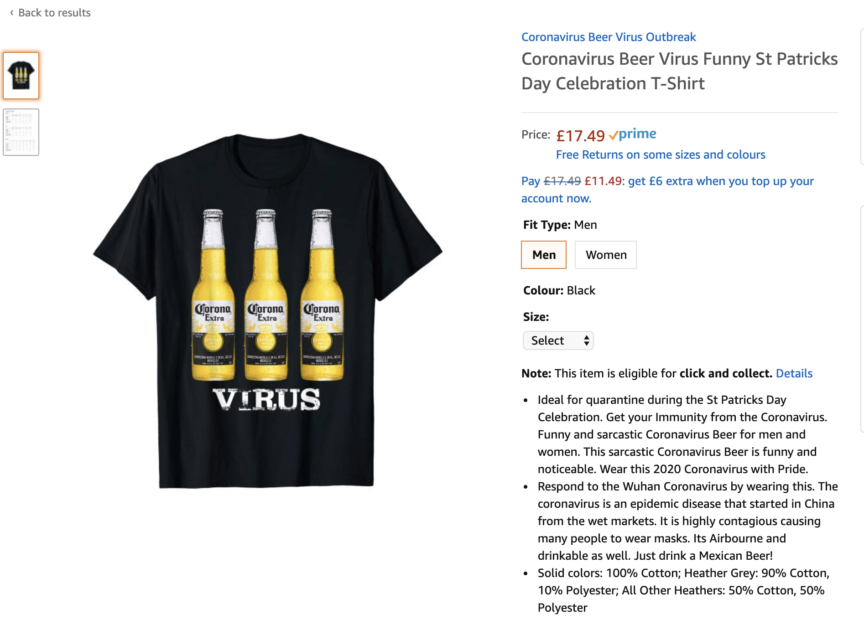 The description continued: "Respond to the Wuhan Coronavirus by wearing this. The coronavirus is an epidemic disease that started in China from the wet markets. It is highly contagious causing many people to wear masks. Its Airbourne and drinkable as well. Just drink a Mexican Beer!" [sic]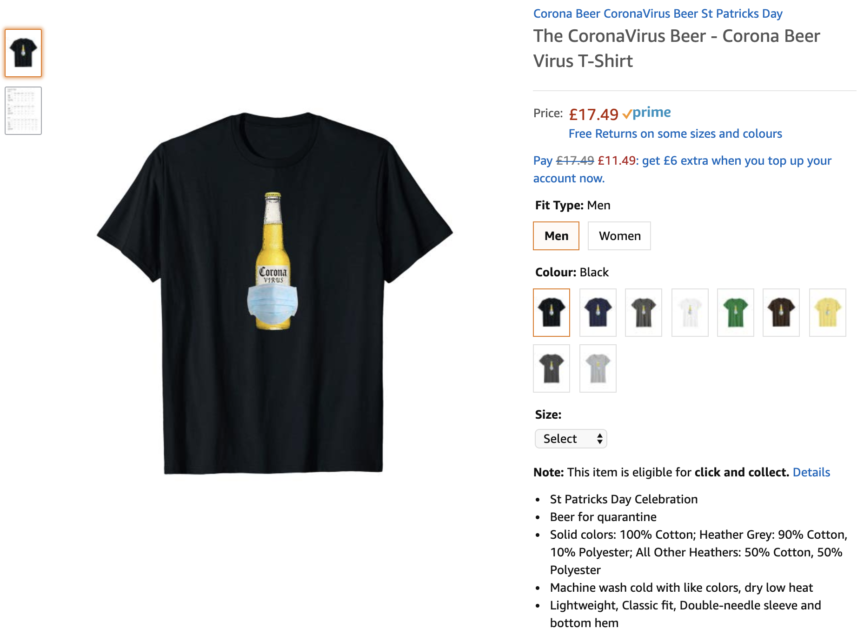 It is not the first time Amazon has attracted controversy for offensive products. In January 2019, Amazon removed bath mats printed with verses from the Quran after the Council on American-Islamic Relations brought it to public attention.
In December 2019, Amazon removed ornaments decorated with images of Auschwitz, including a bottle opener, after the Auschwitz-Birkenau Memorial and Museum in Poland tweeted images of the products, labelling them "disturbing and disrespectful".
Speaking to Novara Media, a spokesperson from Hope Not Hate said: "Global brands such as Amazon need to act more swiftly when xenophobic and racist products such as these are being sold on their platform – in clear violation of their own selling policy. Amazon must remove these products immediately and take action against the sellers."
"Everyone can acknowledge that Amazon has a huge task monitoring all the products sold via their website, but an organisation with their resources and reputation must do better to stop these products ever going on sale."
Joe Goodman is a freelance journalist whose work has appeared in the Guardian, Vice, HuffPost and Dazed.