Ireland's Voters Have Delivered a Political Earthquake
9 February 2020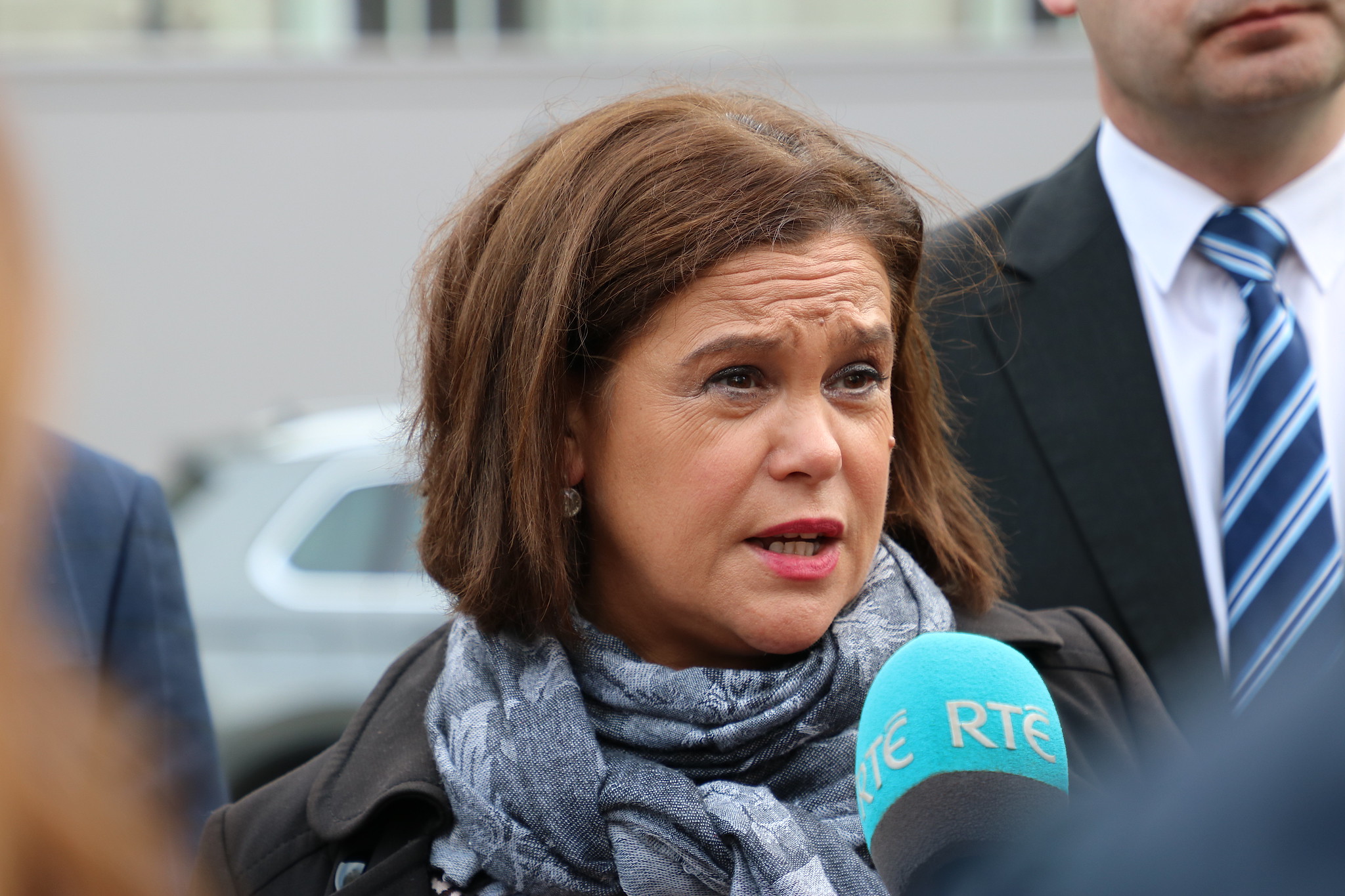 Sinn Féin
In a snap general election, called by premier Leo Varadker looking to capitalise on his handling of the Brexit negotiations, left-wing party Sinn Féin has made huge gains that surpassed even its own expectations. 
After a late campaign surge propelled the party to first place in a number of opinion polls just days before the ballot, counts today indicate that Sinn Féin has clinched over 24 percent of the national vote – two percent higher than both the governing parties, Fine Gael and Fiánna Fail.

Although the final seat share will not be clear until tomorrow – owing to the Irish voting system's time-consuming count process – Sinn Féin's breakthrough remains nonetheless emphatic. The party's victory marks the first time a left-wing force has topped the popular vote in the state's near one hundred year history. 
The weekend's historic vote marks not just a break with the two-party rule of the right-wing Fiánna Fail and Fine Gael, but also a deeper shift in Irish politics. Moving away from the political legacy of the country's 1921 civil war, this result clearly registers the material demands of a new generational cohort and reflects the profound social, economic and demographic changes the country has experienced over the past three decades.
This broad new electoral constituency has made itself heard in other ways in recent years, turning out in large numbers to help legalise same sex marriage in 2015 and again in 2017 to decriminalise abortion. The past few weeks have seen Sinn Féin clearly articulate the defining material concerns of this group, as part of a wider desire for change, in a way that was not witnessed in 2011 and 2016's national polls. 
Ireland's low corporation tax model has seen a boom in IT and finance. At the same time, however, it has also produced one of the highest levels of market income inequality in the Organisation for Economic Co-Operation and Development. Beyond these sectors, wage recovery since the crash has been slow and far out-stripped by soaring housing costs – Dublin now has the third-highest rents in Europe, behind Paris and Geneva. 
The housing crisis has locked a younger generation out of the possibility of owning their own home and left more than 10,000 people homeless and reliant on emergency accommodation, including 3,800 children. 
In Saturday's exit poll, 63 percent of respondents claimed they had not benefited from the economic recovery of recent years, while 31 percent said they wanted a radical change in direction for the country. Sinn Féin's campaign was able to tap into this discontent partially through an effective anti-establishment discourse. Leader Mary Lou McDonald memorably dismissed the difference between her two rivals as that between "the party of the developers" and "the party of the landlords".
This was combined with a radical programme which – much like Corbyn's in 2017 – offered younger and working-class voters a tangible alternative to neoliberalism that spoke to their material concerns and demands. The party has promised 100,000 new public homes over the next four years, a three year rent freeze, the creation of a new Irish National Health Service as well as pledging to abolish the regressive emergency tax levy introduced at the height of the post-crash financial crisis – known as the Universal Social Charge – for incomes under 30,000. 
A generational turn-over in its leadership also added to Sinn Féin's successful messaging and policy platform. With the retirement of Gerry Adams after 35 years as party chief, it was better able to distance itself from the legacy of the armed conflict in Northern Ireland when it acted as the political wing of the Irish Republican Army (IRA). In the years before his retirement, Adams had come under increased scrutiny over his alleged involvement in the IRA's 1972 kidnapping and murder of single mother Jean McConville in Belfast.
McDonald and her frontbench have not been tainted by the baggage of the conflict in the same way, having entered front-line politics after the 1998 Good Friday peace agreement. Aside from this, she and other leading figures in the party, such as Housing Spokesperson Eoin Ó Broin, have proven to be effective communicators. McDonald repeatedly outperformed Varadker and Fianna Fáil leader Micheál Martin in the campaign's televised debates, while Ó Broin advocated for the party's attractive housing proposals impressively in other media appearances. 
Fundamentally, they were able to channel an engaging left-populist rhetoric which resonated with more traditional blue-collar working class communities and Irish Republican voters, as well as to economically-insecure millennials.
Sinn Féin's mandate in this election is clear, but its failure to put forward more candidates means it will not be the largest party in terms of seats in the Irish parliament – the party underestimated its success, fielding only 42 candidates for the 160-seat parliament. 
In this context, there are only two likely government combinations – either some form of governing arrangement between the two right-wing civil war rivals, Fiánna Fail and Fine Gael – who were historically divided over the question of partition – or a Fiánna Fail/Sinn Féin coalition. Though an unlikely pairing, the two parties at least share something in terms of their working-class base.
McDonald has said today that Sinn Féin would look to make good on this mandate, insisting that five more years of a housing crisis would be 'unconscionable'. But, with Fiánna Fail and Fine Gael in a historically weak position – and any government between the two unlikely to last more than a couple of years – leading the opposition rather than propping up the old regime may well prove the more astute strategic move. 
Another factor Sinn Féin has to weigh up in the coming days is how various governing options would fit into its reunification strategy. The national question has been largely absent from this election. As such, the party has fought the contest in terms of advancing a social agenda more than anything else. However, McDonald has already indicated a certain flexibility on the national question that distinguishes her from Adams' leadership. Re-entering Northern Irish parliament – after having pulled the plug on the assembly three years ago – on the back of bruising losses in December's UK general election also weakens the party's hand on this front.

Despite these considerations, this result is hugely significant both for the evolution of Sinn Féin and for Irish politics. It could reshape and lend a new sense of direction to the country's fragmented left for years to come.
Tommy Greene is a freelance journalist, usually based in Spain. In addition to Novara Media, he has written for the Independent, Open Democracy, Jacobin and Tribune.
Eoghan Gilmartin is a freelance journalist and translator based in Madrid. His work has appeared in publications including Jacobin, Tribune and Mediapart.