The Criminalisation of Solidarity With Rojava Should Worry Us All
20 February 2020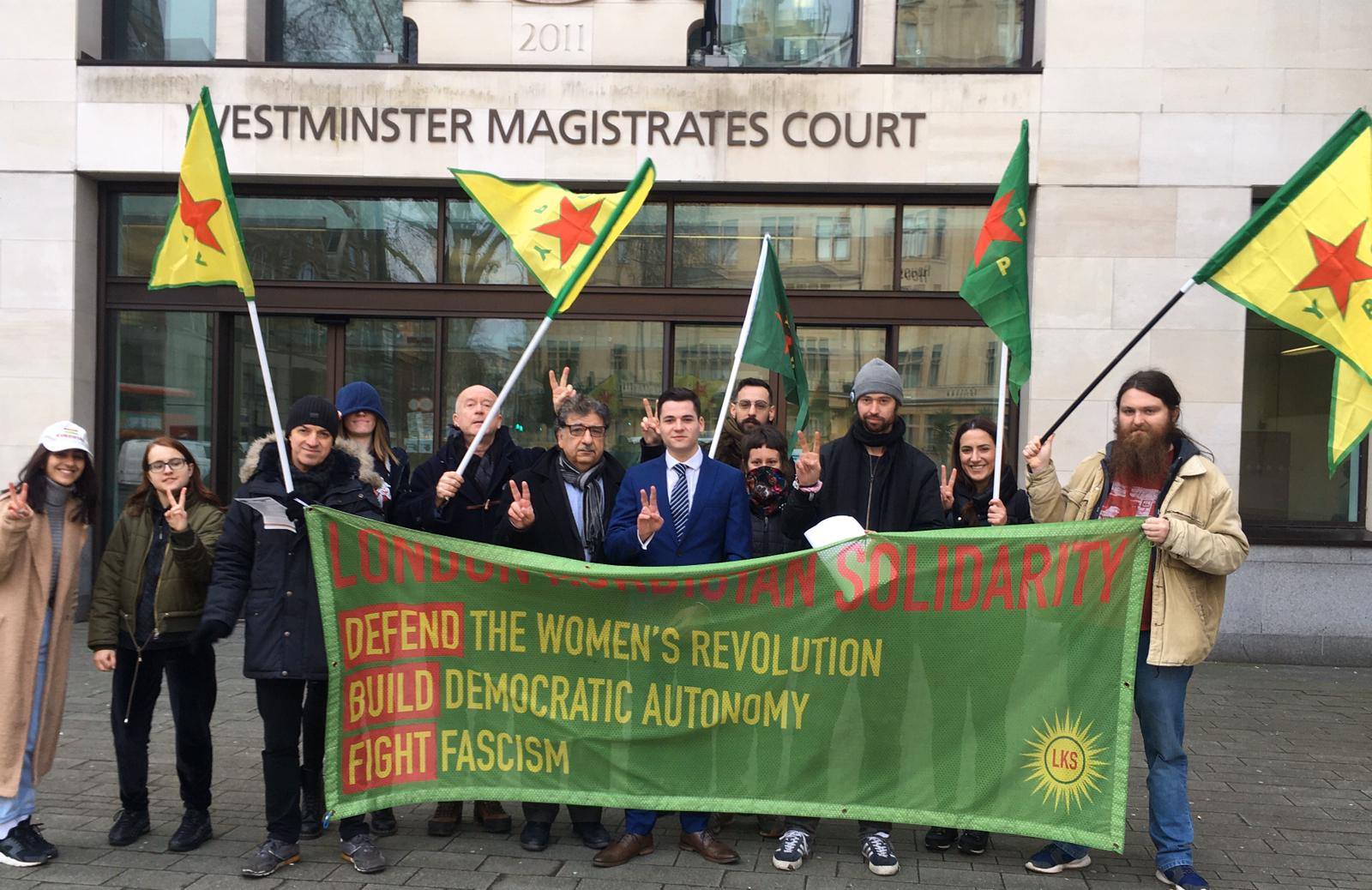 Since 2019, the British government has ramped up its attempts to criminalise people travelling to Northern Syria to join the Rojava revolution. 
Last week, the father and brother of Dan Newey, who has joined the People's Protection Units (YPG) to fight fascist Islamist forces, were charged with funding and assisting terrorism. 
The widening web of criminalisation suggests a dramatic escalation of the state's actions in clamping down on political protest and should concern all who support anti-fascist, feminist and environmental movements.
In the early morning hours of 11 December 2019, Paul Newey's home was raided by 11 armed officers. He and his son, Sam, were taken for questioning, held for four days in a high-security cell, and released under investigation. They have now both been charged: Paul Newey for funding terrorism and Sam Newey for assisting in preparing for acts of terrorism. 
This is a landmark case in the tightening web of criminalisation surrounding British volunteers in Northern Syria – and one that is proceeding at a speed that should set alarm bells ringing.
Paul and Sam Newey are being criminalised because they are the father and brother of Dan Newey, who joined the YPG in 2017 — when the US-backed coalition was attempting to push ISIS out of Syria. Paul's crime is sending £150 to his son, while Sam is accused of providing other assistance. 
This is part of a long trajectory in the use of counter-terrorism legislation to harass, intimidate and criminalise activists along with their friends and families. We need to view this case in its context: the criminalisation of those acting in solidarity with the Rojava revolution in Northern Syria, and the wider Kurdish freedom movement, is made possible by powers created over the last several decades.
The Terrorism Act, passed by New Labour in 2000, widened previously established counter-extremism powers in an unprecedented manner. These powers of surveillance and criminalisation brutalised Irish Republicans, harass and intimidate Muslim, Middle Eastern and South Asian people in the UK, and create a climate of suspicion that enables extrajudicial harassment.
We cannot talk about these measures without remembering the spy cops who, while undercover, attempted to wreck the justice for Stephen Lawrence campaign, and used romantic relationships with women to gain entrance into activist groups.
These powers have been used to target the Kurdish community in the UK since the 1990s, with raids, arrests and imprisonment regularly hitting Kurdish activists and community centres.
Counter-terrorism laws, as shown by legal expert and academic Vicki Sentas, are used as a smokescreen for intimidation. Crucially, the Terrorism Act 2000 came after the Good Friday Agreement and before the so-called War on Terror — which makes it clear that the aim of this legislation is not to punish or prevent acts of terrorism, but to eliminate political activity which the state deems a potential threat. 
What is happening now is a dramatic escalation of these existing powers. Charges can be brought against Paul Newey for sending £150 to his son — who is fighting fascist Islamist forces in a coalition backed by the UK government, not a proscribed terrorist organisation.
This case could not only pave the way for the proscription of the YPG and the women's defence force (YPJ), but also set a precedent for the flimsiest of personal connections to any protest group being used for prosecution under the pretence of counter-terrorism.
And with the recent inclusion of environmental and anti-fascist organisations and groups on counter-terrorism guidance passed out to police and public servants, this should concern us even more. The web of suspicion is being widened radically. It's easy to see that the number of people the state can harass, intimidate and imprison is about to skyrocket. 
Rojava demonstrates the potential of a bottom-up stateless democracy, founded on principles of women's liberation and social ecology. Because of this, the Kurdish movement is a threat to the UK government and to states everywhere, holding out the promise of liberation and democracy beyond violent and oppressive state structures.
While the UK government was quick to hail the defeat of ISIS-held territory as a 'historic defeat', it continues to treat all those volunteering in the YPG and YPJ as terrorist suspects. This is because the British state knows only how to act in violent self-defence against perceived threats to its own power — an agenda it is willing to pursue to the point of criminalising its own citizens for fighting fascist forces.
The UK, like most European states, will continue to align with NATO member Turkey in its brutal opposition to the Kurdish freedom movement — and in the process undermine the development of feminist, ecological direct democracy in the Middle East. 
Paul and Sam Newey will appear in court at the Old Bailey in London on Friday 21 February. Join the demonstration in support, details here. 
Iida Käyhkö is a feminist organiser whose ongoing PhD research examines experiences of community-building and criminalisation among the Kurdish community in Europe.