With 1,500 Mutual Aid Groups Set up in a Matter of Days, Will Things Ever Be the Same Again?
20 March 2020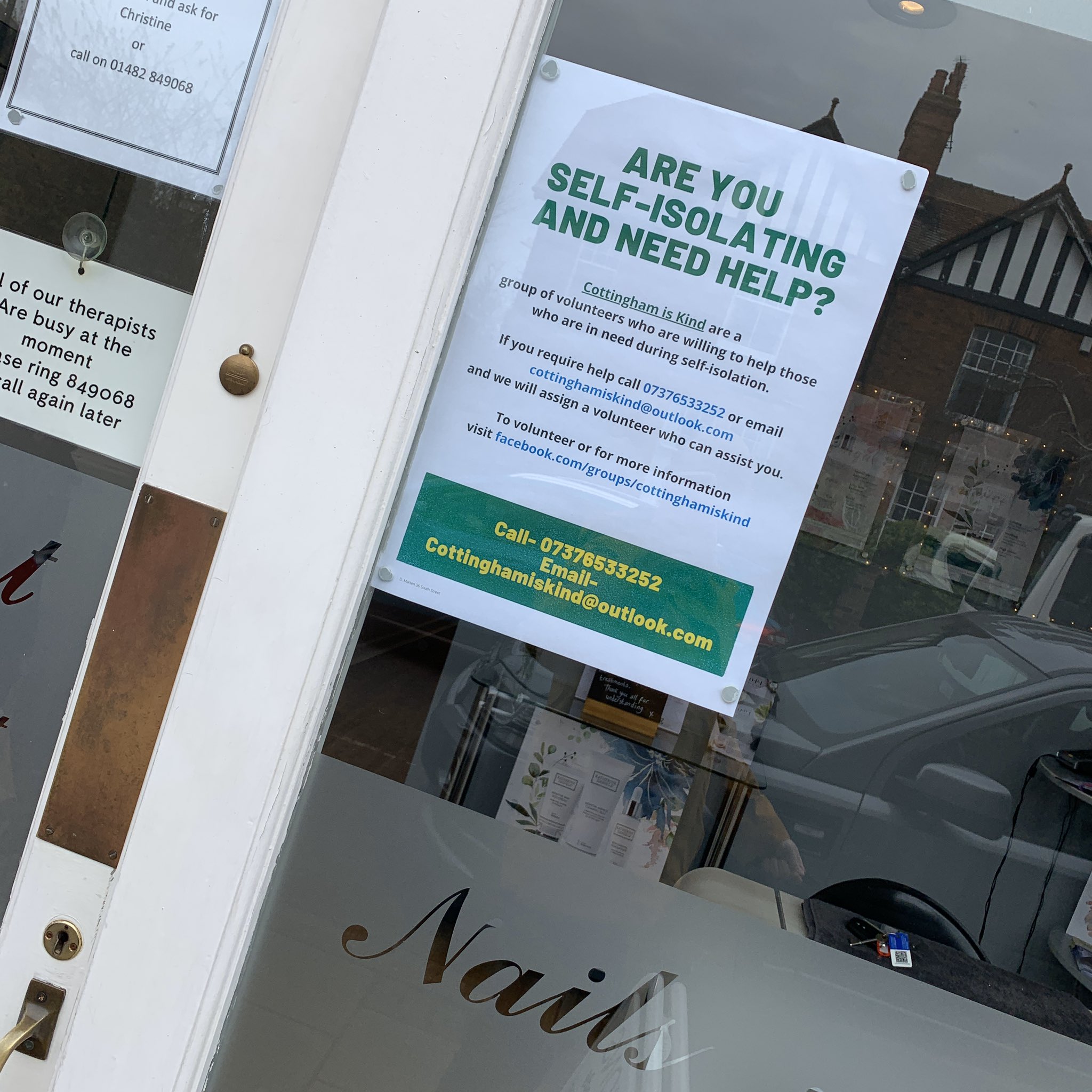 Amidst a government response to Covid-19 that has lagged behind expert recommendations, a mass mutual aid movement is growing. As people across the country have started to self-isolate, around 1500 local mutual aid groups have been set up in little more than a week to mobilise support for the most vulnerable in communities. Mostly organised on Facebook and WhatsApp, the groups are – with due precaution for public health – delivering leaflets, putting up posters, offering to deliver food, medicines and other necessities, walking dogs, and providing emotional support. 
Chiara Capraro – who lives in Bow in London and has family in Italy, where the pandemic is more advanced – says being part of her local mutual aid group has been a lifeline in recent days. "When I get news from family in Italy it's like looking three weeks into the future, and it's scary," she says. Whilst Capraro finds the idea of self-isolating – with mental health issues, no family in the UK and few friends in her local area – daunting, she says that being part of a community movement has made her "feel grounded and less swept up" as society free falls into acute precarity. 
The mutual aid movement started with a few people in Lewisham deciding, "it would be a good idea to help people on our streets," says Rees Arnott-Davies, who is now involved in the national coordination. There are currently over 200,000 people involved, offering support and accessing help. 
In Highbury in north London, mutual aid group coordinator Minda Burgos-Lukes says that one strength of her local group has been cutting through the government's information deficit and mixed messaging, and the scaremongering on social media.
"Scaremongering is a far right strategy, which can be used to discourage communities from working together, and to create silos," says Burgos-Lukes. By contrast, mutual aid groups aim to pool their skills and resources to "debunk myths and share practical information". For example, thanks to the involvement of healthcare professionals, mutual aid groups have shared guidance on how to safely deliver leaflets so as not to spread the virus and put more people at risk. Meanwhile, groups such as The National Food Service and Queercare have created resources and held online meetings to support safeguarding and harm reduction for mutual aid efforts. Queercare – a group that had been organising community care long before this crisis – has also shared a form to help coordinate mutual aid efforts; new mutual aid groups have a lot to learn from pre-existing struggles.
With schools set to close on Friday, conversations in many mutual aid groups have turned to how to support parents and carers who depend on free school meals. Shiri Shalmy organises with Cooperation Town, a network of autonomous food co-ops that aim to build and sustain a resilient, community-led infrastructure. Cooperation Town is working to redirect its food to where it's needed most at this time, partnering with the local authority to map the area, so that the newly-formed mutual aid groups can deliver free food to the most vulnerable people, who may not otherwise reach help. The additional capacity around food justice will be vital; food banks are running low on both supplies and volunteers, many of whom are elderly and need to self-isolate entirely. 
People who would never ordinarily speak are finding they have common ground and building power from there. Burgos-Lukes has lived in Highbury for all of her 38 years, and has never felt closer to her community. "It started from the fact we all want to support each other," she says, "and we've now found we have all sorts of stories that are intertwined and interconnected". In Bow, Capraro has been organising with a group of strangers all wanting to help – "from queers ready to end capitalism to older people who use Whatsapp like it's email and end every message with Kind Regards".
The mutual aid groups' political significance is two-fold. On the one hand, they represent perhaps a liberal sense of civic neighbourliness; stepping in where the state has failed to keep people safe through a decade of austerity. Indeed, with underfunded services failing, the government has advised people needing urgent help to ask their neighbours. On the other hand, decentralised mutual aid efforts are part of an anarchist tradition that seeks to shine a light on state neglect and embolden communities as forces for structural change from below. 
Wherever they are coming from politically, the crisis appears to be alerting people to the urgency of collective care. "We're starting to wake up to the fact that people will step up and look after strangers if they know strangers will be there to look after them," says Arnott-Davies. "We don't want to fall into a charity or service model – the strategy has to be based on the idea that everyone looks after everyone, with a commitment to the dignity and self-determination of people in need." 
Different groups have formed different relationships with local councils and the state. "In some places we've seen councils and councillors trying to take control of groups or even shut them down," says Arnott-Davies, "but we've also seen places where they've genuinely offered help and support without any ulterior motive".
A common theme has been "women rolling up their sleeves and getting on with it," says Burgos-Lukes  –  no surprise, given that throughout society and the world women do most of the work of keeping people alive. But irrespective of it being unsurprising, having mutual aid groups led by women is powerful. Unable to leave home, women are at increased risk from domestic violence – and having women leading community mobilisation represents resistance in the face of "depleted and thrashed" domestic violence services, says Burgos-Lukes. "Us doing the work is a way to have influence at a democratic level."
As we enter weeks or months of being almost entirely in our homes, it is vital we remember those who do not have secure housing or any housing – including vulnerable migrants with no recourse to public funds, who face compounded threats. Jon Glackin from the homelessness solidarity group Streets Kitchen is urging people to show solidarity with people experiencing homelessness at this time, whose ordinarily dangerous conditions have now become even more perilous. 
Homelessness solidarity activists are calling for those already organising on this issue to join their local mutual aid groups; for hotels to be opened up for rough sleepers; and for grassroots homelessness solidarity volunteers to be recognised as frontline workers so support efforts can be secured in the weeks and months to come. "We are witnessing the collapse of the homeless support services around us," says Glackin, "it is – as ever – up to us all in our communities to remedy this situation. Solidarity has never been so vital".
As we traverse deeply uncertain days, and likely enter a period of lockdown that could last weeks or months, Shalmy says we need to ask "how we can turn these 200,000 or more mutual aid group members into a political force, rather than a bunch of volunteers waiting to be activated". How the government's emergency measures will impact efforts is as yet unknown. 
Burgos-Lukes is hoping this challenging time will be a "catalyst for change". In accessing resilience, she says, "people will show great strength – and the main thing is that they understand at the end of this that there is room for resistance".
Arnott-Davies says organisers hope that solidarity and mutual aid at this extreme time means that people recognise, "that it's only through a shared, collective effort that we can ensure that everyone gets through this crisis, not only the wealthy and powerful. And crucially: "We hope that's a lesson people don't forget once this is over." 
Sophie K Rosa is a freelance journalist. In addition to Novara Media she writes for the Guardian, VICE, Open Democracy, CNN, Al Jazeera and Buzzfeed.