Eighteen Books to Read on Lockdown
by the Novara Media Team
26 March 2020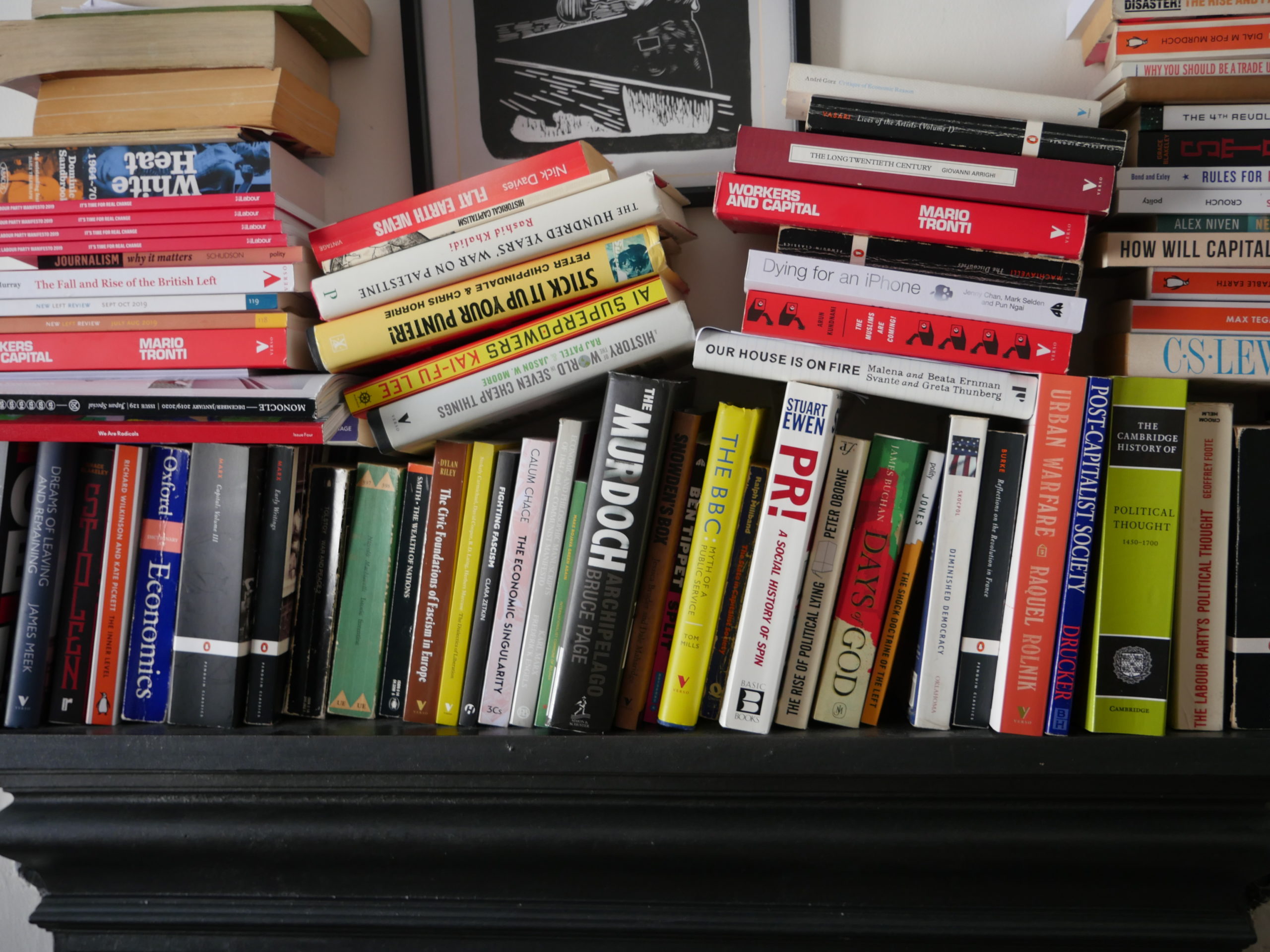 With the UK now on lockdown, many of us have unexpected, extra free time on our hands. While people seem to be perceiving a general slow down at very different rates – for many of us the endless demands on our attention have still far from stopped – things are likely to continue to become calmer in coming weeks, as we settle into a quieter way of life. 
Novara Media will, of course, be providing round-the-clock news and analysis through our audio, video and articles output, but we also understand that sometimes you need to switch off and remember a world beyond the pandemic.
Our team has picked eighteen books to help you make the most of the change of pace. 
Eleanor Penny
I've chosen three pasts, one future and something to make you cry.
Addendum: now is also the time to read things which give you uncomplicated joy.
A History of the World in Seven Cheap Things, by Jason W. Moore and Raj Patel
We cannot understand our contemporary moment without understanding capitalism as a way of organising our species' relationship to the rest of nature. We do not live in the 'anthropocene', we live in the capitalocene; an era where the web of life has been radically and dangerously remoulded to the purpose of piling endless wealth into the coffers of a tiny majority. As we near the brink of climate breakdown, Raj Patel and Jason W. Moore offer a new framework of 'cheapness' to understand how slave revolts, indigenous land battles and union struggles on farm workers are all part of the same explanation.
.
How the West Came to Rule: The Geopolitical Origins of Capitalism, by Alexander Anievas, Kerem Nişancıoğlu
Some dyed in the wool leftists make unlikely allies with the champions of the imperial 'civilising mission' in their loyalty to a mindset that says history begins and ends in Western Europe, a mindset which elevates 'capitalism to a universal stage of development through which all societies must pass in one form or other'. Alexander Anivas and Kerem Nişancioğlu reject that approach, offering instead a new theoretical framework which combines Marc Bloch, Trotsky, postcolonial theory, world systems theory and more to overturn comfortable received wisdoms about geopolitics. They trace the knotted genealogy of modern capitalism back through the rivalry between the Ottomans and the Hapsburgs, the British capture of Bengal, the conquest of the New World, and the Mongol empire. It's densely packed, unflinching, and utterly brilliant.
Caliban and the Witch, by Silvia Federici
As the black death tore through early modern Europe, accused 'witches' were slaughtered in their thousands, and brewing homemade remedies and abortifacients could see you hauled off to the gallows. Meanwhile, domestic peasants revolted, and early colonialists set off to plunder other lands of their wealth and enslave their people. What has this to do with capitalism? The answer, explains Silvia Federici, is everything. This seminal feminist text explores how the 'primitive accumulation' of reproductive work and women's bodies was central to its development – and remains so to this day. Federici's challenging work takes Marx (and marxists) to task for their neglect of the most fundamental forces in capitalist accumulation: the work of producing life, and the bodies that labour at its coalface. Pair it with Towards a Gay Communism, and enjoy.
The Parable of the Sower, Octavia Butler
Civilisation has buckled under the effects of climate change, and a new breed of tyrants triumph in the wreckage as water runs scarce and racism runs rampant. After her community is destroyed, a young woman born with the taboo condition of 'hyperempathy' sets out on a refugee pilgrimage north, determined to create a better world with the help of her own new religion: Earthseed. Octavia Butler's daring, haunting afrofuturist masterpiece is a lesson in the hard work of hope and the radical act of surviving, despite everything. Whilst you're there, Ursula Le Guin's short stories are a must for exercising our fevered imaginations, political and otherwise.
Deaf Republic, Ilya Kaminsky
"At the trial of God, we will ask: why did you allow all this? And the answer will be an echo: why did you allow all this?" Love and violence, cruelty and tenderness, are tangled together in Ilya Kaminsky's beautiful and devastating collection which turns deafness into an axis of resistance when soldiers march into town. Quarantine catharsis on order, countless troubled souls.
James Butler
I've assumed, when choosing this list, you've got all the weighty tomes –Capital, the Prison Diaries and so on – staring down at you grumbling to be read. There are worse things to do under lockdown than to go back to the classics. But the leftwing political canon can be a bit arid and narrow, and perhaps attempting to decipher the baroque complexities of Capital isn't how you want to spend a couple of weeks in a cramped flat. So here are some alternatives.

Antigone, by Sophocles

Alright, yes – this one's a classic, too, of a slightly different sort. But I think the ancient classics are too beautiful and too interesting to be left to the indolent and dozing children of the ruling class. The Antigone is one of the great tragedies of ancient Greece: many, Hegel included, thought it the greatest. Why? Because, he thought, it represented something much more interesting than a cliché conflict between cartoon villain and virtuous hero – instead, the collision of two equally valid but absolutely incompatible claims.

The play starts with Antigone's brother dead, having led a failed insurrection against the city. His body lies unburied and unmourned outside the city. Her uncle, Kreon, who now rules, declares he is not to be buried or mourned on pain of death. But Antigone believes divine law obliges her to mourn and bury her brother. So she sets out to break Kreon's law. The play shifts as you look at it: it's about politics, political commitment and its motivation (and Antigone's own motivation seems to shift a lot), about rigidity and extremism and mercy; or perhaps it's about the long working-out of a curse (Antigone is Oedipus's daughter); or perhaps it's about Antigone as an unmarried woman, out of her place. Is it just to break an unjust law?

There are lots of translations, many of them good. The Penguin editions do it straight, Seamus Heaney's Burial at Thebes is a beautiful version. My favourite is Antigonick, a modern version by the classicist and poet Anne Carson, which works a strange mutation in the gaps of the original, including giving a stunning exit speech to Kreon's wife, Eurydike, who is almost silent in the original. Why not do a group reading of the play with some friends over Skype? And if you want to think about the politics, you could do worse than picking up Bonnie Honig's Antigone, Interrupted.
.

Blindness (and Seeing), by José Saramago

Saramago is one of my favourite novelists. Blindness tells the story of a sudden, inexplicable epidemic of sight loss which strikes a city – and what then ensues. It is the slow story of a disaster, told partly through the action of one woman who can still see, though she has to hide this fact at first. When accepting the Nobel Prize for Literature, which gave a special nod to Blindness, Saramago said:

"The apprentice thought, 'we are blind', and he sat down and wrote Blindness to remind those who might read it that we pervert reason when we humiliate life, that human dignity is insulted every day by the powerful of our world, that the universal lie has replaced the plural truths, that man stopped respecting himself when he lost the respect due to his fellow-creatures."

It's a strange way of thinking about that book, which is as much about the violence and desperation of ordinary people in sudden privation; it's maybe clearer in the sequel, Seeing, which is set in the same city, a little later, where citizens return thousands of blank ballots in an election, and the powerful fear their system is about to crumble around their ears. They are both deeply moving books. They are political novels too, though they are not tedious allegories or didactic finger-wagging; Saramago was a communist, but like the best communists, of an eccentric, sceptical and sensitive kind.

Blake: Prophet Against Empire, by David Erdman

William Blake had a galaxy in his head. Sometimes that leads to curators and readers treating him as if he was a dreamy mystic, just someone who saw angels nestling in tree branches in Peckham. He wasn't: he was also a fiercely engaged political artist, keenly attentive to the French and American revolutions, and swept up in the riots which saw the newly built Newgate Prison torn down – indeed 'in the front rank'. He was especially exercised by capital punishment: the image of the gallows recurs throughout his poetry as 'Albion's fatal tree'. Erdman's book, written in the middle of the last century, restored the radical, political Blake – including reading his poetry alongside anti-slavery narratives of the period. As we nestle in our homes over the coming period, this is a book to help our imaginations fly.

News From Nowhere, by William Morris

The modern British left doesn't really know what to do with William Morris: a romantic socialist, difficult to conform to the hard-nosed workers' history we tend to prefer, and one from a wealthy middle-class background at that. But Morris's influence – though often disavowed – still runs deep through British socialism. News From Nowhere is Morris's effort in utopian writing, a form of political speculation which runs deep in British political culture – back to Thomas More and forward to Aldous Huxley's Island. Perhaps a traipse through that history might be fun in a lockdown?

It's a very distinctively Morris vision: the end of factory industry, politics, compulsion of all kinds. In truth, I find it a rather insipid and boring society to contemplate, but that's not why I'm recommending it. Contemporary utopian writing has tended rather easily to slide into contemplation of dystopia – ecological, political, psychological. But if there's ever been a time to nurture a vision of utopia – of how we might want the world to change – it's while cloistered in a national emergency. Because one day soon our doors will open again on to a world aching for change, and we should step into it knowing the course we want to chart. All power to the imagination!
Ash Sarkar
.
The Farewell Symphony, by Edmund White
Coronavirus isn't the first pandemic in living memory. It's not even close. The way in which the AIDS crisis has been misremembered in our cultural history is revealing for what it obscures. In Europe and America, we have tried to forget that AIDS was a counter-revolution as well as a health crisis. That it was used to justify a backlash against the social progress achieved since Stonewall, to restrict the movement of people from sub-Saharan Africa and the Caribbean, and to prevent disease as a marker of deviant and/or dirty people.
Named after a piece of chamber music by the composer Haydn, The Farewell Symphony is Edmund White's memoir covering the time period between Stonewall and the early 1990s. It's an astonishing work, suffused with grief, tenderness, and a wry eye for the absurdity of the elaborate social codes of the bourgeois intelligentsia. Don't read it if you're looking for something to lift your spirits – but if you want to understand the times we're living in better, or the experience of collective bereavement, you couldn't possibly do any better.
White Girls, by Hilton Als
Hilton Als' collection of essays White Girls ranges from the petty to the sublime. To say, as Als does, that it covers the "endlessly fascinating and tiresome race subject" is perhaps to do it a disservice. White Girls is about race the way Moby Dick is about a big whale. To be one of Hilton Als white girls isn't determined just by melanin or gender: it's about the space you take up in his cultural landscape, your ability to pique either his ire or his interest.
Don't attempt to read Hilton Als unless you're willing to be read for filth. He invents a sister for Richard Pryor and grinds out an essay in her gravelly voice. Elsewhere, he excoriates Vogue's editor-at-large André Leon Talley for his mid-Atlantic affectations, his amoebic replication of trivialities, and his desire to please those who despise his blackness. This is criticism as vivisection – sophisticated and brutal.
The Thomas Cromwell trilogy: Wolf Hall, Bring Up The Bodies, The Mirror and the Light, by Hilary Mantel
Ok I'm cheating a bit. But with the final book clocking in at around 900 pages, there's little chance of running out of material before you've made it out of the lockdown's foothills. And there's no finer political education than reading Hilary Mantel.
Her study of Thomas Cromwell, Henry VIII's chief fixer during the tumultuous years of the English Reformation, is probably the richest character work I've ever read. Thomas Cromwell is a cerebral bruiser, the son of a blacksmith taking both scalpel and sledgehammer to the old blood of Tudor England. Show him an imported Turkish carpet, and he'll stroll on it; the son of a martyred heretic, and he'll take him in. By turns gentle and monstrous, Cromwell attempts to sculpt a new social order out of the ruins of the king's marital disasters. It's thrilling to live history through his eyes.
Mantel's research is impeccable, and if you want an extra readlong treat, take a look at George Cavendish's The Life and Death of Cardinal Wolsey to see where she got much of her inspiration from.
Aaron Bastani
.
Full Disclosure, by Andrew Neil
For a generation Neil has been the voice of establishment reason. That's no coincidence: his first job was at the Conservative Research Department, after which he went to The Economist. There he became an ideologue for an emerging politics of the 'radical right', with this preparing him to become editor of The Sunday Times in 1983 – as market fundamentalism went from blip to hegemony. His subsequent decade at Fleet Street, and then Wapping, offers a snapshot in how Britain decisively changed in the Thatcher years.
The Uninhabitable Earth, by David Wallace-Wells
It's worse, much worse than you think. While climate change is an increasingly salient issue, with prominent voices driving it to the centre of the conversation, Wallace-Wells is its supreme narrator. Why? Because as he confesses, he is not really a 'climate person' but is simply terrified as he grapples with the data. The response Covid-19 is now generating will need to be matched, and then some, to avoid climate systems breakdown. Wallace-Wells is crystal clear in what that must look like.
The Long Twentieth Century, by Giovanni Arrighi
The only one of my suggestions to be considered 'heavy' reading (you probably aren't going to read Hegel's Philosophy of Right), it's still a page-turner. This is Arrighi's masterpiece and it's certainly one of the most remarkable works of Marxist history. You will leave it dazed by Arrighi's method, and transformed by his conclusions.
Lives of the Artists, by Giorgio Vasari
The proposition that things get better is surprisingly new. Intellectual historians often point to Marx, Hegel or Condorcet as the moment European thought moved beyond 'fallist' interpretations of the world and instead looked to the future. Yet Vasari does similar here, charting the progress of Renaissance art from Cimabue (born in 1240) to his own time in the mid 16th century. Throughout his chronicle Vasari – who painted the dazzling fresco adorning the cupola of Florence's Duomo – relates how Renaissance art was a linear quest aiming at spiritual perfection, always improving yet falling short of antiquity's genius. In his own time, particularly with the work of Michelangelo, such historic feats are finally imitated and surpassed as humanity, once more, can achieve the previously impossible. A reminder in these difficult times that the only thing which is uniquely 'human' is our capacity to transform the world around us.