Cleaners Are Having to Fight for Their Own Protection in the Fight Against Covid-19
29 March 2020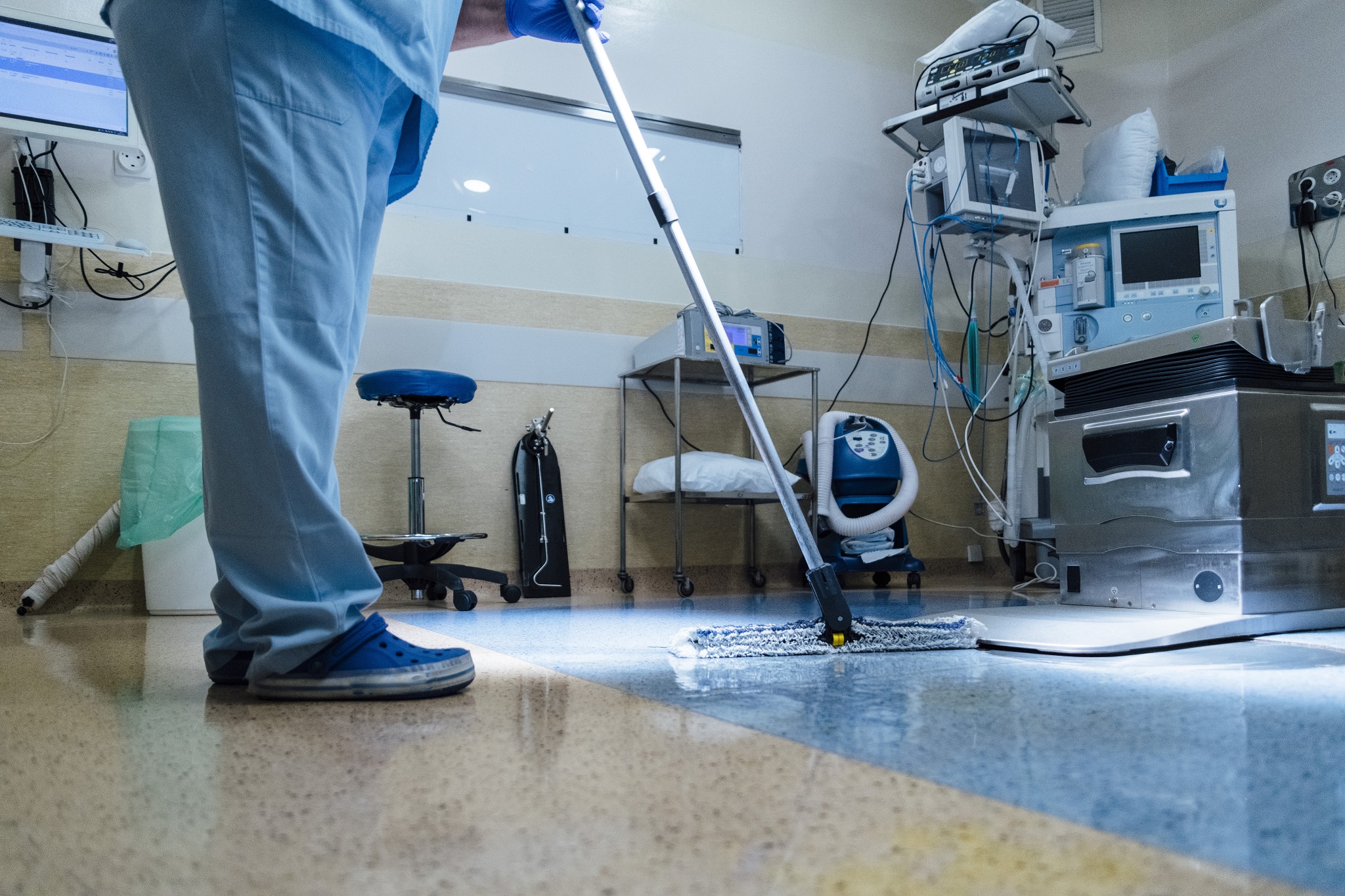 Karrastock licensed by Adobe
Who will save us from the Covid-19 pandemic? And is it the same workers who stand to lose most from it, as its social consequences unfold? As cleaning becomes only more essential, how have cleaners themselves been treated, asks Joe Hayns, and what dangers and opportunities does the crisis present for them?

We need to disinfect everything. Continuously. For months.
The more we do this, the fewer of us will die – in ICUs or ambulances, regular hospital wards or corridors or car parks. At home, with family or friends, or perhaps alone.
The government's current guidance is that "cleaning an area with normal household disinfectant after someone with suspected Covid-19 has left will reduce the risk of passing the infection on to other people."
People are already cleaning. Teachers clean. Nurses clean. Cafés, shops and streets are cleaned every day, usually by regular workers.
There are also around 700,000 professional cleaners in Britain, plus 80,000 supervisors and managers – three-quarters of a million people who will disinfect us of Covid-19.
Or there were. It's hard to know how many have become sick, self-isolated, or been made redundant over the last fortnight.
"Here, around 20 zero-hours cleaners were told 'there's no work' last Wednesday [18 March]," Jordi López, an organiser with the IWGB union's University College London branch, told Novara Media. "Managers had already left, and haven't been seen since. No health protocol, and no PPE [personal protective equipment]."
IWGB's exceptionally strong branch was able to get the cleaners' hours back within 48 hours, but "it's happening everywhere," said López. "I'm getting so many calls."
The coronavirus crisis is illuminating just how badly cleaners in Britain are treated. One immediate issue is the danger of infection; a second is over-work.
'There's no equipment'.
If Covid-19 is aerosolised in a hospital – dispersed through the air by CPR or medical equipment used to treat Covid patients – everyone in the vicinity needs an FFP2-grade respirator and eye protection, plus the usual garbs, gloves and apron, junior doctor Sophie Williams informed Novara Media.
Hospitals cleaners might contract the virus from droplets or aerosol, or infected surfaces. Williams said medical staff are assuming the virus can live on surfaces from between six and 48 hours, depending on material.
But 'Lena', a cleaner at St. Mary's hospital and UVW union rep told Novara Media: "There's no equipment, not enough to be safe, especially if a patient has symptoms."
"They've made cleaners clean rooms," she added. "But they don't know if the patient was positive. It's already happened many times, missing information like that."
"I have very low immunity," Lena continued, "and managers were telling me I have no right to refuse. I told them, 'No, I have rights, you have no right to force me to do that'."
Telling her managers 'no' took personal courage, in part learnt from UVW's rep training. The union has demanded of employers that "any worker … who refuses to undertake certain duties or outright refuses to work for fear of either contracting or transmitting Covid-19 will suffer no detriment or dismissal", as provided for in law by the 1974 Health and Safety at Work Act and 1996 Employment Rights Act.
Currently, if hospital cleaners get sick, or are suspected of being sick, their income may plummet, particularly if they're new to the job.
"Hospitals are a special environment," Lena explained. "If you're coughing [or] you're sneezing, you are not allowed to work."
Novara Media was informed that in their first year of service, cleaners at Lena's work are initially given three days of full sick pay, after which they are entitled to statutory sick pay at £94 per week. After their first year, we were told staff are entitled to one week's full sick pay, rising by a week for each year of service up to half the NHS sick pay scheme.
Sodexo disputes this, saying health care staff are entitled to one week's full sick pay in their first year of employment, rising by one week after each year of service.
Sodexo also informed Novara Media that if employees are self-isolating or think they may have Covid-19, they will be entitled to full sick pay for two weeks.
UVW's strike campaign last winter won in-housing for around 1000 workers across the Imperial College Trust, who'll be directly-employed and on the NHS wage grading, and sick pay scheme, from 1 April.
But how exactly this affects their day-to-day work conditions remains an open question. For the moment, cleaners at the hospital complain of being under-equipped and overworked: "There are not enough of us at all, because there are many less people because they are sick," said Lena.
'We're already short-staffed.'
Back in August 2017, the RMT union announced that US-based firm ABM had been awarded a unified contract to clean the London Underground, replacing three sub-contractors. ABM's strategy was to reduce the workforce by one-third, with those left forced to work harder.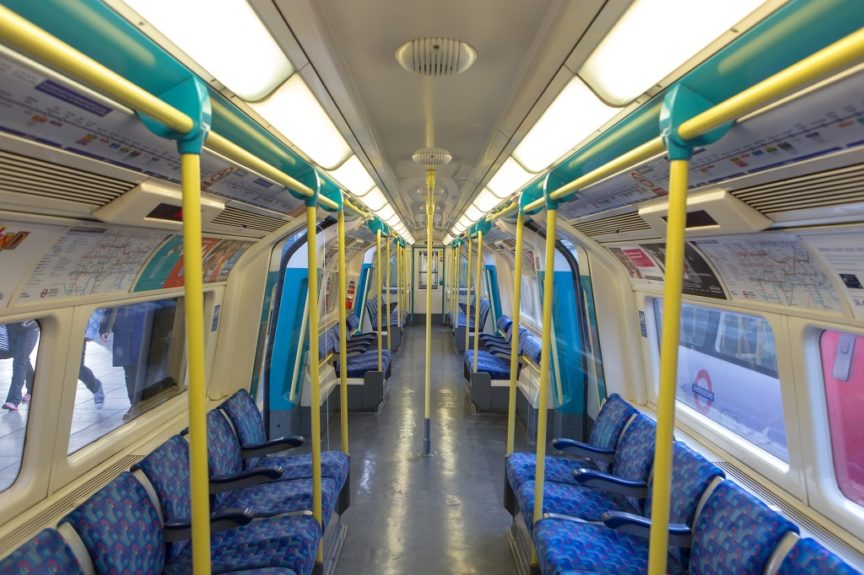 The union fought against job cuts, but ABM was able to 'salami-slice' the workforce, as one RMT activist, who preferred not to give their name, put it.
Even before the current crisis, "we were already short-staffed," Mohammed, chair of RMT's London transport cleaners' committee, told Novara Media. "If there were eight of us, now there's five, four, sometimes three, and they have to perform the same."
The union "blunted the attack [from ABM] without fending it off," said the activist.
But ABM's unificiation was also an opportunity for the RMT to unite three workforces. Activists launched a recruitment drive in late 2017, and union density among cleaners is now around 30-40%, triple or quadruple the national average for cleaners.
The Tube is hardly safer than hospitals. ABM has given cleaners a single 80ml bottle of hand-sanitiser. None of them have respirators. Numerous cleaners have had to self-isolate, some because they're sick, some because they're vulnerable. Transport for London is running a Sunday service, even whilst key workers and the self-employed have continued to work more-or-less as normal.
But with growing density and a core of experienced reps, the RMT has been able to put staunch demands to employers throughout the last month. Following a cross-union summit with London Underground (the wider Tube workforce's employer) in early March, ABM announced full-pay – increased from the statutory minimum – for anyone sick or self-isolating.
On 17 March the union demanded appropriate personal protective equipment, full testing, immediate in-housing (a long-running demand), and an 'increase of the number of cleaners available' – a proactive demand, just as other cleaning workforces appear to be losing their jobs en masse.
"We're going to push hard right now," said Mohammed.
We need to disinfect everything.
In the home and outside it, cleaning – this life-endangering, lives-saving activity – is still done overwhemingly by women. The Office of National Statistics reported in 2016 that "women put in more than double the proportion of unpaid work" than men. Meanwhile, around 70% of commercial 'general cleaning' is also done by women. Moreover, the vast majority of the IWGB, UVW and RMT's cleaner members are migrants.
This is the workforce that will clean Covid-19 from every hospital, every Tube carriage, and every office.
"Now they call us 'key workers'," said Mohammed. "Two months ago it was 'non-skilled workers'."
Cleaners are doing this without protective equipment or a safety protocol; without a wage commensurate to all-but-inevitable occupational danger; and whilst having to choose between buying essentials and work, risking catching and spreading a deadly virus themselves.
The very-best organised cleaners in Britain have achieved partial victories against these conditions over the last week – wins which their branches are already building on.
And so whilst the right-wing press attacks Labour politicians for recognising opportunities in a crisis, as the prospect of a government of 'national unity' looms, the labour movement must vow to support workers like Lena as and when they refuse to clean in unsafe conditions – and follow the lead of activists like Mohammed, as these key workers press a new advantage.
Correction (30 March 2020): This article previously stated that cleaners at St Mary's are currently paid £8.21 per hour by Sodexo. We are happy to clarify that since 1 November 2019, cleaners at St Mary's have been paid £10.75 per hour. The article also mistakenly implied cleaners at St Mary's were only entitled to statutory sick pay. The text has been clarified that show that workers are initially given full pay in the event of sickness, after which they are given statutory sick pay.
Joe Hayns is an arts worker and writer.