Locked Down But Not Out: 15,000 Sign Up to Rent Strike Campaign in Spain
16 April 2020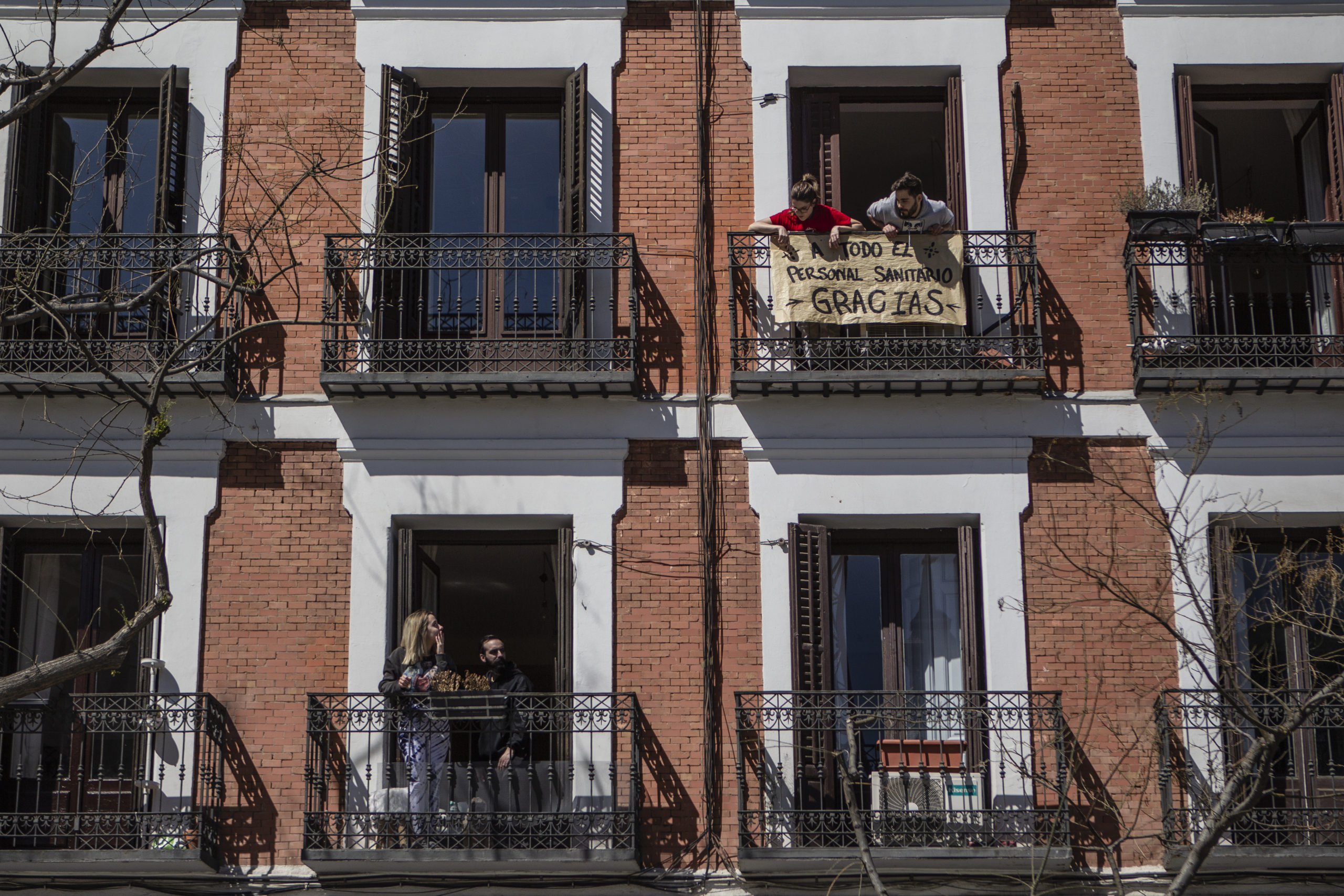 Copyright Juan Zarza
18,708 dead. 177,644 confirmed infected. A state of emergency. 46.7m of us confined to our homes for nearly a fortnight. We've never heard Madrid so quiet: the city has stopped. Only the odd applause for medical workers and pots and pans protests against our corrupt king break the silence.
But there's little rest for landlords. There are rents to raise, families to evict. And the biggest, baddest landlord of them all is the Sareb – the Spanish state's 'bad bank', created after the financial crisis to take on the bailed out banks' bad debt. With that debt they took on fate of tens of thousands of squatters, forced to occupy a flat without permission to provide shelter for their family.
Paula's in her mid-thirties. She works the early shift, waking at 5am to clean corridors in blocks of flats. She lives with her teenage son and is due to give birth to her second child in the next few weeks.
"I've always worked," she says. "That was until the crash. I lost my job in 2014 and I couldn't make the rent – the landlord demanded 800 euros a month. You can't afford that on unemployment benefits."
"Everyone around here knows me and my kids. The girls from the neighbourhood told me about this flat, that it had been empty for a long time. They knew about my situation, they knew I couldn't keep renting."
By our estimates Paula's is one of around 16,000 families who begin illegally occupying a flat each year in Madrid region. Now on lockdown, squatting a flat owned by the Sareb is what has kept Paula and her family safe from the pandemic.
On 2 April, Paula was called by the Sareb. Pandemic or no pandemic, they want her out of her flat now. She's been in the process of negotiating a social tenancy with the support of others in her neighbourhood housing assembly for months, but now the 'bad bank' has called time. She's not alone. María, one of Paula's compañeras from the housing assembly, got the same call from the Sareb earlier in the week. Two compañeras from the housing assembly in the next neighbourhood got the call the weekend before.
As soon as Covid-19 reared its head, the PAH (Platform for People Affected by Mortgages), the statewide network of more than 200 housing mutual aid groups, called for a ban on evictions. But the PAH has been calling for a halt to evictions for the last 12 years. And the Spanish state is paying only a little more attention than it has done for the last decade, despite the new left-wing administration at the helm.
This time we're more united and our demands are more systemic. We've joined together with more than 200 other groups to put forward a more systemic social plan of action to take on the coronavirus crisis. We've gone further than before, demanding that housing be free for everyone for the duration of the crisis – no rents, no mortgages, no fines for squatters. Our ability to survive this pandemic will be determined by the speed with which the rules of the economy can be changed to work for people and our health rather than for capital and profit.
But it won't be the government ceding to our demands that changes the economy. We are the ones who will change the rules, one missed rent payment at a time.
Judith lives in Catalonia, where she is renting a flat from vulture fund Blackstone. She's part of the Sindicat de Llogaters, Barcelona's tenants union, founded in 2017.
"I'm buying food for my daughter by not paying my rent," she says. "A couple of months' missed rent won't affect Blackstone at all but having to pay this couple of months' rent would really harm my family."
Judith is one of 15,000 people who have registered with the rent strike across the Spanish state. With millions laid off – some temporarily and some permanently – rents are going unpaid, whether the state allows it or not. Now, those renters are organised.
Lucía Cirujano is part of the rent strike committee for Madrid city Ccntre.
"We're ringing people one by one as they sign up online, tracking their situation and making sure they have the support they need," she says.
"Everyone's locked up at home so to get everybody feeling connected and organised requires an endless chain of calls, online meetings, chat messages. The first calls follow a standard script that everyone across the Spanish state is using. Then people get set up onto WhatsApp groups for their postcode."
Catalonia is a focal point of the strike, with the key being a network of tenants unions that have risen up over the last three years. Meanwhile in Madrid the tenants' union, founded in 2017, is fighting alongside our group, the longer-standing Madrid Housing Coordinator, an assembly that unites Madrid's various neighbourhood housing groups.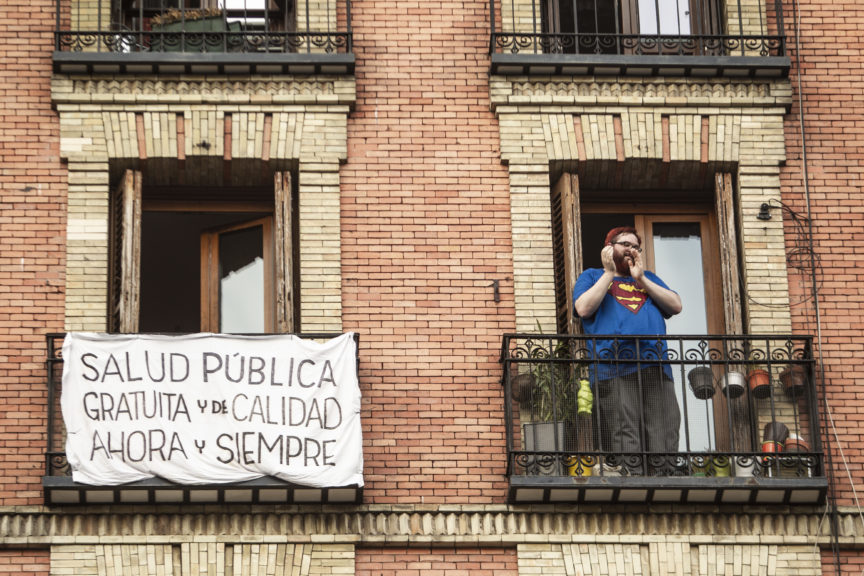 Barcelona and Madrid have been two of the cities worst hit by Spain's rental bubble, provoked by a fearsome combination of AirBnB and corporate landlords like Judith's, Blackstone. Blackstone is now the world's biggest landlord and the target of rent strikes around the world: from Catalunia to Parkdale, Toronto.
In Lucía's neighbourhood the strike has brought together a grand coalition from across social movements. There's PAH Centro and PAH Madrid, two local nodes of the national platform that formed after the mortgage bubble burst in 2008. There's also the local tenants' union and the Bloques en Lucha, an assembly of local blocks fighting rent hikes from corporate landlords. There are activists from the local squatted social centre, La Ingobernable (The Ungovernable). There's PAVPS, an assembly of people affect by the sell-off of public housing. There's a local youth group, Arganzuela 27. There's Lavapies ¿dónde vas?, a group fighting gentrification.
Lucía is clear: "The struggle – online and from home – is working. Every week the housing movement launches new campaigns and every week, when the Cabinet meets, the state makes concessions. They're short on real solutions. We're only seeing quick fixes, moratoria, problems stored up for later. But we're getting somewhere.
"It's only going to get bigger. More people register every day. Lots of people tell us they've been able to pay rent this month but next month, no chance.
"Beyond that, everything's uncertain. We don't know when we'll be able to leave our houses again and we don't know what it'll be like when we do. We're taking things day by day. Everything's new. Apart from our demands. We're demanding the same things we've always demanded, but now it's even more obvious just how essential they are."
From quarantine in her squatted flat, Paula is clear how she's going to respond to the Sareb's pressure calls.
"I've been fighting to be heard, fighting to be offered a social rent since I entered this flat in 2014," she says. "Living like this burns you out. Every day you're scared that today will be the day, that today the eviction notice will come. But I'm not leaving. I'll keep fighting."
One of the strengths of the Spanish housing movement has been the way it bridges tenure types, uniting people ripped off by mortgage lenders with squatters who are left with no alternative because of the length of social housing waiting lists. Now, with this strike, 15,000 renters have joined the struggle. Next month there will be thousands more.
And together, we'll win.
Coordinadora de Vivienda de Madrid (Madrid Housing Coordinator) is a mutual aid and direct action assembly that brings together the region's neighbourhood housing groups.
All figures correct at the time of publication.