Labour Official Who Undermined Party and Mocked Staff Was in Running for General Secretary Under Starmer
17 April 2020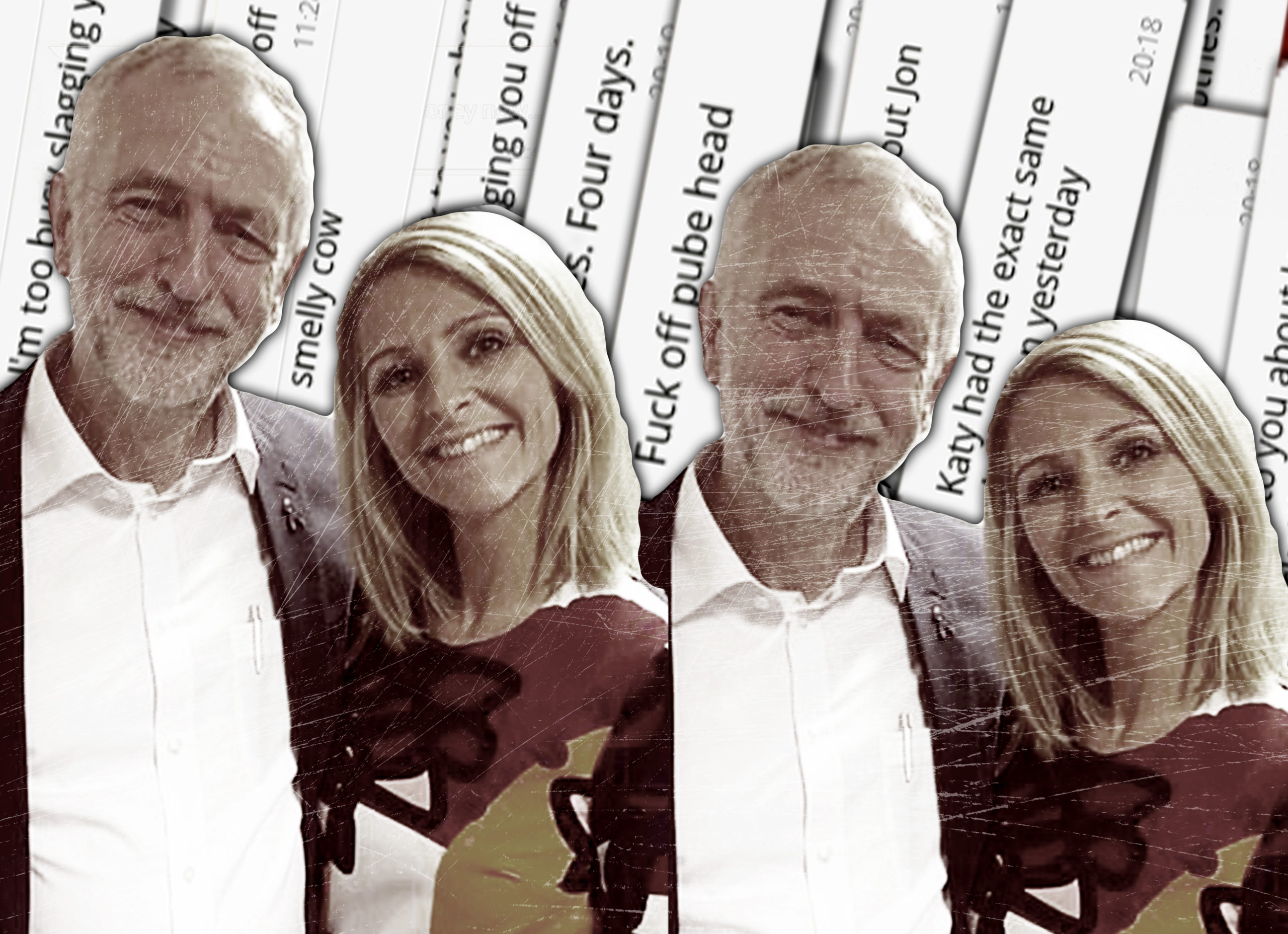 A former senior Labour party figure who repeatedly appears in a leaked report conspiring to undermine Jeremy Corbyn's leadership and engaging in offensive and childish name-calling, was a leading candidate to be the Labour party's next general secretary, Novara Media can reveal.
Emilie Oldknow OBE – who described another staff member as "pube head" and called a colleague "smelly cow" – was tipped as an option to replace Jennie Formby under new party leader Keir Starmer.
A source close to the Starmer campaign has confirmed to Novara that Oldknow has been a name "being mentioned, and seriously" in discussions with Starmer's office about who should be promoted to the most senior staff role in western Europe's largest political party.
On Sunday, Novara Media reported on a leaked document which revealed the extent to which members of Labour's then senior management team undermined the party's chances of winning the 2017 general election.
The internal party document was originally compiled for the Equality and Human Rights Commission (EHRC) investigation into antisemitism in Labour. It was leaked online after party lawyers said it shouldn't be sent to the EHRC.
The 860-page dossier, which contains thousands of emails and WhatsApp messages, paints a picture of a management team that is more than just sceptical about their party's electoral chances with Corbyn as leader; senior members of staff – including those at director level – actually appeared to despair as their party's polling improved.
Just when they should have been campaigning to win, a rightwing faction allegedly ran a parallel campaign to the official one – channelling resources to factionally favoured candidates over those in marginal seats.
The document more generally appears to show a culture of pettiness and sexism – all within a broader context where management openly despised the party's leadership, as well as many of its members and MPs.
Currently assistant general secretary at Unison, Britain's largest trade union, in 2017 Oldknow was Labour's executive director for governance, membership and party services – making her part of a senior management team who the document alleges conspired to replace Corbyn as leader.
Her name features hundreds of times in the leaked report, with some of the most shocking and offensive statements attributed to her.
This is particularly concerning given that Labour party and union insiders, including those close to the Starmer campaign, believe Oldknow is in the running for the general secretary job – or at least that she was prior to the report being leaked.
When asked for comment on the allegations made in the report, Emilie Oldknow threatened to sue Aaron Bastani and Novara Media.
She said in a letter from her solicitor, Mark Lewis at Patron Law:
"These scandalous and defamatory allegations are rejected in their entirety, I am aware of the source of these false and defamatory statements that are both breaches of confidence and a breach of Data Protection law. I intend to take legal action against the source and any of those who seek to republish these false allegations."
She later added:
"It is absolutely normal that in the confines of confidential discussions phrases that one would not use in public are said. That is the very nature of private conversations. None of the descriptions or allegations were discriminatory in any way, the publication by you of irrelevant tittle tattle to cause embarrassment and distraction simply aggravates the damage caused by the people who chose to act in such a cavalier and dangerous way. Claims are already being prepared against the individuals who were involved in leaking the story and the Labour Party itself. Actions have consequences."
It is worth noting that the conversations detailed in the report were drawn solely from Labour party work emails, an internal party messaging tool and three staff WhatsApp group chats established in 2016 by senior management in Labour HQ for work purposes – "SMT Group", "LP Forward Planning Group" and one other.
A plot to replace Corbyn?
On her departure from the Labour party in 2018 Oldknow wrote to staff:
"The political books and newspaper clippings rarely mention the heroic efforts of party staff who each day go to work with one simple objective – to help secure the election of a Labour government."
But in private Oldknow is alleged to have done the precise opposite of this – working with other senior officials – and MPs – to undermine Labour's leadership from within and, in doing so, to stop it from forming a government.
According to the report, Oldknow – who is married to the Labour MP Jonathan Ashworth, although they are understood to have separated – was involved in an internal effort, alongside the general secretary at the time, Iain McNicol, to remove Corbyn as party leader and replace him with Tom Watson, only months after the Islington North MP's 2016 re-election as leader.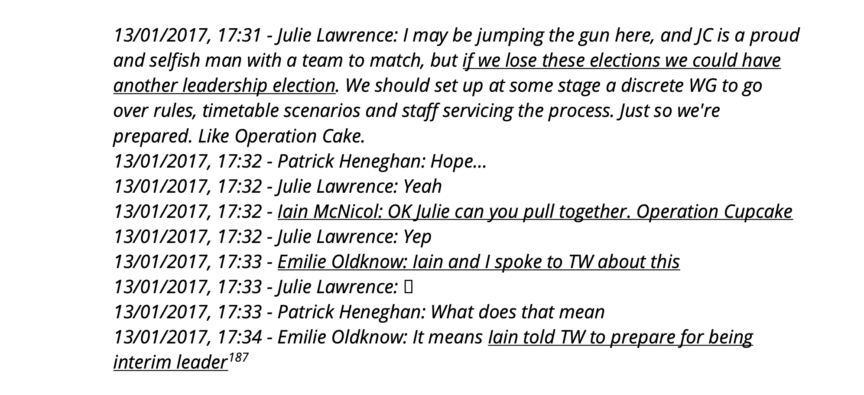 The report suggests Oldknow remained close to Watson. In 2017, the report alleges Oldknow took part in a discussion about forwarding documents to the former West Bromwich East MP, on the assumption that he wouldn't leak them because they criticised one of his allies – most likely the former Labour MP and West Midlands metro mayor candidate Siôn Simon.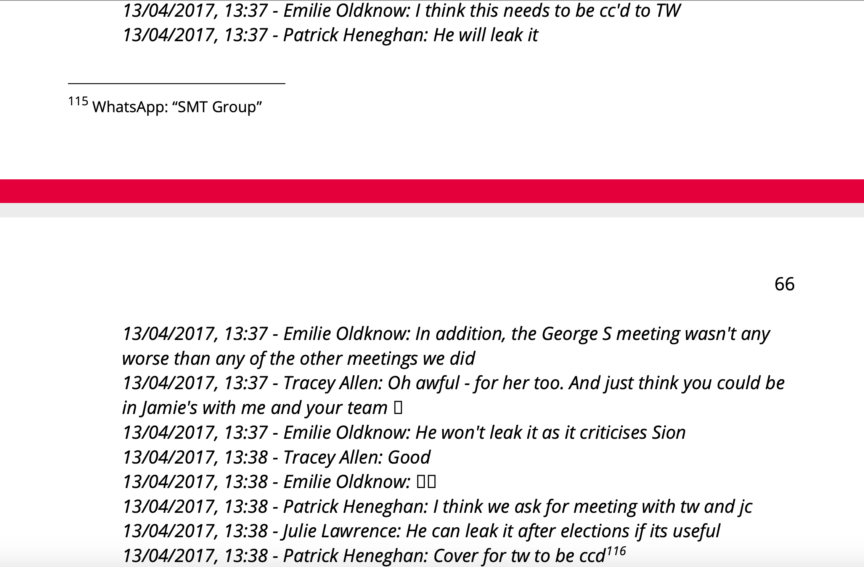 Fixing selections?
The report suggests Oldknow operated as part of a faction which had little regard for party democracy. For example, in March 2017, as Labour sought to select its candidate for the Manchester Gorton by-election (which was eventually cancelled), Oldknow appears to describe having leftwingers removed from the selection panel in a Whatsapp conversation with Iain McNicol's office.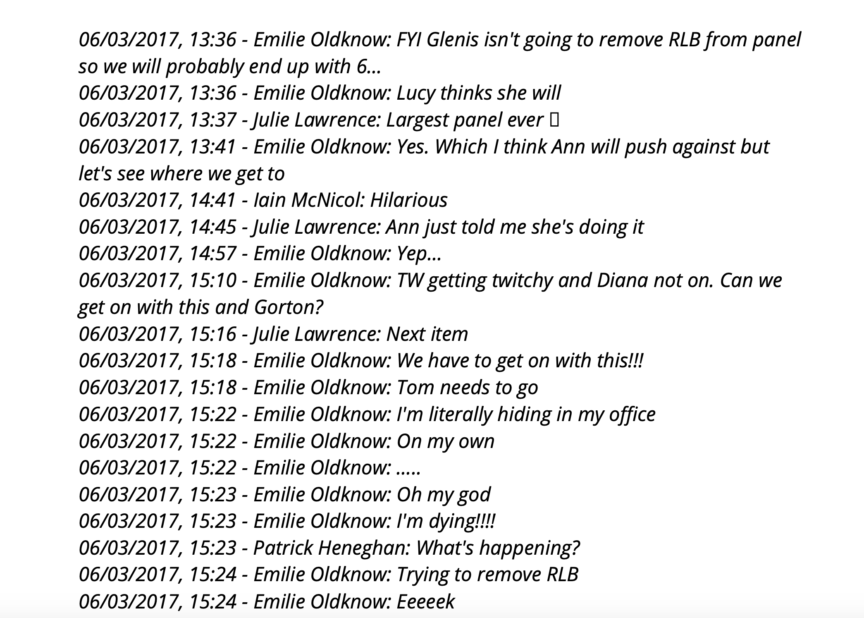 A Labour source told Novara Media that "Nancy" – described by Oldknow as a "fucking idiot" in this conversation – is likely to be Nancy Platts, at that time the NEC and trade union liaison officer in the leader's office (Loto).
In addition to showing the contempt members of the senior management team felt for people associated with Loto, this conversation appears to demonstrate how a faction – of which Oldknow seems to have been an integral part – worked together to drive people they perceived as political enemies out of what was meant to be a democratic process.
Ultimately Rebecca Long Bailey would be replaced on the selection panel by Keith Vaz, after it was claimed she was too close to one of the shortlisted candidates – a claim made without evidence.
At the time of this alleged incident, the media regularly claimed Corbyn rigged candidate selections to favour 'his people'. Yet to the contrary the conversation detailed above appears to indicate the precise opposite of that, with the retinue around McNicol acting like a party within a party, systematically undermining the leader's office – here so as to influence the candidate selection process.
Name-calling.
Throughout the report, Oldknow is alleged to have commented negatively on the appearance of women who worked in Corbyn's team – in particular his political secretary Katy Clark, and chief of staff, Karie Murphy.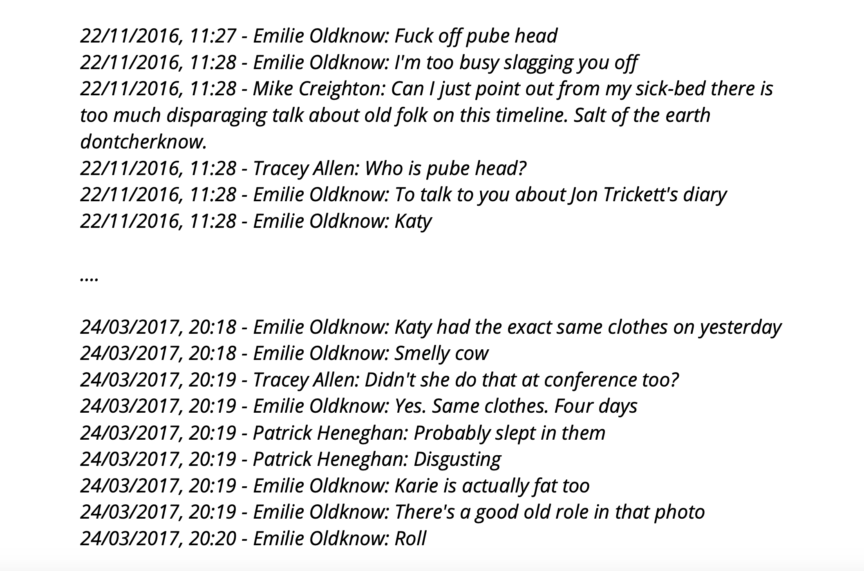 Other members of staff used similar language to insult women. Just a month later Patrick Heneghan, the party's executive director for elections, campaigns and organisation, is alleged to have called Murphy a "bitch face cow", while Julie Lawrence, then director of the general secretary's office, is reported to have written that Murphy would make a "good dartboard". Tracey Allen, manager of the general secretary's office, allegedly called her the "medusa monster".
While far from alone, Oldknow is one of the most prominent individuals in the report making derogatory comments about female colleagues.
This could be about almost anything: in May 2017, the report claims she commented on how a junior member of staff in the leader's office "could afford to buy a jacket and a bra".

Such behaviour wasn't limited to staff colleagues however. In October 2016, as Jeremy Corbyn re-shuffled his shadow cabinet, Oldknow allegedly denigrated Dawn Butler, who had just been announced as the party's shadow minister for diversity.

The authors of the report claim this conversation can be taken as Oldknow suggesting allegations of racism made by BAME politicians were untrue.
It could also suggest that Oldknow thought the very idea of white privilege was itself something to mock and not to take seriously.
Black women are subject to some of the most unpleasant behaviour detailed in the report, with then executive director Patrick Heneghan appearing to boast about tipping a Channel 4 journalist off about Diane Abbott's location, after the shadow home secretary broke down in tears following a torrent of racist harassment and bullying.
Elsewhere Abbott is described as "repulsive" and a "very angry woman" by other senior staff members.
A lack of professionalism?
In February 2015, Oldknow mentioned a job to a friend that she thought might be suitable for their sister, who she said would be "maleable".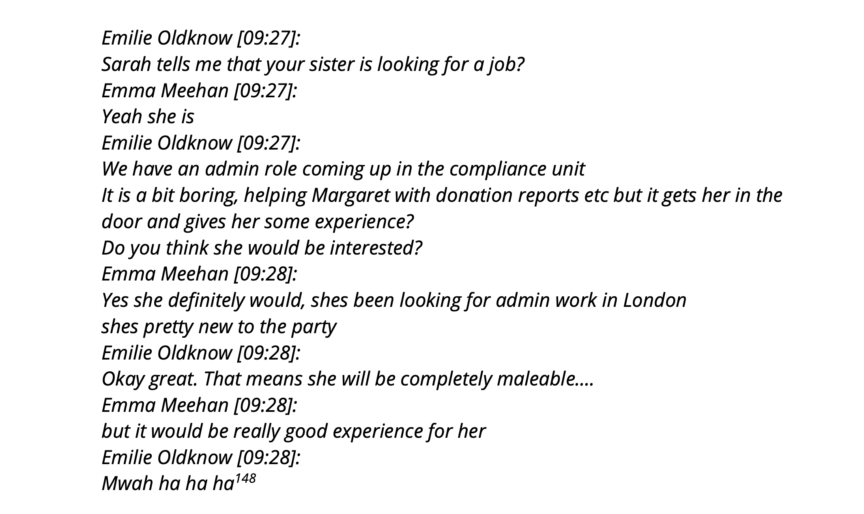 Suggesting that a friend's relative should apply for a job because they would be "malleable" is in stark contrast to the procedures Oldknow would write about in a message to party staff on her departure in 2018:
"We have transformed our HR, ensuring our processes are fair and transparent so we can employ the very best, committed and dedicated people committed to securing election victories in order to improve conditions for the people we are in politics to fight for."
A name 'being mentioned, and seriously' for general secretary.
Starmer's chief of staff and the party's new director of communications – who worked on Starmer's leadership campaign – both declined to comment when approached by Novara about this story.
The leaked report casts major doubts on Oldknow's suitability for the most senior staff job in the Labour party. Whether it is her seeming absence of professionalism, or participation in a culture of factionalism and name-calling, neither appear congruent with the values Starmer claims he wishes to promote as leader.
More than simply a misguided choice for general secretary, Oldknow's name being in circulation raises questions as to how such an individual was ever considered for the party's most senior staff role. She was previously a party director, and if such behaviour was unknown to those touting her as a potential successor to Jennie Formby, this raises questions about due diligence in party recruitment going forward.
On the other hand, if party decision-makers were in receipt of such information, that would indicate something even worse: that inappropriate behaviour is too easily tolerated within an organisation professing to champion progressive values.
Her behaviour should raise questions, too, about her current role as chief operating officer of the country's largest union, Unison, where Dave Prentis, the general secretary, reputedly 'has her back'.
In receipt of this catalogue of alleged misdeeds, Labour members, activists and MPs should ask themselves whether such an individual is fit to be a party member at all, let alone merit consideration for the role of general secretary.
Aaron Bastani is a Novara Media contributing editor and co-founder.
Additional reporting by Charlotte England.