It's Falling to Community Food Groups to Feed the Country During the Covid-19 Crisis
29 April 2020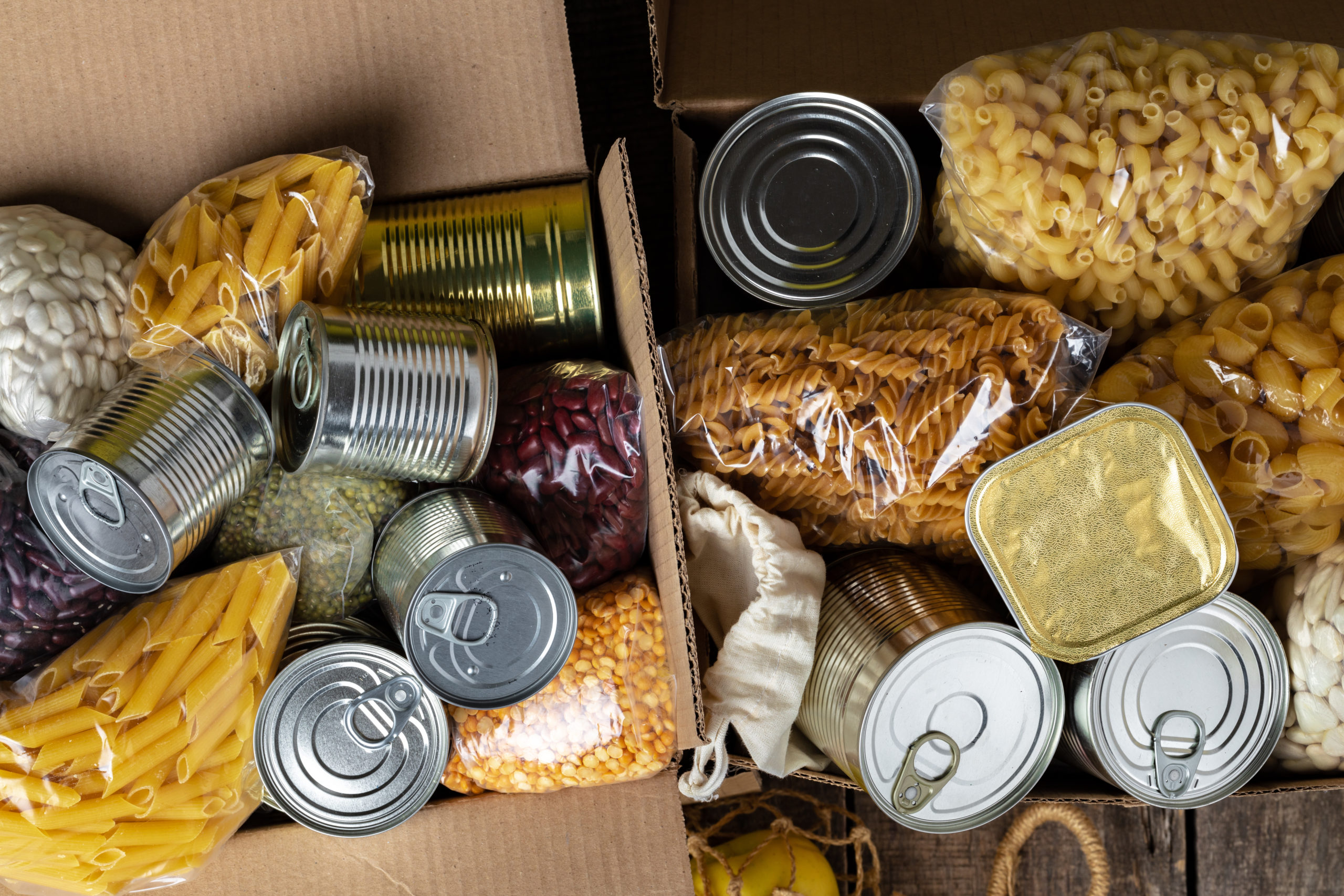 Adobe Stock
"If it weren't for this food place I wouldn't be eating," says 24 year old Jessica*, who relies on her local community cafe for emergency food packages.  
An art student at a university in Sheffield, Jessica lost her mum in January and has no family home to return to during the coronavirus lockdown. 
For the past three years, Jessica relied on her mum to bring her weekly meals and pay for her shopping. But following her death, Jessica had to get a temporary job to support herself. That, however, ended a month ago as a result of social distancing restrictions. Since then, with no money, Jessica has been forced to wait for her student loan to come through.
The number of adults who are food insecure in Britain is estimated to have quadrupled under lockdown, with more than three million people going hungry, according to a new report by the Food Foundation. 
3 million going hungry just 3 weeks into lockdown – have a look in full at the results of the new @Food_Foundation & @FFC_Commission survey #Right2Food https://t.co/PjLoHtfrpz @DWP @DefraGovUK

— Food Foundation (@Food_Foundation) April 11, 2020
Currently, there are nearly 11,000 frontline charities and community groups working to distribute food, and more than 4,000 mutual aid groups now operating across the UK .
Loss of income, the need to self-isolate and shortage of certain foods in supermarkets are all factors exacerbating an ongoing food security and nutrition crisis. 
The empty shelves caused by fear-induced panic-buying have become a stark image of the UK's period of lockdown. 
While these apocalyptic scenes are now less common thanks to supermarket restrictions of certain items and assurances from the government that the shops will remain stocked, for many people this 'plentiful supply' is either not accessible or simply unaffordable. 
Despite the government's wage subsidy plan and benefit system, it is falling to a growing network of volunteer-run community food groups and community charities already operating around the UK to meet the shortfall. 
'The number of people is doubling every day'. 
In Sheffield, the Foodhall Project, an established public dining room and kitchen managed 'for the community, by the community' has been a lifeline for locals. 
"We get tinned food, cereal, someone even made little cakes they wrapped up for me, meals in Tupperware, it's just so sweet what they do," says Jessica. 
The Foodhall opened its doors in 2015 and works by intercepting food waste streams from local traders, using this surplus to serve communal meals on a 'pay-what-you-can' basis. 
It is part of the National Food Service network (NFS), which started in Sheffield and now has branches in every city or region across the UK. Its central ethos is to enable universal access to good food and communal dining spaces as a basic human right.  
The model is not only a response to food instability but also to food waste. 1.9m tonnes of food is wasted by the food industry every year in the UK, according to the food redistribution charity FareShare. 
Following the Covid-19 outbreak, the Foodhall closed its communal cafe and set up a pick up point for food parcels and isolation food packs, as well as a delivery service and helpline. 
"We mobilized it a week before the lockdown," says Louis Koseda, the Foodhall Project founder. "A cross section of society is using us; mums, the elderly, students. The number of people is doubling every day."
Shout out to the amazing @foodhallproject who gave been cooking thousands of free meals in Sheffield, including for our migrant campaigners. This Saturday, we're joining them on this 14 hour fundraiser with yoga and music: https://t.co/MjYiXqL0Ka

Pls join! pic.twitter.com/teLDO3e8Lc

— These Walls Must Fall (@wallsmustfall) April 28, 2020
Janet Baley is a single mother with two teenage sons and has been receiving packages from the Foodhall during lockdown. She receives benefits and works as a lunchtime supervisor at a specialist school, where she is currently furloughed.
"I would have struggled without it," explains Baley, "I'm on benefits with two young children at home and I haven't had any uplift to benefits. I know it's been talked about but I haven't had anything." 
Thousands of food boxes have been sent out to those who are considered "clinically extremely vulnerable" as part of the government effort to help those at highest risk of coronavirus. 
'The government has strict boundaries'. 
Despite this, food banks have warned that potentially hundreds of thousands of people who do not qualify for help through the emergency delivery scheme will be forced to rely on food charities.
"The government has strict boundaries on who can access emergency provision," explains Koseda . "It's very narrow and many people fall outside the category. 
"A lot of people are being referred to us directly from the council as they can't meet their needs. We have received some support from them, but they are struggling because of policies from central government."
The mutual aid system that has erupted across the country started from within the National Food Service network and Koseda believes this instinct for mutual survival is a far more sustainable model than the financial one we currently have. 
The NFS's Early Day Motion to parliament outlines three key demands: support for all organisations tackling food insecurity during Covid-19,  including mutual aid networks, grant emergency resources and reduce barriers to immediate food access and protect community spaces.
A spokesperson from the Ministry of Housing, Communities & Local Government said they were working to support those who do not fall into the category of being clinically extremely vulnerable but still need help getting essential food supplies.
They advise those people, wherever possible, to rely on friends, family and wider community support. 
"Where this is not possible, your local council may be able to offer emergency support. All councils have dedicated helplines which you can call to find out how you can get help accessing food or other essential supplies," the spokesperson says. 
'Councils need to unlock their ability to provide vital services'. 
As many vulnerable people who don't qualify for the government emergency packages fall through the net, cafes like the Brixton Pound Surplus Canteen in London are able to tap into the needs of the community. 
The space, which currently operates from The Junction, in Loughborough Junction, cooks hot meals using food saved from landfill donated by City Harvest, a charity in the south of England, using a 'pay-what-you-can' framework. 
Since the lockdown, it has begun offering a delivery service and runs a hotline for food emergency situations. They share the space with Loughborough Farm, which is also running a delivery service and cooking specifically for NHS workers. 
Brixton Canteen's food projects coordinator, Sean Roy Parker, says they have been targeting their outreach at those who already use the Canteen, specifically the disabled community.
"I already have good contacts within the disabled community in the area," says Parker. "I've worked with a group with learning disabilities on a radio show at the Canteen for example, so we're focusing on that community for now.
"A lot of people with learning disabilities do fall through the gap, it's difficult for them to access information about resources on the internet and they are often socially isolated and live in very disparate places. Their anxiety around going to shops will be very high.
One such patron is Jennifer, 56, who has learning disabilities and lives alone. Although she is able to shop for food herself, she is very happy to be receiving weekly cooked food packages from Brixton Canteen. 
"I can go for a walk but I can't see my family or work colleagues which is upsetting," says Jennifer, who normally lives an independent, busy life. "I feel isolated but Brixton Pound supports me and my friends and I get to have a nice chat on the phone with Sean."
Another stonking day doing what we do best; prepared, coordinated and delivered 31 lentil shepherds pie with a cheesy top, pan-fried asparagus & lettuce to disabled and shielded fxlk for free. Couldn't do it without the help of our amazing volunteers. pic.twitter.com/q5uoBwMY9d

— Brixton Pound (@brixtonpound) April 28, 2020
But places like Brixton Canteen and the Foodhall are struggling to meet increasing demand. 
"We have been talking to the local council about the urgent needs that are facing Foodhall and other places, as well as mutual aid groups," says Koseda . "They need to unlock their ability to provide these services, and ensure access and facilities for volunteers."
A new report by the International Panel of Experts on Sustainable Food Systems highlights the "critical weaknesses, inequalities, and inequities" that have come to light during the pandemic and asks that the vulnerabilities of our food systems "not be forgotten once the crisis abates."
And with the rate of new epidemics and pandemics accelerating, now is the time to address these fragile systems. 
"In the future there will be more events like this," warns Koseda . "This is a weak signal of things to come. If we don't adequately respond to this, then we won't be ready to respond to the next one."
You can find more information on National Food Service Branches here and Mutual Aid groups here.
*Identifying details have been changed to protect anonymity
Alexandra Genova is a British/American journalist and producer. She has a particular interest in social justice, arts and culture and indigenous peoples.