Senior Labour Figures Hoped to Suspend the 2015 Leadership Election, Says Leaked Report
7 May 2020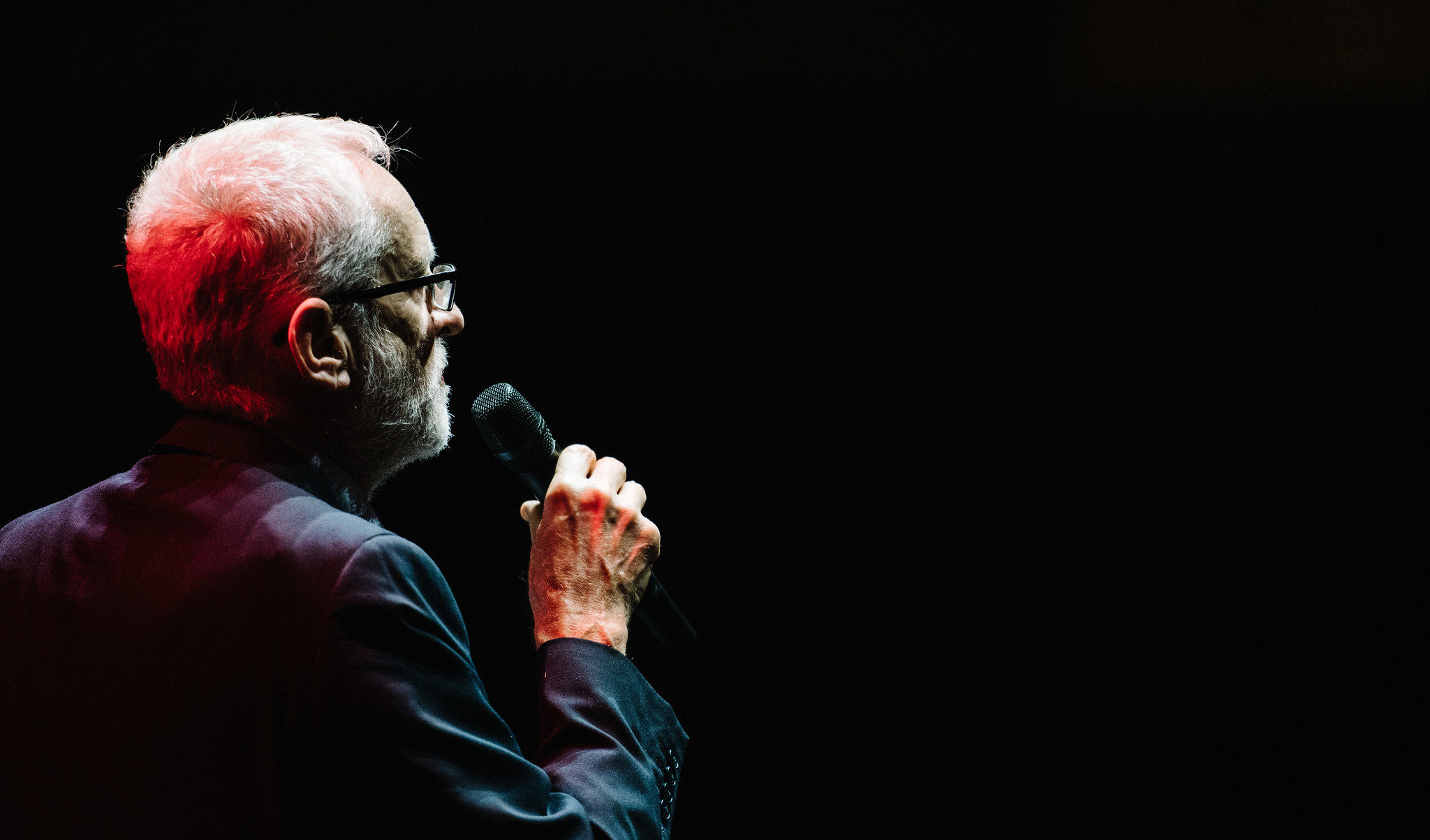 Jeremy Corbyn Flickr
By August 2015 it was becoming clear that Jeremy Corbyn was odds-on to be the next Labour leader. In a field of four – also including Andy Burnham, Yvette Cooper and Liz Kendall – the candidate who began at 200-1 was pulling away.
At the time it was widely reported that Corbyn's front-runner status was causing behind-the-scenes panic, with a number of MPs, staff, and party grandees eager to ensure he didn't win.
'Plan A' was to get the weakest two contenders to stand down, therefore giving the strongest non-Corbyn candidate the best possible opportunity to win. Perhaps unsurprisingly, this meant Andy Burnham, who was generally polling in a strong second, was receptive to the idea. Yvette Cooper, however, refused to play ball, and the plan went nowhere.
But there was also a parallel plan, more dramatic in scale and undemocratic in its design. On 16 August 2015, the Daily Telegraph reported how Peter Mandelson had attempted to get Cooper, Burnham and Kendall to all stand down, believing it would force the party to halt the contest and thereby deny Corbyn victory –  an eventuality many now saw as inevitable. There was only one problem: party officials said it would not trigger a halt, meaning Corbyn would win regardless. As the Daily Telegraph wrote at the time:
Lord Mandelson, one of the architects of "new" Labour, privately appealed last week to the Kendall, Cooper and Burnham camps to quit the contest before ballot papers were sent out, according to sources. One said: "Lord Mandelson and other Blairites were saying – this is a disgrace, let's get this thing pulled. But it was not going to happen."
In communications exchanged three days before that Telegraph piece, Jo Green, then the party's head of broadcasting, and John Stolliday, a senior media monitoring officer who moved to Labour's governance and legal unit later in 2015, before becoming its director the following year, discussed delaying or even halting the party's leadership race as it became clear Corbyn might win. According to last month's leaked Labour report, it appears they believed this could have been achieved by either claiming insufficient resources to vet all new members – who were near-universally joining to support Corbyn – or, as touted by Mandelson, by having the other candidates pull out.
John Stolliday 11:44: Where do you think Iain & Mike are on delay?

Jo Green 11:45: finely balanced. In the end I think they have to decide on the basis of whether we have resource to do the checks. rather than a political decision

also the leadership teams would need to sign off delay

I am now of the view that the three other candidates could just drop out next week and the whole thing would have to be halted.

John Stolliday 11:45: which presumably would risk a huge argument. That would be ace

Jo Green 11:46: it would!

John Stolliday 11:46: Great idea 

Jo Green 11:46: unite could disaffiliate, form a new party

John Stolliday 11:47: I've been assuming that will be the case anyway within a few years, whoever wins frankly, it would be brilliant for Labour. Financially tough but absolutely great for the party

Jo Green 11:51: i think it will happen yeah

John Stolliday 12:58: Byron must be fucking loving this

Jo Green 12:59: well as i understand it he wanted andy to win not sure even his politics are corbyn levels of madness but then again he'll be wondering what he can get out of it

hateful twat

John Stolliday 12:59: the mad ones on the NEC all love him – Jennie Formby & Christine Shawcroft.
The 'Iain and Mike' mentioned at the beginning of the conversation appears to refer to Iain McNicol and Mike Creighton – respectively the party's general secretary and its director of audit, risk and property at the time.
The exchange appears to indicate a number of avenues were under consideration for subverting what had become a likely Corbyn victory, with Green appearing to suggest that a welcome consequence would be the disaffiliation of Unite – the party's largest single donor in the 2015, 2017 and 2019 elections.
Neither Jo Green nor John Stolliday responded when approached for comment by Novara Media.
At the time, conversations like the one between Stolliday and Green were hinted at in a piece published by the Guardian the following week, which stated: "Despite (Harriet) Harman's [then interim leader] assurances that everything is under control, the Guardian understands there is a mounting disquiet among staffers at Labour HQ about the state of the contest. A party insider said almost everyone is now involved in the scramble to verify people and legal counsel are in near-constant attendance."
Similar goings-on had been reported in Observer a week earlier, citing disquiet among members of the parliamentary Labour party:
The Observer has learnt that after 160,000 people joined the Labour leadership electorate on the final day of registration last week, a number of shadow cabinet ministers privately demanded that the interim leader, Harriet Harman, call an emergency shadow cabinet meeting to discuss potentially pausing or dropping the election. Harman rejected those calls. "So now she has a load of very unhappy shadow cabinet ministers wandering around," said one shadow minister.
When I put this to a member of Ed Miliband's shadow cabinet they confirmed that account of events, saying: "People at headquarters were worried about a socialist leading the Labour party, this fed through to MPs – and yes, representations were made to Harriet Harman to stop the election." As to why Harman never budged, they replied: "She wasn't staying on one moment longer than she had to."
In any case all this should have been irrelevant. While preparing this story, one source close to Corbyn's 2015 campaign said the shadow cabinet exerted no influence over the situation in any case, nor should they have – with Labour's national executive committee (NEC) being an entirely independent body. Furthermore, at the time there were weekly meetings involving representation from each of the candidates' campaigns alongside members of senior management.
While the issue of suspending the race as a result of a deluge of last-minute sign ups was never assertively pursued by anyone, the source informed me it was "certainly being said" within rival campaigns. They added that one of the reasons it wasn't seriously considered by Corbyn's competitors is that, right until the very end, both Yvette Cooper and Andy Burnham believed they could still win: "All politicians have a bit of ego, and I think that's a reason nobody really went for it."
The leaked report argues that the comments made by Green and Stolliday are emblematic of a broader context where an unelected apparatus viewed party members – and party democracy itself – with disdain.
According to the report, this is reflected in an earlier exchange which took place between Stolliday and Claire-Frances Lennon, then a press officer, and later head of internal governance under Stolliday, on 22 June 2015:
Claire-Frances Lennon 11:13: yay!! I love that you'll be a fixer 🙂 down with voting!! That's what I say! (chuckle)

John Stolliday 11:13: absolutely. Letting members have a say is the worst thing that happened to the Labour Party

Claire-Frances Lennon 11:14: AGREED!
There is no doubt one can interpret a sense of humour from Lennon in these comments, but Stolliday's remarks are consistent with the sentiments in his later exchange with Green. Indeed, in July the following year, as Labour donor Michael Foster pursued a legal challenge in response to the NEC's argument that Corbyn, as incumbent, automatically qualified for a second leadership race – after the majority of Labour MPs had passed a motion of no confidence in his leadership – Stolliday would write: "Just praying we lose in court to Michael Foster."
Like so much else with the leaked Labour report what we are presented with here is less a revelation than confirmation of what many already suspected: that elements of the Labour party apparatus hoped for the suspension of its own leadership election.
With Keir Starmer and Angela Rayner announcing an investigation into the contents of the report, a major question now needs to be answered: to what extent were Stolliday and Green's comments reflected across the senior management team, and – as posed by their exchange in August 2015 – by Iain McNicol himself?
According to the report, senior members of Labour staff would have preferred to suspend party democracy rather than see a candidate they disagreed with lead the party. The question is how far up that went.
Aaron Bastani is a Novara Media contributing editor and co-founder.