Literally Just Vibing: How Music Streaming Platforms Manipulate History, Legacy and Emotion
9 May 2020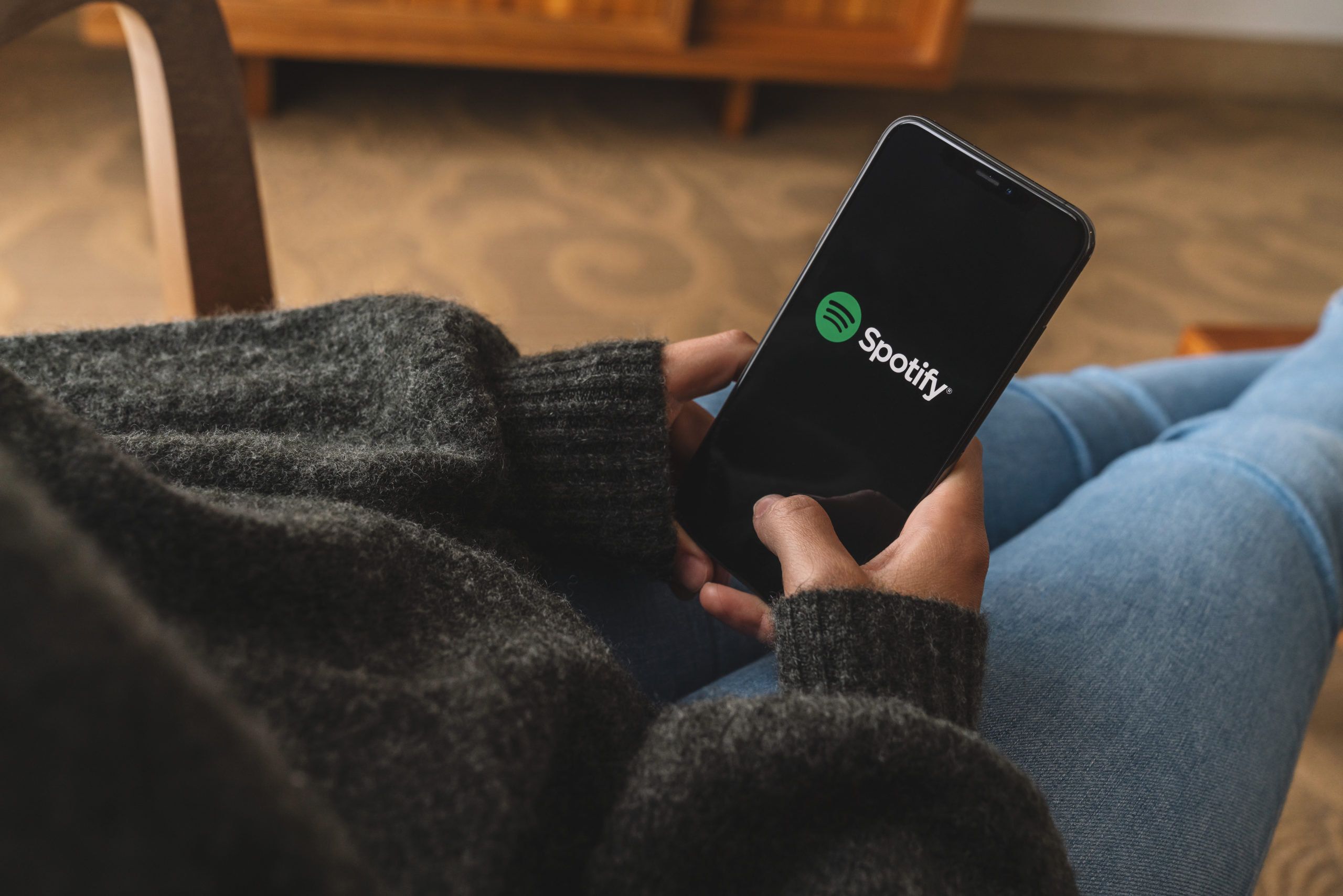 Adobe
In the 140-odd years since Thomas Edison invented the mechanical phonograph cylinder – the first sound recording device that was able to be mass-produced – our ability to access music has changed completely.
From its pre-recorded status of being – as the former Talking Heads frontman David Byrne puts it in his 2012 book How Music Works – "something we did", music has progressed through the vinyl, cassette and CD eras to a state of über-availability in the internet age. Thanks to streaming services, digitised music collections and easy access to material online, you could potentially have music playing every second of your life if you wished. At the very least, it's easy to sort out your listening for a whole afternoon with just a couple of clicks.
Spotify, the world's most popular music streaming service, has long prioritised the new-school potential for endless music over old-world relics like albums and EPs. One of the ways in which this is most apparent is the large amount of curated playlists one finds on the application. Created and maintained by Spotify's own account, these playlists are the primary format pushed on the application by footprint size alone – go to Spotify's homepage as a new user and you'll notice that it is curated playlists rather than albums which are given the lion's share of coverage.
Service to The Vibe.
The front-page playlists range from nostalgia curations like All Out 80s to the Radio 1 alternative Summer Hits UK and vaguely genre-specific offerings such as Alternative 90s. Amongst these there are also a notably large amount of what you could call 'mood playlists'. Rather than leaning into contemporary hits or throwback classics, the popular curations Confidence Boost, A Perfect Day and Happy Hits! instead aim to shape your emotional state with a selection of upbeat tunes. There are also mixes specifically designed to accompany other activities – Reading Soundtrack is pretty self-explanatory while Piano In The Background offers a "calming and relaxing piano soundtrack to all your daily activities".
Intriguingly, a decent amount of the playlists explicitly present music as a temporary release from, or salve to, the grinds of capitalism: 'Uplifting anthems to power you through to the weekend', claims the tagline on Feel Good Friday. "The perfectly brewed cup, the perfect songs to match. Your happy place is right here", promises Coffee And Chill, while Get Home Happy! offers "cheerful tunes to shake off the worries of the workday". Framed this way, music becomes either a sort of emotional lozenge to be taken when one needs a helping hand in becoming the productive, perky, unquestioning worker many bosses crave, or else these playlists create a sort of apolitical chill-zone that allows one to shake off the drudgery of workaday society, as if the stresses of neoliberalism can be tuned out simply by putting your earbuds in as soon as you leave the office.
Bar the odd outlier – Sad Songs, Melancholy Instrumentals – these mood playlists are largely geared towards instant emotional boosts. The accompanying texts encourage you to compartmentalise any upset ("shake off the worries"; "happy place"; "power through"). All are twinned with non-threatening artwork, often images of people relaxing. Indeed, the only time people are pictured exerting themselves is when they are doing the tasks the playlist explicitly intends to accompany, such as a workout or a study session.
While this playlisting is not dissimilar to what happens on Capital FM or Radio 2, the difference is that radio stations are not and have never purported to be the primary platforms on which people store their music collections. For the majority of people, their user accounts on streaming services – accounts for which they have to maintain, lest they lose access to their beloved collections – have now replaced music objects such as vinyl LPs and CDs. A total of 91bn songs were played on Spotify, Apple Music and their competitors in 2018 – the equivalent of 1,300 songs per person in the UK. Streaming that year accounted for 63.6% of the country's music consumption, while on the streaming platforms themselves, playlists have overtaken albums as the primary form of multi-track listening.
Given the huge power streaming services wield, any artist wanting to make a serious go of getting their music to the wider public has little choice but to allow their songs to be subsumed into playlists. Once songs are in these new spaces, they can expect the role of music-as-lifestyle-accessory to be foisted on them as the playlist's unbroken wash of sound sands down their rough edges, with tracks finding it more difficult to be received as creations which have merit in and of themselves and instead drifting off into a semiotic hinterland where any sound or feeling is conscripted for service to The Vibe.
There are certainly artists, real or fake, who now write music with Spotify's mood playlists in mind. Yet there are even more who never intended for their work to be divided and conquered this way, who surely resent the fact that a composition of theirs can now, at any time, be robbed of some of its essence through a Spotify playlist slapping it with a reductive emotional tag.
Whitewash Radio.
When the focus shifts from mood playlisting to reviewing the catalogues of individual artists or localised scenes, Spotify is no less liberal in the way that it removes tracks from their original context. From their This Is X runs which offer scattergun mish-mashes of a given artist's catalogue to the creation of quasi-greatest hits collections listed at the top of an act's artist page, the application's algorithms are indiscriminate when it comes to rearranging discographies that may span decades.
The feature that most aggressively bends history out of shape is Artist Radio. These 'radio stations' dole out selected songs that are purportedly similar to those of a given artist, serving up fifty-song playlists in the orbit of whatever band, producer, singer-songwriter or composer you request. However, the algorithms used to create these mixes appear to draw on little more than broad, ill-defined genre tags, often over-simplifying or effectively muting important dialogues around individual acts.
Take the aforementioned Talking Heads. At the time of writing, the group's Artist Radio mix contains The Stranglers, T-Rex and The Flaming Lips. Beyond cosmetic similarities – rock bands mainly comprising white men – there's not much to tie their various sounds together. You can't really draw a line from, say, The Flaming Lips' bombastic and proggy The Soft Bulletin to the economical, top-button-done-up funk that Byrne and the gang were peddling two decades previously.
While one-time tour buddies Ramones and fellow late-70's groove-punks The B-52's get a look in, entries from Talking Heads' actual contemporaries are few and far between. Most telling of all is the absence of any of the band's influences who aren't part of the same white rockist lineage. In the period when Talking Heads were making their most vital work they were drawing on the huge range of sounds being incubated in their native New York City. Yet East Village avant-gardener Arthur Russell, who can be heard playing cello on an alternate take of 'Psycho Killer' and is someone who almost joined the band at one point, is nowhere to be found; likewise there are none of the electro, disco and hip-hop sounds that the band's rhythm section absorbed from the discos and block parties springing up across the Five Boroughs. Al Green, who's 'Take Me To The River' gave Talking Heads their first big hit when they covered it in 1978, is not there either, and weirdly we also get nothing from Byrne's solo career or any Tom Tom Club, the band that bassist Tina Weymouth and drummer Chris Frantz led alongside playing in Talking Heads.
This whitewashing extends further than the borders of the USA. Dub, so important in shaping Brian Eno's groundbreaking production techniques on the band's first four LPs, doesn't get a look in; Fela Kuti's mighty Africa 70 – arguably the primary influence on the way Talking Heads constructed tracks for 1980's timeless Remain In Light, and always mentioned in conversations around the album – doesn't get involved either. A truly representative playlist would include this breadth of styles and peoples, but Spotify's algorithms either can't or won't find a place for them.
For more genre-confused artists like Dizzee Rascal, Artist Radio is schizophrenic but no less reductive. Dizzee's mix includes 'I Luv U', a peerless example of the potent, vital sound of early grime and highlight of his 2003 LP Boy In Da Corner. The album's bars were honed on pirate radio stations and in raves, the main hubs of a scene where (mostly) poor, black inner-city youths came together to create arguably the most robust and self-sufficient musical subculture the UK has ever produced.
But despite its importance to both his legacy and 21st century British music in general, Spotify's Dizzee Rascal Artist Radio hardly even pays lip-service to grime's formative years. Many early anthems – 'Wot U Call It?', 'Eskimo', 'Pulse X' – are conspicuous by their absence (More Fire Crew's 'Oi' was the only hit contemporaneous to Boy In Da Corner I could find in the mix). Scene godfather Wiley, now Dizzee's sworn enemy but a friend and mentor in grime's early days, has his early cuts passed over in favour of later, more pop-oriented flexes like 'Wearing My Rolex'. Wiley's Roll Deep crew, of which Dizzee was once a member, does not appear in the playlist either, and there is no place for Pay As U Go Cartel, Durrty Goodz, Ruff Sqwad and other leading lights of the genre's early days.
The grime tracks that do make the cut are more recent tunes from the likes of Skepta, JME and AJ Tracey – all key figures in the genre's 2010's resurgence. I'm a fan of all these artists and a grime playlist without them would be incomplete, but this more recent work simply doesn't deal in sound and fury in the same way Dizzee did on Boy In Da Corner. The early Eskimo style – messy, funny, sometimes caustic – has become more refined down the years as grime has moved from the underground into the pop mainstream. While it would be untrue to the scene's growth for a playlist to miss out 'Shutdown' or 'Man Don't Care', at the very least the inclusion of these tracks ought to be balanced with a robust dose of screwfaced Eskibeats. Instead, with Spotify's revisionism you would be forgiven in thinking that 'That's Not Me' was grime's year zero.
The fact that Dizzee's Artist Radio tracklist should play out like this is understandable to an extent – for many people he is now the fresh-faced popstar of 'Holiday' and 'Bonkers' rather than the scowling, viper-tongued MC who contemplated suicide on Boy In Da Corner closer 'Do It!'. As such, there is a certain sense to the presence of a cleaner kind of grime alongside shuffle-house boredom-merchants like Tom Zanetti. Nonetheless, Spotify's march of progress doesn't really doesn't scan for some of Dizzee's early contemporaries who've since fallen by the wayside.
Crazy Titch, once seen almost coming to blows with a young Raskit at a tower block shubz, has released very little music since being sentenced to life in prison back in 2005. Unlike Dizzee or Wiley, Titch's contributions to the genre are almost exclusively early-days (we'll pass over his phone-call skit on Stormzy's 2017 LP Gang Signs And Prayer). Yet judging by Titch's Artist Radio, you would think he was still mixing with the current crop given the large amount of the tracks that cross over with the Dizzee playlist. At a push, you could argue that Crazy Titch Artist Radio contains slightly more songs synonymous with Titch's heyday – Kano's 'P's And Q's', issued the year before Titch was incarcerated, gets the nod – but by and large it's the same parade of modern-day grime, road-rap and Afroswing. The listener is left with the understanding that grime as a term now means what Spotify wants grime to mean, while the genre's confrontational, futurist early years are fazed out in favour of big-budget flexes.
Sonic wallpaper.
Spotify's unmooring of songs from wider bodies of work amounts to a kind of atomisation. Unions – of artists, songs and communities – are broken. Tracks and artists are made homeless, untethered from history and free to be absorbed into the application's latest curation of sonic wallpaper. Past, present and future exist at the same time, and as such it's not hard to make the link between Spotify's flat digital non-space and Fredric Jameson's writings on the postmodern logic of late capitalism, where where he describes
"…the way in which our entire contemporary social system has little by little begun to lose its capacity to retain its own past, has begun to live in a perpetual present and in a perpetual change that obliterates traditions of the kind which all earlier social formations have had in one way or another to preserve."
Plenty has been said about the greed of Spotify, Apple Music and other streaming services when it comes to royalties. Even songwriters, generally those who take home the largest share of royalties, have recently gone to battle with streaming services in the United States to ensure fairer pay-per-play. This is, of course, extremely out of order – in the words of cellist Zoe Keating, these practices are "condemning [some musicians] to poverty". But if the musical community is to fully reclaim our recordings, then we must also make sure that the streaming services' obsession with modernisation and vibe-creation doesn't rob music of its histories, its communities and its agency.
Fred M-G is a music-maker and writer living in Leeds.