Coronavirus Won't End the Scotland-England Union – But the Tories Will
18 May 2020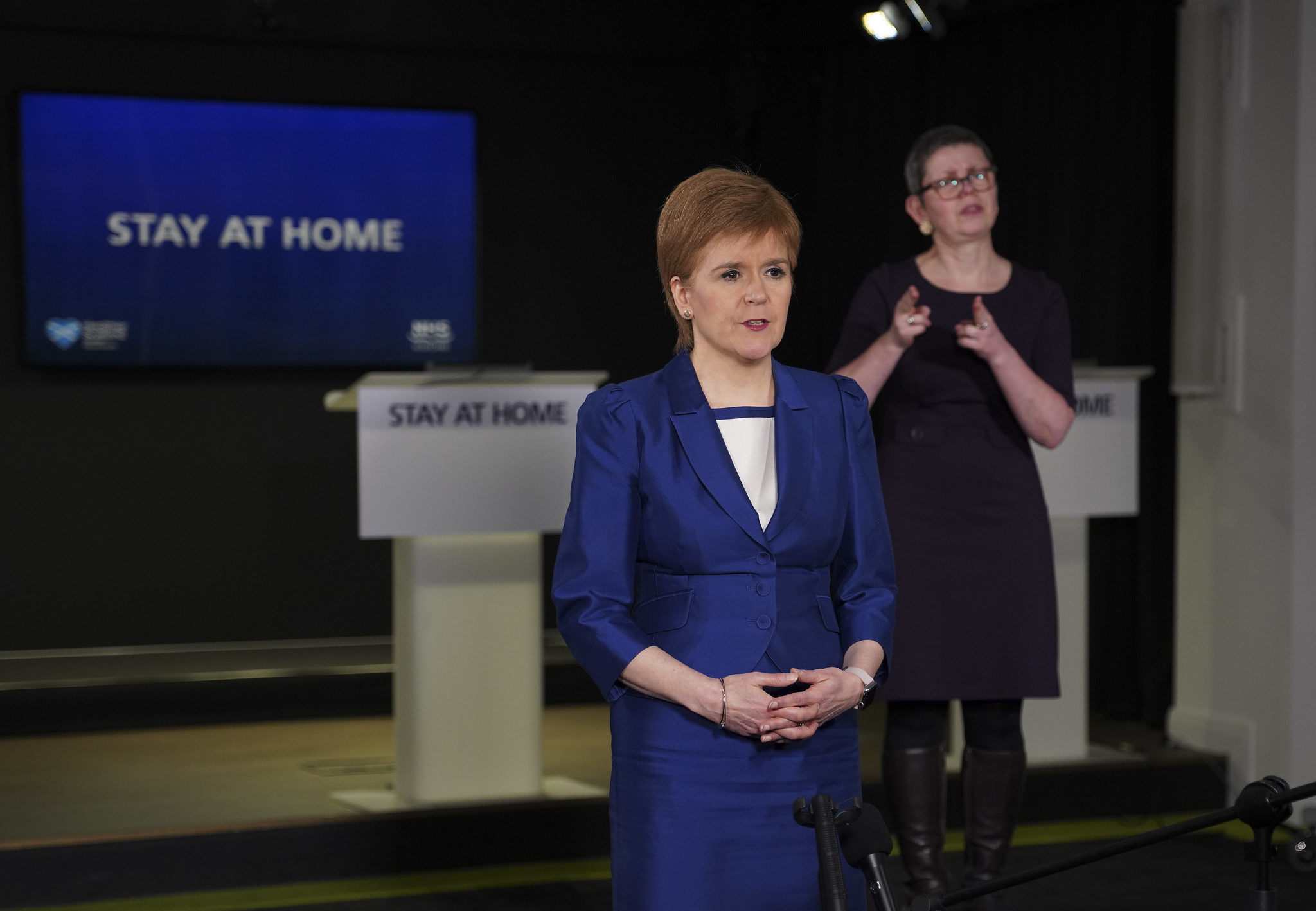 ScottishGovernment / Flickr
With theatres and cinemas closed, you can always count on the creaking British constitution for melodrama. Government "shocked". "Mounting irritation". A "borderline coup d'etat".
When first minister of Scotland Nicola Sturgeon's lips move, Westminster's right-wing politicians and commentators rev their engines in this flaccid frustration. That she has responded to the coronavirus pandemic in her own way and with her own words is enough to cause them distress. It shouldn't. 
Rather than a threat to the UK's future, a different health and legal approach in Scotland is boringly consistent with Britain's constitutional heritage. Even the British state's greatest achievement – the NHS Act 1946 – states "for England and Wales" on its cover. 
Such mundane administrative differences do not ignite passions, but Tory arrogance does. The so-called 'four nations approach' to the pandemic – a coordinated response by the home nations – was heralded by unionists. It's ironic that only the Scottish, Welsh and Northern Irish stuck to it.
Downing Street briefed the press on a gung-ho end to lockdown, withdrew UK-wide 'stay home' messaging in England and then diluted lockdown restrictions – all without UK-wide agreement. Different rules are no great crisis. But when the Tories don't bother to communicate policy to the other nations – never mind listen to or respect them – the consequences are more serious. 
Unthinking Tory nationalists, whether English or British, will be as significant in ending the UK as movements for independence. On Europe, migration, devolution and coronavirus, they believe that where they lead a deferential Celtic periphery must follow. This imperial tribute act grates north of the border. Shahmir Sanni described his former Tory ideologue colleagues more plainly last week: "They hate the Scottish […] Get out as soon as you can".  
Coronavirus, however, makes Scottish independence less likely in the short-term. While the differences between Scotland and England have never been more visible, the push for independence has fallen down the priority list. The Scottish government acted quickly – 18 March – to remove its call for a 2020 referendum and emphasise an absolute focus on the pandemic. Sturgeon says she does not "have space in [her] head to think about politics or elections right now".
The pandemic will, undoubtedly, reset discussions for some time. Yes, the eventual return of Brexit will spur desire for self-government. But for a year, if not longer, the Scottish government will focus on the required overhaul of devolved institutions – healthcare, education, justice – and the as yet unpredictable economic consequences of coronavirus. There are tougher times ahead in which a new independence plan will be needed. Cautious leadership won't provide the required answers.
However, when the respective governments are judged on the current crisis, the Tories will be on uncomfortable ground. Sturgeon's cautious approach to lifting the lockdown mirrors public opinion, likewise the value she places on wellbeing over simply 'restarting the economy'.  
The key unionist demand was for Scotland to enter and "leave lockdown in lockstep" with England. Now consensus hardens that Downing Street did too little, too late. Who wants to imitate those responsible for the highest death toll in Europe?
Instead the Scottish government is criticised for following UK strategy. Researchers claim an early Scottish lockdown would have saved 2,000 lives, and a similar frustration boils over care homes, personal protective equipment and testing.
Yet the impression that Sturgeon has shown leadership and consistency far beyond what's emanated from Downing Street is likely to live long in the memory. Holyrood opinion polling consistently puts the SNP above 50% support and on track for a fourth successive victory in next year's Scottish elections. 
Despondent Tory sources moan that during this crisis Sturgeon is "trying to show that [she] is [Boris Johnson's] equal", oblivious to the truth that it's more respect than he deserves. They should look in the mirror. The break up of Britain is rooted in their aversion to democratic reform, their lust for private profit over public good and their cultural detachment from Scotland's place in our multinational state. The virus that leads to the end of the union won't be Covid-19 – it'll be the Tories. 
Michael Gray is a trainee lawyer from Glasgow and co-founder of Skotia Media.