Did BBC Whistleblowers Mislead the Public on Labour Antisemitism and Blame Their Own Failures on Corbyn?
19 May 2020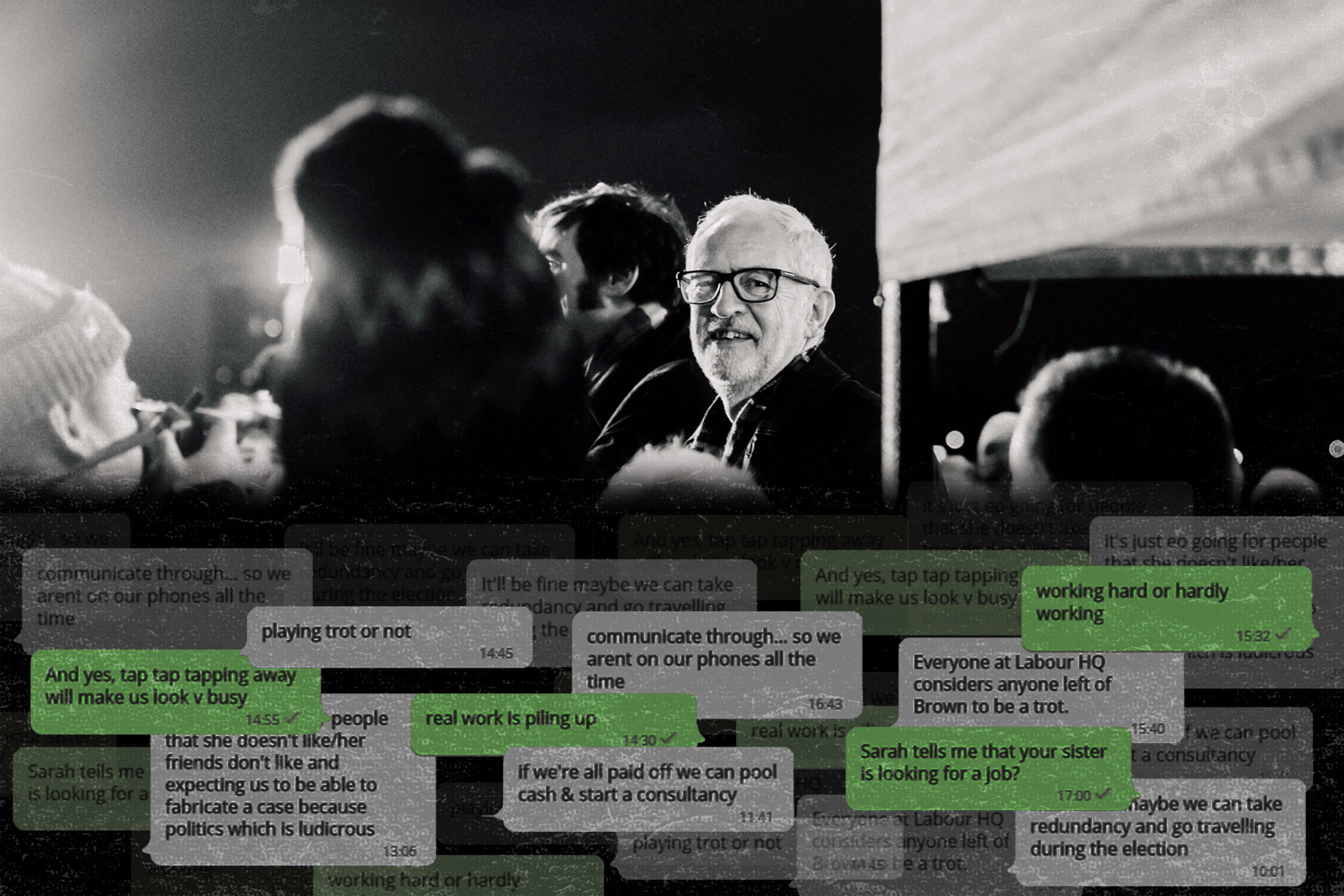 In devastating interviews given to the BBC's flagship current affairs programme last year, staff in Labour's disputes team said they did their best to tackle a rising tide of antisemitism complaints but were continually dragged down by interference from Jeremy Corbyn's team.
However an internal party report now claims they were part of an embittered, anti-Corbyn faction, who ignored antisemitism complaints, sometimes for months, and blamed their own failings on the leftwing leadership.
Broadcast in July 2019, the Panorama investigation into Labour's antisemitism crisis dealt a hammer blow to the party under Corbyn. But did the senior Labour party figures who gave interviews to the programme mislead viewers by blaming their own failures on Corbyn's team? We compared the BBC investigation to evidence in last month's leaked report.
The 860-page document – which even includes the staggering allegation that members of Labour's senior management team "openly worked against the aims and objectives of the leadership" and "the party's core objective of winning elections" – offers evidence that casts doubt on some of the damning claims made by whistleblowers on the programme.
It alleges, among other things, that one of the programme's key whistleblowers repeatedly ignored serious antisemitism complaints and was fixated on undermining the leftwing leadership.
The documentary Is Labour Anti-Semitic? led many to believe Corbyn did not want to tackle antisemitism in the party, and even implied he might be racist.
A senior Labour party source told Novara Media they believed the programme "was undoubtedly one of the biggest factors in destroying our chances" in that year's election.
"Its misrepresentations severed any remaining goodwill we had fought for with the Jewish community, and were broadcast to millions of members of the public who hadn't formed an opinion on the issue. It was devastating," they added, speaking on condition of anonymity.
Yet evidence in the report suggests some of those who gave emotive interviews to the BBC were guilty of the exact failings they criticised Corbyn for.
Its findings offer an alternative narrative to the one presented on Panorama, claiming that members of the former staff team were historically "demotivated" and slow to deal with antisemitism complaints, becoming preoccupied with factional politics that impeded actual efforts to deal with anti-Jewish racism within the party.
The report also raises uncomfortable questions for the BBC, Panorama and its veteran reporter, John Ware.
Some of the most powerful testimony was given by Sam Matthews, a former head of the disputes team.
Matthews told BBC reporter John Ware "the mental health of me and my team went through the floor" after he was accused of working to undermine Corbyn and failing to investigate complaints.
But Matthews was deeply involved in attempts to undermine Corbyn, according to emails and messages cited in the report, even leading a secret project to divert funds away from marginals to support centrist MPs instead. The report claims that he failed to deal with multiple serious antisemitism complaints.
While the documentary suggests Corbyn and his allies obstructed the team's efforts to deal with antisemitism, the report highlights several incidents where Corbyn's aides pushed for tougher action against antisemites and the disputes team failed to act.
The report also argues the disputes department was failing before Corbyn became leader and consistently worked against him after he won in 2015.
It adds that Matthews and others did not need permission from Corbyn's team to take disciplinary action. In fact, the department was not answerable to Corbyn until after Iain McNicol left as general secretary in March 2018 and was replaced by Jennie Formby, a Corbyn ally, the report says.
The leaked report was compiled for the Equality and Human Rights Commission investigation into Labour antisemitism while Corbyn was still leader, but was spiked by party lawyers in April this year.
It alleges that Matthews and his team:
– Gave false information to Corbyn's office, including "highly inaccurate" statistics on antisemitism complaints that obscured the scale of the problem

– Repeatedly ignored emails for months requesting action against members who expressed heinous views, including sympathy for Nazis and Holocaust denial

– Suggested no action besides a "stern warning" for a member who said Jews "harp back to the Holocaust to curry sympathy"

– Consistently worked against the leadership, and yet gave Panorama an inaccurate account of being "fearful" of Corbyn's allies
Matthews strongly denied these allegations. When contacted through his lawyer, Mark Lewis, he told Novara Media:
"Proper examination of the full evidence and context of that period from October 2016-March 2018 will show that, I did my level best to tackle the poison of anti-Jewish racism which was growing under Jeremy Corbyn's leadership.

"Under that leadership, complaints of antisemitism rapidly escalated, overwhelming long-standing party structures never designed or resourced to deal with the onslaught of hostility, bullying and racism that took place.

"The evidence will also show that my team and I were expected to work in an environment pervaded by a culture of inhibition and even interference from a leader's office hostile to action being taken against members who were supportive of or associated with Jeremy Corbyn."
The Labour party's response to the documentary at the time said Ware's sources were "disaffected" former staff members who had always sought to undermine Corbyn's leadership. It also claimed the report was full of inaccuracies.
Ware has previously refused to countenance any criticism of his reporting – he and several whistleblowers are reportedly suing the Labour party for alleged libel – and the BBC dismissed Labour's complaint.
Ware says that, under Mr Corbyn's leadership, the party did not bring legal proceedings against the BBC or the contributors, saying that, had it done so, it would have led to disclosure of all underlying documents.
Legally, political parties cannot sue for defamation.
Both Ware and the BBC said there had been no official complaint by the Labour party to Ofcom, although in January Ofcom did dismiss a number of complaints brought by viewers.
The BBC told Novara Media:
"The BBC stands by its journalism and we completely reject any accusations of bias or dishonesty. The Panorama programme explored a topic of undoubted public interest, broadcasting powerful and disturbing testimonies from party members who'd suffered anti-Semitic abuse."
Ware told Novara Media:
"I stand by the Panorama programme, the whistle-blowers and the many confidential sources who helped inform it. Any suggestion that the whistle-blowers were motivated in their approach to individual cases more by factionalism than principle is unworthy."
A longer version of Ware's statement is published at the end of this article.
Disputes head 'failed to act on complaints' while 'working against Corbyn'.
Sam Matthews said:
His team was accused of being out to undermine Corbyn and not investigating complaints properly. This created a toxic work culture. Interference from the leadership made it harder to tackle complaints.
The report says:
Matthews was part of a rightwing faction that "openly worked against the aims and objectives of the leadership" and even "the party's core objective of winning elections", according to the report. He was the person who conducted the most significant attacks on the party's leftwing membership under McNicol, the report alleges.
The report says Matthews ran a project to suspend Corbyn supporters during the 2016 leadership election. It also says he ran a project during the 2017 general election to secretly divert funds from key marginal constituencies to instead protect MPs who were his factional allies. He suggested that he should be paid extra for his work on this, mentioning that he left £100,000 in the project budget, although it is not clear what this means.
Matthews failed to investigate serious complaints, says the report, including hundreds about antisemitism, while presiding over a demotivated and dysfunctional team. He failed to check a shared email inbox for which he was responsible for months at a time, the report says.
From 1 April 2017 to 19 February 2018, a period of over ten months, there was not a single antisemitism case handled by Matthews' team without prompting by other staff, the report says.
The report suggests Matthews' lack of action was partly due to his preoccupation with factional politics. Matthews' staff "were bitterly opposed to the leadership of Jeremy Corbyn, and seem to have been demotivated, or largely interested in work that could advance a factional agenda," it says.
Matthews failed to act for nine months against a Labour candidate who denied the existence of the Holocaust, the report says. Moreover, the report says he did not even suggest suspension for another member who had shared virulently antisemitic material about "Jewishness and eugenics" and conspiracy theories about Israel being responsible for the 9/11 attacks.
In one case Matthews handled, a Labour member repeated a conspiracy theory about the Rothschilds and said Jewish people are prone to "cry anti semitism and harp back to the holocaust to curry sympathy" if you challenge their views on Israel.
Matthews did not think the statement warranted a suspension. He wrote to a colleague:
"I don't think there is enough to suspend… although we should send a stern warning about his use of language."
Matthews told Novara Media in a statement that the leaked report was "defamatory" and compiled by a "disgruntled faction" using false and misleading statistics. He added that it "was not deemed good enough for submission by the Party's own lawyers" and "conducted in the dying days of Jeremy Corbyn's leadership".
He also vehemently denied failing to address antisemitism complaints or working against Corbyn, saying that in fact he did the opposite.
His full statement is published at the end of this article.
When asked how he felt about featuring Matthews as a whistleblower in light of allegations made in the report, Ware said:
"It is not for me to comment on why Sam Matthews did or did not suspend someone. It may be that with hindsight he wishes that he had in this particular case. I do know that he felt constrained by the Chakrabarti recommendation published three months earlier that suspension should be used sparingly and only as a last resort."
The Chakrabarti report, released in summer 2016, provided guidance on dealing with antisemitism in the Labour party. The leaked report claims the disputes team "largely failed to use this guidance".
We could not find any suggestion in the Chakrabarti report that suspensions should be "used sparingly and only as a last resort".
At the time of the Chakrabarti report, suspension was an automatic and neutral act; anyone placed under investigation was suspended for the duration of the investigation – there could not be an investigation without a suspension. Chakrabarti instead advocated that suspensions be based on the severity of the offence, also taking into account any local, regional or national leadership role the member played and the potential damage to the party.
Further defending Matthews, Ware said:
"I do believe that Sam Matthews and those of his colleagues who we interviewed, did their level best to tackle antisemitism.

"I spent many hours questioning Matthews about his approach, the climate under which he was operating and about individual cases.

"I judged Sam Matthews to be a credible witness and an honourable man."
Ware also claimed that some allegations in the report concerning Matthews' failure to check inboxes, to initiate investigations or to order suspensions are "demonstrably untrue" and that "documentary evidence" exists to prove this.
Novara Media asked him about this evidence but had not received a reply at the time of publication. Ware sent a response shortly afterwards, but this did not include any documentary evidence that proved his claim. Instead, Ware explained how he inferred that the report was wrong by, for example, speculating about possible reasons for the inbox not being checked and saying the report did not offer enough evidence.
Novara asked Matthews for his response to the allegation about his failure to check the inbox, but Matthews opted not to give a reply to this specific question.
It is not clear if Ware was speaking with Matthews' knowledge and authority.
Investigator dismissed Panorama journalist's reporting on antisemite.
Dan Hogan said:
Hogan, an investigations officer in the governance and legal unit (GLU), told Ware he was "overruled" on a number of cases he wanted to pursue by staff loyal to Formby.
The report says:
The report found no evidence that Formby's staff sought to stop the disputes team pursuing complaints.
In fact, it concluded: "before Jennie Formby became General Secretary in spring 2018, GLU failed to act on the vast majority of complaints received."
Panorama did not mention that Hogan had failed to act against a party member whose antisemitic behaviour had been exposed by Ware himself the year before the documentary aired.
In April 2018, Ware published an investigation in the Jewish Chronicle into antisemitic abuse suffered by the Jewish MP Lee Scott. The article revealed that a Labour member named Paul Rippingale was behind leaflets describing Scott as a "self-hating Jew".
The day after Ware's article came out, a complaint about Rippingale appeared in Hogan's inbox. Hogan replied that no action should be taken against Rippingale because there was "insufficient evidence" but did not elaborate, the report says.
When a colleague raised Rippingale's case with Hogan again in June the same year, Hogan did not reply to the email. He left the role a week later, the report says.
Ware told Novara Media he was unaware Hogan had dismissed Rippingale's case. "I would obviously have questioned Dan Hogan about his decision had I known about it," he said.
He added that Hogan might have had "difficulty in proving conclusively" that Rippingale was behind the leaflets, since he had used a pseudonym. But Ware had already proved this conclusively enough to publish it in a newspaper as fact. "Today I can put a name to the man behind those leaflets… Paul Rippingale," he wrote.
Ware said he stood by his use of Hogan as a source. "It is unlikely – simply on the basis of one case alone – that I would have discarded him as a credible witness," he said.
He also suggested it was unfair of the leaked report's authors to accuse Hogan of doing no work on Rippingale's case without asking him about it first.
Novara Media did ask Hogan about it, and he replied that our reporter had breached the Data Protection Act by referencing individuals named in the report, even though the Rippingale case has been the subject of widespread publication. "So I will not be responding to your specific questions," he wrote in an email sent via his lawyer.
"This leaked report excludes numerous relevant facts and context to create a highly distorted and misleading picture," he added.
"To blame me and my colleagues, who had the near impossible task of wrestling with this crisis in the face of interference and obstruction from those higher up in the Party, is grotesque, and shows that factionalism – which the report so loftily purports to disdain – has actually shaped it."
A longer version of Hogan's statements is published at the end of this article.
Email used against Corbyn was a response to whistleblower's own conduct.
Ware said:
Corbyn's office repeatedly said they don't interfere in the disciplinary process, "but that doesn't seem to be the case". As evidence, Ware quotes Corbyn aide Seumas Milne saying "we need to review" the disciplinary process to avoid "muddling up political disputes with racism".
Matthews said:
All staff in Labour's head office interpreted Milne's email in the same way: "That this was the leader's office requesting to be involved directly in the disciplinary process."
The report says:
Ware does not give viewers important context for the March 2018 email.
The email was indeed sent after Milne and other Corbyn aides argued against the suspension of a Jewish member for antisemitism. There had been a public backlash at the news, and staff in the leader's office (Loto) said there was a lack of evidence against him.
However, Ware does not mention that the row escalated after Matthews failed to suspend other members of the same Facebook group who were blatant antisemites, including a Holocaust denier who Corbyn's team had suggested for suspension.
According to the report, Matthews chose to immediately suspend Glyn Secker, a Corbyn supporter, after a scandal broke about a Facebook group Secker was in. He later admitted the case against Secker was not "particularly strong", the report says.
When an aide asked Matthews why he had suspended Secker, who had barely posted on the site, but not another poster, who had denied the Holocaust, Matthews tried unsuccessfully to gather more evidence against Secker to justify his decision, the report says.
He later agreed to suspend the Holocaust denier, but his team never followed through and he remained a member for more than a year, the report claims.
Eventually, Matthews' boss, Emilie Oldknow, forwarded a report on the case to Milne, among others, asking for their view, the report says. In response, Milne sent the email to urge caution when suspending Jewish members and to review "how we're drawing the line" in such cases.
In his Panorama interview, Matthews claimed that he and his team took Milne's email to be an "instruction" to be directly involved in the disciplinary process. But the report cites a response from Oldknow, to Milne's email, saying that his suggestion was "agreed" and that a working group had already been convened, at her suggestion.
Ware said he did not agree that his portrayal of the Secker case or Milne's email were misleading.
He said:
"[Milne] did not confine his comments to the Secker case alone, but used it to question more generally whether 'something has gone wrong' and to express a need for a review of 'where and how we're drawing the line'. It was clear Milne disagreed strongly with Matthews's decision to suspend Secker and in light of it, was concerned about how such judgements were being made."
He added that further evidence against Secker came to light five weeks after the email was sent.
He said he believed the Secker case was a turning point in the relationship between the complaints department and the leader's office.
"For Matthews, it was the last straw after months of trying to second guess both Loto and the NEC on precisely where the bar lay on antisemitism," he said.

"It explains why, after the Secker imbroglio, Sam Matthews felt the least line of resistance was by pro-actively seeking Loto's guidance on antisemitism cases. Independence is essential to avoid self-censorship where people react in accordance with external demands. The Secker case marked the end of the GLU's pre-Formby independence in the true sense of the word."
Again, it is not clear whether he was speaking with Matthews' authority.
It is true that Matthews later sought guidance from the leader's office on antisemitism cases, although his reason for doing so is unclear.
In March 2018, Matthews emailed Corbyn's staff requesting their opinions on a number of cases. This was a highly unusual move, the report says, and Corbyn's office had not asked to be consulted on the cases. In fact, in one email Corbyn's chief-of-staff Karie Murphy said "something is amiss" and questioned why Matthews' team were sending the complaints.
Nonetheless, Corbyn's team agreed with 21 out of 24 recommendations made by Matthews' team. That included 18 suspensions.
In other words, the report notes, the number of suspensions for antisemitism drastically increased in a period of just nine days as a direct result of Matthews' team involving Corbyn's office.
Ware failed to challenge top official on his record.
Iain McNicol said:
He was seriously concerned by failings in the handling of antisemitism complaints.
The report says:
As general secretary, McNicol himself presided over the party when many serious failings to deal appropriately with antisemitism complaints occurred.
In the documentary, McNicol criticises Formby, his successor, for an apparent bid to interfere with the selection of an independent panel to hear a case against Jackie Walker. Labour denied Formby was trying to interfere.
Walker was an anti-racist activist and Corbyn ally who, Ware says in the broadcast, "seems to have had a blindspot when it came to antisemitism".
What McNicol does not say in the documentary, is that he personally agreed to lift an earlier suspension against Walker.
According to the report, McNicol lifted Walker's suspension despite getting advice from the prominent antisemitism commentator David Rich, who also appears in the documentary. Rich had told McNicol that Walker had amplified "an untrue and antisemitic theory that Jews were the major figures behind the slave trade".
Ware said:
"When I interviewed Iain McNicol, I was not aware of any role he may have played in the decision to lift Jackie Walker's suspension in May of 2016, or his reason for any such decision. Jackie Walker was, of course, suspended four months later – a decision presumably supported by Iain McNicol so it seems the situation was quite quickly remedied."
Ware failed to mention that she was suspended for the second time, after further comments she went on to make at the party conference were reported, leading to more complaints against her.
While Ware describes Formby as "a long-time Corbyn ally" in the Panorama report, McNicol's political loyalties are not explored.
WhatsApp messages and emails suggest McNicol did not support Corbyn's leadership, and was aligned with the right of the party.
As Novara Media reported last month, McNicol was a member of three WhatsApp group chats where senior staff wrote insulting messages about Corbyn, their leftwing colleagues, members and MPs.
In one of the leaked messages, a senior staffer said Diane Abbott, then shadow home secretary, "literally makes me sick", and other management figures joked about telling a journalist where Abbott was when she was "crying in the loos" having received a death threat.
In another, a senior staff member who was responsible for upholding standards within the party replied to a colleague who said she hoped a prominent young member "dies in a fire."
"That's a very bad wish Sarah," he replied. "But if he does I wouldn't piss on him to put him out." 
The report does not show McNicol intervening to stop staff speaking in this way.
McNicol did not respond to a request for comment.
A new perspective.
The leaked report stresses that antisemitism exists in the Labour party and its findings disprove claims that "it is all a 'smear' or a 'witch-hunt'". The authors write that they hope it will "end the denialism amongst parts of the Party membership which has further hurt Jewish members".
It adds that antisemitism became a bigger problem as the membership ballooned under Corbyn's leadership.
However, it also details how Corbyn, Formby and their staff sought to tackle the problem and made major improvements to the party's disciplinary processes.
Improvements came after McNicol stepped down as general secretary, when Corbyn's office, along with new staff at Labour HQ, were able to increase the strength and number of disciplinary decisions, figures in the report show.
When Formby took over, she reformed the system in just 18 months, resulting in 45 expulsions in 2019, a tenfold increase in the number of suspensions from 2017 to 2018, and a 25-fold increase in suspensions between 2017 and 2019.
However, just when those reforms were beginning to bear fruit, the BBC broadcast Ware's Panorama programme, leaving viewers in little doubt that the Labour party, and possibly Corbyn himself, were antisemitic.
It did so using damning testimony from former Labour party insiders who were put forward as "whistleblowers", breaking their silence on Corbyn's failure to drive out antisemitism.
But the thousands of emails, texts and WhatsApp messages contained in the leaked report give a new perspective.
Additional replies.
Ware provided Novara Media with a statement and answered several questions in detail. His replies have been worked into this report. His full statement is published below.
"I stand by the Panorama programme, the whistle-blowers and the many confidential sources who helped inform it. Any suggestion that the whistle-blowers were motivated in their approach to individual cases more by factionalism than principle is unworthy. The leaked report on which your own journalism appears to rely says it 'aims to provide a full and thorough account of the evolution of the Party's disciplinary processes in relation to dealing with complaints of antisemitism.' A close reading of the report demonstrates it does no such thing. It ascribes malign motive to individual cases where none exists, omits fact and context in multiple instances, and misleads in some of its statistical presentation. It is a report written by a faction for a faction and its deficiencies, inaccuracies and defamatory allegations will be addressed after proceedings currently underway for defamation against the Labour party (and others) have concluded."
He also said:
"The fact is that my programme featured the Labour Party's formal response to every allegation made. It included footage of Jeremy Corbyn forcefully arguing against antisemitism; reported the party's view that the Whistle-blowers were "disaffected" with "personal and political axes to grind"; highlighted Corbyn's own personal hurt that anyone should think he was "some kind of racist" and that "people who use antisemitic poison need to understand they do not do it in my name or the name of my party… You are not our supporters"; showed him acknowledging that rooting out anti-Semitism, was "my responsibility"; that he recognised antisemitism had caused "immense hurt and anxiety in the Jewish community"; and that were he to be elected prime minister, he would "take whatever measures are necessary to support and guarantee the security of all Jewish communities and their culture."

"I also interviewed shadow communities Secretary Andrew Gwynne who made it "very clear that anybody who thinks they can have those abhorrent views in our party and in our family, that they are not welcome." The Labour Party's written responses were featured on 16 separate occasions.

"My job was not to follow the script of Jeremy Corbyn or any other party, but to report as I find, and that is what I did."
Ware replied to two additional questions from Novara Media after publication.
Regarding the report's claim that Matthews had failed to check a complaints inbox for several months and failed to initiate investigations, Ware said:
"The report on which you rely says: 

"The complaints system simply did not function, and the inbox to which complaints were forwarded by other GLU staff would apparently (my emphasis) go months at a time without any staff member monitoring it"  

"The report's authors do not explain the evidential basis for their claim but do caveat it with the word "apparently." Is the alleged zero monitoring for "many months" merely an inference drawn by their authors because there was no activity from the Disputes Sent box? If so, this would not be unexpected. I understand that the Inbox was not held exclusively on one  central computer but was directly accessible to everyone in the Disputes team from their own individual computers and would not therefore have required emails to be forwarded to individual accounts (for example, of the two investigators) in order for them to be checked. I don't believe that Outlook necessarily shows if emails were dragged and dropped from the Disputes Inbox to their own computers.  

"Contrary to the report's assertion, I don't believe that during this period, the Disputes Inbox was the "official destination for all complaints" and therefore would not be an accurate indicator of the work the team was undertaking at any given time. I was also told that the team worked closely together on a small bank of desks in an open plan office which presumably meant that much of their work did not take place over email but through face-to-face discussion. Alternatively, have the authors reached their "apparent" conclusion because when they checked the Disputes Inbox, the emails were all still in bold as if they had not been unopened?  If so – were all the Inbox emails found to be bold for "many months"; and if so, how many months, and also which months? I ask because for about two months of 2017, I understand that every member of the Disputes team, including Matthews, were deployed full time to campaigning roles for the general election in the Spring. 

"Then, from Autumn 2017 the Disputes Inbox became less relevant because that October, the Labour Party launched [email protected] as the one-stop-shop for all inbound complaints. This was managed by Sophie Goodyear, not Sam Matthews.  So, the period in contention for 2017 would appear to be from January – mid April, and then from mid-June to October with the party Conference intervening. It's probably fair to say that the GLU were constantly playing catch-up during 2017 and the summer was also a significant transitional stage with staff taking leave from the general election also GLU staff turnover.

"Did the authors take a picture of the state of the Disputes Inbox to evidence their claim? Have you at Novara Media addressed all these questions to the authors and satisfied yourselves as to the credibility of the answers before deciding whether to give credence to this particular claim? 

"What does seem to be clear is that the authors never sought a response from Matthews and his colleagues, which is fundamental to fair dealing and also to evidence gathering.

"The report also says:  

"From 1 April 2017 to 19 February 2018, a period of over ten months, there was not a single antisemitism case that went through GLU's designed processes and received action (a suspension, NOI or membership rejection)."

"I say this claim is "demonstrably untrue" by having demonstrated to myself its untruth from files in my possession. It took me a matter of minutes to find letters that had been sent within this 10-month period to Labour party members notifying them both of suspension and Notice(s) of Investigation. The idea that absolutely nothing took place for almost a year seems to me to be inherently unlikely and ought at least to have given the authors pause for thought and double checking their own files before committing to such a claim.

"This particular claim also appears inconsistent with the Labour Party's own answers to me last July prior to transmission of Panorama.  

"On 24 June 2019, I set out in writing my questions to the Labour Party and I also provided an account of what we were minded to say. A "right of reply" was offered to Jeremy Corbyn, Karie Murphy, Jennie Formby, Seumas Milne, Thomas Gardiner and Shami Chakrabarti (as well as the Labour Party itself by way of interview with the shadow communities secretary Andrew Gwynne). I asked to be provided with the up to date total number of antisemitism complaints received by the party. The previous February, Jennie Formby had said the party had received 673 complaints "in the period April 2018 to the last antisemitism panels in January 2019…." In their response to me, dated 5 July, Labour said that a "significant number of cases (my emphasis) where disciplinary proceedings were instigated before April 2018 are captured in the statistics that Jennie Formby published for the post April 2018 period."

"It seems unlikely that a "significant number" of investigations instigated prior to April 2018 excluded any instigated in the ten month period between 1 April 2017 and 28 February 2018 given that the entire period in contention was only 18 months (October 2016-March 2018)." 
Regarding the Secker case, Ware said:
"Sam Matthews did not say the evidence against Glyn Secker was "weak" as you summarise the evidence in the email exchanges.  What Matthews actually said was: "I don't think it's a particularly strong case" but that it did meet the threshold for suspension. Assistant General Secretary Emilie Oldknow also emailed that she agreed with this. 

"In fact, the evidence against Secker turned out to have been much stronger, as I explained in my last email to you. On 16 April, 2018, Jeremy Corbyn's closest LOTO aides were shown Facebook posts by Secker speculating that Israel had secretly conspired to keep ISIS in business by buying ISIS oil, because ISIS were virulently antisemitic and it was in Israel's intertest to "capitalise on antisemitism" because it distracted from Israel's "oppression of the Palestinians."

"Secker's post was a classic amongst the "conspiratorial theories about a shadowy global elite" which the report's authors rightly excoriate. Yet it was not Matthews this time who showed a lack of consistency in suspensions, but LOTO who decided Secker should remain unsuspended. "No case at all" was how Andrew Murray dismissed the evidence. To LOTO, Secker did not even merit an investigation." 
Matthews and Hogan provided Novara Media with lengthy statements via their lawyer, Mark Lewis. They are published below in full.
Matthews said:
"I have serious concerns from the questions you have put to me, and from some Novara Media contributors' portrayal of antisemitism in the Labour Party as a "smear", that you are not intending to report this in a fair and accurate manner. You ask for my answers to questions that contain so many inaccuracies that you either have not done sufficient research or are maliciously misreading an already defamatory report. A report in which the statistical claims are demonstrably misleading or just plain false. I do not need to provide you with a point-by-point response to demonstrate the falsity of the accusations. The questions work on inherent beliefs that the positions you state are true. They are not. Just one of many examples is that you have interpreted a statement to the effect that "no evidence can be found", as "no evidence exists". These two statements are not the same. Words matter, truth matters — the questions you have put to me show contempt for both.

"I will say that the report on which you base your questions is nothing more than an effort by a disgruntled faction who are floundering in their attempts to blame others in order to distract from matters that are being investigated by the EHRC and may yet be by the Courts. It is a highly selective, retrospective review of the Party's poor record, which was not deemed good enough for submission by the Party's own lawyers, conducted in the dying days of Jeremy Corbyn's leadership. It attempts and fails to justify their early inaction and the oppressive climate generated against myself and my GLU colleagues. It simply cannot be relied upon.

"Proper examination of the full evidence and context of that period from October 2016- March 2018 will show that, I did my level best to tackle the poison of anti-Jewish racism which was growing under Jeremy Corbyn's leadership. Under that leadership, complaints of antisemitism rapidly escalated, overwhelming long-standing party structures never designed or resourced to deal with the onslaught of hostility, bullying and racism that took place. The evidence will also show that my team and I were expected to work in an environment pervaded by a culture of inhibition and even interference from a leader's office hostile to action being taken against members who were supportive of or associated with Jeremy Corbyn.

"In addition, my work during the 2017 General Election was not an attempt to undermine Jeremy Corbyn. The reverse is the case. It was, in fact, to try to ensure that the Labour Party remained a viable opposition in the face of what the report itself acknowledges was the "Conservatives significant lead in the polls and Labour's perceived weakness, trailing at a quarter of the popular vote." The fact that the party improved its position, winning seats by small margins in 2017 which were subsequently lost in 2019, shows how hard we worked to secure a Labour victory."
Hogan said:
"By quoting the details of two individuals, you not only breach the Data Protection Act but involve me in that action, so I will not be responding to your specific questions except to say that on both these cases and many others, this leaked report excludes numerous relevant facts and context to create a highly distorted and misleading picture. More dispassionate commentators will also note that having dignified for far too long the idea that many allegations of antisemitism in the Labour Party were "smears", Novara Media now rely upon a report that at least admits to having "thoroughly disproved any suggestion that antisemitism is not a problem in the Party, or that it is all a 'smear' or a 'witch hunt'." To blame me and my colleagues, who had the near impossible task of wrestling with this crisis in the face of interference and obstruction from those higher up in the Party, is grotesque, and shows that factionalism – which the report so loftily purports to disdain – has actually shaped it."
Nobody at Novara Media has ever claimed antisemitism allegations are false or were created as smears against Corbyn.
Correction: This story was updated on 20 May 2020 to clarify that the leaked report claimed not a single case was handled by Matthew's team without prompting by outside staff between 1 April 2017 and 19 February 2018. This was due to an editing error and we regret the mistake.
This article was amended on 21 May 2020 to include further responses from Ware received after publication.
Charlotte England is head of articles at Novara Media.