'The rage in Birmingham is unreal': Keir Starmer's Position on Kashmir Will Damage the Labour Party
22 May 2020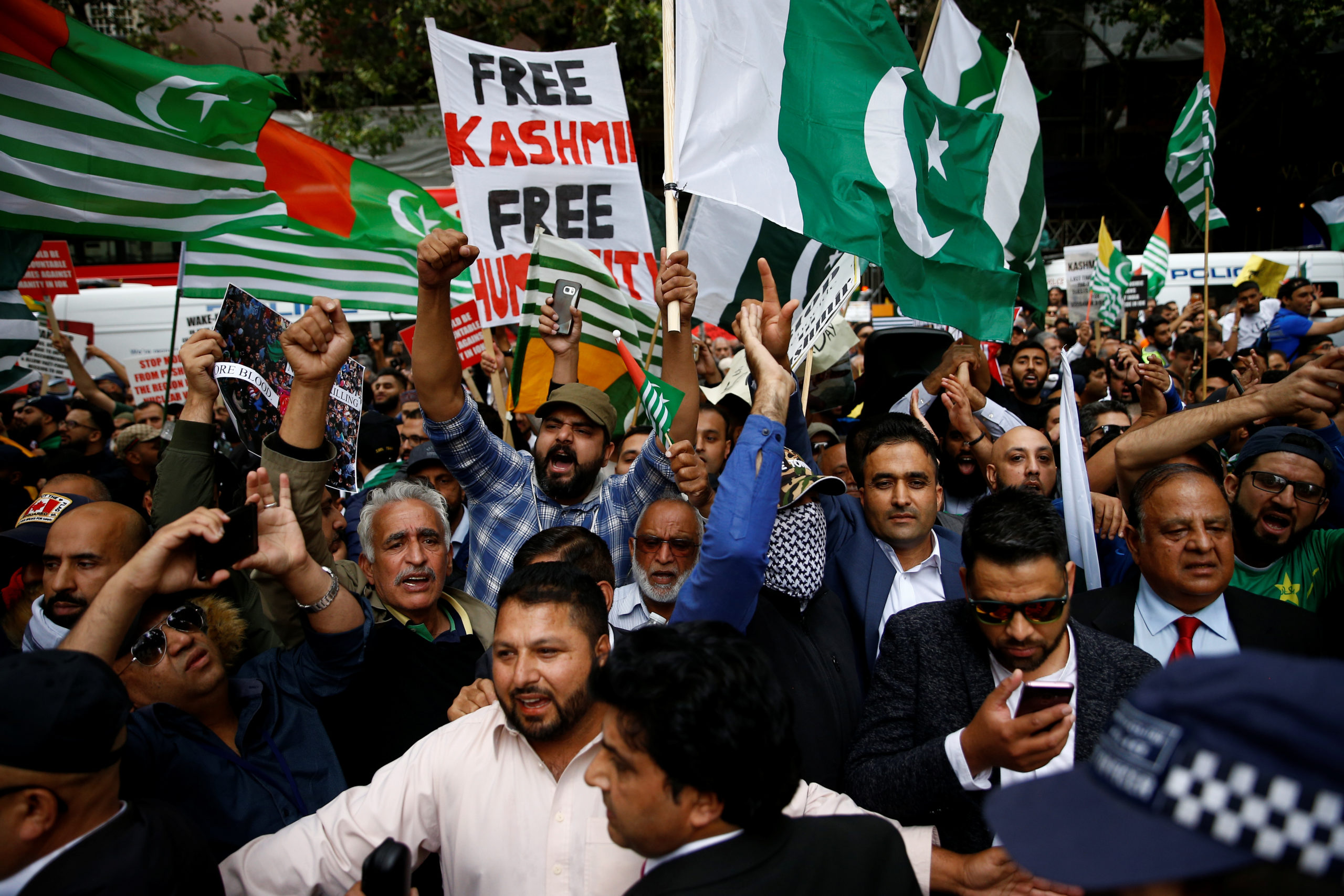 REUTERS/Henry Nicholls
The Labour party is facing a crisis in the West Midlands over Keir Starmer's comments on Kashmir, activists say. 
Starmer outlined Labour's policy regarding the region following a call with the executive team of Labour Friends of India (LFIN) last month.
A motion passed at Labour's 2019 conference said the people of Kashmir should be given the right to self-determination and declared the situation in the disputed territory to be a humanitarian crisis. While this was softened in a letter sent by the party chairman in November, even that still insisted on the right of the Kashmiri people "to decide their own future".
Starmer's words to LFIN, which is not formally affiliated with the Labour party, are a further backtrack on the policy passed last autumn.
"Any constitutional issues in India are a matter for the Indian Parliament, and Kashmir is a bilateral issue for India and Pakistan to resolve peacefully," the Labour leader said.
He added: "Labour is an internationalist party and stands for the defence of human rights everywhere".
His position has caused disappointment and anger in the West Midlands, which has a sizeable Kashmiri community, with activists saying it could even cause Labour to lose the region's mayoral race in 2021.
What's wrong with Starmer's position?
Referring to the Kashmir crisis as a "bilateral issue" between Pakistan and India – rather than a matter of self-determination for the people of the region – is at odds with a human rights framework. It is based on a realist view of international relations, focused on state sovereignty, rather than one underpinned by international law.
David Wearing, a teaching fellow in international relations at the University of London, said the shift on Kashmir looks like "a reversion to the long-established norm".
He told Novara Media:
"At the same time as effectively dismissing the Kashmiri people's right to self determination, Starmer pledged that a Labour government under his leadership will be 'determined to build even stronger business links with India'.

"Previous Labour governments have tended to focus on business and strategic interests while paying lip service to human rights and internationalism. This looks decidedly similar."
A significant cost to Labour.
The party's changed position is, in part, explained by matters of political expediency.
In last December's general election, communities of Indian heritage in several different seats were either ambivalent or opposed to Labour as a result of its policy on Kashmir. This was often well organised, with the Guardian reporting last November that British Hindus were being targeted on WhatsApp, with messages urging them not to vote for the "anti-India" Labour party.
But the shift in policy may come at a significant cost to Labour, which those around Starmer don't appear to have anticipated.
Over 100 mosques have now said they would support a call to abstain from voting Labour.
Activists in Birmingham told Novara the move is also a blow to any hopes the party had of winning the race for West Midlands mayor next May. The party's candidate, Liam Byrne, currently holds the Hodge Hill seat, which has a significant Kashmiri population.
"Byrne has no chance of winning without the Kashmiri community," one local activist said. "This is suicidal for the mayor's campaign – especially given Liam's been a prominent campaigner for Kashmir."
Another activist reached for an unexpected analogy: "In many parts of the city, and across the West Midlands, it could suck out our working class vote – just like Brexit did last year with other voters. We can't take any part of our base for granted now".  
Multiple activists said the size of the West Midlands Kashmiri community was likely lost on Starmer, a politician very much focused on London and the national stage.
Around 150,000 Kashmiris live in Birmingham alone, while there is twice that number across the wider conurbation. The importance of the Kashmir issue to the electorate was highlighted just last year, when thousands protested in Birmingham, London and elsewhere.
Labour seats with a major Kashmiri presence include Birmingham Ladywood, Perry Bar and Hall Green. While these are far from marginal, what has concerned many is how a major chunk of the party's vote – in the country's second largest city – doesn't seem to have figured in the leadership's thinking.
"Birmingham is like London – this is now a big part of Labour's base," one activist said, adding that Starmer's stance on Kashmir may mean Labour loses control of the city council in the 2022 elections.
Disappointment within the party.
There is also a sense of disappointment among Labour councillors in the West Midlands, with many themselves of Kashmiri heritage. One activist told Novara, "these guys aren't on the left but the rage in Birmingham is unreal… they feel very, very let down. Most of them backed Keir and Angela [Rayner] too".
While it is most acute in the West Midlands, the political fallout from Starmer's words extends further, with Stoke, Bradford and Oldham – as well as Luton and Slough in the south of England – all having large Kashmiri populations.
While of course no minority group votes in a monolithic fashion – Indian, Kashmiri or otherwise – the nature of the Kashmir conflict, and its escalation in recent years, means it is a major issue among the diaspora.
A number of Labour MPs have ties to the region including Shabana and Khalid Mahmoud (no relation), Tahir Ali, Naz Shah and Yasmin Qureshi. Other MPs who have been vocal in their support for Kashmiri self-determination are Andrew Gwynne, Debbie Abrahams and Afzal Khan – Gwynne being the chair of the newly formed Labour Friends of Kashmir, created in response to the leadership's misstep on the issue.
Just six months ago Khan, MP for Manchester Gorton, promised Labour would, "continue raising our voice for the Kashmiris," and assured Pakistan's Express Tribune that, "we will support their cause according to the resolutions of the UN Security Council".
At the same time Bolton South's Qureshi said she would highlight the plight of Kashmir stating how, "India will have to give millions of Kashmiris their inalienable right to self-determination".
Abrahams – who chairs the All Party Parliamentary Group on Kashmir – was even barred from entering India earlier this year and, in her own words, "treated like a criminal" by the country's border agency. 
Abrahams told Novara Media she had spoken to both Starmer and Lisa Nandy, the shadow foreign secretary, about Kashmir. "We agreed that as a signatory of the UN's Universal Declaration of Human Rights, we are obliged to speak up wherever and whenever there are breaches in human rights," she said. "We further agreed the importance of a rules based international system, and of upholding the rule of law, including UN resolutions."
She added: 
"Peacebuilding in Kashmir must involve both India and Pakistan. But a sustainable peace must have the Kashmiri people at the heart of this. For too long the plight of Kashmiris on both sides of the line of control has been ignored." 
While the leadership sought to clarify party policy publicly as well as privately, saying it "has not changed" in a letter to the Muslim Council of Britain, that same letter saw the notable absence of an important term: self-determination.
That is important because it continues by saying Labour supports "previous UN resolutions on the rights of the Kashmiri people". The first of these was Security Council Resolution 47 which, in April 1948, called for a plebiscite to determine the fate of the region.
Early the following year, on 5 January 1949, the UN Commission on India and Pakistan (UNCIP) called for a referendum on Kashmir, with the Kashmiri people uniquely placed to realise their right to self-determination.
More recently, an OHCHR report from 2018 observed how, "impunity for human rights violations and lack of access to justice are key human rights challenges in the state of Jammu and Kashmir" before recommending that the governments of both Pakistan and India "fully respect the right of self-determination of the people of Kashmir as protected under international law".
The policy passed at Labour conference in 2019 reflects the recommendations laid out in the OHCHR report. "Kashmir is a disputed territory and the people of Kashmir should be given the right of self-determination in accordance with UN resolutions" the motion said, calling on the "Labour party to stand with the Kashmiri people fighting against occupation, this is vital as we stand for social justice and ethical foreign policy". 
While that was rhetorically undermined in the run-up to last year's election by the party's then leadership, with the term 'bilateral' used by party chair Ian Lavery, even then the party maintained that Kashmiris should have the right "to decide their own future".
Now, however, any mention of self-determination has vanished from the Labour leader's public stance.
A spokesperson for Momentum told Novara Media the policy should not have been changed.
"Conference is sovereign, and the party's programme must be decided democratically," they said. "Conference in 2019 was clear, Labour is the party of public ownership, a Green New Deal and a just foreign policy. Indeed, Starmer ran his leadership campaign promising exactly this. It's good that he rolled back from his initial comments but worrying they were made in the first place."
So either policy has changed, or it hasn't.
If it is the latter then how did Starmer's meeting with LFIN 'rebuild trust'?
As one West Midlands activist told Novara Media, "if the Labour party can't stand up for basic democratic values abroad – particularly when people's family and compatriots are our constituents – then what is the point of it?"
Aaron Bastani is a Novara Media contributing editor and co-founder.