How Grime's Origins Show a Path to Cultural Resistance
24 May 2020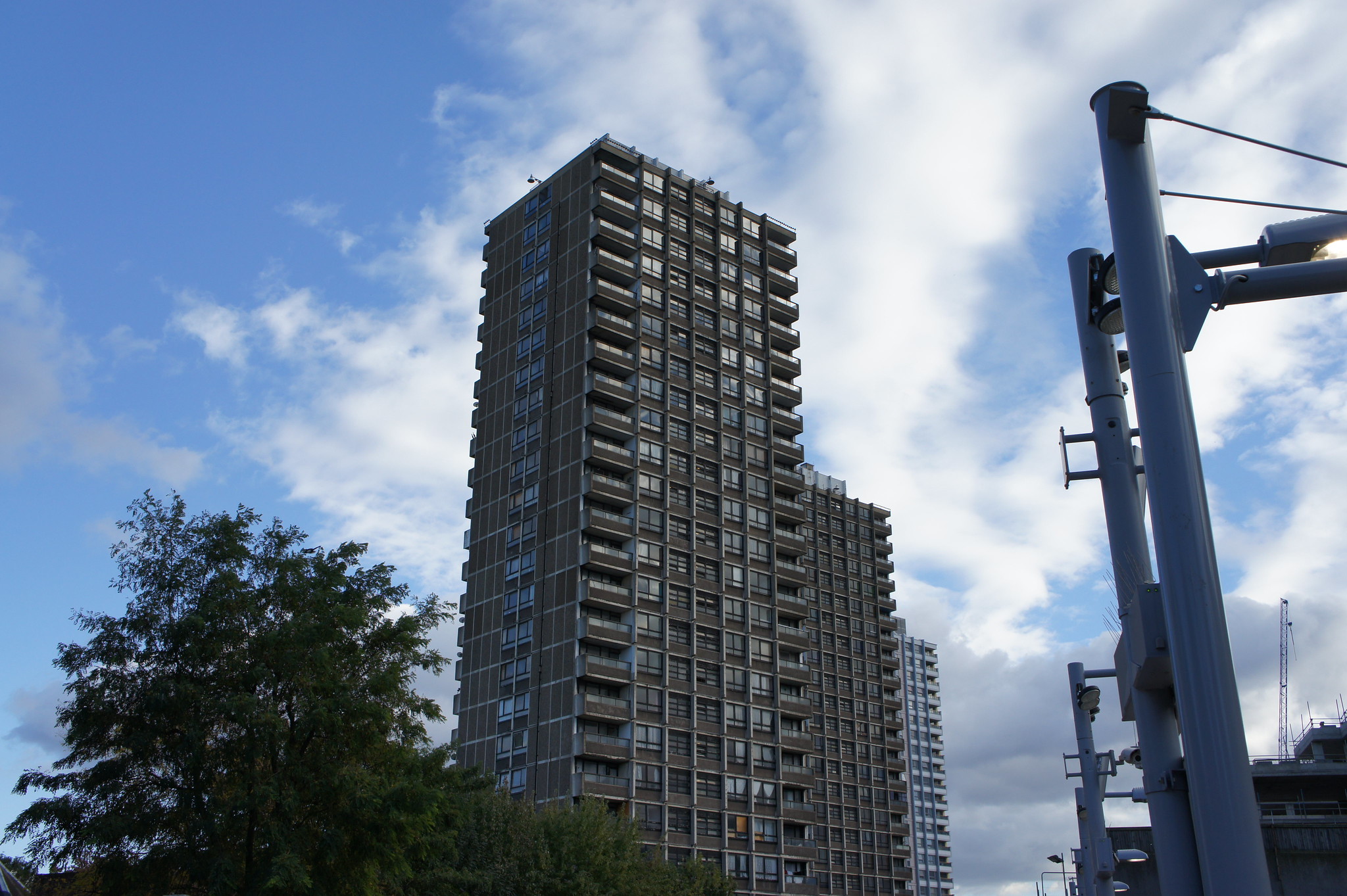 James Mitchell, Flickr
"Grime started in the city. It started in the estates." – Wiley, Eskiboy, 2017
At its conception, grime was forged so intrinsically by its environment that to evoke the music is to evoke its birthplace. Even with thriving scenes developing across England over the years – notably Birmingham, but also Sheffield and Leeds, among others – talking about the origin of grime means talking about Tower Hamlets, the east London borough where the gleaming skyscrapers of the Docklands financial district loom over pockets of stark deprivation.
Resolutely place-based, and influenced both by the architecture and the socioeconomic conditions of the high-rise flats and estates from which it emerged, it is through a shared understanding of the conditions and experiences by which its sound is reproduced that grime has incubated talented DJs, MCs and large followings throughout the UK.
As well as providing an outlet for young people growing up in material scarcity to document their experiences, grime provides a blueprint for cultural resistance for the 2020s. London is not alone in experiencing a shrinking cultural space – almost half of all clubs in the UK closed in the years between 2005 and 2015, to take one example – as restrictive governance and austerity measures combine to act against the interests of a thriving and diverse cultural scene.  Alongside a shrinkage in the physical cultural scene, unemployment amongst young people has been growing since 2005, particularly amongst young people from Black and south Asian backgrounds – meaning that finding alternative, creative ways to channel aspiration is arguably more important than ever.
Sonically, grime was born out of the jungle and garage ubiquitous within the London club scene in the 1990s. Lyrically, it meshed the hyper-local setting from which it emerged – naming specific MCs, places and postcodes – with a wider sense of social malaise. At the time, New Labour's continuation of Thatcherite financial deregulation sat side-by-side with cultural and social policy which encouraged gentrification and regeneration on a cannibalising scale, through the flagship 'urban renaissance' policy. Coupled with an approach to justice that prioritised widespread surveillance measures, the environment was essentially one which threw the doors open to some whilst allowing the walls to close in on others.
Where the originators of grime were exceptional was in their ability to take inaccessible parts of the city which they didn't belong to and that didn't belong to them – the unbridled aspiration and financial excess associated with the increasing financialisation of the early 2000s – and to use them as inspiration to forge their own space of authenticity, expression and, crucially, resistance.
Grime as aspirationalism.
Economic and material realities are entrenched in every aspect of grime, from the sound – harder and more urgent than jungle and garage – to the lyrics, the regular clashing and deep loyalties to particular crews. In Tower Hamlets, where many of the pioneers of grime grew up, housing and employment situations are regularly defined by precarity, with 39% of residents currently living in poverty and overcrowding still an urgent priority for the local authority.
It is not only economic realities that had such an influence on the creation and eventual sound of grime, but also the physical reality of the local homes and neighbourhoods. To take one example, the high-rise blocks prevalent in Tower Hamlets and the surrounding boroughs lent themselves to the creation and sustainment of pirate radio stations, such as the popular (now commercial) Rinse FM and Deja Vu FM. The height of the blocks allowed for pirate stations to broadcast across a wide radius and raised the profiles of local DJs and MCs without requiring external input, such as promoters or proximity to established record labels.
Observers of the grime scene have long credited the link between inequality and aspiration as a key driving force behind grime's emergence. Speaking to Novara Media, academic and bass culture researcher Caspar Melville describes London at the time of grime's formation as undergoing a process of "turbo-gentrification" – the space of the Docklands and Canary Wharf in particular acting as an 'imagined other', far removed from the reality of living in areas like Bow.
He tells Novara Media: "When you are faced with people who have plenty and you don't, that must have psychological consequences. But it also spurs people on to have something of their own. Music allows you to occupy space when you're not usually allowed to."
Asked how he would explain the relationship between grime's emergence in Tower Hamlets and the aspirationalism of the Docklands, Dan Hancox, author of Inner City Pressure: The Story of Grime, describes the inaccessibility of the financial district despite it being in the same borough. "My general feeling from speaking to [grime artists] is that Canary Wharf feels 'other' and separate, not part of Bow," he explains. "The material reality was that you wouldn't even try to reach there on foot."
Wiley – widely acknowledged to be the de facto creator of the sound we know as grime – also alludes to Canary Wharf and the financial district as an imagined other in his 2017 autobiography, Eskiboy. Contrasting his 'gritty' surroundings with an idealised Docklands area, which he views as symbolic of success, he readily admits that the landscape had an impact on the direction in which he and other founding members of the scene took grime. Yet it was the challenge posed by a punitive criminal justice system which pushed grime beyond its incubation towards a clearer vision of cultural resistance, in the process generating an alternative to the narrow margins of mainstream cultural success.
Grime as riot music.
In his 2011 essay 'London's Overthrow', author and essayist China Mieville sets out the political nature of grime and its unique cultural position as music borne of hyper-local resistance. Grime was coded as 'riot music', treated as an inherently dangerous art form by the cultural and political establishment. Thought to encourage violence through both the contents of its lyrics and its animated live scene, figures within the London authorities argued that grime MCs should publicly condemn the issues they tackled in their lyrics, whilst the Metropolitan Police instituted drastic initiatives to tackle what they viewed as a threat to the established order.
Criminologist Lambros Fatsis, who specialises in Black music subcultures, contends that it was because of this 'threat' that live grime shows were targeted by the Metropolitan Police's use of Form 696, a mechanism used to assess 'risk' at events that was only scrapped in 2017. Long thought to unfairly demonise certain genres of music of Black origin, it served to inhibit grime artists from performing live on the grounds of 'public safety', stymieing the scene's economic and creative growth on grounds that many argued was racist.
The policing of the live scene had an immediate impact on grime's visibility, yet it was the combination of these increased surveillance measures with New Labour's all-encompassing 'urban renaissance' policies that fostered the decade-long suppression of its success.
A central tenet of the 'urban renaissance' was the stated goal of mixed communities within inner cities, based on the belief that spatially-concentrated poverty creates deeper social problems. In reality, it often served to displace poorer, majority Black communities in the name of 'social harmony'. Hancox says the policy was "antithetical to the intense feeling of hyper-local community" that allowed grime to flourish, "disrupting the intense localism that grime is built from". Through the explicit goal of bringing middle classes back to inner cities, via the diversification of housing tenure and type, the so-called urban renaissance served to raise rents to a level where many long-established Bow residents were financially forced out.
Grime's reliance on space and community both to create and publicise its sound meant that such punitive measures would have a disproportionate effect on its ability to continue to grow after the initial boom years of the early 2000s. This is before taking into account the importance of informal spaces to foster innovation and accommodate many cultural elements of the scene – such as clashes, pirate radio set-ups, makeshift bedroom studios – which mixed communities housing policy, possibly inadvertently, rendered much more difficult. With this threatened, a recourse to resistance was inevitable.
Grime as cultural resistance.
As well as being locked out of the version of aspirationalism embodied in the financial district of Canary Wharf, early grime artists were also frequently locked out of traditional channels of engagement with a wider creative scene and fan base, with many mainstream radio stations and clubs refusing to play any music associated with the scene. In their place, two particular mechanisms of cultural resistance emerged for early grime artists. The first was to translate the anger and frustration precipitated by these exclusions into creating music on their own terms, and the second was finding alternative channels of engagement that challenged the creative orthodoxy.
Drawing on lived experience is a fundamental aspect of effective cultural resistance. Grime acted, and continues to act, as both a creative outlet for marginalised young people and an articulation of their socioeconomic circumstances. Whilst this led to risk of criminalisation by the state, grime's ability to speak to young people in similar situations around the country was fundamentally productive: it took the frustration and anger felt at exclusion from the aspirationalism grime's pioneers grew up next to and provided an alternative, accessible aspirationalism through authenticity and a DIY entrepreneurship.
Harnessing the feeling of frustration to provide a way for young people to see themselves represented in culture was an entirely positive move, and doing it through the formation of entirely new channels – as locally created pirate radio stations, DIY raves and later, a dedicated cable channel – rather than co-opting those already in existence, felt radical. The ability of grime to reach beyond the boundaries of London in its initial stages, spawning scenes across the country, and later worldwide, was predicated on the innovative use of technology from its east London pioneers.
With mechanisms such as Form 696 acting to diminish its potential impact, it was vital to ensure there were alternative platforms to disseminate grime's sound. Through the establishment of pirate radio stations and later the digital grime-dedicated Channel U in 2003, grime artists made sure they had control of their own methods for raising awareness of and growing their scene. Melville argues that this was vital to ensuring grime had a cultural impact: "you need to know how to build your own self-run, resilient, entrepreneurial system of culture. Future generations need to know to hold onto your own destiny." And although not a direct replacement for the rapidly shrinking physical spaces for engagement by any means, the proliferation of platforms with which to reach audiences is larger than ever, and have been used by new generations of artists from a variety of scenes with great success.
As a form of cultural resistance, grime sets out a clear blueprint based on principles of political organisation that ought to be familiar to activists: creating something enduring and long-lasting against the backdrop of hostile machinations of governance involved having the resilience to carve out spaces to occupy, initially building on local resources and relationships, and using the frustration borne of being locked out of established spaces to craft a productive, alternative space to belong to.
Grime as a precursor?
It would be remiss to ignore the radical changes to the grime scene in the years since its first peak. Its revival in 2013-14 spawned a second generation of grime MCs, many of whom originated from south London, rather than east. The unexpected crossover success of Meridian Dan's 'German Whip' clearly indicated a shift towards a more mainstream understanding of grime, exemplified most clearly in the rise of multi-award winning Stormzy, the first Black solo artist to headline Glastonbury. Nonetheless, it is arguable that grime's inherently political sensibilities have survived the crossover, with Stormzy in particular using his growing platform to endorse Jeremy Corbyn, deride Theresa May and Boris Johnson, and highlight the government's shameful response to the Grenfell Tower fire.
It's notable that Stormzy has not been allowed to flourish without accusations from some members of the first-wave grime scene. In an indication of the tension between the insular culture of the original wave towards a more mainstream expression of what grime is, and who it can reach, Wiley took to Twitter and then YouTube at the start of 2020 to imply Stormzy was inauthentic for choosing to work with pop artist Ed Sheeran, a 'culture vulture' who is not adequately connected to the lived realities of the scene.
Concurrently, the emergence of drill – also deeply rooted in place and facing many of the same challenges as grime did – demonstrates the legacy of early grime's resistance, a renewal rooted in what came before. Described by journalist and youth worker Ciaran Thapar as "bleak commentary on inner-city life", drill has been blamed for everything from young people carrying knives to the proliferation and glamorisation of acts of violence across social media. Its proponents, however, view drill as a form of catharsis: the ability to articulate a bleak social landscape and its effect on the lived experience of the artist. Facing even harsher restrictions, including jail time for live drill performances, artists are forced to find new, creative ways of sharing their music, echoing the establishment of early grime's pirate stations, often taking advantage of social media's appetite for viral videos to raise the profile and popularity of songs, allowing more potential fans access to their sound.
But drill will prove to be just one descendent of early grime's ability to transcend societal restrictions, invoking a hyper-localism to express a universal sense of exclusion and build a sustainable cultural model. "Music has this ability to take hold of space and change it – to procure space. Grime very much has done that, has provided an ongoing narrative about the space that it's in, and a new conceptual horizon for young people," Melville concludes.
It is this horizon – one intrinsically tied to the space and social conditions of its creation, yet inscribing the shared experiences of a wider audience – which has allowed it to endure, to resist and to inspire until the present day.
Charlotte Watson works in mental health policy and writes on governance and dance culture.