Beyond Bernie: Down-Ballot Races to Watch in June and July
9 June 2020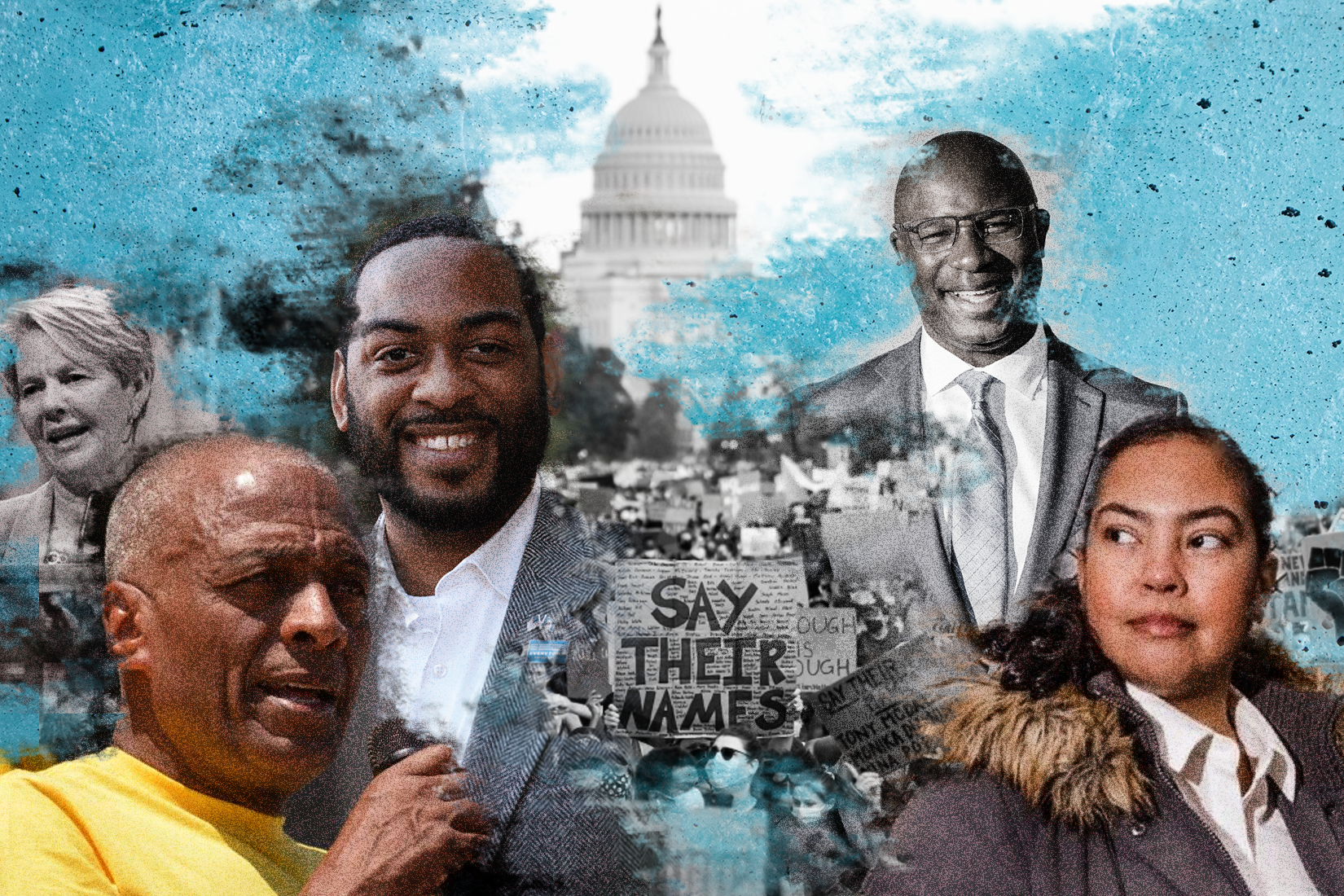 Amidst the widespread protests sparked by the police murder of George Floyd and a deadly pandemic, the 2020 US election cycle continues unabated.
Last Tuesday, insurgent candidates defied the odds to win seats in a number of key state races. 
In Pennsylvania, New Mexico, Iowa and Washington DC, down-ballot candidates demonstrated the progressive platform is very much alive in the post-Bernie era. 
In Philadelphia, democratic socialist Nikil Saval ousted longtime state Senator Larry Farnese – in a major victory for the left.   
Five progressive female candidates also successfully primaried incumbent state senators in New Mexico – running on a platform that centred the repeal of anti-abortion law and guaranteeing free early childhood programs.  
Perhaps the most poignant result was in Missouri, where Ella Jones was elected as the first black Mayor of Ferguson – the city at the epicentre of the Black Lives Matter protests in 2014. 
The next several weeks feature high-profile congressional races, which will indicate whether the current wave of protests can significantly alter the composition of the Democratic party.
So in an attempt to navigate a hectic election cycle, we've compiled a selection of some key dates and exciting races to follow in June and July. 
New York State primaries: June 23
The next major slate of congressional primaries in the coronavirus era will be in New York later this month. 
In a near blow to progressives, Governor Andrew Cuomo attempted to remove Bernie Sanders from the state ballot in the name of "voter safety". 
This was subsequently challenged in the federal courts by former presidential candidate Andrew Yang and delegates from the Sanders campaign, who eventually overturned the state's Board of Elections ruling.
This is an important win for progressive congressional candidates, who will be boosted by a likely increase in voter turnout, particularly amongst leftists looking to send a message to the presumptive nominee Joe Biden. 
After the surprise win by democratic socialists Alexandria Ocasio-Cortez and Julia Salazar nearly two years ago, incumbents are not taking any electoral primaries for granted. 
Growing up my mother told me, life wouldn't be easy for people like us.

We're doing everything we can to protect our communities in this crisis.

We deserve a representative who will do the same.

Join our campaign for change in #NY16: https://t.co/ZPBT4mR3rf pic.twitter.com/ACPFCkL6q5

— Jamaal Bowman (@JamaalBowmanNY) May 26, 2020
In New York's 16th congressional district, which encompasses the North Bronx and parts of Westchester county, the long-serving Democratic incumbent Rep. Elliot Engel, Chairman of the House Foreign Affairs Committee, is facing an insurgent challenger from the left in Jamaal Bowman. 
Bowman is a middle school principal and has been an educator and public school activist for nearly 20 years. With the recent backing of Alexandria Ocasio-Cortez as well as Justice Democrats, Brand New Congress and the Sunrise Movement, Bowman has consolidated progressive support and is poised to be a formidable candidate come the primary. 
!!! @RepEliotEngel heard on hot mic asking @rubendiazjr for a turn to speak, says twice, "If I didn't have a primary, I wouldn't care."

Diaz responds, "Don't do that to me."

(h/t @News12BX livestream) pic.twitter.com/eQnkzLiEId

— Emily Ngo (@emilyngo) June 2, 2020
Following Representative Engel's press conference in the Bronx in which he stated: "If I didn't have a primary, I wouldn't care", Bowman raised over $100,000 and received backing from local politicians such as state Senator Alessandra Biaggi (who had previously endorsed Rep. Engel) and Public Advocate Jumaane Williams.
Bowman has been a vocal presence at the heart of the Black Lives Matter protests. As his campaign has gained momentum and picked up key endorsements, this race now represents one of the best chances to add another progressive voice to Congress. 
Rep. Carolyn Maloney, the current chair of the House Oversight Committee is also facing several challengers for her seat in New York's 12th district. Two years ago Maloney's ostensible durability was challenged when an opponent took 40% in the primary election. 
This time around Lauren Ashcraft stands out amongst a packed field as the robust democratic socialist alternative – endorsing the central tenants of the Sanders platform, and receiving the backing of progressive electoral organisation Brand New Congress. 
Given the relatively crowded field, it remains to be seen whether any of the challengers will be able to muster enough support to overcome Maloney's big money hold over a wealthy district, that includes the Upper East Side, lower Manhattan and parts of Queens. 
One of the most exciting races to watch is NY-15 in the South Bronx. This is the poorest district in Congress and one of the worst-hit by the current pandemic.
The incumbent congressman Jose Serrano is retiring due to Parkinson's disease, and many long-standing local politicians and community organisers are vying for this coveted seat. This traditionally safe blue district at one point had nearly 15 official campaigns seeking to be the Democratic nominee.
One of the Bronx's political heavyweights running for this seat is the charismatic Ruben Diaz Sr. Sometimes called a "Trump democrat", the ordained Pentecostal preacher is often seen in his infamous cowboy hat. Diaz Sr. is virulently opposed to abortion and same-sex marriage. 
Having served as a former state senator and member of the City Council, Diaz Sr. has significant local establishment backing in this primary. Other less infamous elected officials are also in contention for this seat, notably former council members Melissa Mark-Viverito and Ritchie Torres. 
Yet in this district, that borders that of Alexandria Ocasio-Cortez's, one candidate is emerging as a potential new member of 'the squad' – Samelys Lopez. Lopez has a remarkable and poignant story.
She was born in Puerto Rico and moved to New York City as a child. After working as a seamstress, her mother was abused by her then-husband, forcing her family to move in and out of homeless shelters. Lopez's family ended up moving to a public housing project in the South Bronx when she was 10-years-old. 
After attending Columbia University and receiving a Masters degree at New York University, Lopez became a prominent activist in her community, working as an aide to Rep. Serrano. In 2016 she participated in the Bernie Sanders campaign where she met fellow organizer Alexandria Ocasio-Cortez.
After announcing her bid to participate in the packed primary, Lopez secured an endorsement from Democratic Socialists of America, who quickly began mobilizing to collect the signatures necessary to guarantee her place on the June ballot. She has subsequently been endorsed by AOC, and the newly launched "Courage to Change PAC". Following this coveted Bronx endorsement, Lopez has since gone on to receive backing from both the Working Families Party and Sunrise. 
Given the packed ballot and the coronavirus pandemic, this is quite a volatile race. Thus far there has not been any comprehensive polling within the district, and it remains to be seen how much attention insurgent campaigns can garner given their inability to physically mobilise door-to-door. Yet, with the high profile endorsements and her now-viral campaign video, Lopez seems to be a hopeful candidate for joining 'the squad' in Congress. 
Kentucky primaries: June 23 
Along with the slate in New York, another major race to watch on June 23 is the primary race for Senate in Kentucky. This seat is currently held by Senate majority leader Mitch McConnell – Trump's chief facilitator in Congress and the architect of a regressive structural alignment policy which seeks to hand control of federal courts to conservative justices.
There are two main Democrats competing for the chance to topple McConnell in November. Amy McGrath has the support of Democratic party brokers in DC such as Senate minority leader Chuck Schumer. McGrath is a former US marine, and has been wielding the deep pockets of her establishment backers to run copious advertisements on mainstream television networks.
On the left of McGrath is progressive Charles Booker. Booker is currently a member of the Kentucky House of Representatives and has recently received a swath of endorsements from within the state legislature, as well as from Brand New Congress and the Sunrise Movement. He is running on a progressive platform that supports Medicare-for-All, the Green New Deal, and a universal basic income. 
Following the police murder of Breonna Taylor, which has become a central focus of the Black Lives Matter movement, Louisville, Kentucky has been one of the main flashpoints in the nationwide protests. Booker has been a vocal and active presence in the movement and seems to be building significant momentum with those demanding justice for Breonna Taylor and institutional reform of the police department. 
This late surge of momentum, particularly with locally elected Kentucky officials, might counteract the big money DC backing of McGrath. This is definitely a race to keep an eye on, as ousting Mitch McConnell is fundamental to the future of any Democratic agenda. 
New Jersey primaries: July 7
July 7 will see a range of primary votes taking place across the state of New Jersey. 
Government attorney Russ Cirincione is taking on the corporate-backed, 30-year incumbent Frank Pallone in the race for the state's 6th congressional district. With the backing of former presidential candidate Andew Yang and his new organisation Humanity Forward, Cirincione has made a $2000 per month Universal Basic Income for every adult, and $500 for children a central part of his progressive agenda. 
In NJ-05, Indian born neuroscientist Dr. Arati Kreibich is seeking to unseat Rep. Josh Gottheimer. Gottheimer opposes a Green New Deal, and has taken corporate money from fossil fuel corporations like ExxonMobil and Chevron. Kreibich's progressive campaign is backed by the grassroots organisation Indivisible, as well as the Working Families Party. 
Another candidate to follow in New Jersey is Lawrence Hamm – the Chair for the Bernie campaign in New Jersey, and a long-time activist and champion of social justice throughout the state, who is running against Senator Cory Booker. 
For the last 35 years, Hamm has fought for progressive politics on the local level in New Jersey. He was the state co-chair of the Jesse Jackson presidential campaign, the president of the New Jersey Rainbow Coalition, and the coordinator of the Malcom X Commemoration Coalition. 
Currently, he is the chairman of the People's Organisation for Progress (POP) – an independent, community-based association of citizens working for racial, social and economic justice – which he founded in 1983. 
Every Monday, for the last 100 weeks, Hamm has led the POP's 'Justice Mondays' protests against police brutality at the federal building in Newark, New Jersey. 
Running on a Sanders-esque platform that includes a $15 minimum wage, Medicare-for-All and a Green New Deal, Hamm remains the distinct underdog in this Senate race. 
His opponent is the incumbent Senator Cory Booker, a long-serving politician who ran to be the Democratic nominee for president earlier this year. 
Booker resumed his Senate candidacy in January and raised over 2 million dollars in the first three months. And with the backing of many within the established Democratic party, the former Mayor of Newark is the out and out favourite to win reelection. 
Nevertheless, Hamm has been at the forefront of the Black Lives Matter protest movements in recent weeks, and his reputation as a seasoned community organiser with progressive values has won him the endorsement of Cornel West, a prominent surrogate of the Sanders campaign.  
Even if Hamm fails to pull this off on July 7, he is an inspirational figure to follow in the fight for social justice. 
Maine primaries: July 14
In the fight to wrestle back the Senate from the grip of Mitch McConnell, a key seat that Democrats are aiming to flip is that of Susan Collins in Maine. 
Throughout the Trump presidency, Susan Collins along with Lisa Murkowski of Alaska, have often presented themselves as the voices of moderation within the Republican party. This was on full display during the raucous Supreme Court hearing of Brett Kanvanaugh in September 2018, when Susan Collins toyed with the media about a potential "no" vote on the controversial Supreme Court nominee. 
To pressure Senator Collins given her imminent re-election in 2020, activists raised funds to support her eventual Democratic opponent. In the wake of Collins' decision to vote in favour of Kavanaugh, all eyes are set on the upcoming Democratic primary whose winner will receive nearly $5 million to help flip the state's seat blue. 
The divide in America is not Left vs. Right.

The divide in America is Up vs. Down.

The same playbook that got us into this mess will never get us out of it. That's why I'm asking you to vote Betsy Sweet as your first choice on July 14.

Join us at https://t.co/z7Ho8gMAFe. pic.twitter.com/XhLATl3Ify

— Betsy Sweet (@BetsySweetME) June 1, 2020
The Maine primary is set to take place on July 14, with the Democratic establishment support consolidating around Sara Gideon – the current speaker of the state House. On the left, Gideon faces an outside challenge from Betsy Sweet, an activist and former gubernatorial candidate that has pledged to refuse all corporate PAC money. 
Sweet has the backing of major progressive organizations such as Justice Democrats, Brand New Congress, and Our Revolution. She is running on an unabashedly progressive agenda of Medicare-for-All, which highlights paid family medical leave. 
A central tenet of Sweet's campaign is a Green New Deal –  implementing an industrial green agenda to take advantage of Maine's abundant natural resources to ensure the state's role as an exporter of "renewable energy to the rest of New England." As such she has recently been endorsed by the prominent green activist movement Sunrise. 
No matter who wins this Democratic primary, the race to unseat Senator Collins will be one of the closest watched elections on November 3. 
What's next?
These are just a selection of the key races to watch over the coming weeks that will define the future of the progressive movement in the United States. 
As the nationwide Black Lives Matter protests show little sign of relenting, these congressional races will be a tangible indicator of whether an inherently anti-systemic mobilisation will translate into conventional party politics. 
Achieving a real shift within the Democratic party will only be realised by electing a cohesive block of down-ballot progressives to join the small but influential cohort currently residing in Washington. 
These races are vital in and of themselves, but will also give important indicators of how the virus is impacting the positions of voters ahead of an epoch-defining general election in November. 
Freddie Stuart is the producer of the ourVoices podcast at openDemocracy. Aaron White is the North America Editor of the ourEconomy section at openDemocracy. He is based in New York. Their recent work covering the US elections can be found here. 
This article is the second instalment in Beyond Bernie, a series tracking the US 2020 elections. 
Read part one here.