The Policing We Have Seen and Experienced at the Black Lives Matter Protests Is Racist
1 July 2020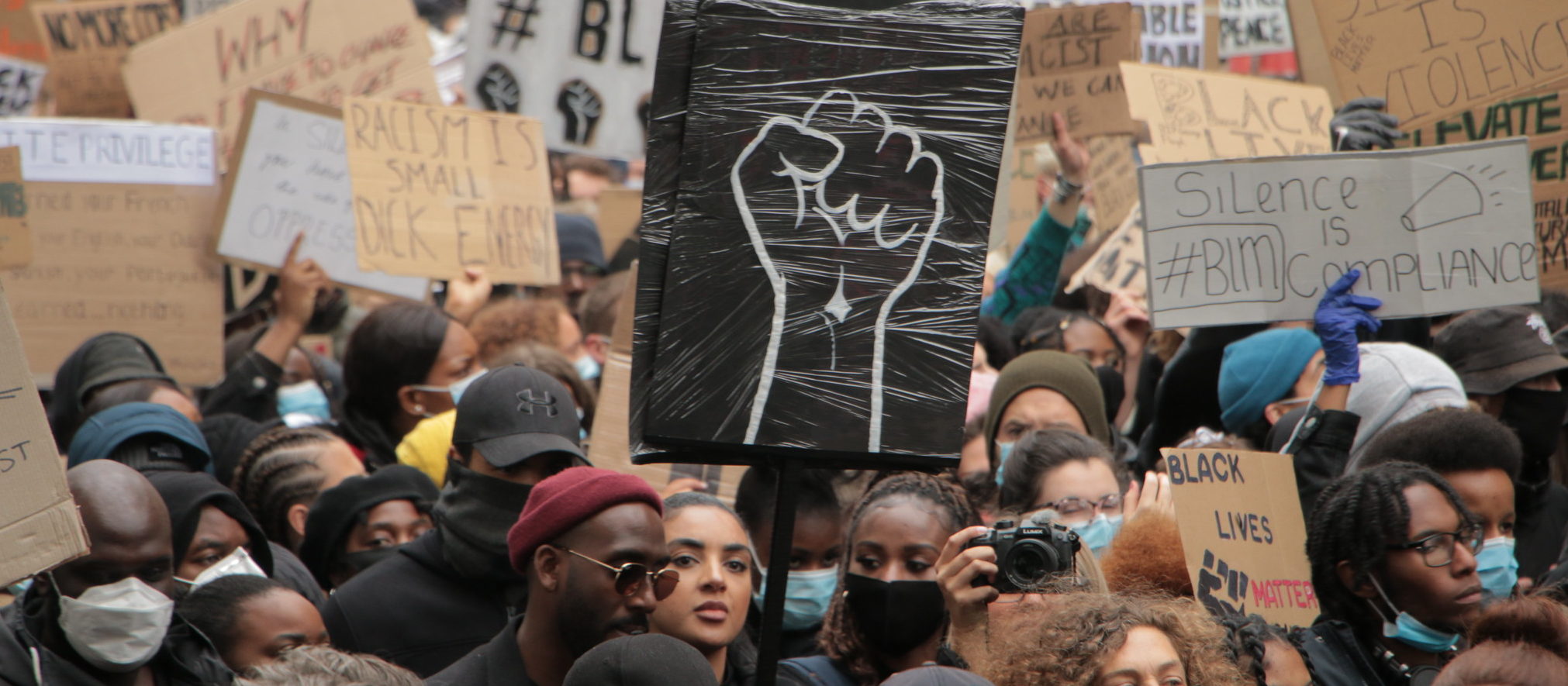 Socialist Appeal, Flickr
The mainstream discourse around Black Lives Matter protests in the UK has often dismissed the need for the movement in this country, alleging that UK police are nowhere near as big a threat to Black lives as their US counterparts. 
Recently, Metropolitan Police commissioner Cressida Dick went as far as to assert that it is no longer "helpful or accurate" to describe the police as institutionally racist – as though the problem has now been fixed.
However, what we have witnessed as Black and brown legal observers at recent and ongoing Black Lives Matter (BLM) protests has confirmed that the same systemic racism exists here in the UK. We may not have witnessed violence on the same scale as in the US, but the way in which the protests have been policed undoubtedly reflects the many concerns about police brutality that sparked both these protests and the broader BLM movement in the first place.
Police were intimidating.
Our team of over 100 volunteer legal observers has witnessed protests across central London over the last three weeks. The tactics deployed, particularly during the first week of protests, were alarming, to say the least, and crystallised a noticeable pattern of police behaviour.
Across the protests, we have seen an overwhelming police presence – with mounted police and riot police being the norm. These officers physically and verbally intimidated peaceful protesters in what appeared to be an effort to either agitate the crowd or coerce people to leave.
The police frequently used force against protesters, which was entirely unprovoked. During one incident, a 12-year-old girl was pushed by a police officer, leaving her and her mother distraught and terrified.
Our legal observers received similar treatment, particularly those of us who are Black or non-Black people of colour. One was threatened with violence three times, simply for noting officers' publicly-visible badge numbers. Another sustained an injury after being aggressively pushed by police.
Indeed, it was as a result of this all-too-familiar racialised treatment that Ife Thompson, an aspiring barrister set up our organisation, Black Protest Legal Support. As Black and brown lawyers not only living through but seeing our communities and clients live through racism, we knew that the policing of the protests would be likely to reflect these experiences. This is why we knew we had to be on the frontline.
"…as criminal barristers from BAME backgrounds, we are sadly accustomed to the way…the criminal justice system discriminates on the basis of skin colour." Our @iam5hina & @acmogan of @gardencourtlaw on the 'racist-effect' of fast-track prosecutions https://t.co/AXDbJEhjay pic.twitter.com/HL6bZlFvLx

— Black Protest Legal Support UK (@blkprotestlegal) June 23, 2020
Brutality was rife.
We were on the ground when mounted officers charged on horseback at a large group of peaceful protesters near Downing Street, without warning. At least one protester was injured when a police horse became separated from its rider. From what we saw, the police charge appeared to be unprovoked.
The police also heavily relied on kettling to contain large groups of protesters and legal observers until the early hours of the morning. Everyone was required to give their name, address, date of birth and be filmed from head-to-toe as a 'price' for leaving the kettle. Some who queried the legal basis of this action were reprimanded, with one officer telling a protester to "shut up".
What was even more egregious was that one of the kettles contained a large number of protesters who were under 18. No-one was allowed to leave until 1.41 am, even to use the bathroom. When vulnerable children were pointed out to the police, our legal observers were shocked to see that they were arrested. Anyone escorted out of the kettle was also made to face what we suspect was a facial recognition camera.
"[Kettling] can be particularly difficult and distressing for young people in particular, especially young people who may have never protested before"

— Black Protest Legal Support UK (@blkprotestlegal) June 12, 2020
There are a number of potentially unlawful actions in what we witnessed. The police relied on section 50 of the Police Reform Act 2002 as the legal power for demanding personal details from protesters to secure their freedom. However, we know that section 50 cannot and must not be used as a blanket power. Neither can personal information be used as a 'bargaining chip' for your liberty; the High Court in Mengesha v Commissioner of the Police of the Metropolis in 2013 made this clear.
Police brutality was also rife, with officers hitting peaceful protesters with batons and reports of a pregnant woman being manhandled and dragged across a police cordon.
Double standards were at play.
The disparity between policing tactics used on Black and brown people at these protests, compared to overwhelmingly white demonstrations, such as those organised by Extinction Rebellion, cannot be ignored.
Despite the continued non-violent nature of the BLM protests, a disproportionately large police presence continues. At the march on 21 June, we were shocked to discover that access to Downing Street and the Cenotaph had been completely cordoned off and guarded by dozens of police officers. Over 20 police vans stood at the ready on Horse Guards Road: inordinate to the small number of protesters attending.
The same approach to policing was not even deployed against English Defence League 'counter-protesters'. Despite members of the EDL engaging in open violence towards the police, we have not heard reports of kettling or other intimidation tactics being used against this predominantly white, male group.
This difference in policing is stark. As Black and brown legal observers, we are concerned that structural racism continues to influence both policing strategies for BLM protests and individual officers' behaviours on the ground.
Between 2008/9 – 2018/19, Black lives represented 8% of deaths in custody, while Black people make up 3% of the population. Of all the deaths in custody since 1990, over a third were people of colour, despite the fact that we make up only 14% of the population.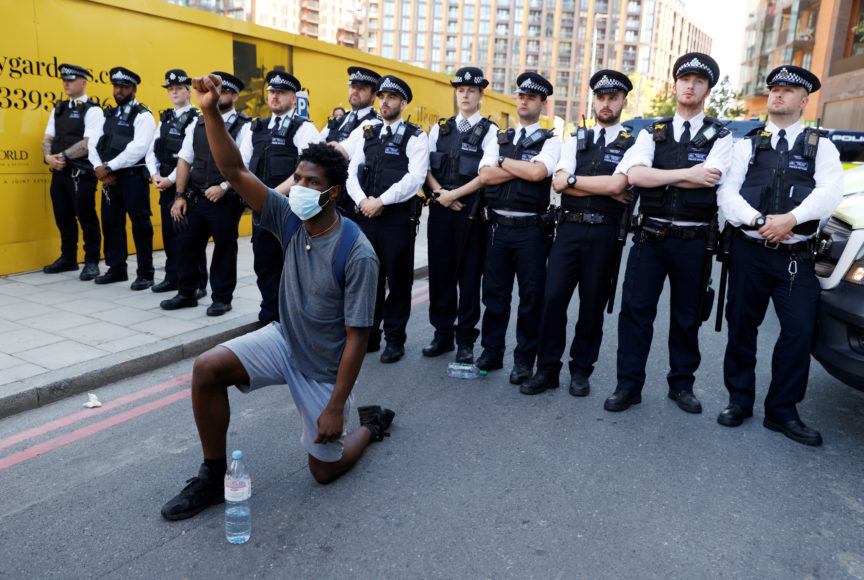 The over-policing of Black communities is also well-documented. Black people are 40 times more likely to be stopped and searched than white people under 'suspicionless' section 60 stop and search powers. Black children and communities are consistently surveilled by the police through the gangs matrix. Black and brown people are disproportionately represented in the criminal justice system, with more than half of young people in prison being from Black and other minority racial backgrounds.
Meanwhile, the use of inherently discriminatory technologies such as facial recognition, which is more likely to misidentify Black people, is simply another means for the police to uphold systems of oppression.
Just last week, YouGov data revealed that police officers are almost twice as likely as the public to believe that negative stereotypes are usually true, two-thirds are against positive discrimination for ethnic minorities, and the majority of police think that human rights laws have been bad for "British justice".
As one officer told us at a protest: "You have no power here." This statement feels all the more pertinent in the context of Black lives being continually and systemically denied safety and security by the state.
This isn't the end.
Black Protest Legal Support will continue to have legal observers on the ground during future protests, working to monitor police behaviour and support those attending. We want protesters to be protected and armed with their rights in the face of police aggression.
We disagree with Cressida Dick; it does, in fact, remain "helpful and accurate" to describe the police as institutionally racist. That is our lived experience. That is the lived experience of every family grieving the loss of a Black child, parent, sibling, relative or friend at the hands of the police.
In the words of Malcolm X: "Truth is on the side of the oppressed." Only by sharing these truths can we even begin to meaningfully tackle the racial inequality on our doorsteps.
Brenda Efurhievwe is a Legal Consultant, human rights activist and BPTC graduate. Her activism and research focus on refugee law, migrants' rights, LGBTQ+ rights and racial justice. She is currently providing remote legal assistance as a Volunteer Asylum Lawyer with European Lawyers in Lesvos.
Zehrah Hasan is a pupil barrister at Garden Court Chambers. Her legal practice centres around migrants' rights, racial justice, state accountability, trans and queer liberation, and gender equality. She has worked for non-profit organisations including Liberty and Southall Black Sisters.  
Brenda and Zehrah are both founding members of Black Protest Legal Support and remain active on the core organising committee.