Of Course Israel Exports Arms and Policing Practices – It Has Spent Decades 'Battle-Testing' Them on Palestinians
7 July 2020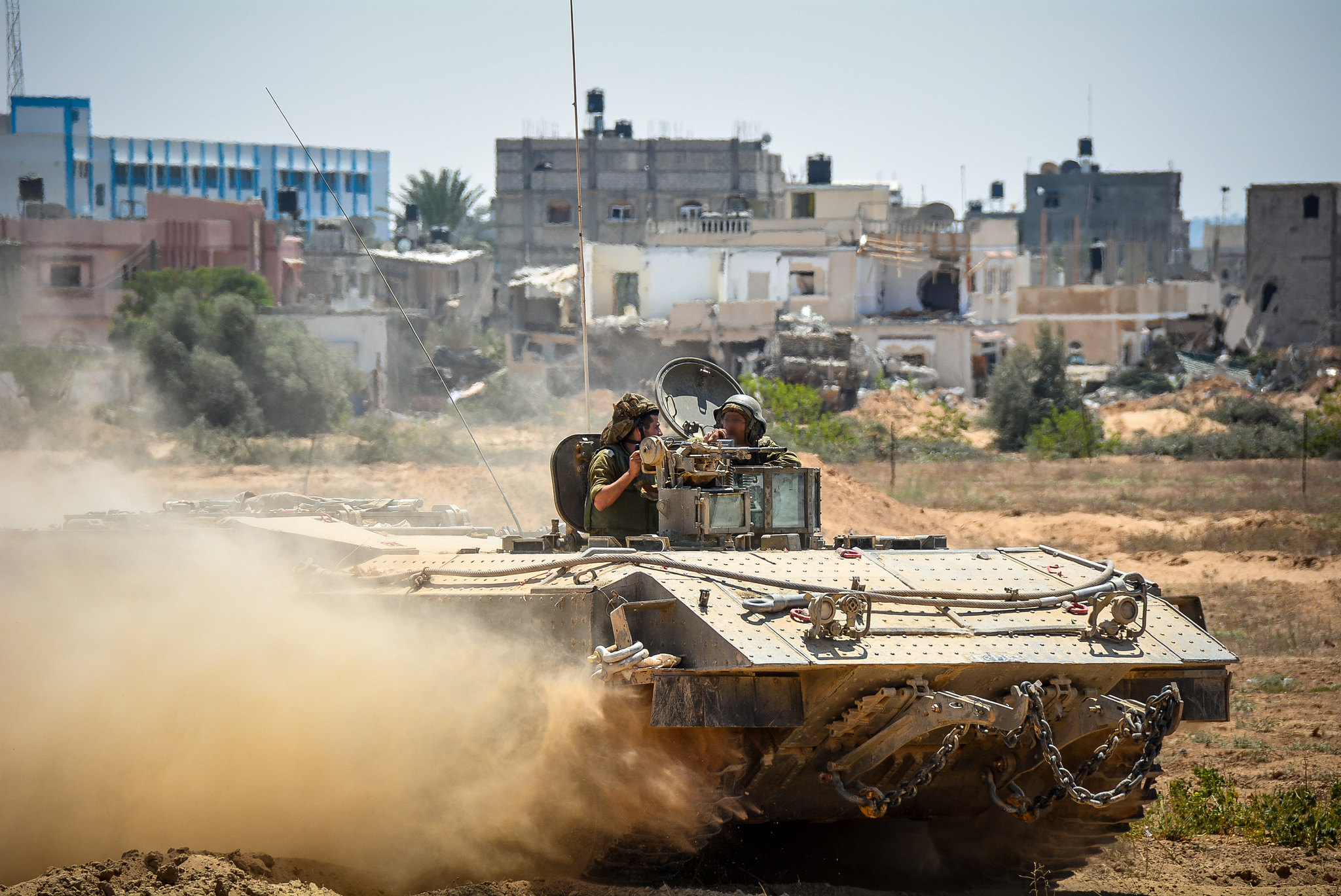 Israel Defense Forces
Since the Black Lives Matter uprising in the US, conversations on structural racism and police brutality have taken centre stage internationally.
Perhaps most inspiring has been the profound discussions taking place on defunding the police as part of broader abolitionist politics. Those involved in anti-racist movements have for some time, of course, been pointing to the longer colonial histories of police brutality, making connections across movements, and examining the international circulation of coercive policing tactics and technologies. 
Inevitably, Israel has come into this conversation. Not because all repressive policing practices emanate from Israel. Certainly, US and UK policing practices were racist long before the creation of the state of Israel. 
But it is also a fact that Israel has made itself central to the international arms and so-called homeland security industry. To deny this would be to exceptionalise Israel. Israel has exported its military equipment, doctrines and tactics to repressive regimes the world over and has learned from others as well. That is the very nature of the arms and surveillance industry: it is international in scale. 
Israel, precisely because of its decades-long colonisation and military occupation, controlling every aspect of Palestinian life, has marketed its equipment as 'battle-tested' and 'field-proven'. Naming this reality is not a conspiracy theory. 
Israel's military and tech export. 
Israel is the eighth largest military exporter in the world. Between 2015 and 2019 exports by the Israeli government and private companies were at a record high, making up 3% of the total global export of arms. Tellingly, India was its biggest client, absorbing 45% of its military export. Considering the brutal actions of the rightwing fundamentalist Narendra Modi government in Kashmir, and against Muslims in India, this is a very worrying trend. 
In addition to exporting arms, Israel has an export-oriented hi-tech industry that's extremely attractive to international venture capitalist investors. In 2019, Israeli tech companies raised a record high of $8.3 billion in capital funding. The lion's share of investment went to artificial intelligence companies which raised $3.7 billion, and cybersecurity companies which raised $1.88 billion. 
On an annual basis, Israeli cybersecurity companies export products and services amounting to $6.5 billion. Some of those products are known to have ended up with repressive regimes and to have been used against human rights defenders. 
Israel's subjugation of Palestinians has proved a lucrative business. The systematic and continuous repression of Palestinians provides the framework for technological innovation, development and, importantly, marketing.     
The Israeli military and security apparatus function as a laboratory where mechanisms of control, surveillance and repression are constantly being developed and implemented against a colonised population, with no limits or regard for human rights.
The military also generates a highly-skilled workforce for the surveillance and tech industry more broadly. Around 7,500 soldiers graduate from the military's Computer-Related Professionals and Cyber Security School on an annual basis. Once they graduate, they are enrolled in one of the military's elite intelligence units in the communication division, like the infamous 8200, 8100 and 9000 units. At the end of their years of military service, they privatise military acquired knowledge and sell it on the global market. 
Oppression as marketing.
For private companies, having a relationship with Israel's military and security apparatus is a selling point. Occupied Jerusalem has become a showroom for urban surveillance technology and policing practices. Police and homeland security services from all over the world flock to the city to learn and be impressed by the latest techniques of population surveillance.
In 2016, Israel's police spokesperson at the time, Mickey Rosenfeld said:
"Over the last few years there have been dozens of delegations and different organizations, from European security and law enforcement, homeland security and representatives from the [United] States, who have come and examined how the system works to learn how to use it overseas." 
Israeli companies involved in visual surveillance, facial and sound recognition technology, boast software that can "predict to prevent", and has the ability to detect the "wolf in sheep's clothing". This amounts to the criminalisation of every Palestinian, like 32-year-old Iyad el-Hallaq, who was chased and executed as he was on his way to a special needs school in Jerusalem's Old City.  
Israel's underwater and concrete walls surrounding besieged Gaza, along with its apartheid Wall, have become a showcase for border control and patrol technology and hardware. It is no coincidence that when Donald Trump brings up his infamous border wall, Israel's wall is considered his model. 
On the other hand, the network of military checkpoints crisscrossing the West Bank is a constant display of surveillance technologies and movement control. The required biometric technology is marketed to border crossings internationally. 
Israeli companies are selling more than a set of products. They are marketing experience, expertise and a self-conception rooted in a colonial project. What is sold is essentially Israel's decades of experience in repressing Palestinians.
In 2014, Israel's Foreign Trade Administration explained: 
"Israel has experienced the threat of terrorism for decades, and, out of necessity, has come to excel in the homeland security arena. In fact, no other country has a higher percentage of former army, police and security forces with hands-on experience in combatting terrorism. Add to that the world-class innovation characterising the Startup Nation', and it is little wonder that countries around the world turn to Israel for solutions to internal security challenges."
Exploiting the crisis. 
Israel's domestic military and surveillance industry looks towards the international market. Israel's own military and security structures may be the first buyers, but the market is small and Israeli military and security companies make the majority of their profit from sales on the international market. For example, in 2019, Elbit System, Israel's biggest private military company, generated only $1,064 million out of its $4,508.5 million revenues through domestic sales.  
A tender published recently by SIBAT, the International Defence Cooperation Directorate of the IMOD – a body designed to showcase Israeli military technology internationally – gives us a good sense of where Israel is positioning itself and where it identifies opportunities in the post-Covid-19 reality. 
Recognising that Covid-19 would lead to economic devastation on a global scale and that states will need to control and repress resisting populations, SIBAT wants to identify potential customers for Israeli military and security companies. There is no discrimination when it comes to potential buyers. A country by country portfolio is to be created, analysing the security needs of "all countries in the world, apart from states that are forbidden to trade with (Iran, Lebanon, Syria)".
In particular, Israel is looking to identify the export potential of biometric data collection technology, human and vehicle tracking systems, facial recognition, sound and visual detection systems, licence plate monitoring, cellular and cyber-surveillance for intelligence gathering purposes, as well as information blocking and interception software.
The point we are making here around Israel's role as an important node in the transfer of coercive technologies is far from novel. It has been well-documented in a number of research papers, books and NGO reports – not to mention, it is evident on Palestinian bodies and in daily lived experiences. An incessant part of the violence against Palestinians is the consistent denial of this reality.
Since Rebecca Long-Bailey lost her job last month, it has been remarkable to watch a debate on Israel and policing happen in the UK with hardly any Palestinian voices. In this moment of discussion on structural racism and solidarity, it is worth reflecting on why Palestinians are treated as mere spectators in debates concerning our daily lives. 
Finally, in thinking through how to build solidarity across movements during the Covid-19 moment and the coming economic crisis, it is vital to move beyond performative politics and analogies. It's not simply a question of tracing training programmes or finding pictures of similar police behaviour across states – connections within the arms and surveillance industry run much deeper and will impact our collective capacity to live and resist everywhere.
It is no easy task, but moving forward we must start by identifying material connections and shared logics, and developing a better understanding of the way in which technology, capital and doctrines move between repressive regimes.  
Riya Al'sanah is a research coordinator at Who Profits Research Center. 
Rafeef Ziadah is a Lecturer in the Politics and International Studies department at SOAS, University of London.