The Tenants Taking on Their Billionaire Landlord
29 July 2020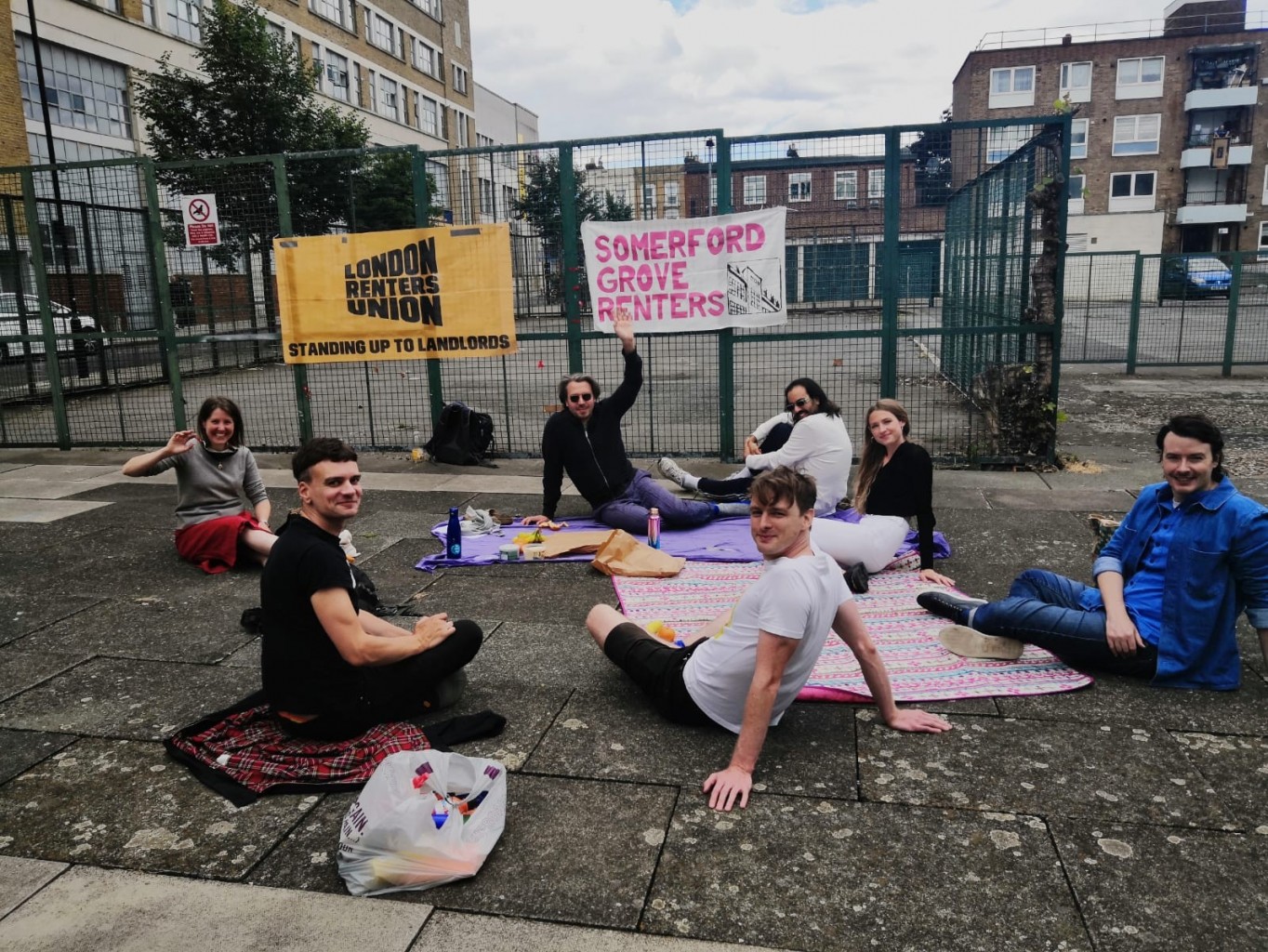 Jordan Osserman was knocking on doors in his east London apartment block in late April, asking his neighbours about their rental situations during the pandemic, when he noticed he was being filmed by a security guard hiding behind a stack of boxes. A few days later he was holding a banner saying "food not rent" when he noticed that, once again, he was being filmed.
"I asked [the security guard] why he was filming and he told me his job was to see what I was doing and report back to the agency," says Osserman, who is an organiser with his local tenants' association, the Somerford Grove Renters. "It was really scary."
A month before he realised he was being surveilled, Osserman and 108 others had sent a letter to their letting agent, Tower Quay, asking for no evictions, a 20% rent reduction during the Covid-19 crisis and no retaliation.
Tenants signed the letter from three adjacent buildings, all owned by billionaire property tycoon John Christodoulou. As a landlord, Christodoulou has a track record of controversy, including spending £74,000 trying to block the formation of a residents' association in one of his properties. 
The tenants decided to write the letter because many were sharing their stories of pandemic-related financial hardship in the building's WhatsApp group. "A lot of people in the building are freelancers, so very precariously employed, and they were struggling to afford rent," explains Osserman. A survey of the residents found that 87.5% had lost income as a result of the pandemic.
Retail worker George* signed the letter after he was laid off at the start of the pandemic. "I asked my boss if he would furlough me and he refused. All of a sudden I got really scared I would have no way of paying my rent," he says. 
Tower Quay's response to the tenants' association letter was so unsympathetic that it attracted national media attention. The agent condemned the tenants' requests as "unreasonable" and "unrealistic", and suggested that they should be able to afford the rent in full thanks to "reduced work travel, reduced work clothing, reduced lunches, cancelled holidays and reduced entertainment" during lockdown. 
In a subsequent letter, Tower Quay told tenants that renewals of rental contracts would be "reviewed on a case-by-case basis as and when they arise", taking "all factors both past and present into consideration". 
The letting agent also brought up involvement in the tenants' association in emails with individual tenants about rental contacts and payment.
But Osserman says that rather than intimidating residents out of taking action, Tower Quay's response initially helped to mobilise people. 
"The reason this has become so political is because the response we received from our letting agent was so unbelievably hostile," says Osserman. "It led to people getting more involved and wanting to state our demands and have a proper meeting."
A campaign of intimidation. 
In the face of increasing media attention, Tower Quay retaliated, intimidating tenants with the threat of lawsuits and evictions. 
Security presence and surveillance in the flats also increased, which worried tenants. "The security should be there to protect us, but they've been turned into agents of Tower Quay," says Osserman. "Instead of worrying about our security, they're just worried about political organising and how it might impact the reputation of their boss John Christodoulou."
Tenants also allege their WhatsApp group was infiltrated by Tower Quay, which shared screenshots with the Guardian, in breach of data protection regulations. 
Unknown members posted messages in the group attempting to discredit key organisers, arousing suspicion that they were actually acting on behalf of the letting agent.
At least 12 tenants received letters from Tower Quay's law firm, Spector Constant and Williams, which they say threatened legal action over their attempts to organise other residents. 
One of the letters, shared with Novara Media, says:
"Our client has instructed us that if you do not immediately cease your actions then we will be instructed to pursue you through the courts, not only for your outstanding rent but for damages arising from those that you have procured to breach their contract. You will also be liable for legal costs and interest as well as the damages." 
Some tenants also received an anonymous phone call from someone threatening to sue them.
Meanwhile, Osserman and fellow tenant organiser Marc Sutton have been threatened with £20,000 in legal costs for attempting to share a video documenting tenants' financial difficulties under lockdown. 
"A lot of people stopped taking part in the group once the legal threats started," says Sutton. "[Tower Quay's actions] were really effective with what they wanted to do, which was to shut us down and stop us talking to each other." 
After the Somerford Grove Renters sent their initial letter, Tower Quay offered some individual tenants a 20% rent deferral for March and April, to be paid back in June and July. This pushed some tenants into debt. George accepted the offer but now cannot afford the arrears. Tower Quay's rent deferral offers were also conditional on not disclosing "the existence of the concession… to any third party". 
"I think their entire thing is that they don't want neighbours to talk to each other, they aggressively don't want any kind of organising," says Sutton, "and I think that comes from John Christodoulou". 
The billionaire landlord.
Currently 82nd on the Sunday Times rich list, and boasting a £1.6bn fortune, Christodoulou's property portfolio, along with residential buildings, includes five-star hotels in London, casinos, and offices, as well as buildings let to the NHS. His website describes him as "a long term investor in real estate with a proven track record of investment, development, and management of assets in order to maximise returns".  
At no point during their struggle for rent relief and against evictions has Somerford Grove Renters been able to get in touch with Christodoulou, their landlord, directly. "It seems like he's just a distant figure," says Sutton. "The agent often says 'this is all the landlord is willing to offer' – you can't negotiate with him… as if it's just some company that collects money; as if it's kind of nothing to do with this person who's a billionaire off the backs of our rents." 
Rivkah Brown, a member of the London Renters' Union (LRU), which is organising in solidarity with the Somerford Grove Renters, argues that Christodoulou's efforts not to be associated with the tenants' struggle are to ensure he has "plausible deniability". Despite him being known to be the landlord, Brown claims that he attempts to "deliberately and emphatically distance himself from what's going on [which] suggests that there is a risk of reputational damage".  
In a letter shared with Novara Media, Tower Quay defended Christodoulou's absence, writing: "As commercial landlords, they do not speak directly with tenants… It is not the landlords [sic] concern if you, as an unrecognised body/representative, are unsatisfied with its response."
According to Brown, the situation "shows that leaving people's fate in the hands of landlords is a recipe for disaster because landlords are inclined to think of themselves as asset-holders rather than housing-providers, and as such are not inclined to show compassion.  
"In this situation, we have a billionaire who owns dozens of properties across the country and isn't minded to show compassion because to him it's just an aspect of his portfolio… The compassion that the government has requested of landlords becomes completely irrelevant when you look at someone like John Christodoulou." 
Outside of his property portfolio, Christodoulou has attempted to build a reputation as a philanthropist, having set up the Yianis Christodoulou Foundation, which recently delivered food parcels to homeless people in Liverpool and Manchester. 
Brown is quick to point out the irony in this. "If you're giving out food packages, how about you don't make your tenants homeless?" she asks. 
Evictions. 
Last week, Osserman and Sutton were served with a Section 21 (or, 'no-fault') eviction notice by Christodoulou's agent, informing them that they must vacate their respective properties by 21 September. They believe this to be a direct result of their political organising in solidarity with their neighbours and the subsequent media attention. 
Other residents who have also been threatened with eviction by the landlord fear for their homes. "I can't afford to be evicted," says George, "I would have nowhere to go". 
Osserman, Sutton and other renters are organising with the support of the LRU to resist evictions, while also maintaining their original demand for fair rent. In an open letter on their website, they attempt to appeal to Christodoulou: "A 20% rent reduction would cost less than 0.04% of your wealth, but would ensure your tenants are able to stay safe and stay at home."
Neither Tower Quay nor Christodoulou responded to Novara Media's request for comment.
LRU is organising in solidarity with the Somerford Grove residents, drawing on its experience supporting tenants across the capital.
"Since the start of lockdown, 35,000 people have downloaded our resources and thousands of people have won a rent reduction from their landlord using our template letters and trainings," says organiser Claire Waldon. 
"Our member solidarity teams have helped dozens of our members stay in their homes and helped prevent several illegal evictions in recent weeks".
But despite winning key battles since the onset of the pandemic, Waldon says it is difficult to organise effectively without a change in the law. 
"The government should amend the Housing Act so rent debt is forgiven and so that no one is evicted due to coronavirus, but we'll be ready to resist evictions of our members if they don't."
George agrees, maintaining that amendments like these must happen in order to give tenants the power they need to effectively challenge landlords like Christodoulou.
"The only way that our landlord will change his way of dealing with us is if the government step in and says we don't have to pay arrears and extends the eviction ban," he says. "Nothing will change until the government sets out a clear route for private renters."
"The savings that were supposed to be going towards paying towards our future are now going towards his yacht bill – it's a tough pill to swallow."
*Identifying details have been changed to protect anonymity. 
Sophie K Rosa is a freelance journalist. In addition to Novara Media she writes for the Guardian, VICE, Open Democracy, CNN, Al Jazeera and Buzzfeed.