'It's All Performative, They Don't Care': Why Tate Workers Are Going on Strike
15 August 2020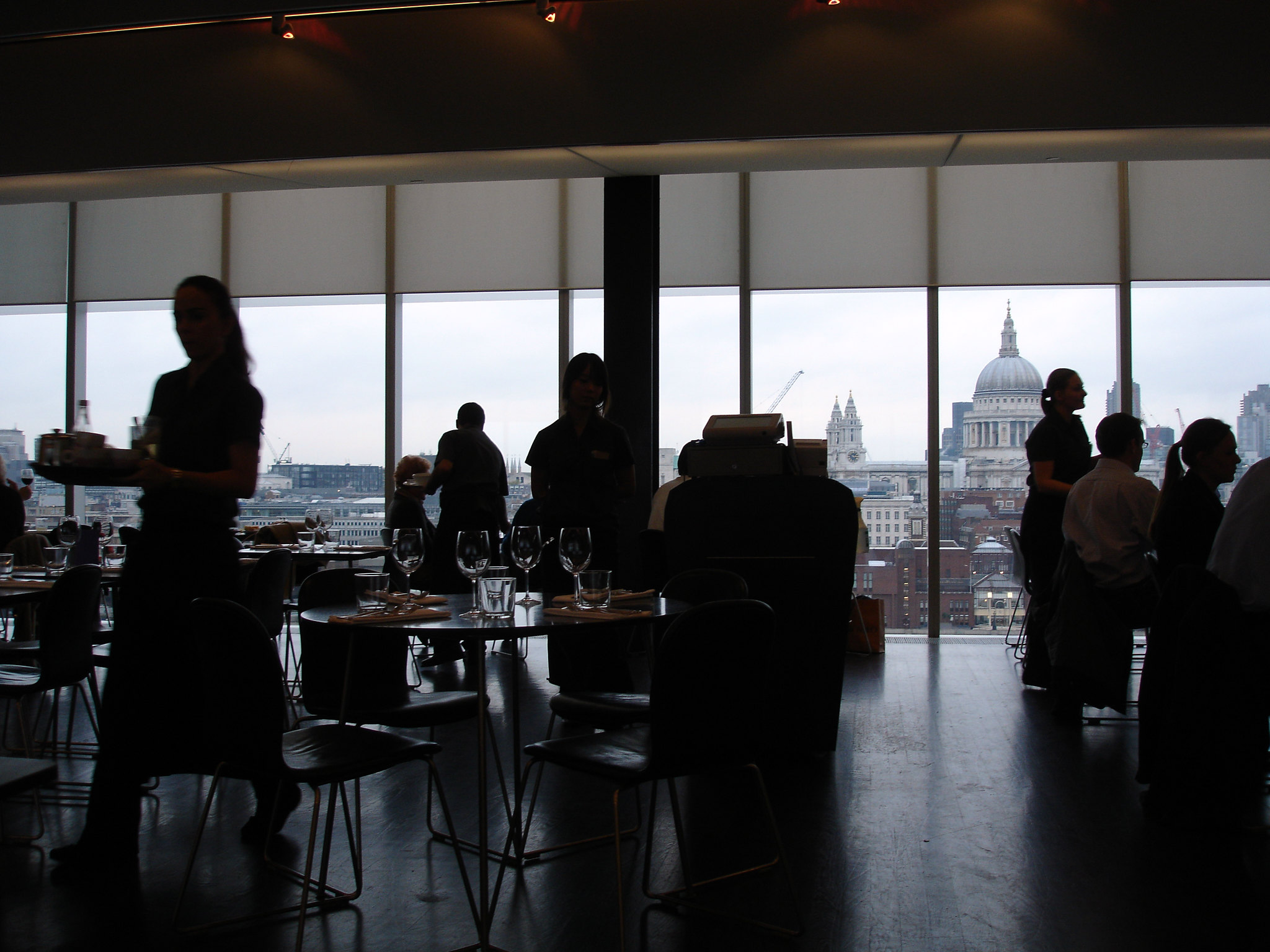 allispossible.org.uk, Flickr
"Often when I finish work, I go and walk around the galleries," says David*, who has worked in Tate's shops for over eight years. "I see work I've seen many times before, but I'm looking at it again, constantly interpreting what it could mean to me, or for where I am at that moment."
Like many of his colleagues, David works as a retail assistant to pay rent. His true interests, however, are creative and he feels a strong affinity to Tate as a cultural institution.
"I often use the gallery as a catalyst for my work. I find that I always come back to image or installation or sculpture in order to provoke my art," he says. "It's why I've been working there so long."
'It's our last chance to fight for our jobs.'
In late June, David and his colleagues, who work in Tate Enterprises (the commercial arm of the Tate galleries, which includes Tate Commerce and Tate Eats) learned that a euphemistically termed company 'restructure' would be making 200 employees redundant. On 12 August, they were told that there would, in fact, be 313 redundancies, the entirety within Tate Enterprises. 
"Tate has told everybody that we're all in this together, that we're all part of Tate," says David. "Many of us that work there feel like we're part of a community of creatives… so I think there is this sense of betrayal. The gallery is making no cuts whatsoever and we're being cut."
Sarafina*, who has worked as a retail assistant in various Tate shops for around eight years says that low-paid workers like her have been made to feel like "collateral damage of the pandemic; like we did not really belong in the culture sector".
"We have an integral part to play in promoting arts and culture within the organisation," she says, referencing the fact that Tate Enterprises has made more than £2.5m a year for the past five years – a sizable contribution to the institution's overall income. "We have made the gallery financially successful."
News of the redundancies was communicated to workers alongside some resources on mental health, which many found ironic and insensitive. "I don't want a guide to mental health," says Liam* who works in one of Tate's shops. "I just want enough money to live on."
Despite widespread anger at the situation, it was only at the start of July, when the government announced a £1.57bn bailout fund for the arts – of which Tate received £7m – that workers became "radicalised". The bailout money would change nothing, they quickly realised; their jobs would not be saved.
"The furlough scheme…the bailout money…the £1000 job retention bonus; none of it helped our situation," says Sarafina.
'It's our last chance to fight for our jobs.'
Faced with the prospect of unemployment in the midst of a national recession and global pandemic, on 18 August, workers from Tate Commerce will go on strike – the first in the branch's history. 
The decision to take industrial action came after Public and Commercial Services (PCS) union workers voted 88% in favour of strike action, out of a 79% turnout. 
"It's our last chance to fight for our jobs," says Sarafina. "We can't let it go until we've tried everything."
In response to the union's decision to strike, Tate sent out an email telling workers they were not legally able to go on strike if they were not members of the PCU – a statement which proved to be false and that Tate retracted in a subsequent email – and calling everyone back to work. 
This decision, workers argue, was strategic – a way for bosses to see who was going on strike. "It was basically an intimidation tactic," claims Liam. 
'They try very hard to present themselves as progressive.'
It's this kind of behaviour that workers argue stands in direct contradiction with the socially conscious image Tate works hard to project. 
Despite Tate Enterprises employees being the lowest paid and most diverse across the institution, "we are the ones who will bear the brunt of the restructure", says Sarafina. "In our fold, there are BAME people, women, students, immigrant workers: those are the jobs that are going to go and this, while the Tate is announcing that they're going to redouble their commitment to diversify[ing] the workforce."
During the recent Black Lives Matter protests, Tate released a statement voicing its support for the movement and its dedication to fighting systemic racism, writing:
"We stand in solidarity with all those who are peacefully protesting and we hear the demands for change from our own visitors, supporters, artists, colleagues, partners, and the wider community. But making a statement isn't enough. To address structural racism and the inequalities underpinning society, we have a responsibility to act."
However, workers argue that the institution's professed commitment to antiracism is superficial, extending only so far as it is financially beneficial. 
When artist Jenny Holzer's work was on display at Tate Modern, the shop sold merchandise including a t-shirt that said "everyone's work is equally important", alongside other products and books with leftwing messages. 
"They try very hard to present themselves as progressive", says Liam, "but I think now workers see the discrepancy between the London trendy vibe and the cold reality of money-making". 
In a statement to Novara Media, a spokesperson for Tate refuted these claims, writing:
"Although we do not know the outcome of the restructure as the process is still ongoing, it is likely that the diversity of staff across Tate Enterprises Ltd will remain broadly the same. In line with our commitment to ensure BAME communities are not disproportionately affected by the restructure, we have undertaken an Equality Impact Assessment. Identifying and mitigating any impact on the diversity of our organisation is and will remain an important part of the process. The restructure affects all levels of staff in Tate Enterprises."
The upcoming strike comes in the midst of other threats to Tate's public image. On 30 July, art website The White Pube brought attention to a racist mural in Tate Britain's Rex Whistler restaurant. The luxury eatery's artwork, which depicts Black child slaves, was described on the gallery's website as making the restaurant the "most amusing room in Europe". A petition has since been started to demand the mural's removal. 
"It's bizarre that the pain and trauma of slavery is treated as a backdrop for middle-class people to have tea and scones," says Tino*, who began working as a Tate visitor assistant this year. She is unconvinced by the institution's publicly proclaimed commitment to anti-racism, saying, "It's all performative, they don't care."
"A lot of black staff were hurt working in the British Baroque exhibition, which had paintings of little black children in chains," she goes on. "The description called them 'servants' initially and didn't even discuss the UK and its slave-owning history."
'People are the UK culture sector.'
With the redundancies projected to save around £1m, many workers are angry that none of that money is being used to protect their jobs. Far from being out of the institution's control, Sarafina maintains that the decision to axe low-paid workers in the commercial arm is a "political choice".  
"Tate is saying they've got to turf out 300 people and they're still only saving 30% on their pay bill," says Steven Warwick, who is Culture group secretary for the PCS. "Members feel it isn't fair that in a public sector organisation that is in effect throwing staff out, its directors are being paid far in excess of £100,000."  
As a result, workers are going on strike to demand that 10% of the bailout money is used to save jobs; that there are no redundancies while senior staff earn more than £100,000; and that, if the government's bailout money proves insufficient for the institution, it must campaign for more. 
"The Tate and its contemporary institutions have been broadly silent on what seems to be the inadequacies of this £1.57bn," says Warwick, "and in my experience, it doesn't seem to be saving any jobs, anywhere". 
"Our view is that with any government investment in the sector, it must put jobs first. It's no use saving a brand and saving a building: people are the UK culture sector, diversity and culture is the UK culture sector, and these cuts, particularly to the lowest paid, adversely affect that as well."
'We will keep fighting.'
Recently, Tate director Maria Balshaw was a guest on BBC 4's Desert Island Disks, during which she played a diverse mix of artists; from Pet Shop Boys to Malian musician Toumani Diabaté to grime artist Stormzy. 
"She put her very progressive face forward even in the music that she selected," says Warwick. "But… you cannot sit there on a £200,000 salary, saying that you want to be progressive and saying that Black lives matter [and] at the same time [be un]willing to invest even 10% of your government additional income in the most diverse people in Tate."
This hypocrisy isn't exclusive to Tate; it is playing out across the arts sector, which has been hit hard by the pandemic. The Southbank Centre, another of the city's famed artistic venues, is also making big redundancies, which will see 68% of staff cut to save 38% of the pay bill. Once again it will be mostly low-paid workers who bear the brunt. 
"There are obviously tough decisions to be made," concedes Warwick, "but we're asking the people that can most afford it to make the biggest sacrifices [so that the fewest possible people have to be made redundant], particularly among the lowest paid". 
Reflecting on the upcoming strike, Sarafina says that it is both workers' love of art and belief in their workers' rights that will drive them in their fight.  
"Many of us are working-class creatives that do not have the contacts or money to enter the field [otherwise]," she says. "We are workers who need to pay rent but we are also art aficionados, writers, artists."
"Like in an improbable peripatetic school, [working at Tate] we can discuss the latest book, latest show, and latest fascinating discovery and feed each other's minds and imaginations…This is, for me, what makes working [here] special and…the reason why I, and many of my colleagues, will keep fighting the redundancies."
*Identifying details have been changed to protect anonymity. 
Sophie K Rosa is a freelance journalist. In addition to Novara Media she writes for the Guardian, VICE, Open Democracy, CNN, Al Jazeera and Buzzfeed.