How We Won: The Customers Who Saved Their Local Market
18 August 2020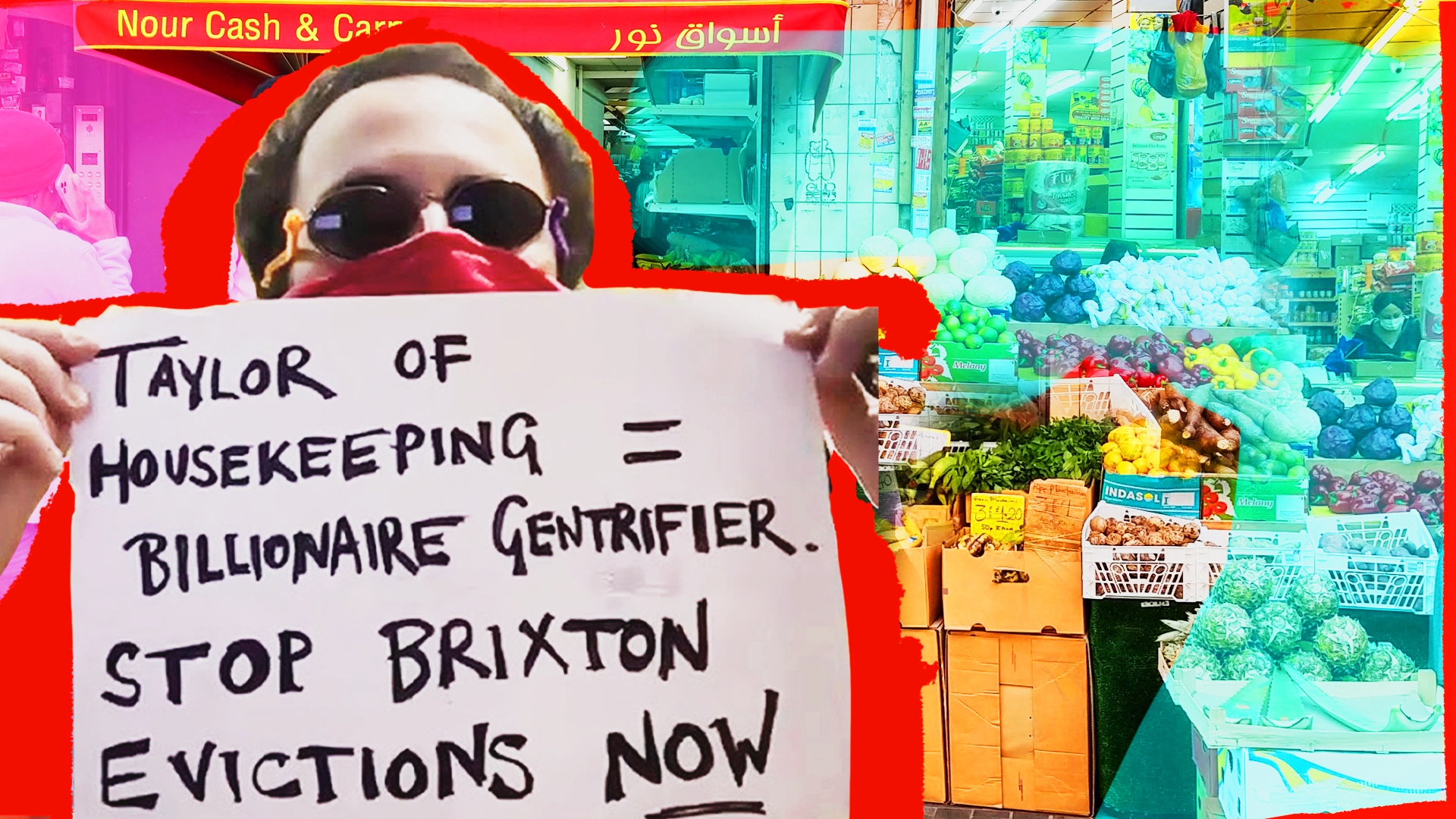 As you enter Nour's Cash and Carry, it very quickly becomes apparent why, for those who live in Brixton, it's more than just a shop. 
"Nour is a lifesaver," explains Hiba Ahmad, a community activist and fiercely loyal patron, who talks as if she's in a constant hurry. Hiba, who was born in Iraq but moved to London four years ago to study, credits the shop with helping her to stay connected to her roots: "You can't find good bamiah anywhere else around here!" she says.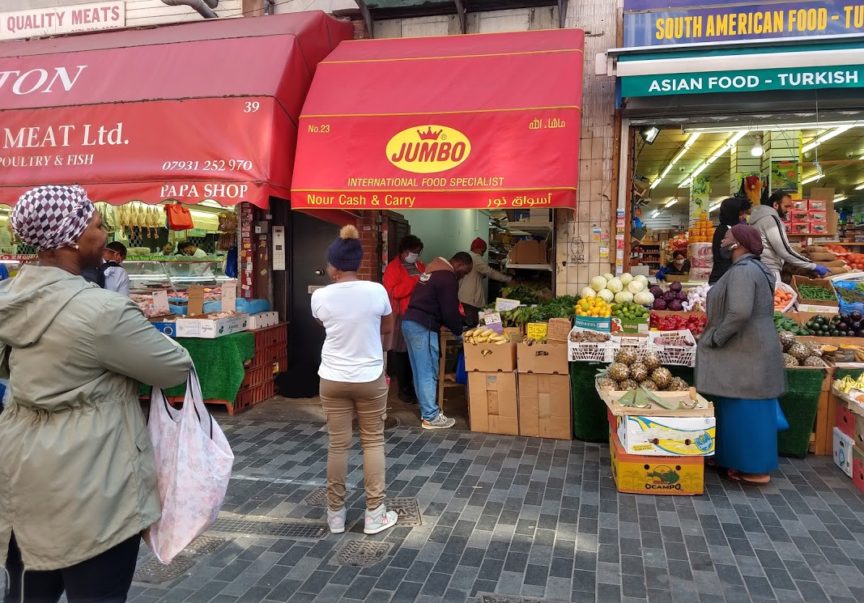 Nour's front entrance, lined with ceiling-high sacks of rice, leads to a library teeming with nuts, spices and herbs from all over the world. If you pick your way through the crowds – which is difficult, according to locals, who say the shop is often packed – you'll find yourself at the back of the shop, amongst boxes full of every vegetable imaginable, from avocados to yucas to okra. 
The clientele is as diverse as the produce. Walking through the shop, a chorus of accents and languages can be heard: voices from Ireland, the Caribbean and the Middle East, all combining to give Nour its distinct sound. 
This is no accident. For the Shaheens, the family who have owned and operated Nour for the past 20 years, their aim is to sell ingredients from every part of the world at prices the area's diverse working-class community can afford. "We hold the market to account by charging affordable prices," explains Saja Shaheen, whose father founded Nour in 2000, having moved to London from Iraq 10 years earlier.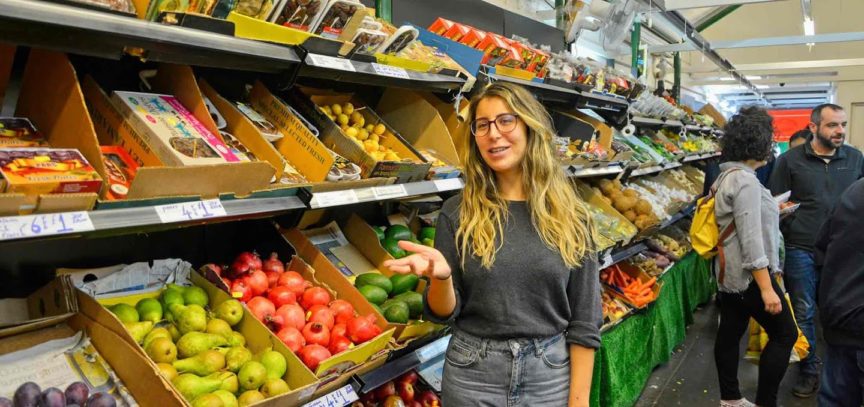 For the last two decades, Nour has sat within Brixton market, treasured by the hundreds of customers that pass through its doors every week. But in January 2020, the community was rocked when the Shaheens were served an eviction notice demanding they vacate the site by 22 July. 
What followed was one of the most innovative fights against gentrification in recent memory. 
"We had no choice but to resist," explains Hiba. "It wasn't just about Nour – it became a battle for Brixton."
'Brixton's most hated landlord.'
Having run Nour for the past two decades, the Shaheens have dealt with multiple landlords and understand the challenges that can come from a change in owner.
However, in 2018, Hondo enterprises – a property investment company headed by millionaire Texan DJ Taylor McWilliams – purchased Brixton market in a joint venture for around £37.25m. This was when challenges came to a head. 
Condemned by critics as one of "Brixton's most hated landlords", Hondo was accused in 2019 of evicting the 30-year tenants of Brixton's beloved nightclub, Club 414.
Faced with renewed criticism for its dealings with Nour, the company claimed that the shop's eviction was essential to install an electrical substation for Brixton market, alleging that it was never its intention for Nour to leave permanently: 
"Hondo never wanted Nour to leave. We maintained a positive, private line of communication with them over eighteen months, which was separate to any protests. It was always our intention to move Nour Cash and Carry to an appropriate unit within the market."
This claim was disputed by some critics, including Hiba, who was unconvinced by the company's stated intentions from the start. "The electricity was just an excuse," she claims, "a story told by developers in order to come in and do what they want". 
Update thread re attempt to evict Nour Cash and Carry in Brixton. I've been in correspondence with Taylor McWilliams, boss of landlord Hondo Enterprises. He agrees the site they've offered Nour not only hasn't been built, but doesn't yet have planning permission. 1/

— Jay Rayner (@jayrayner1) 31 January 2020
For locals, this is an all too familiar story. Nour is nestled in a community that has, in recent years, seen similar traders forced out, reduced to footnotes in the long, harrowing story of the city's gentrification. But for Hiba, and many of the shop's customers, Nour was a step too far: "There was a sense that if they could do this to Nour, they could do this to anyone," she explains. 
It was this sentiment that led Hiba and a small group of loyal patrons and activists to create the Save Nour campaign in March of this year. The campaign, which was started independently of the Shaheens, began with a simple mission: to halt the eviction and secure a sustainable long-term lease for the family.
However, just weeks after launching, the campaign was hit with the unprecedented hurdle of a global pandemic.
'We leveraged the lockdown to our advantage.'
Initially, Save Nour, like similar anti-gentrification campaigns, had a resistance strategy centred around mass mobilisation. However, when Covid-19 forced the UK to impose a nationwide lockdown, such a tactic became impossible.  
"The original plan was to hold a big demo near the market and draw on that community support, but obviously that couldn't happen because of the lockdown," says Chris Wells, a Nour regular and key organiser in the campaign. 
Chris, who is also active in his local constituency Labour party, explains that he joined the campaign "because we can't allow vital institutions like Nour to be 'developed' out of existence". 
I meet him, Hiba and Dominic Hale, all Save Nour veterans, to discuss the campaign in more detail. It's a drizzly day so we take cover to the side of the market, which, I'm told, is quiet for a Saturday. Together, they discuss how the pandemic forced the group to develop new tactics to resist the eviction.
"We leveraged the lockdown to our advantage," Hiba explains, excitedly. "Everyone has been at home, online, so we tapped into a whole group of people who would have otherwise been working. Time was a resource that we drew on". 
Space, too, proved to be strategically useful to the campaign. With the pandemic forcing the government to house homeless people and suspend evictions, public opposition to Nour's own eviction grew. 
"Covid […] challenged evictions, homelessness and other preconceptions most people have about property," says Hiba. "People are starting to see spaces as public and communal again." 
Save Nour seized on this energy, consistently making the argument throughout the campaign that "evictions during a pandemic are cruel". 
Forced to change tack in response to the nationwide lockdown, the campaign moved online and travelled far beyond the confines of Brixton, capturing the interest of thousands from across the country. Zoom meetings became an integral part of organising, as did the social media campaign, which quickly became focused around one man: Taylor McWilliams.
By holding up the millionaire DJ as the personification of London's developer class, he was, in Hiba's words, "the perfect villain for us to resist". 
Tapping into internet culture, the group set about creating a flurry of memes that mocked and criticised McWilliams. In them, he was portrayed as half-villain, half-muppet – a man who profits off reggae heritage in his music, while at the same time closing a shop that is vital to the Caribbean community. 
This, however, was just one part of the group's strategy. While the campaign harnessed the irreverence of meme culture to cultivate a social media following, it also demonstrated some innovative organisational tactics in the face of the lockdown.
'We became a thorn in his side.'
The height of the Save Nour campaign came on 25 April, when Housekeeping, McWilliams' DJ collective, was playing a virtual set via Zoom. The event, which was hosted by world-famous Ibiza club Pacha, featured Housekeeping in its lineup of DJs. McWilliams and another member stood in a dimly-lit purple room during the call, surrounded by an assortment of houseplants.
Activists from Save Nour dressed up as attendees, only to flood the Zoom call with signs drawing attention to McWilliams' role in evicting Nour. One activist, clad in sunglasses and a bandana to obscure their face, held a sign to the camera reading: "TAYLOR OF HOUSEKEEPING = BILLIONAIRE GENTRIFIER. STOP BRIXTON EVICTIONS NOW."
The move garnered international media attention, and demonstrated how a campaign could effectively disseminate its message at a time when traditional routes were not open.
"We could never have anticipated the attention that got," says Hiba. 
Off the back of this success, the campaign attempted to further isolate McWilliams from the music scene by sending information packs to DJs across the UK who would be willing to use their platform to advocate for the Shaheens. "We became a thorn in his side," recalls Hiba. 
One respondent to the information pack was HAAi, a former resident DJ at Phonox nightclub in Brixton, who said: "I stand with Nour and the community it serves in fighting its closure and redevelopment by millionaire 'DJ' Taylor McWilliams. I stand against him capitalising and then tearing apart the culture and history that has made Brixton what it is."
Aside from high-profile endorsements, the campaign was aided by a growing online following and furloughed volunteers who began to lobby the council.
"It became hugely educational. I personally learnt a lot just about the importance of local government from the campaign," says Chris. This side of the campaign also leveraged Save Nour's substantial online following, using Twitter to denounce Jack Hopkins, the Labour head of Lambeth council for his perceived inaction in response to the pending eviction. 
'A win for South London.'
After months of lobbying, campaigning and organising, Save Nour was victorious. 
"When we first heard, we were both shocked and relieved. It has definitely given the community some breathing space," Hiba says, a few hours after the victory was announced.
On 19 June, a post appeared on Save Nour's Instagram page informing their near 15,000 followers that the Shaheen's had secured a long-term lease at a reasonable rent. The campaign had proved to be a PR disaster for Hondo, who by that time had reportedly launched their own rival Instagram page attempting to put across their version of events. 
A Hondo enterprise spokesperson said: "The situation that arose was a complicated affair that no side wanted to happen. We are pleased that we have now reached an outcome which means Nour can remain in the market and continue to serve the local community."
Meanwhile, Save Nour's post denounced gentrification and attacked McWilliams directly. "The harm that 'DJ Taylor HK' has already inflicted on Brixton can never be forgotten," it read. 
The campaign also vowed that the community's fight against developers was not over, resolving that "tomorrow we fight for the places that still have to be fought for." 
!!! NOUR IS SAVED !!! We've just spoken to the Shaheens and they are so happy😭They've just signed a SECURE, LONG-TERM lease in Brixton Market at an affordable rent! We are overjoyed! Please read our full statement below. This victory belongs to all of us – all of you ♥️ (1/4) pic.twitter.com/5D19xWpRUJ

— Save Nour Save Brixton (@SaveNour) 19 June 2020
"The short-term strategy is to stop the eviction of Nour, but in the long-term, our goal is to never let this happen again," vows Hiba. 
Indeed, the campaign's online fundraiser, initially set up at the start of the dispute to support the campaign's costs and the Shaheen family, has since evolved into a more general fund to fight gentrification so other traders don't have to go through the same ordeal in the future. Smashing its initial target of £2,500, the fundraiser now stands at £20,653. 
"At first I was worried at how much we were raising and whether it was sustainable," Hiba says, with a nervous laugh. "But then we decided to allocate the funds ethically and sustainably to fight gentrification in the area." 
The group is now talking to activists across South London to decide how the money is allocated. "This is a win for South London, and Nour could represent a turning point," Hiba says. Many organisers agree, hoping that Nour's victory has set a precedent for future traders, inspiring them to fight back against gentrification even in times of much wider crisis. 
For Dom, this resistance is vital for the future of these communities. "We don't want [them] to be stuck in a time capsule," he says. "It's simply about those who live in these communities deciding how they change."
Laith Saad is a student journalist based in Edinburgh.
This article is the first instalment in How We Won, a new series which celebrates the victories of grassroots campaigns across the country.