'Land justice is racial justice': People of Colour Are Reclaiming Their Right to Nature
2 September 2020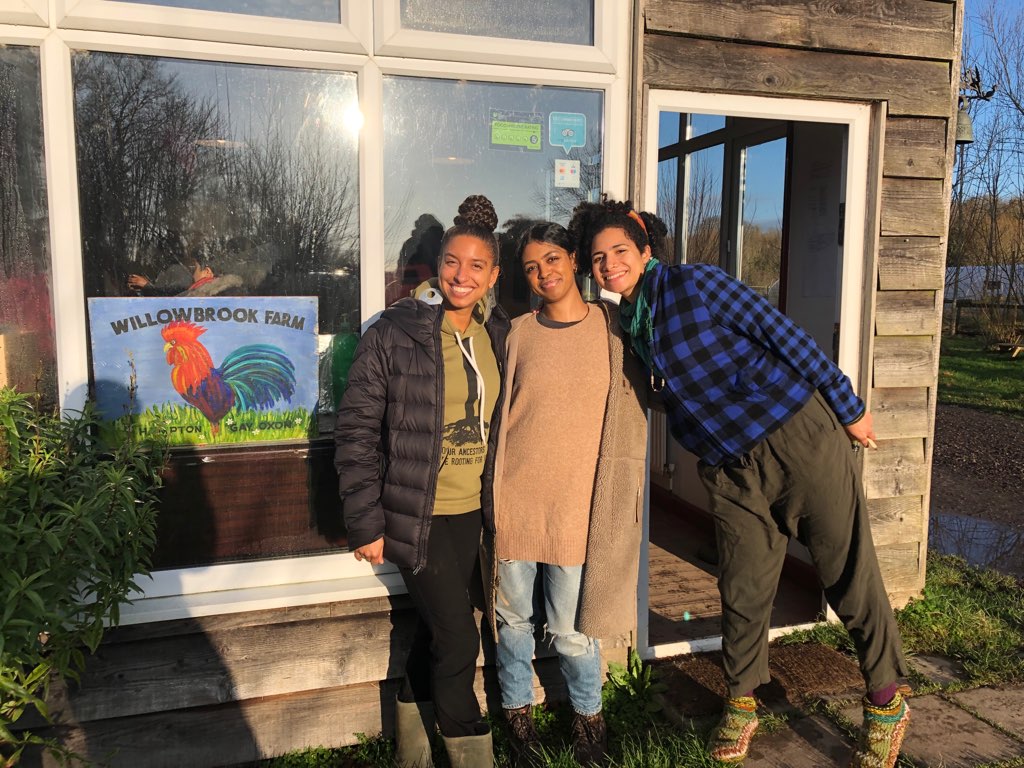 Members of the collective at Soul Fire Farm/ LION
While the UK land justice movement has gained momentum in recent years, the significance of land in the struggle for racial justice remains largely undiscussed. 
Land in Our Names (LION) is a collective trying to change this. Speaking to Novara Media, its co-founder Josina Calliste explains how LION aims to facilitate Black people and people of colour (BPOC) reconnecting with the land, while also working to highlight the relationship between racial inequality and land inequality in Britain. "[We] want to see improved access to land for BPOC communities who are often located in inner-city areas," says Josina. 
The collective's goal is to shift the narrative around land and race in Britain, steering a new movement which centres land access and food sovereignty within the wider struggle for racial justice. 
"People often talk about low-income households, people suffering with poor mental health and refugees as groups who can benefit from allotments or urban green spaces," points out Josina, "but these are all demographic groups which overlap significantly with Black people and people of colour". 
"We have to talk about land justice in terms of how it can benefit the BPOC communities specifically," she asserts.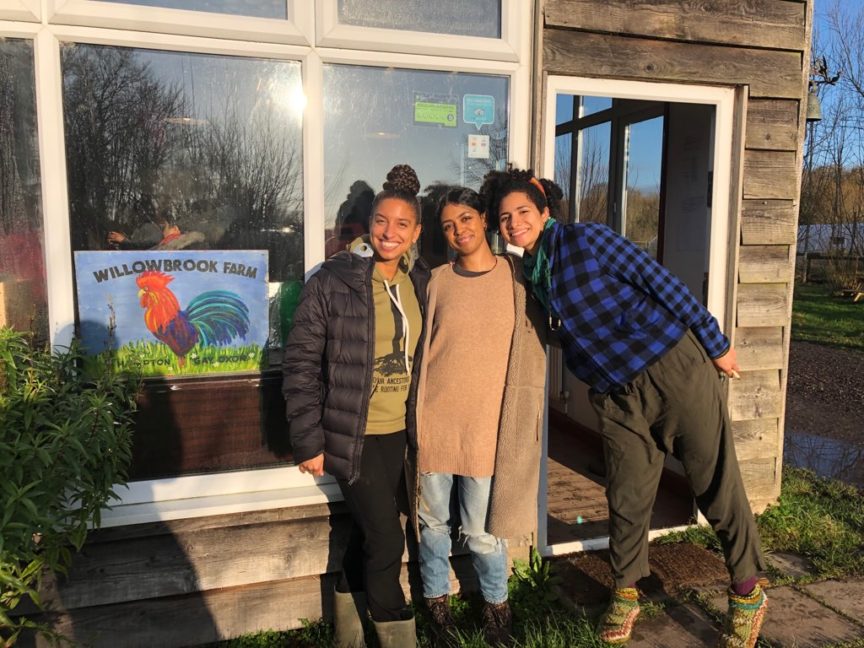 'Repairs need to be made.'
LION works within a reparative justice framework, which relies on an understanding of the history behind BPOC communities' disconnection from the land. "There's an education about the [British] Empire which has been blocked," says Josina, "and a lack of historical knowledge fosters hostility towards things that should be common sense. If you look at what happened in the past, and the atrocities that happened at the hands of the British Empire, repairs need to be made". 
This history can be traced back to the transatlantic slave trade, which saw millions of African people violently torn from their homelands and transported across the sea to labour on the farms and plantations of wealthy white British slavers in the Caribbean. 
Not only did the slave trade seek to profoundly alienate Black people from the land, it also helped fuel land inequality in Britain. A 2013 study by charity English Heritage maps the legacies of the slave trade onto the English country house, providing case studies of landed families in Britain during the late 17th and early 18th centuries, who used the wealth they accrued from slave labour to amass land and property back home.  
One such example was Sir Gilbert Heathcote, an active merchant in the slave trade in the late 17th century, whose wealth helped his great-great-great-great grandson, Baron Willoughby de Eresby, become one of a small group of English aristocrats in the 1890s who owned more than 100,000 acres of land. 
'Land is hoarded by the wealthy.'
This legacy lives on today. "There's a political narrative of this country being 'full'; that we can't support any more migrants, or people fleeing persecution," says Josina. "But when you drive through the countryside and see these vast tracts of land that are free and open, you realise that there is enough space, it's just that land is hoarded by the wealthy." 
Currently, the top 50 landowners in the UK own over 12% of its landmass – they are also overwhelmingly white. 
Topping the list is the Forestry Commission – whose most recent Diversity in Employment report noted that just 0.6% of its employees are Black, Asian or minority ethnic -, with the Crown and the Ministry of Defence – both overwhelmingly white institutions – not far behind. And beneath them, lies a long register of rich, white men whose land has been held in their families for generations. 
Compounding this picture of inequality, the 2017-18 government Housing Survey revealed that only 32% of Black households in the UK are homeowners, compared to a 63% average among all ethnicities and a 68% ownership rate among white Britons. Although there are no official statistics on land ownership by ethnicity in the UK, it's not difficult to see how land remains disproportionately concentrated among a white and wealthy elite.
Recognising the need to right this imbalance, LION has started doing reparations work which specifically looks to tackle land inheritance. "The Crown can still inherit people's land if they don't leave a will, I think that's bonkers," says Josina. "But there are some progressive landowners who have spoken to us about inheritance and succession and who they want to pass their land on to."
'Healing is a long-term project.'
Land justice isn't just concerned with unequal patterns of land ownership, but also with unequal access to green spaces and food sources. The statistics speak for themselves, with 98.1% of Black people in the UK living in urban areas, in comparison with only 79.1% of white people. 
"Our communities are affected by where we are forced to live" Josina explains. "We want to improve access to land and green spaces for communities in inner-city areas, places that are often characterised as low-income 'food deserts.'"
For LION, the fact that Black people are disproportionately alienated from food production makes food sovereignty an issue of racial justice.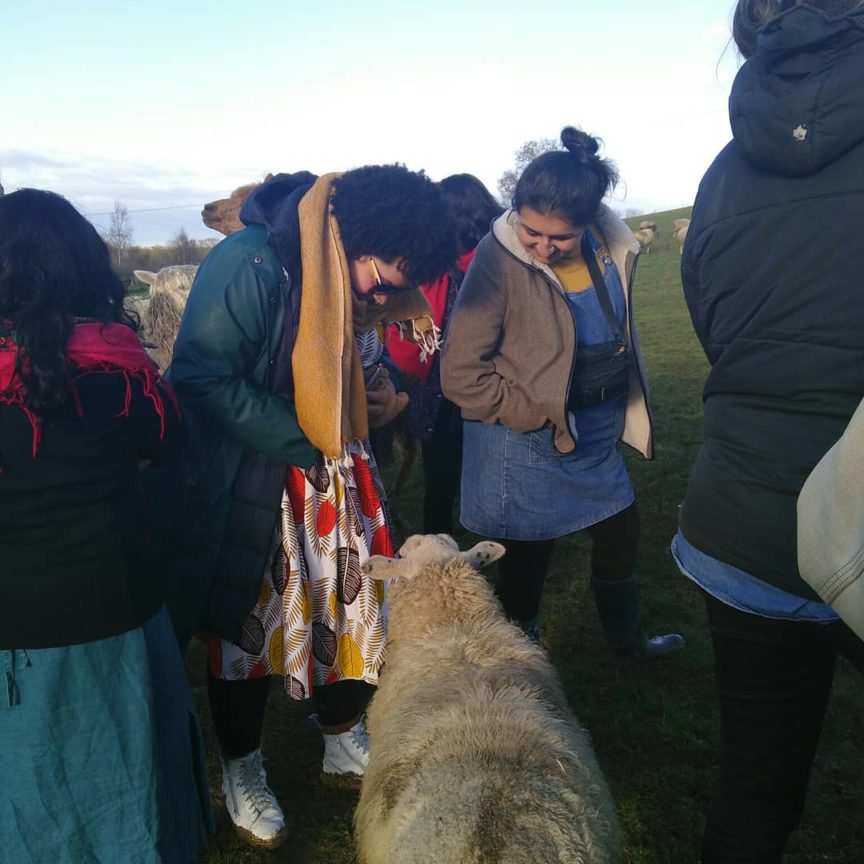 Josina cites a publication by think tank Policy Exchange, which revealed that farming is the least ethnically diverse occupation in the UK, with only 0.8% of farmers identifying as non-white. 
"People in our communities have experienced feelings of separation, exclusion and disconnect from existing land projects," she explains. "We want to be the ones who are championing representation of BPOC food growers and farmers, to make it seem more accessible for people from our community."
'On our own terms.'
Not only is there a problem of underrepresentation and inaccessibility for BPOC communities in the farming industry, even for those working in the sector, racism is rife. Wilfred Emmanuel Jones, who was dubbed "Britain's only Black farmer" during his 2010 Conservative election campaign, was baselessly accused of using drug money to buy his piece of land. 
Meanwhile, David Mwanaka, a maize farmer on the outskirts of North London, referred to by the Guardian as "Britain's other Black farmer", was searched and quizzed three times by police in 2008 on false accusations of stealing his own maize. 
In the face of such pervasive racism, LION is mobilising a network of BPOC 'land stewards' – from farmers to growers and land workers – to facilitate wider access to land and farming for inner-city BPOC communities. "If we were able to have our own land and our own food growing projects, we can then have sites for our own political organizing, cultural activities, healing," explains Josina, "and that can all be on our terms".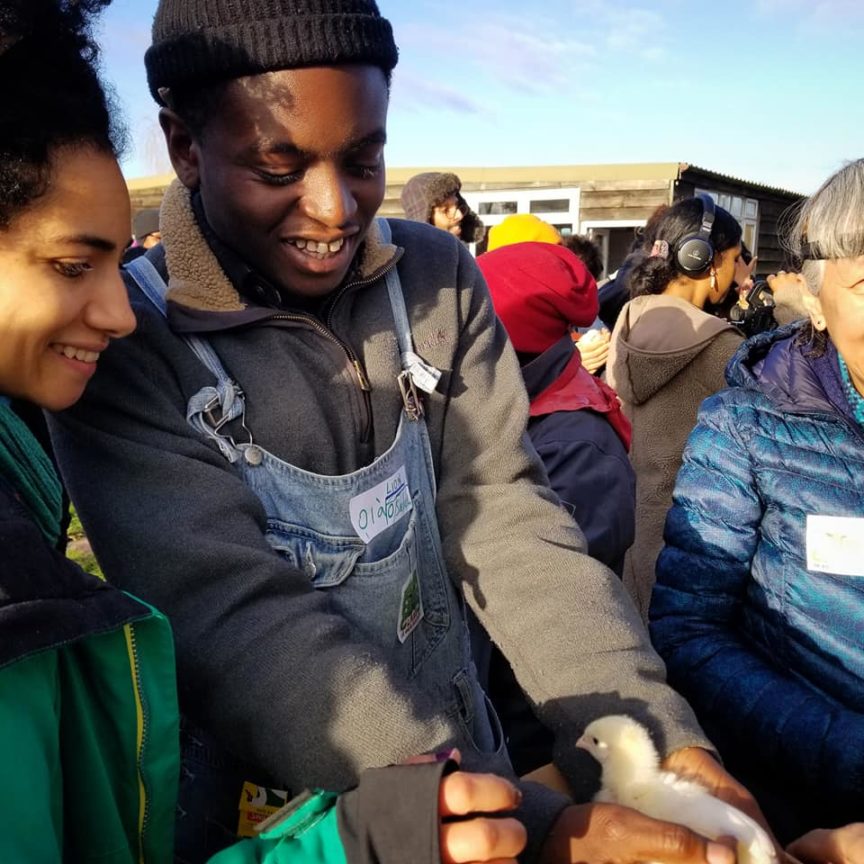 To that end, Josina believes that occupying space and spending time on the land is an education in itself. "It's getting people to understand what land rights look like in practice," she explains, "getting people to understand what it means to have a project on the land".
'I can't take a day off from racial justice issues.'
Despite Josina's determination and foresight, she also understands that reconnecting to the land is a process. "Repair is a long-term project. Healing is a long-term project," she says. 
For Josina, advancing land justice for BPOC communities here in the UK is part and parcel of a wider struggle for racial justice and healing historical transatlantic wounds.
"My Grenadian family don't really understand why I want to do what I do," she explains, recalling their bemusement at her decision to take up this fight. "'Your dad went all the way to England to get you an education and now this is what you want to do; return to the land?'". 
However, Josina and those in the collective believe that 'returning' to the land is itself a way forward; a path toward reconnecting with food production, ancestral farming practices, collective ownership and community. 
"I can't take a day off from racial justice issues," she says. "I live in this body, it's part of my life and it's something that I, and everyone I organise with, is really committed to. For us, land justice is the mechanism through which to bring about racial justice."
Yali Banton-Heath is a freelance journalist and editor at The Norwich Radical.