Labour Is Hemorrhaging Leftwing Activists. Will It Survive?
4 September 2020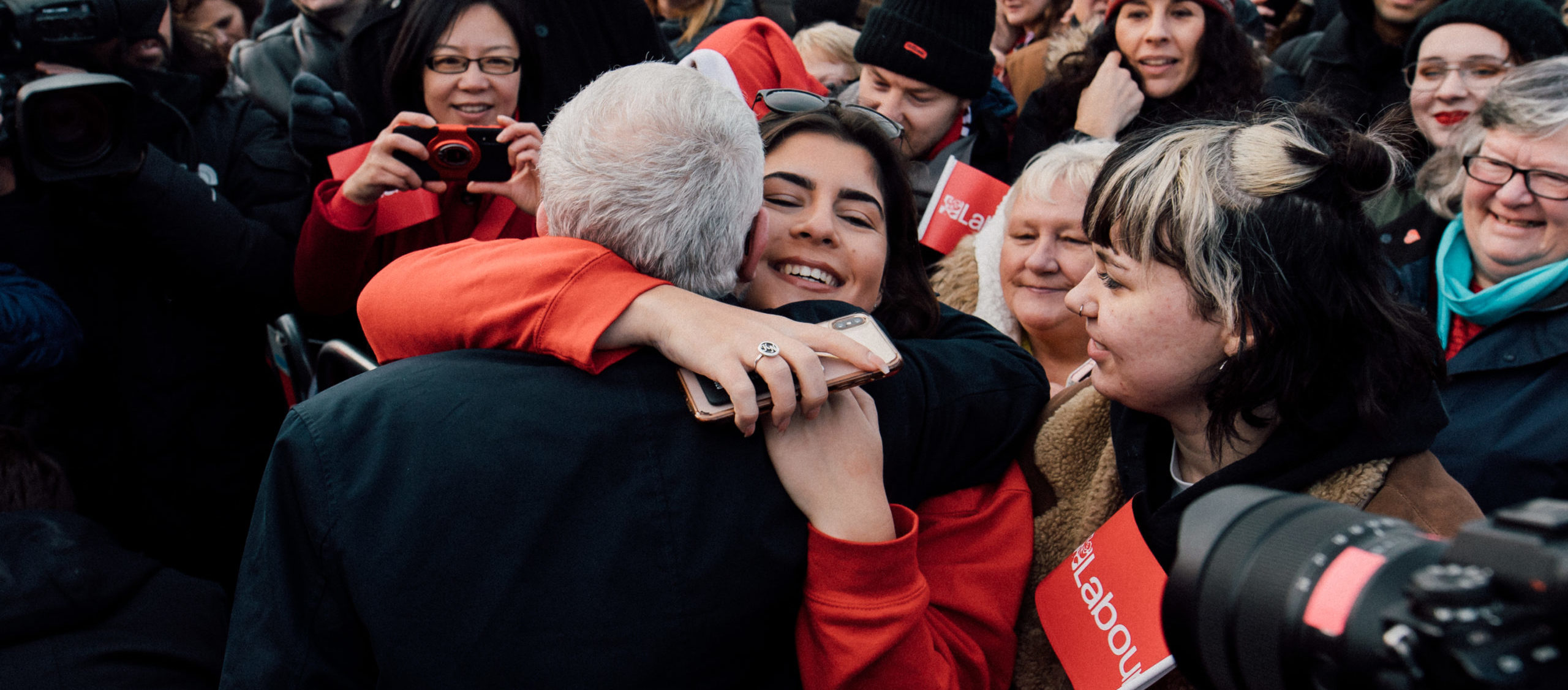 Jeremy Corbyn/Flickr
Many of those who powered the party's grassroots mobilisation under Corbyn have been unimpressed by Starmer's leadership – and are leaving Labour in droves.
"I took a fortnight off work and commuted an hour to campaign at the last general election. There's no fucking way I'd do that for Starmer's Labour." Ben, a Labour activist in his late 20s, typifies the fatigue sweeping the left of the Labour party.
Labour membership saw an unprecedented surge under Jeremy Corbyn's leadership, with a massive 552,000 members as of January 2018, up from 198,000 before the 2015 election. Now Corbyn is no longer leader of the party, there is an atmosphere of despair among many current and former members.
Membership card-cutting.
So many smug Labour centrists congratulating Keir Starmer today who slagged off Jeremy Corbyn from the moment he was elected leader and used every dirty trick in the book to make sure he didn't become PM. It's taking all my willpower not to tear up my Labour membership card.

— Frank Owen's Legendary Paintbrush (@WarmongerHodges) April 4, 2020
According to Labour's National Executive Committee, more people have joined the party than have left under Keir Starmer, with membership stabilising at around 570,000. We can surmise that those joining have been attracted by Starmer's more centrist politics and promises to tackle internal antisemitism. There are, however, many people, particularly those who are young and of colour, who have cut up their membership cards.
Starmer has so far disappointed many of those who willingly gave their time and energy to Corbyn's Labour. These disillusioned activists are left-leaning, overwhelmingly young, and once filled with hope at the prospect of a Corbyn government.
According to Michael, a 29-year-old former Labour activist, Starmer's election was enough to prompt him to leave the party. "The moment Keir Starmer became leader, I knew Labour was no longer a place for me," he says. "I left within the hour of the leadership results being confirmed." 
"I fought so hard for so long to get a person I saw as a genuine, caring, thoughtful man in Number 10, and have his wildly popular manifesto pledges implemented," he continues, "[and I was] confident they would be implemented, because Jeremy is and has always been a man of his word. But now it is all gone. All that hope, all that believe, all that faith in electoral politics, all gone". 
Though Ben has stayed in the party, he refuses to campaign under Starmer on account of his stance on current affairs, including Black Lives Matter. "There's no way I would be able to bring myself to go above and beyond in the way I did in 2019 for a party that is weak on trans rights, uses Black Lives Matter as [an] … accessory … and won't back the teaching unions". 
As these activists turn away from the party in droves, the future of a party – one that relies heavily on grassroots supporters' door-knocking, phone-banking and small donations – is in question. 
Disappointment and depression.
Several former and current Labour members told Novara Media that after the party's electoral defeat in December, symptoms of anxiety and depression abounded. 
One member, who wishes to remain anonymous, says the 2019 defeat contributed to her mental breakdown. "After the election, I was completely broken – it was a contributing factor to an anxiety breakdown that meant I had to take a year out of a master's."
It's easy to see how two general election defeats, the smear campaign against Corbyn by the mainstream press, and the election of a leader who seems unwilling to uphold the popular values that made Corbyn so beloved, has left many left-leaning and young members feeling disillusioned, even depressed. 
The leaked report.
The leaking of an internal dossier on Labour's response to antisemitism encapsulates many members' disappointment with the party and its current administration. The report, leaked in April, depicts a culture of disloyalty, dishonesty and dysfunctionality. It suggests that senior Labour staffers who had distaste for Corbyn and his supporters conspired to undermine his leadership and with it, the party's chances at the 2017 election, which Labour came within 2,500 votes of winning. 
For people who campaigned for hour after unpaid hour to elect a government that would end Tory austerity, the report cut deeply. "The report will have been especially affecting for those who worked so hard and enthusiastically," wrote former shadow chancellor John McDonnell in a piece for the Guardian, "delivering leaflets, knocking on doors and hitting those phone lines, to try to secure the election of a Labour government in 2017". 
Particularly shocking was the report's revelation of racist abuse by senior HQ staffers towards Diane Abbott, Dawn Butler and Clive Lewis, as well as their treatment of activists. Sarah Mulholland, then the director of political services for the parliamentary Labour party, said she hoped one young Labour activist with documented mental health issues "dies in a fire". 
Although Starmer has launched an urgent investigation into the report, with the promise of potential disciplinary action, his response has been seen as lacklustre by many members.
"Keir Starmer tried to sweep this [report] under the rug," says Michael. "He sat on the dossier for days before it was leaked. He has not pushed for the suspension of Iain McNicol, who was heavily implemented in the report. He tried to say the WhatsApp conversations were taken out of context; how out of context can wishing an activist would die in a fire be taken?"
"I won't be voting Labour, even if it is a two-horse race," says ex-member Tim, "following the revelations of the Labour leaks. Zero trust now." 
New management, new values.
Hayley (not her real name) was homeless during Corbyn's leadership, and felt that her local Labour party went "above and beyond". When they found out that she was staying in a hostel, they ensured there was always food in the office for her. They also made sure she didn't have to spend Christmas alone, and helped her find a privately-rented flat.
Corbyn's policy on homelessness was very clear: he pledged to end rough sleeping in his first term. Hayley doesn't believe that Starmer shares these priorities, citing his positions on the Channel crossings and Black Lives Matter (BLM), and the sacking of Rebecca Long-Bailey.
For people like Hayley, Starmer's muted support for BLM, his silence at migrants drowning in the Channel, are a sticking point. "Not a single person of colour I know remains a Labour member," a former party member told Novara Media.
Starmer's cabinet choices are a reflection of these values. His promotion of Jess Phillips and Wes Streeting, who worked to undermine Corbyn, and sacking of Rebecca Long-Bailey, who was loyal to him, indicate a break with the former leader's leftwing ideals.
For a range of reasons, Starmer's Labour is haemorrhaging activists willing to go the extra mile for the party. Some are turning their attention towards the Greens, while others, such as Michael, are returning to the grassroots. 
"My political energy will go back to what it was doing prior to joining Labour: direct action against the growing threat of fascism, direct action in solidarity with the oppressed, direct action combating climate change, and direct action against the neoliberal consensus."
Harriet Williamson is a freelance journalist, specialising in politics and mental health.