The Road to Moria: How Greece's Refugee Disaster Became Business As Usual
12 September 2020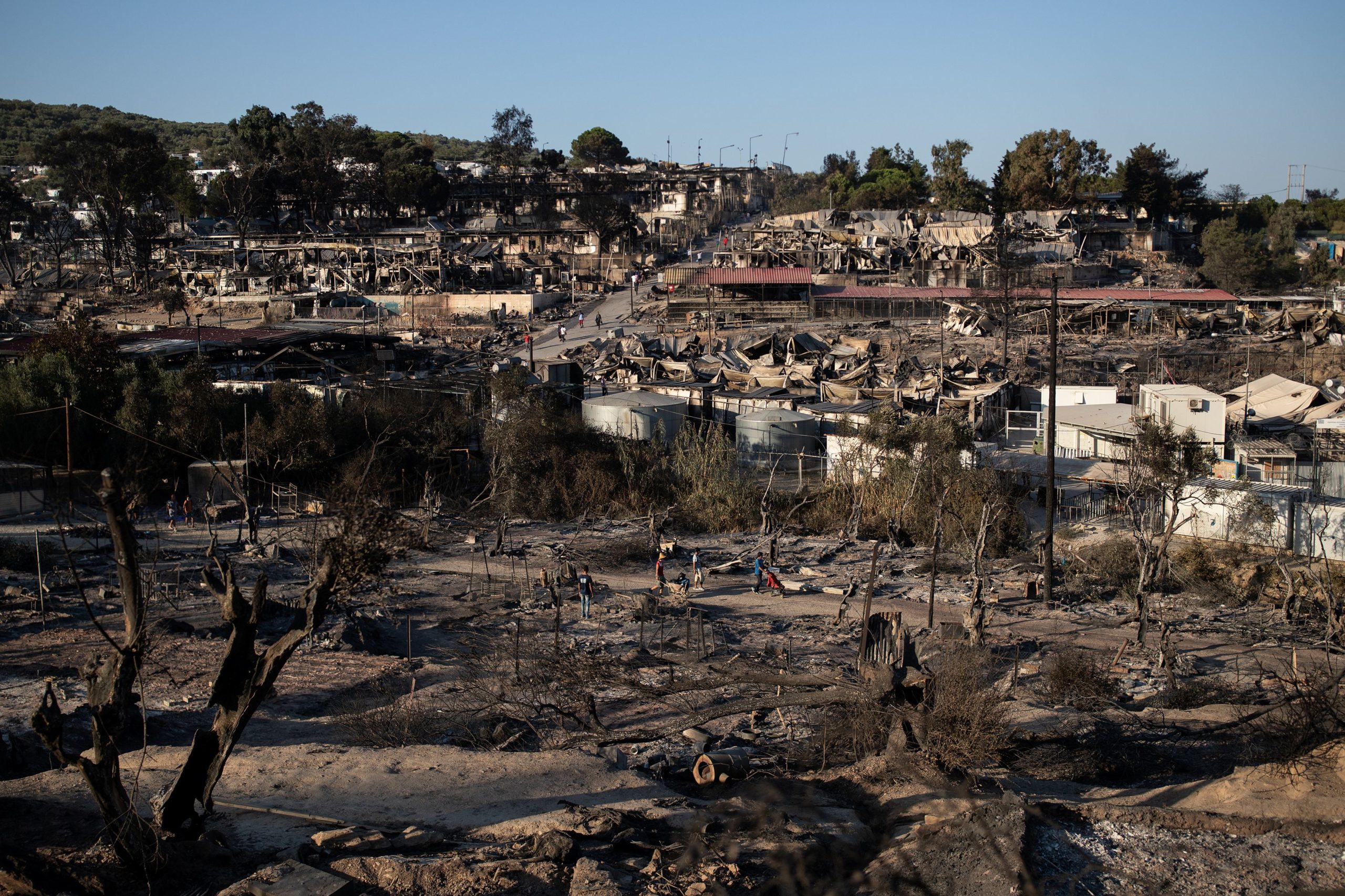 Alkis Konstantinidis, Reuters
Across the world, the horrendously overcrowded refugee camp of Moria in Lesbos, which burnt down on Tuesday 8 September, has become "the most visible symbol of the hard-line stance European countries have taken on migrants since 2016", "where Europe's ideals – solidarity, human rights, a haven for victims of war and violence – dissolve in a tangle of bureaucracy, indifference, and lack of political will", or more commonly, simply some variation of "hell".
Yet in Greece, regardless of anybody's stance towards refugees or migrants, the horrors of Moria are filtered through a terrifying banality which makes them seem like business as usual.
Whether an onlooker feels compassion – perhaps guilt – when faced with the view of 13,000 adults and children running from flames and finding shelter in graveyards, or is cheering over the embers – calling for them "to be moved to a deserted island", as the mayor of Mytilene did, or to be "deported", as the trending hashtag on Twitter demanded following the fire – one thing Greeks can agree on is that events in Moria seem like just another incident in the catalogue of Greece's policy on immigration. An escalating incident, perhaps, but nonetheless just another step down a certain course.
New Democracy.
Since it began operating seven years ago, the camp at Moria has continually offered up tragedies for the news cycle. Last September, an Afghan woman and her child were burnt alive inside their makeshift container after another fire broke out in the camp, in which 17 more people were injured including a minor and an infant. In January this year, two young men were murdered in separate altercations inside the camp, while another, a 31-year-old Iranian man, was found dead by hanging. The same month, Moria peaked at 25,000 people – more than eight times its official capacity of 3,000.
The island of Lesbos has become a site for riots, injuries, disease, deaths, far-right pogroms and continuous crime against unaccompanied children who fall prey to mistreatment, abandonment and trafficking rings. It is a situation well-documented by humanitarian organisations and international media and recognised as a major issue by both Greek and European authorities, though not major enough to lead to a radical change in policy.
Many analysts have explained in detail how Moria and the rest of Greece's camps were born out of a highly militarised and industrialised European immigration policy fixating on deterrence. Calls to bring down 'Fortress Europe' have reverberated around anti-racist protests for the better part of the last two decades. Yet exactly how this blanket intra-governmental policy has secured popular consent at the EU's external borders is often overlooked. In Greece, this has become especially important now that, under Kyriakos Mitsotakis's New Democracy government, the rhetoric and agenda of deterrence and marginalisation is operating at full speed.
On Wednesday 9 September, after the extent of the damage to the Moria camp had become clear, migration minister Notis Mitarakis visited Lesbos and renewed his vow that Moria and other camps will be replaced with closed detention centres, effectively prisons. The idea of replacing open reception (even in terrible conditions) with a preference for detention centres, deportations and deterrence forms the backbone of New Democracy's policy on immigration. As a result – and in a similar manner to its hardened conservative counterparts in the UK, Hungary and elsewhere – New Democracy's agenda has started to feel the pinch of international law, even if its overseers are willing to turn a blind eye on its implementation every now and then.
In opposition until the summer of 2019, New Democracy politicians had already deployed a nationalist strategy for rallying popular support against the Syriza government, an important part of which was expressing support for or involving their own local politicians in anti-refugee protests in areas that hosted refugee camps. The fact that these protests created irreconcilable conflicts or often turned violent did not seem to put them off.
When New Democracy was elected back into government, it had to deliver on at least some of its promises. Many of the politicians who had been involved in the protests were elected into office either in regional government or in municipalities. Some of them were even directly appointed to positions that raised eyebrows, like a publisher of Nazi literature and Hitler speeches who was put in charge of a refugee reception centre in Pyrgos. Among the promises made were that island reception centres would close down and no new ones would be built in areas of mainland Greece – a contradiction that would inevitably erupt at some point.
Fortress Europe.
Since 2016, the framework for Greece's migration policy has been set by an informal agreement between the EU and Turkey, according to which Turkey would act as the external border of the EU, effectively halting migration flows towards Europe in a move that was condemned by human rights organisations across the world. In Greece, the agreement had the effect of decreasing arrivals, which did make the situation more manageable, even contributing to job creation and a partial revival of local economies and a housing market badly hurt by the financial crisis.
This situation kept going until Recep Tayyip Erdoğan's government in Turkey realised it could instrumentalise the movement of refugees as a means of exercising pressure on Greece and the EU. Having simultaneously and improbably promised voters on both the mainland and islands that they wouldn't receive any more refugees, the change of tactics in Ankara gave the New Democracy government a way to skirt around their contradictory pledges: refugees were now an issue of geopolitics and national security. Diminished rights, open hostility, outright oppression and deviation from international law now became valid options for managing refugees, indeed becoming central to the government's stance on the issue both in Greece and abroad. Refugees, as instrumentalised by Erdoğan, were now recognised by the official government line as a threat to Greece's borders.
Increased arrivals from Turkey, combined with the government's unwillingness to yield on its promises to regional politicians across mainland Greece by distributing refugees across the country, created an explosive mix. Anti-refugee protests on the islands kept growing and radicalising, leading to fights with Swat forces sent to the island, the government's preferred measure in every situation it needs to de-escalate. The result was the opposite, with multiple attacks taking place against refugees, volunteers and journalists, including instances of arson against NGO and refugee facilities.
At the same time, at the land border of Evros, Erdoğan was pushing thousands of refugees and migrants to the Greek-Turkish border. Greece's handling of the situation prompted concern from international media and human rights organisations, as government supporters and sympathetic media termed the forced migration an "invasion", while government spokesperson Stelios Petsas refused to address the suspicions of independent investigators and major international media that refugees and migrants had been shot and killed at the border, including evidence that the shootings had been carried out by armed citizens' militias patrolling the border with no institutional supervision, labelling the concerns "fake news".
To make matters worse, when the leader of the opposition and former prime minister Alexis Tsipras was asked about Evros, he rather desperately opted to ride the nationalist wave, stating that "Greece needs to protect its borders". The subsequent visits of senior European politicians, including Germany's Ursula Von Der Leyen and Belgium's Charles Michel, in which they expressed their support for the Greek government, were moreover taken as informal approval for the government's desire to move away from the Geneva Convention by suspending all asylum requests for refugees and migrants arriving in the country.
Proposals from government officials such as migration minister Notis Mitarakis and police minister Michalis Chrisochoidis have led public discourse towards a hardened anti-migrant stance. Such proposals include a floating fence to force boats back toward Turkey, increased policing, and the creation of maximum-security detention facilities in remote places.
Meanwhile, the government's rhetoric on refugees being a national security concern has been exacerbated by Greek media, which has published almost daily newscasts on Greek residents' suffering in places where camps are located, whilst surreptitiously anaesthetising the public against refugees and migrants by depriving them of their faces in edited videos – let alone their voices. In recent months, the only thing that temporarily de-escalated the situation was the Covid-19 lockdown from March to May, after which aggressive anti-refugee protests resumed almost instantly.
Mitarakis and Chrisochoidis visited the European parliament in early July to appear before a committee investigating Greece's upholding of human rights on the Greek-Turkish border. Among the issues examined were reports of deaths and injuries, as well as allegations that Greece had pushed migrants back across the border – a tactic explicitly forbidden by international law. The Spanish Socialist MEP Domènec Ruiz Devesa said the replies given by the officials sounded like they belonged to the far-right, while Juan Fernado López Aguilar, presiding, concluded that the Greek ministers "seem like they don't want to provide a response" to the allegations.
A familiar route.
Mitarakis and Chrisochoidis, in concert with Mitsotakis's government more broadly, have taken their anti-refugee agenda into overdrive. But it is an accelerated ride along a familiar route. Chrisochoidis himself was a member of the centrist Pasok government from 2009 to 2012, when he announced the creation of 30 immigration detention centres, including the notorious Amygdaleza. It was also the time that construction began on the border fence of Evros. Around that time Chrisochoidis called migrants a "health hazard", arguing "we need to hold these people in closed detainment facilities and in three or four months, each one of them should return to their country".
Subsequently, he was a member of the coalition government led by New Democracy under Antonis Samaras. Samaras integrated members of the far-right Popular Orthodox Rally into his party, most prominently Adonis Georgiadis, who has since climbed the ranks all the way to becoming vice-president of the party and a minister in various cabinets. Even then, Samaras was calling on Greek's to "take back the cities", launching the anti-migrant police operation Xenios Dias (Hospitable Zeus) and filming promotional material for his 2015 election campaign in front of the Evros fence. During that time, a police chief was captured on tape explaining to his officers that they were "to make [migrants'] lives unliveable". Months earlier, Georgiadis had told an interviewer: "We must make their lives hard, so that they realise they are unwanted in the country and leave."
Syriza's rhetoric was ostensibly different – following the mass arrival of refugees in 2015, then-prime minister Alexis Tsipras urged Greeks to show hospitality to people in need – but in practice, allegations on migrant push-backs were dismissed by his government without proper investigation; tensions often escalated around camps; refugees and migrants continued to face abuse, death and neglect, including multiple cases of children going missing; and there have been many allegations that funds for refugees were mismanaged.
Regardless of the political flavour, the direction of policy has remained constant: the glass ceiling of a half-hearted integration process, the instrumentalisation of refugees and migrants to serve short-term political goals, an apparent grey zone of breaches against human rights at the border, and a European framework that calls for deterrence rather than a humanitarian response. For Greek politics, the horror of the fire in Moria is simply constancy combined with opportunity, perhaps even a foreshadowing of even darker scenes to come.
Yannis-Orestis Papadimitriou is a freelance journalist based in Athens. He is a member of The Manifold, an investigative outfit with members in Athens, Nicosia and London. Its platform, The Manifold Files was launched in spring 2020.