The Police Are Using Coronavirus to Crack Down on Protest
14 September 2020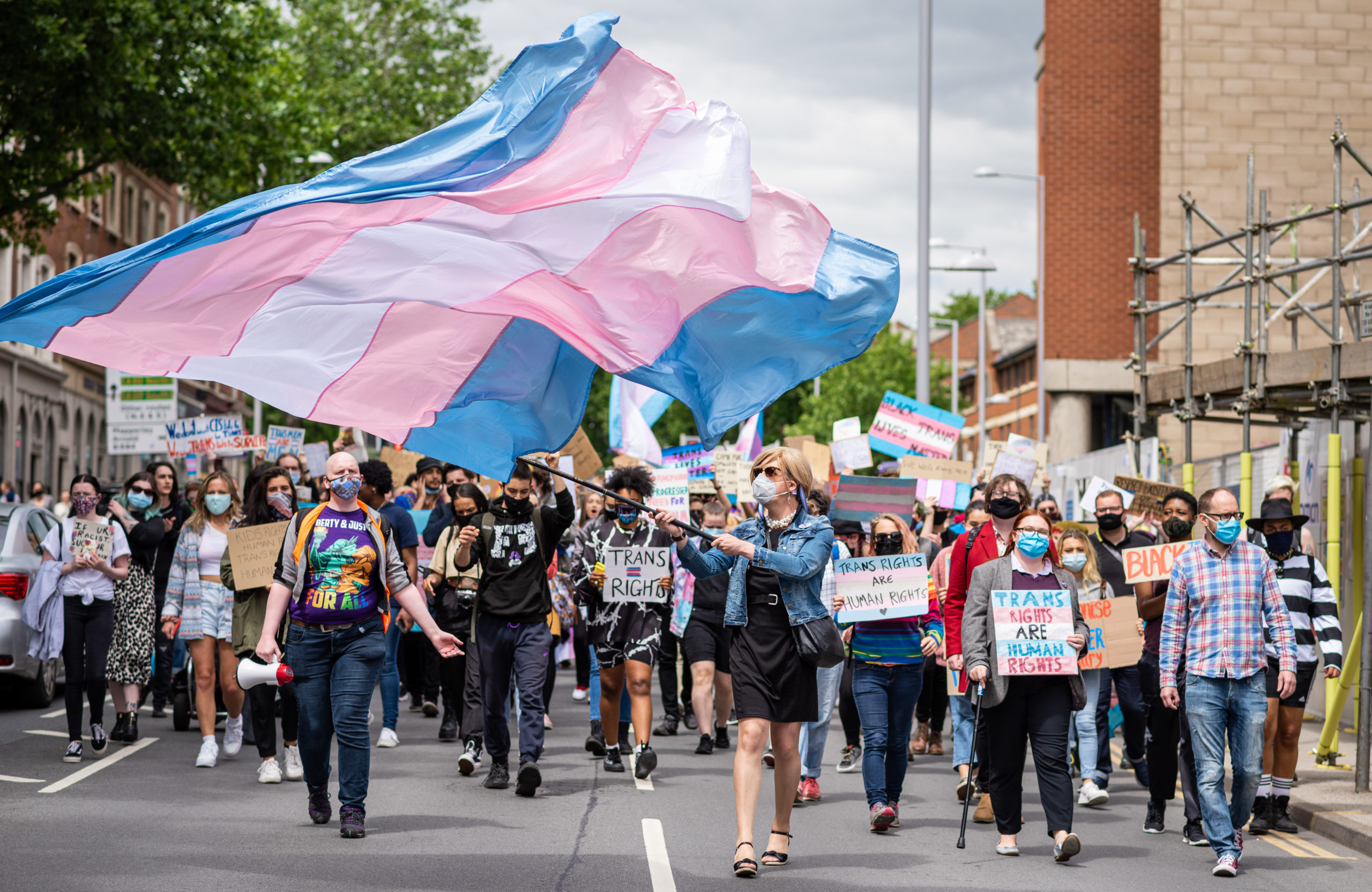 Tom P Morley
On Friday 4 September, Jaroslaw Kubiak got an unexpected phone call. A member of LGBTQ rights group Polish Rainbow in the UK, Kubiak had been organising a "Rainbow Walk For Poland", scheduled for that weekend. He'd been liaising with police "almost every day" for the preceding fortnight to ensure the event ran smoothly, as had the many protests Polish Rainbow has held since lockdown began: "Police would come over, see how we were doing, check we had masks on – everything was rather pleasant." Until Thursday, it looked like the Rainbow Walk would be the same. Things changed overnight.
The Met officer who rang Kubiak on Friday "used very interesting language," he told Novara Media. "'We don't want to limit your right to protest,' they said, 'But at the same time, if you go ahead with it, be aware that if there are more than 30 of you, you will face arrest, and receive a £10,000 fine'." Kubiak didn't see much of a choice: while the police weren't technically prohibiting the protest, "most of the people who come to our demonstrations are from marginalised or migrant groups," and can't risk arrest. With just 24 hours to go, the Rainbow Walk was cancelled. The irony was not lost on Kubiak: the protest was in part a response to the Polish police's overstepping of their authority over activists.
Having marched from the Southbank to Parliament Square, the Rainbow Walk would have joined Trans Rights Collective UK – had the collective not called off their own demonstration after a similar call from the police. In a statement on Twitter, the group's founder Thaniel Dorian said that while "on 3rd September we liaised with the MET police and they assured us […] that there would be no risk of arrests or fines, […] on 4th September the police called us and informed us that there is a likelihood that [we] will be arrested."
Trans Rights Protest – Cancelled

It is with an incredibly heavy heart that I must announce that the Trans Rights Protest on 5th September is cancelled.

On 3rd September we liaised with the MET police and they assured us, after the news of Piers Corbyn's arrest, that … pic.twitter.com/qBw1XstzG8

— Trans Rights Collective UK (@ProtestTrans) September 4, 2020
Lockdown has been one of the best periods in British protest history, and one of the worst. On the one hand, a wave of antiracist action has swept the country, Edward Colston, Robert Milligan and soon Cecil Rhodes with it. On the other, protesters are navigating increasingly convoluted lockdown laws, and increasingly arbitrary enforcement of them. As social and economic turbulence moves Britons to take their discontent to the streets, many are finding it increasingly difficult to do so.
Articles 10 and 11 of the European Convention on Human Rights protect our freedoms of expression and assembly respectively. However, these rights are qualified, and can be restricted by the government if it's a proportionate way of protecting public health. The Coronavirus Act that came into force on 26 March supposedly was just that. The new legislation, which passed through parliament without scrutiny, made it illegal for us to leave our homes "without reasonable excuse" or to gather in groups of more than two. At the time, the law didn't stipulate what excuses were reasonable: police guidance did not include protest, though "activist lawyers" (as the Home Office might call them) argued it should. Faced with ambiguous advice, many took their chances.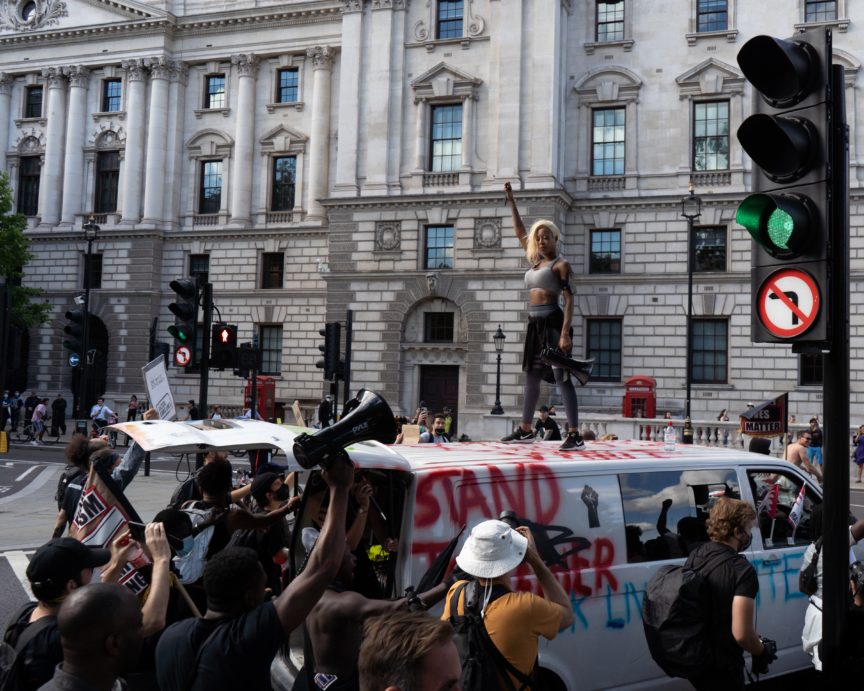 Between May and June, hundreds of thousands of people across the country protested in defence of Black lives. Dr Adam Elliott-Cooper sits on the board of the Monitoring Group, an antiracist, pro-civil rights charity, and is compiling a report for NetPol on the policing of the recent BLM protests. He tells Novara Media that police tactics have been contradictory: while "officers would often use lockdown rules as a justification for more confrontational forms of policing", they would also switch between dispersing crowds and kettling them. "I don't think the police are genuinely concerned about social distancing at all."
Nevertheless, the police response to BLM, and that of their Conservative overseers, was more muted than expected. Human rights lawyer Adam Wagner suggested on Twitter that it was "quite extraordinary" that Boris Johnson began a tweet about the Black Lives Matter protests by saying that "People have a right to protest peacefully" (though he went on to say that "these demonstrations have been subverted by thuggery", and that "those responsible will be held to account"). In a Commons debate the next day, Priti Patel "urge[d] the public not to attend future protests", which she said were "illegal", but did not take any steps to prevent BLM (as she had with Extinction Rebellion). Some suspected that behind this hesitance lay a calculation that applying excessive force to protests triggered by police brutality would only fuel the fire.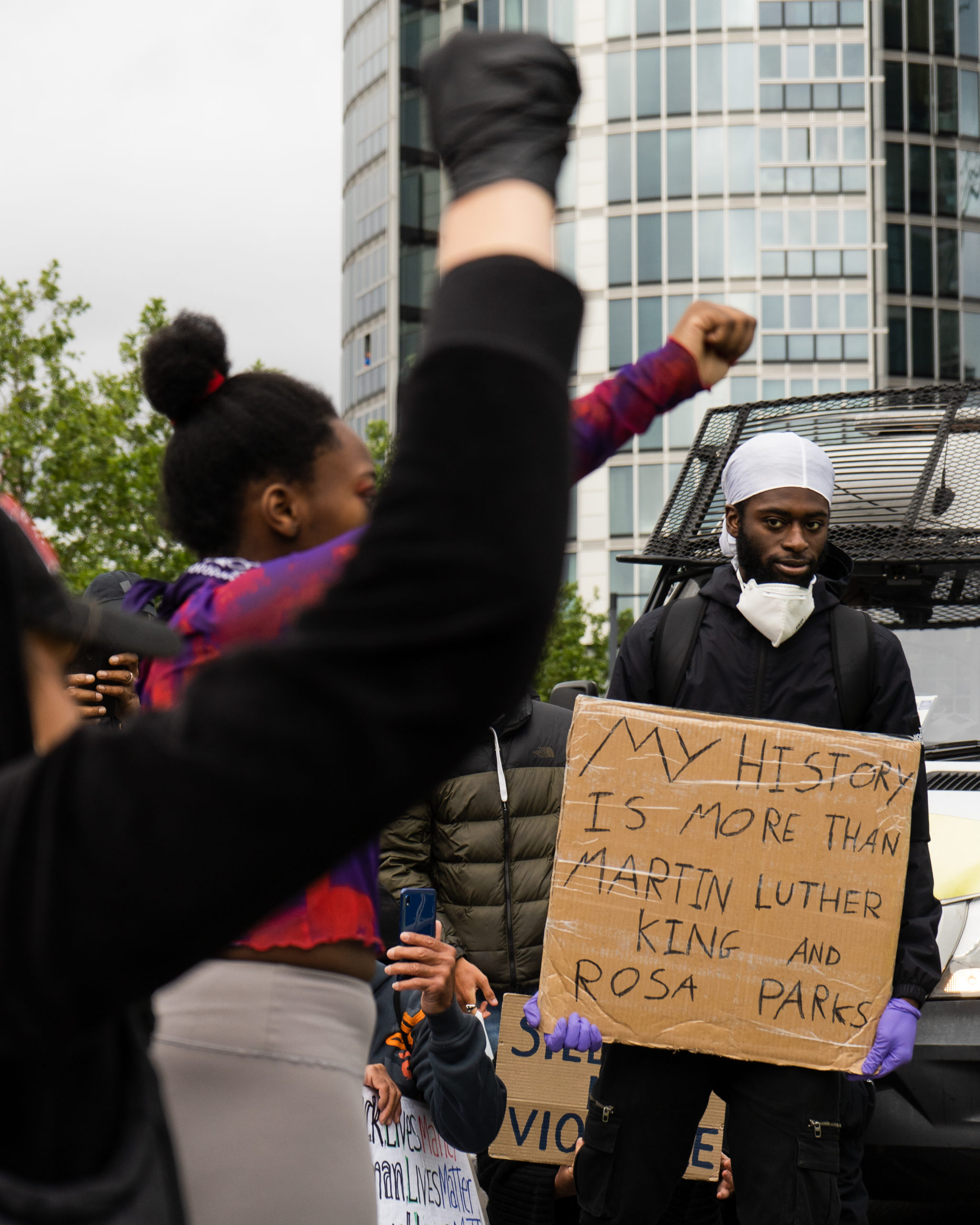 Yet as the pandemic has progressed, the government's grip on protesters has tightened. On 3 July, it introduced three explicit requirements for protest organisers: that they are a "business, a charitable, benevolent or philanthropic institution, a public body, or a political body"; that they have completed a satisfactory risk assessment; and that they have implemented it. While the new rules gave clarity to protesters, they also gave police more ways to catch them out. In August, Kevin Hinds was forced to cancel his Million People March, scheduled for the weekend of the Notting Hill Carnival, after the Met threatened him with arrest for breaching the first of these requirements. (According to Dorian of TRUK, this was the same reasoning the police offered him: "We were informed that only exempt "political" groups could protest," they told Novara Media. "They stated that we were not on this list, but refused to confirm who was"). Hinds' lawyers argue this was not a breach – the category of "political or charitable body" is usually very broadly interpreted – and have instigated a judicial review.
These new rules set up a bureaucratic labyrinth, the centrepiece of which are the risk assessments – the latest guidance calls them "strict risk assessments" – that organisers must submit to police in advance. According to Jules Carey, a human rights lawyer and advisor to Extinction Rebellion, this "rigorous pre-authorisation regime" is "an obstacle to protest" not just because of the effort it takes to complete, or the leeway it gives police to determine protests' safety, but also because of the threat it poses to strategically decentralised movements such as XR and BLM. "Submitting a risk assessment necessitates sharing organisers' names and personal details. What are the police going to do with that information?"
The Met police did not respond to Novara Media's request for comment.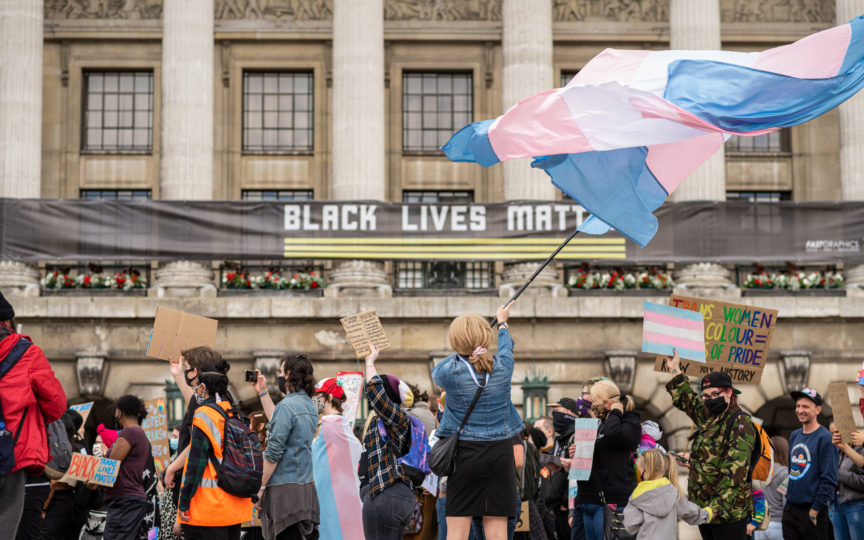 The newest hurdle the government has set up before protesters is financial. At the start of lockdown, the worst you could get for breaking the rules was a £100 fine, rising to £3,200 for repeat offenders. Yet since 28 August, organisers of gatherings greater than 30 are liable to receive a mandatory £10,000 fine, which cannot be appealed. Two days after the new rules came in, Jeremy Corbyn's brother Piers was issued this fine for allegedly organising an anti-lockdown protest. For small organisations with little financial back-up – such as Lesbians and Gays Support the Migrants, which contacted Novara Media to say the threat of £10,000 made them think twice about protesting – the fine has had a chilling effect.
For Rosalind Comyn, policy and campaigns officer for Liberty, all of this amounts to a troubling trend. "The right to protest in this country has been under threat for many years, and that threat is escalating fast," Comyn told Novara Media. "In recent weeks, we've seen arrests, fines and unworkable restrictions all used to deter us from exercising our rights. These tactics are heavy-handed, go too far, and are falling hardest on some of the most marginalised communities. We have already seen trans rights and anti-racism protests cancelled for fear protestors won't be safe after threats of arrest. […] Protest is a core pillar of any healthy democracy, and it is vital it is protected whatever the cause. […] Any police or government order which stops people taking their demands to the seat of power in Westminster is deeply worrying and should be resisted."
Rivkah Brown is a writer and the editor of Vashti.