Our Financialised Care System is Built on a House of Cards – We Urgently Need to Rebuild It
by Annie Quick and Alice Martin
23 September 2020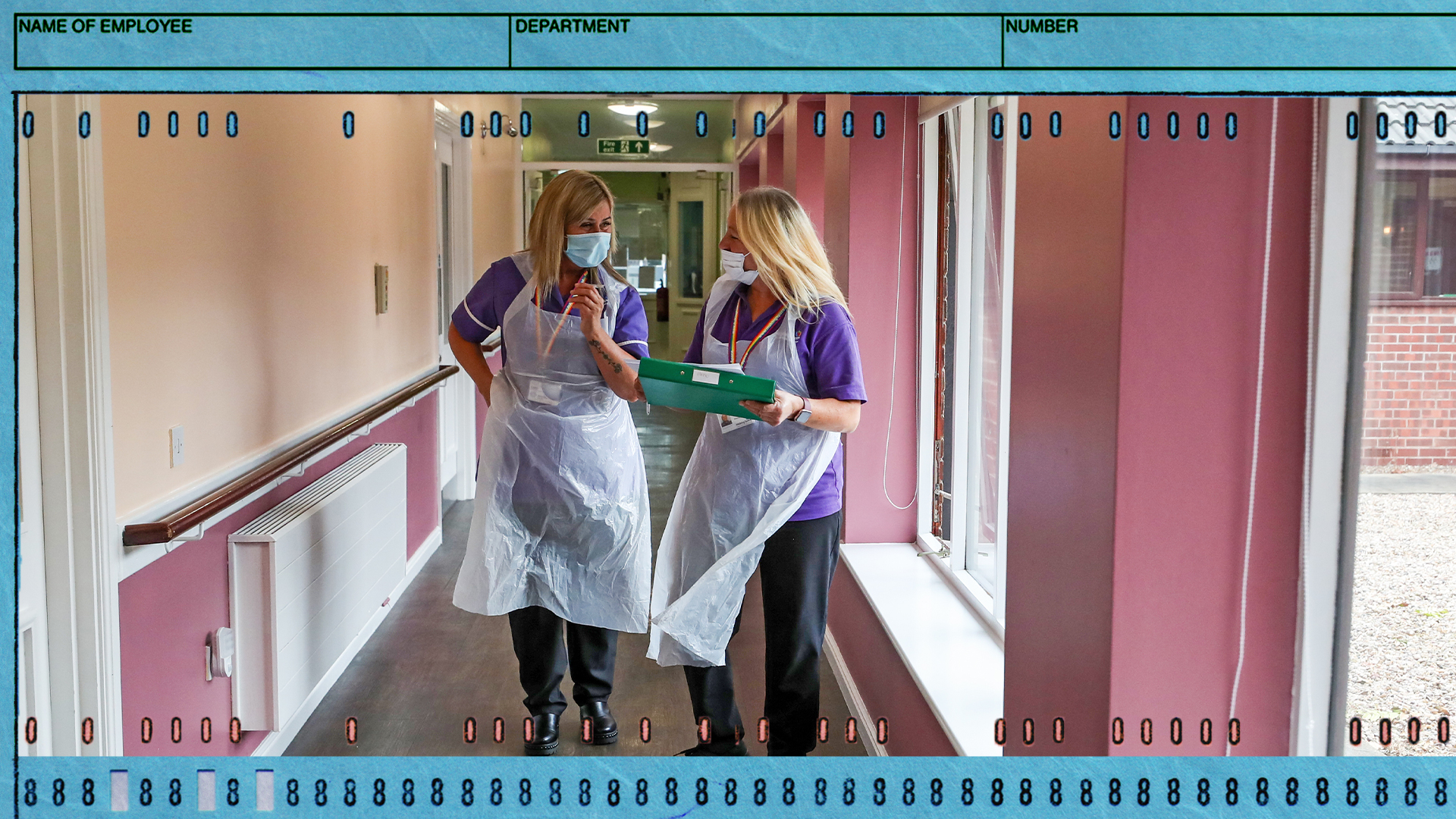 Photo: Peter Byrne/Reuters. Design: Bronte Dow
In March, as the full scale of the pandemic started to become clear, a group of Belgian care home workers went on strike over dangerously low staffing levels and inadequate personal protective equipment. While many care homes were struggling, the workers warned that their care home, run by Europe's largest provider, Orpea, had exceptionally poor standards, putting residents at serious risk.
A few weeks later and 150,000 kilometres away, 89-year-old Rafael Garcia walked out of his care home in Madrid – another Orpea-owned home. He had heard of the deaths of his co-residents from staff, and as Covid-19 tore through the home and more and more staff called in sick, he decided he would be safer out than in.
It was clear to both Rafael and the striking workers that you can't care for residents without caring for workers. What's more, Covid-19 has made tragically apparent that current systems of care delivery often fail to do either.
Headquartered in Paris, Orpea epitomises the financialisation of the care sector. Through a combination of acquisitions and greenfield construction, the company provides almost 100,000 care home beds globally. And yet anyone looking at its annual reports could easily mistake it for a real estate company. It boasts an impressive portfolio of facilities in "high purchasing power" locations. This includes the recent acquisition of TLC Group in Ireland – with five Dublin care homes in "premium locations" – and a growth plan for Latin America and Eastern Europe.
Orpea is explicit about its business model: acquire high value land, hold onto it as prices climb, then sell to cash in, leasing back the care homes if they are profitable enough.
Although Orpea doesn't operate in the UK, our own care system is similarly financialised. Over the past three decades, the UK government has outsourced care for the elderly to a heady mix of private equity firms, sovereign wealth and hedge funds, attracted by Britain's ageing population, which provides the promise of long-term growth backed-up by the security of government funding.
Over 80% of our care homes are privately run. Through opaque accounting systems and off-shore subsidiaries, £1.5bn pours out of the sector each year as profit, debt repayments, fees and directors' costs.
And yet there are signs that the gold rush in financialised care might be over. Three of the biggest UK chains – HC-One, Care UK and Four Seasons – have been up for sale in the past two years and have not found buyers, suggesting owners are keen to jump ship. This can partly be explained by the endemic underfunding of social care, but another, less discussed reason, could be the dwindling yields from care home property. Many of these firms built their asset base through a care home building boom in the 1990s, and while staking one's business on increasing real estate values might have seemed smart then, it has been less reliable in recent decades. In 2008 the UK's biggest care provider, Southern Cross, went bust when the value of its assets plummeted, causing it to default on a £42m loan repayment.
Our financialised care homes are built on a house of cards. The fact we have entrusted them with caring for people at the most vulnerable points in their lives is an error so great that even Conservative peers are calling for state ownership of care. As much as successive governments have tried to outsource care to the private sector, it remains a social good, and one that the government can't allow to fully fail. The current care system is, perhaps, the clearest example of privatised profits and socialised risk.
The only real antidote to all this is proper democratic ownership: cutting rent-seeking off at source. This could include combinations of public and cooperative ownership of the sector, of which there are examples in other areas of care. Cartefi Cymru is a multi-stakeholder cooperative supporting people with learning disabilities in Wales, while the Cooperative Home Care Associates – a social care agency based in the South Bronx – employs almost 2,000 home care workers and is 90%-owned by women of colour.
But to build a democratic care system on a large scale, we must first build the collective power of workers and care users. As we discuss in our new book, Unions Renewed: Building Power in an Age of Finance, financialised companies provide a particular challenge for building worker power. Precisely because their business models rely on economic rents (such as asset price inflation), the basic premise of labour organising – that capital owners rely on workers to create a profit – is muddied. 
And yet although workers might not have a lot of structural power against an individual firm, they could wield significant power at a societal level. Care underpins everything. As the virus has so starkly reminded us, our economy relies on an army of overworked, underpaid workers – the vast majority female and many migrants or people of colour.
Unions know care is at a tipping point, and are organising in the sector – albeit from a low membership base. The TUC is targeting care in its sectoral bargaining plans, and both Unison North West and the Women's Campaign Unit in GMB Scotland are making care organising a priority. Meanwhile, small independent unions UVW and IWGB are also focusing on organising care workers – including majority migrant care home staff, nursery staff, foster carers and nannies.
To take on the major care chains, these campaigns will need to leverage all the power they can. This means mobilising their whole bargaining unit including workers, care users, and their families. Care workers are well-suited to this type of whole community organising because their site of production is the community itself. It also means identifying the shareholders, including local government workers, who, through their pensions, may be unwittingly investing in the private equity firms that own their local care homes. Finding out the who, how, and what of this would furnish any campaign with a new lever to pull.
As we face a second Covid-19 peak, pressure on the care sector is not likely to let up. Care homes have called for bailouts, warning that the increased costs of the pandemic combined with decreased occupancy may cause companies to collapse altogether. These aren't empty threats: on top of operational pressures, financialised care home companies are particularly exposed to any real estate crash prompted by the impending recession because they rely heavily on their property portfolios.
If this moment of weakness is an opportunity to democratise care, leverage needs to be built now. Our extractive model fails both recipients paying extortionate fees and the underpaid care workforce, and to transform the sector we need to expose and align these interests.
Annie Quick is an organiser for the IWGB union and former Head of Inequality at the New Economics Foundation. Alice Martin is a labour specialist for a shareholder advisory firm and former Head of Work and Pay at the New Economics Foundation.
The

Future of Work focus

is part of Novara Media's Decade Project, an inquiry into the defining issues of the 2020s. The Decade Project is generously supported by the Rosa Luxemburg Foundation (London Office).