Big Unions Aren't Up to the Job Anymore
2 October 2020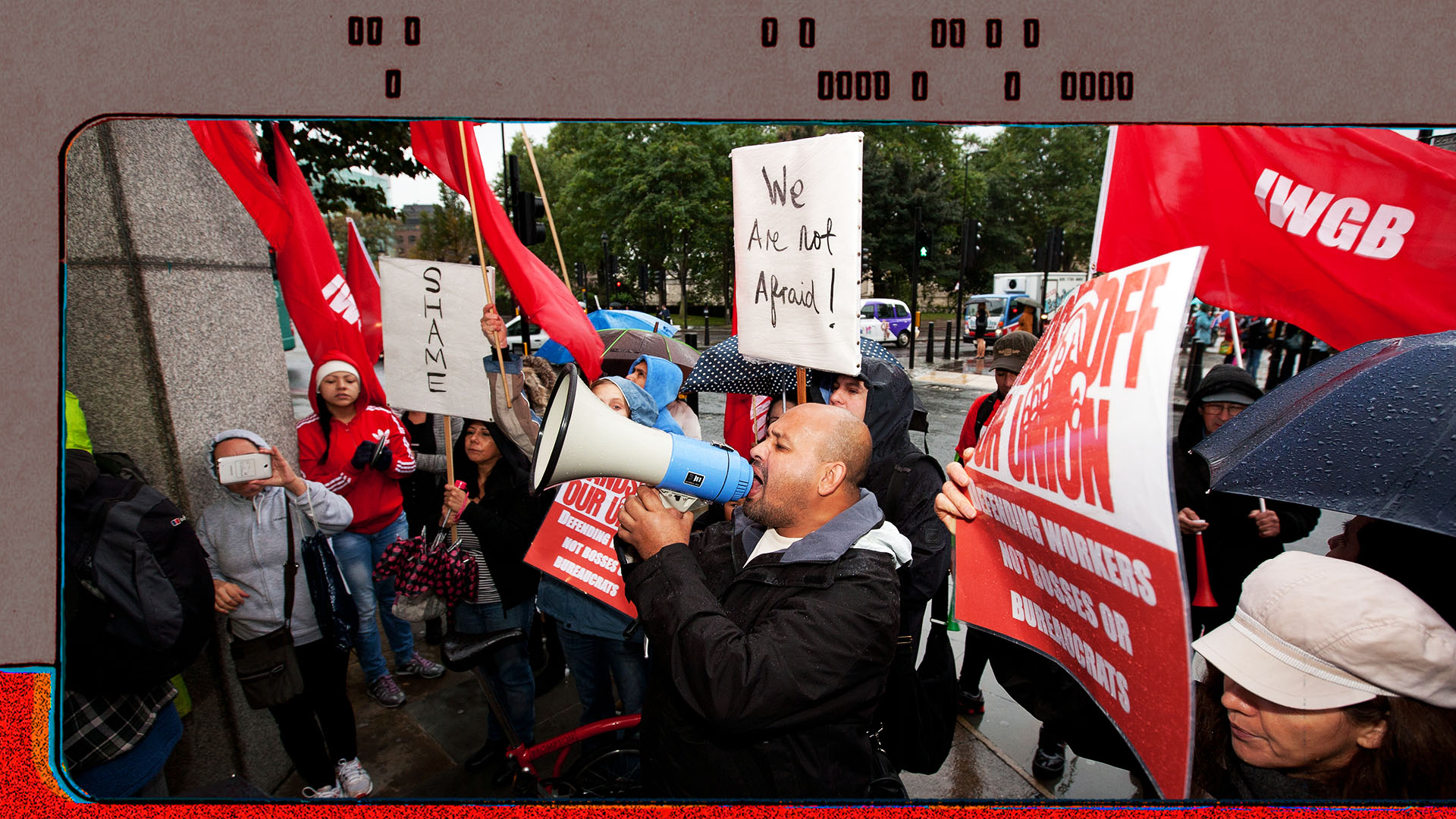 Photo: Shahin Shahablou/ Flickr. Design: Bronte Dow.
Our workplaces are being organised in new and changing ways all the time. Yet there are some dynamics that always seem to stay the same. As workers, we are still paid less than the value of what we produce, and managers and bosses still regularly use their positions against us. It can still feel like we have little say over the processes that shape our lives.
Work is not an abstract thing, changed solely by good or bad ideas. Instead, it is created and recreated on the ground, by a constant tug of war between workers and bosses. On the one side, bosses use a range of tactics and strategies to try to squeeze ever-greater profits out of us. On the other, workers are continually fighting to improve their conditions. Unions can be a vehicle for workers in this battle, helping us to come together and build power.
The future of work is still to be fought for.
Flying cars may be hovering on the horizon, but what matters isn't the specific forms of new technology we create, but who they are created to serve.
It can be difficult to see how workers can have a say in deciding what their future workplaces should be like when taking into account the abundance of invasive new surveillance technologies being created, the scale of investment in artificial intelligence, and the threat of mass unemployment if innovation makes large swathes of the human workforce obsolete. For many commentators, workers are now little more than a temporary inconvenience that may – or may not – be needed in the future.
But this misses the way in which work is shaped and reshaped on a daily basis by workers as well as employers, through their actions in the workplace. It is, therefore, crucial that we fight back – and there is still no better way to do this than by getting organised and causing trouble. Joining a union is a good starting point.
Failing to adapt.
The pandemic has convinced many people that now is the time to join a union, presenting an unprecedented opportunity for organising new sectors. But many unions are failing to realise this new opportunity, instead struggling to come to terms with the shifting landscape of contemporary work.
Too often unions fail to meet the needs of eager, new members, or would-be members – indeed it is often unclear how these workers could be integrated into existing structures. Many unions are organised in the same ways they have been for decades or more. These structures may work for long-established sectors or parts of the public sector, but more creative ways of organising are needed for many new industries or precarious kinds of work.
Unions frequently focus on narrow issues, like pay or pensions, and neglect other workplace disputes, like fights over scheduling and for better contracts, and attempts to push back against abusive managers or to stand up to oppression. Similarly, a lot of energy is channelled into casework for individual members, rather than collective struggle, and members may be required to follow arduous balloting procedures if they want to go on strike.
Most large, modern trade unions see it as their job to negotiate incremental improvements in working conditions on behalf of their membership. This means they may prioritise longterm stable bargaining agreements over big fights in the present moment. Trade union officials, therefore, may sometimes have different interests to their members. Unions want a seat at the table and to protect their own institutions, so they may show one face to the employer and one face to the worker.
The reluctance of unions to engage in new or creative campaigns is therefore not surprising, particularly when these come with risks to the union. There is a reliance on tried and tested methods instead, which have proven successful in the past. However, as work changes, so must our tactics. For workers in new forms of work or in unorganised sectors, old tactics aren't always effective.
The future of unions.
Making generalisations about organisations with thousands – or even millions – of members isn't always helpful, but the picture so far is pretty frustrating; while some unions have come out swinging during the pandemic, others have been notably absent. Many seem to believe they can batten down the hatches, weather the global pandemic and re-emerge in a better context. But it is becoming increasingly clear that we are never going back to normal. The future of unions must be created right now, in this context.
The pandemic is a test for the union movement. Employers have seen this as an opportunity to gain one up in the tug of war – yanking power away from workers. Huge numbers of workers have been made redundant and others have been forced to accept worse pay and conditions or lose their jobs. Yet many unions have maintained barriers to workers taking action, instead of facilitating and supporting organising.
In April, the general secretary of GMB, Britain's third largest union, resigned amid allegations of sexual assault and a cover up. The investigation that followed found that "sexual harassment, bullying and cronyism are endemic" and that there are broad issues with the internal culture that make it an unwelcoming environment for Black and minority ethnic groups. Just months before these shocking revelations, GMB drew controversy for signing a deal with G4S, on behalf of their members at JobCentre Plus offices, that removed their ability to strike.
At the branch level, the picture can be better. In 2017, Unison members ended outsourcing at Soas, forcing the university to employ them directly after ten years of strikes and protests.
But this victory is still unusual. Elsewhere in London, the Unison Region has actively held back a number of other struggles. In 2013, when outsourced, migrant workers at the University of London self-organised to campaign for better conditions, what should have been an overwhelming victory for precarious workers became a battle that led to hundreds of members leaving the branch. The group stood candidates in their branch elections, but the election results were continually delayed, and then eventually invalidated under mysterious circumstances.
Taking matters into our own hands.
The examples I've mentioned highlight a broader trend within the movement. Where we want to get into battle, we are too often held back. Where we want to participate, we are too often unwelcome. How do we counteract this?
The recent scandals of high-ranking union officials, like that at GMB, show the disconnect between high-salaried union bureaucrats and the people they supposedly represent. Given their different interests, we cannot expect union bosses to lead worker struggles on our behalf. If we bear this principle in mind, we should not write-off unions when the leadership fails. Instead, we should take matters into our own hands.
Rather than leading our struggles, the leaderships of big unions can provide political support, resources, solidarity, and so on. But the most important organising will always start in our own workplaces. Only we can change these workplaces and claim power for ourselves. Where we can get existing unions to support our struggles, we must convince them to. Where they won't support our struggles, we must do it anyway.
The Independent Workers Union of Great Britain (IWGB) is a small, independent union that is not part of the main umbrella group of British unions, the Trades Union Congress (TUC). It started organising with outsourced migrant workers at the University of London and has now grown to include cleaners, security guards, couriers and logistics, foster care workers, Uber drivers and other platform workers like Deliveroo riders, videogame workers, and more. As a union, it is characterised by its willingness to take action – usually in the form of protests and strikes – and the fact that it operates bilingually to allow migrant workers to be at the heart of its decision making.
In the midst of the pandemic, the IWGB launched a new project: the holding branch. This is a general members branch that workers from any sector can join. They can start organising in their workplace straight away, while working towards forming their own IWGB branch. Every conversation with new members who join the branch starts with a representative for the union saying the same thing:
"We've had success in organising new groups of workers, but we can't do it for you – and no one can promise that. We don't know about your industry or what will work. But what we do know is that workers like you can transform your own industry. It won't be easy, but we can provide the support, advice, and infrastructure for you to do it."
The received wisdom accepted by the big unions is that "unorganised" workers will be put off by this level of candour – they want experts to come in and organise for them. However, the IWGB has had an overwhelmingly positive response. It has found that workers have an enormous appetite for organising, even if, as is often the case, they have no prior experience at all.
The IWGB is a very low-resource union, it can't do much but provide a framework within which to organise and some advice. Even this relies on other workers from across the union volunteering to share their experiences and skills. Whilst resources are, of course, always needed, the IWGB has already shown that they are not a precondition to winning victories in the workplace. The workers' movement was born without resources and institutions, driven forward instead on determination, creativity, and passion.
When walking down the street last month I saw an Extinction Rebellion (XR) poster reading: "Join us! If you have a better idea, we'll join you". We should take this slogan into the workers' movement (regardless of our thoughts on XR). No one has the answers right now or knows the "right" way of doing things. We don't have time to discuss that from the sidelines. The time is gone for inaction or performative politics. Instead, it is time for us to roll up our sleeves and join in a collective effort of hard graft.
Lydia Hughes is an editor of Notes from Below and a trade union organiser. She writes in a personal capacity.
The Future of Work focus is part of Novara Media's Decade Project, an inquiry into the defining issues of the 2020s. The Decade Project is generously supported by the Rosa Luxemburg Foundation (London Office).