Duterte's New Anti-Terror Law is Accelerating State Violence in the Philippines
by Jamie Sims
2 October 2020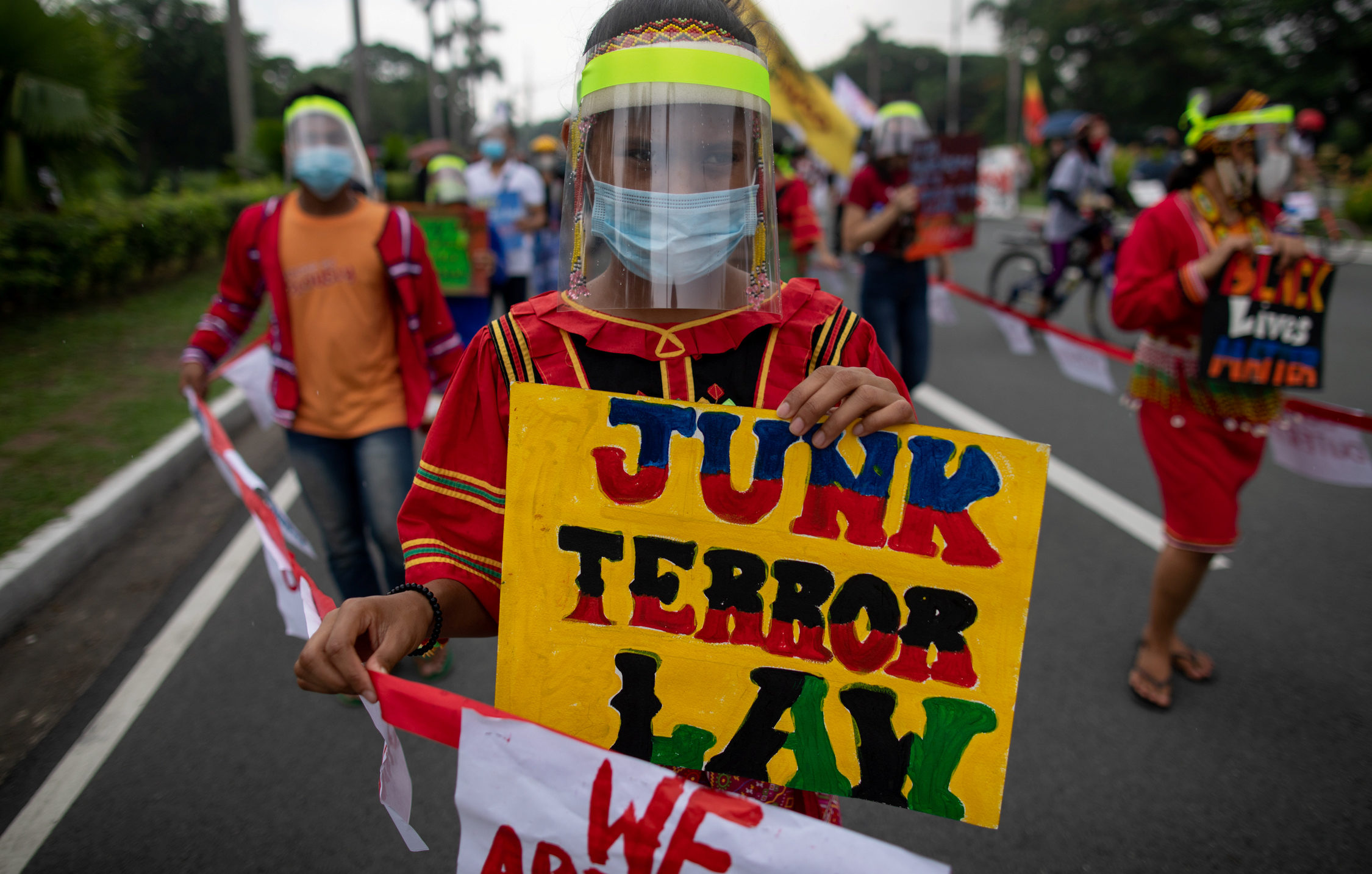 A protester attends a rally against Duterte's anti-terrorism bill, Metro Manila, July 2020. Eloisa Lopez/Reuters
On 10 August, 72-year-old Randy Echanis was tortured and stabbed to death by unknown assailants in his home in Quezon City, the Philippines. Echanis was the chair of Anakpawis – a progressive electoral group linked to worker and peasant unions – and a peace consultant for the leftist coalition the National Democratic Front of the Philippines (NDFP). A dogged advocate for the poor, Echanis had been imprisoned three times – once under the dictatorship of Ferdinand Marcos, and twice under subsequent democratic regimes.
On 17 August, just hours after Echanis' funeral, activists heard more devastating news: Zara Alvarez, a member of the human rights group Karapatan and a community health worker, had been killed by a gunman on a motorbike. She was shot six times, including once through her heart and lungs while she was already on the ground. Described by her comrades as committed, compassionate and good-humoured, Alvarez was the thirteenth member of Karapatan to be murdered since president Rodrigo Duterte took office in 2016.
Progressives in the Philippines suspect both killings were the work of state forces. Echanis had received death threats prior to his muder, and the police had raided his home. What's more, the police initially recorded that the murder victim was someone else, and then seized Echanis' body, refusing to release it for an independent autopsy. Alvarez, meanwhile, had appeared on a government hit list. Cristina Palabay – Karapatan's national leader who has herself been targeted by the state – notes that Alvarez had also faced prior threats, and that her killers were seemingly unimpeded by the country's strict coronavirus measures.
A history of state violence.
State violence against progressive activists has been a persistent feature of Filipino politics since the colonial era, and can only be understood in the context of the ongoing armed conflict in the Philippines. For over 50 years, the New People's Army (NPA) – the armed wing of the Communist Party of the Philippines (CPP) – have been waging a 'protracted people's war' across the archipelago, building political power in revolutionary base areas with the aim of eventually overthrowing the Filipino state. While the CPP has both agreed to respect international law (and follows its strictures much more closely than the Armed Forces of the Philippines), and has well-defined social and economic grievances – with demands on everything from environmental protections and indigenous self-determination to land reform and workers' rights – they have long been denounced by the Filipino state.
Activists in the Philippines are subject to 'red-tagging' – politically-motivated accusations that individuals or organisations are linked to or supportive of the CCP. In a context where communists are seen as terrorists and traitors, being red-tagged can be a death sentence. Carlos Conde, Philippines researcher for Human Rights Watch, explains:
"The key problem here is that state security forces do not make the distinction between loudmouthed activists in the streets and guerrilla fighters in the mountains. They know there's a distinction, but they choose to blur it […] These people targeted are not combatants. They are not directly involved in the armed struggle in the countryside. Targeting them is a violation of human rights."
Since Duterte came to power there's been a notable uptick in extra-judicial killings – including the murder of progressive activists, peasants, and those targeted in the state-backed drug war – such that Duterte's administration has been likened to the notorious, dictatorial 'martial law' era of Ferdinand Marcos. While the government strenuously denies equating left-wing activism with terrorism, the police and military regularly do so, publishing lists of so-called 'terrorists' like the list Alvarez was on, and turning activists into targets for anti-communist vigilantes. 
What's more, there is clear evidence that Duterte himself sees military and vigilante violence as a legitimate response to legal dissent. Commenting on a protest by the urban poor group Kadamay demanding the aid promised under emergency coronavirus laws earlier this year, Duterte said: "My orders to the police and military […] if there is trouble or the situation arises where your life is on the line, shoot them dead […] Don't test the government". When asked about the murder of journalists a month later, Duterte repeated this contempt for civil liberties: "Just because you're a journalist you are not exempted from assassination, if you're a son of a bitch."
The Anti-Terror Law.
The new Anti-Terror Law looks set to accelerate Duterte's war on dissent even further. 
The law, passed in June this year, has introduced a vague and expanded definition of what counts as terrorism, a host of new surveillance powers and terrorism offences, and 14-day detention without charge. The 2007 Human Security Act, which fined authorities for illegally detaining people, has been removed. Advocating for revolution – even when one has no links to armed groups – is also now a crime. Incitement to commit terrorism, a new offence carrying a 12-year prison sentence, covers even academic and journalistic defences of revolutionary politics, prohibiting revolutionary "speeches, writings, proclamations, emblems, banners, and other representations tending to the same end". The government gets to determine which groups are terrorists, including left-wing groups tagged as communist 'fronts', and casts the state as a benign protector of human rights and people's welfare.
Under the guise of combating communist terrorism, the Duterte regime is committing state terrorism. Randy Echanis, Zara Alvarez and hundreds more are most likely the victims of collusion between the government and vigilantes, with the new Anti-Terror Law further cementing the equation of "loudmouthed activists" with "guerrilla fighters" that Conde identifies. 
But against this backdrop, Filipino activists continue to organise and assert their rights, all while knowing that they may be the next victims. Here in the UK we need to raise our voices in opposition to the killings, red-tagging and the new Anti-Terror Law, and support the work of groups like the Campaign for Human Rights in the Philippines.
Jamie Sims is an Acorn organiser based in Sheffield.